Comics
Published June 26, 2019
Marvel's Artistic New Wave of the 1980s -- Part 2
More Marvel artists who changed the look of comics in the 1980s!

In the first part of this series, six of Marvel's best comic artists of the 1980s were featured alongside just a glimpse of their incredible work. Today, we have even more! This group features a mix of talent that blazed throughout this revolutionary decade. Here are five more talents who took the comics world by storm in the 1980s. 
John Romita Jr. 
In the late 1970s, John Romita Jr., the son of legendary AMAZING SPIDER-MAN artist John Romita, began working at the House of Ideas. He even ended the decade penciling a run on IRON MAN that included the famous "Demon in the Bottle" story. He first drew Spider-Man in PETER PARKER, THE SPECTACULAR SPIDER-MAN #39 in 1980 then followed that up with AMAZING SPIDER-MAN #204 a few months later. With AMAZING SPIDER-MAN #210, he became the regular series artist while also penciling IRON MAN.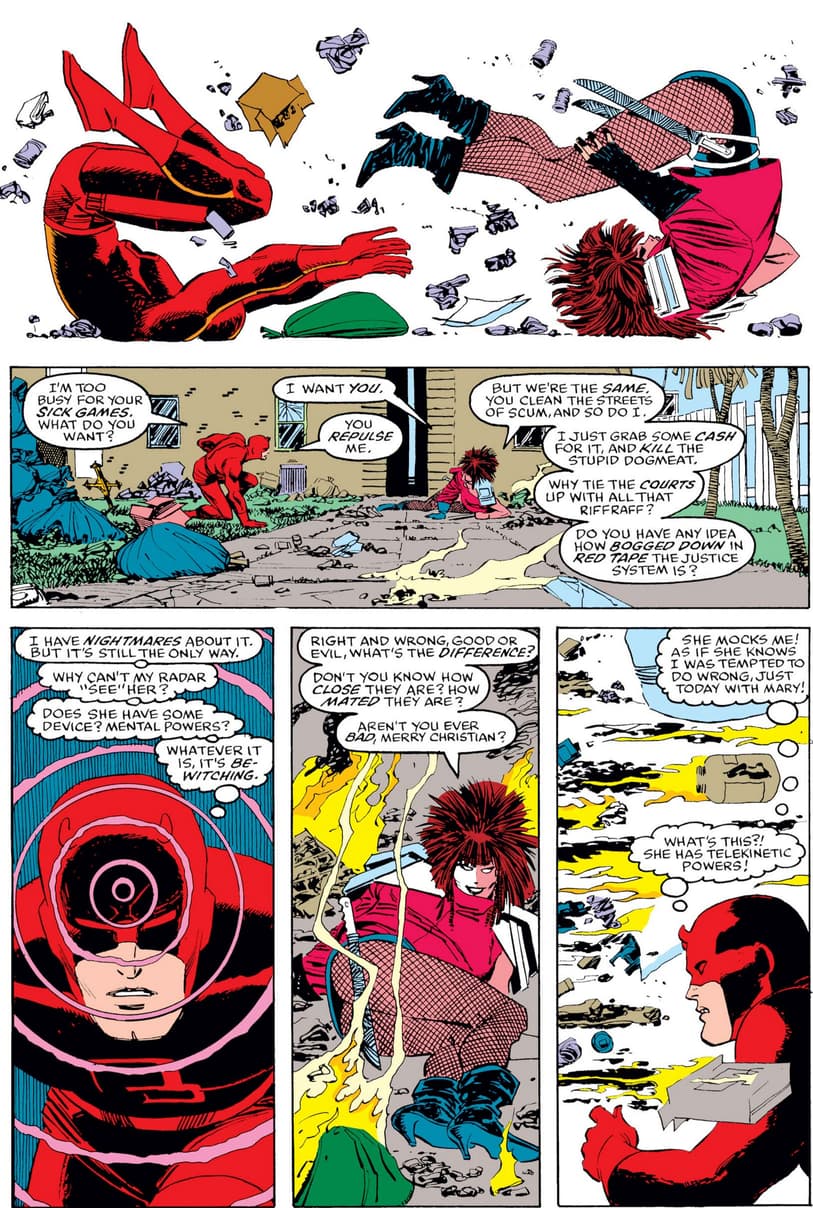 Romita made his way around the Marvel Universe throughout the rest of the decade, but made a death-defying landing when he took over artistic duties on DAREDEVIL with 1988's DAREDEVIL #250. Ann Nocenti had essentially taken over on issue #238 after Frank Miller left the book again. Both writer and artist acquitted themselves wonderfully in taking the dark elements Miller created and carrying them on through into the 1990s. As the '80s progressed, Romita's style developed from a solid, but somewhat standard look into one of the more unique takes on characters that can be instantly recognized to this day.
June Brigman
Though she's most well-known for co-creating POWER PACK, June Brigman's first Marvel work actually came in the form of a 1984 story called "The Gift" in the black and white magazine THE SAVAGE SWORD OF CONAN #100. Brigman also worked with Bill Sienkiewicz on the cover of NEW MUTANTS #17.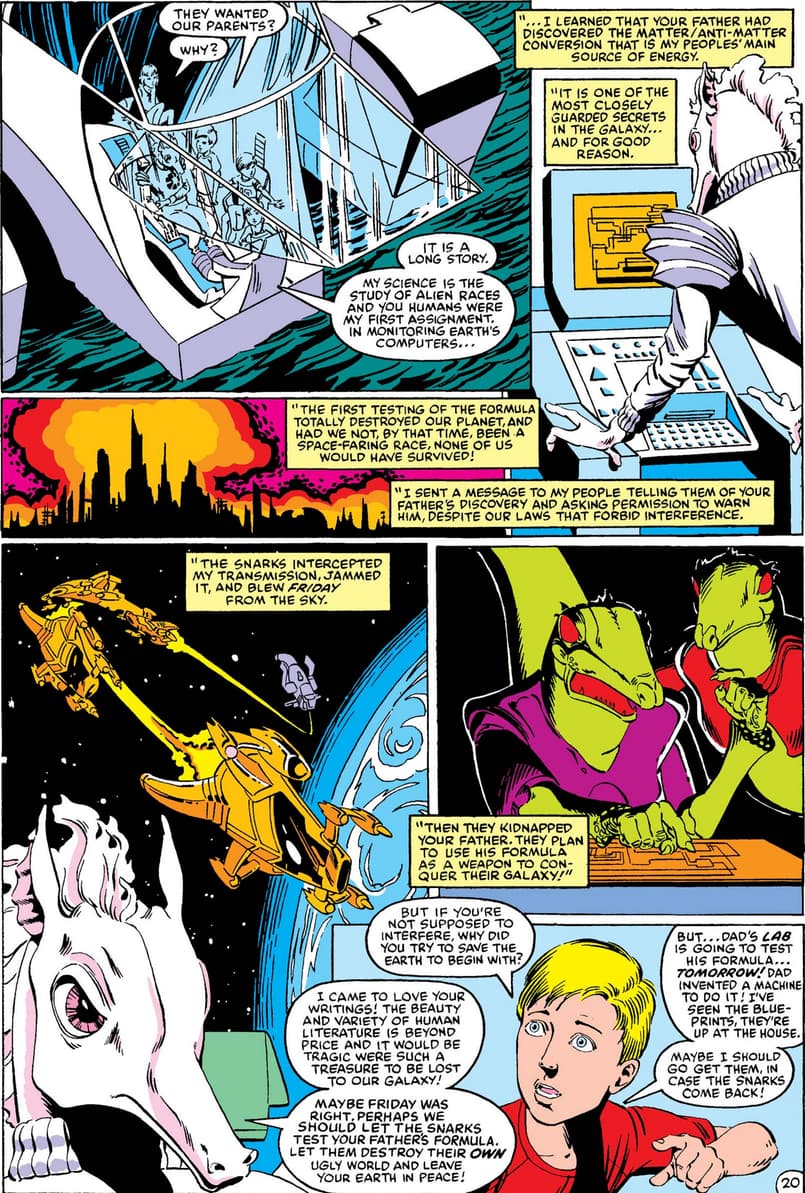 However, with the aforementioned POWER PACK launch, Brigman and writer Louise Simonson not only marked one of the few all-female teams in comics at that time, but also began creating one of the best all-ages comics of that era. Brigman worked on most of the first 17 issues, laying down the groundwork for these characters who continue having an impact on Marvel comics to this day. In 1987 she became the regular penciler on ALPHA FLIGHT until a kid by the name of Jim Lee came on board.
Todd McFarlane
Todd McFarlane began his work at Marvel on a title called COYOTE for the Epic Comics imprint in 1985. After a few years away from Marvel, he returned to pencil SPITFIRE AND THE TROUBLESHOOTERS for the New Universe imprint before beginning a solid run on INCREDIBLE HULK with issue #330, where he was soon joined by Peter David who began his own epic run on issue #331. They worked together on that title for just about every issue until INCREDIBLE HULK #346.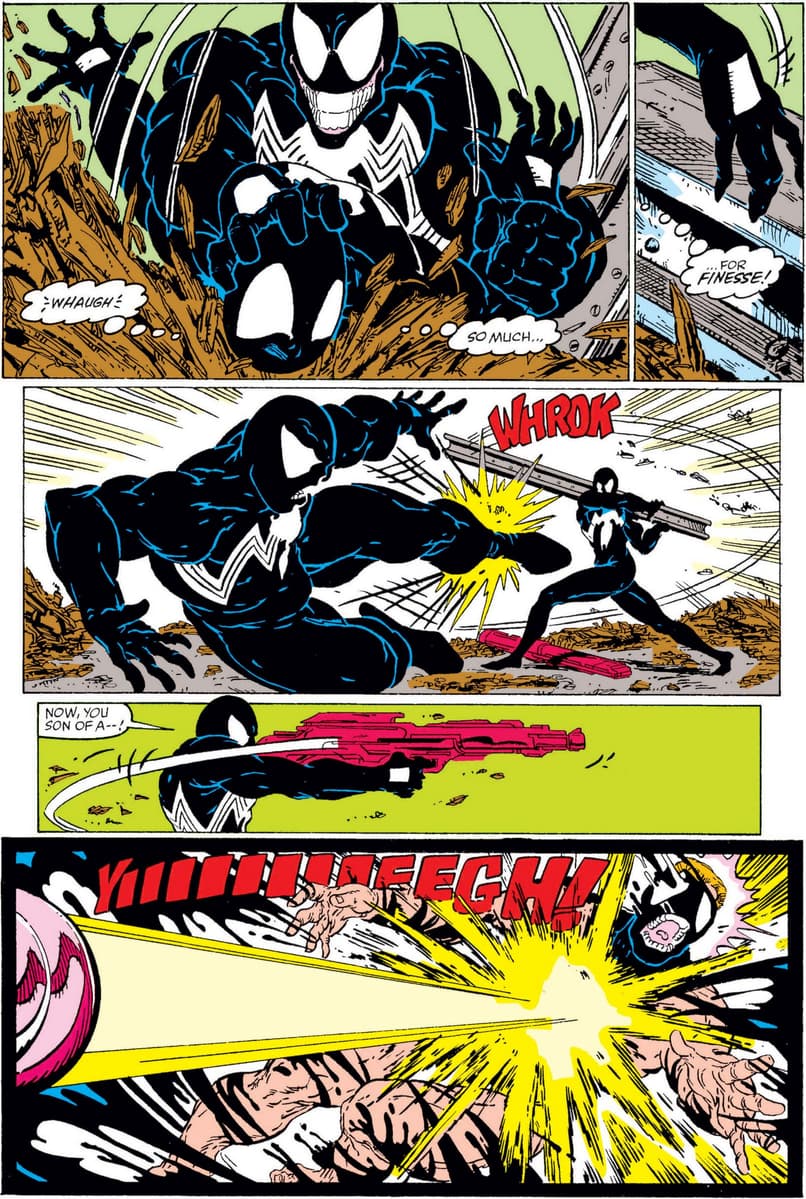 In 1988, McFarlane debuted on AMAZING SPIDER-MAN with issue #298 just in time to celebrate the 300th issue and, possibly more importantly, helping develop and introduce Venom for the first time. The artist then carried on with that title until the end of the decade. McFarlane would go on to sell millions of comics in the '90s first at Marvel with SPIDER-MAN #1 and then with SPAWN at Image a few years later. Looking at his '80s work, you can see how McFarlane grew, but also a lot of the elements he began perfecting ranging from huge bruisers and lithe super folks fighting monstrous foes!
Mike Mignola
Though he was more associated with his creator-owned denizen of Hell, Mike Mignola cut his artistic drawing entries for the OFFICIAL HANDBOOK OF THE MARVEL UNIVERSE and inking interiors on MASTER OF KUNG FU and POWER MAN AND IRON FIST in the early '80s. By 1985, he drew all four issues of the ROCKET RACCOON limited series and had brief stints penciling ALPHA FLIGHT as well as INCREDIBLE HULK #311-313.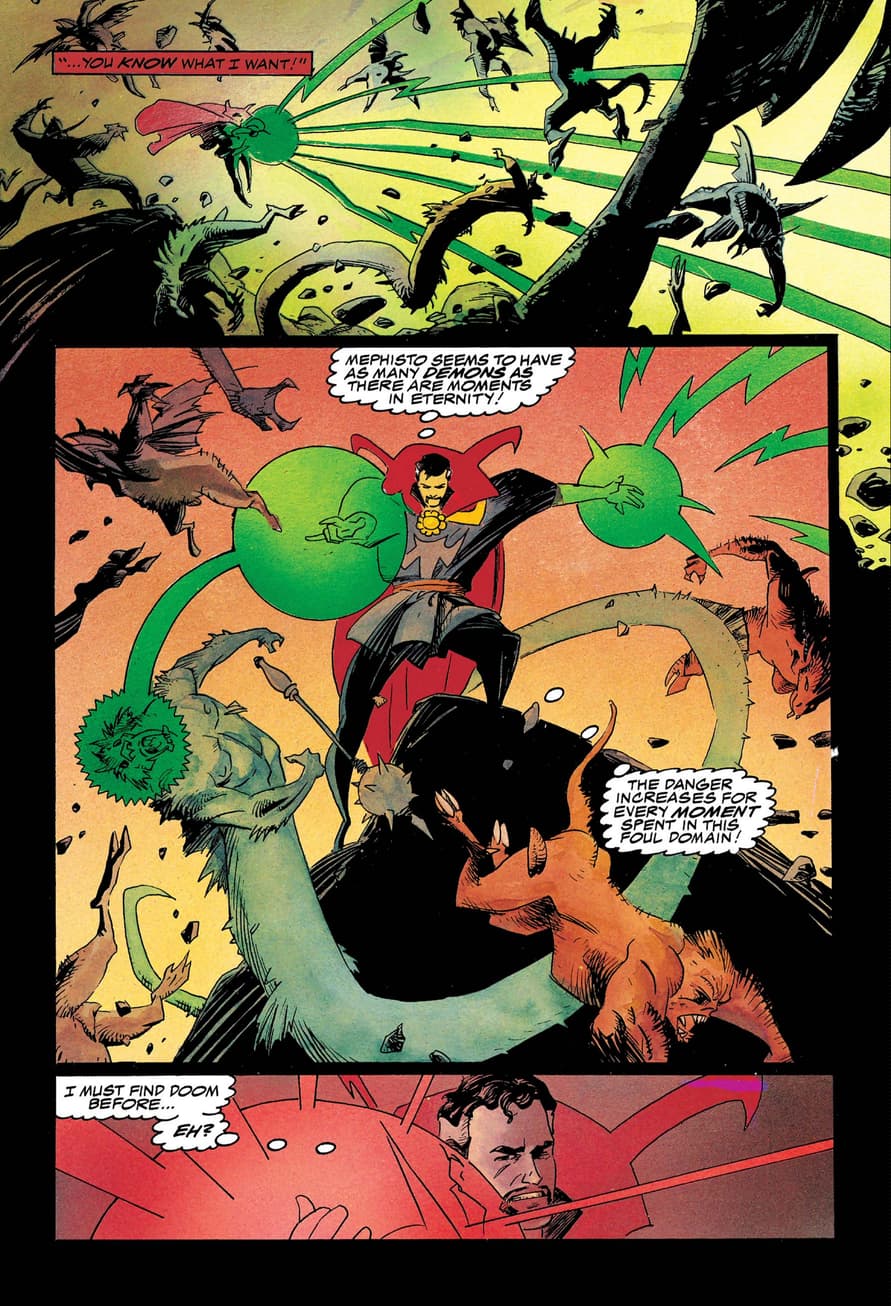 Before eventually moving on to build his own worlds in the early '90s, Mignola closed out the decade by teaming with Roger Stern on the DOCTOR STRANGE & DOCTOR DOOM: TRIUMPH AND TORMENT graphic novel. Though he showed signs in his earlier work, this book really put the artist's talent for mixing the supernatural with the Super Heroic in ways that could be both beautiful and disturbing at the same time.
Marc Silvestri
The incredibly detailed artwork of Marc Silvestri first made itself known in the House of Ideas with 1982's CONAN THE BARBARIAN #135. He would return more than a few times to work on KING CONAN/CONAN THE KING, but also did one-offs like the Namor-centric WHAT IF #41 and the Living Monolith MARVEL GRAPHIC NOVEL entry. In 1986, he began a brief run on WEB OF SPIDER-MAN #16-22 (minus issue #21) before first dipping his toe into the world of X with X-FACTOR #8-9. The following year, he did X-FACTOR #12 and then the four-issue series X-MEN VS. AVENGERS.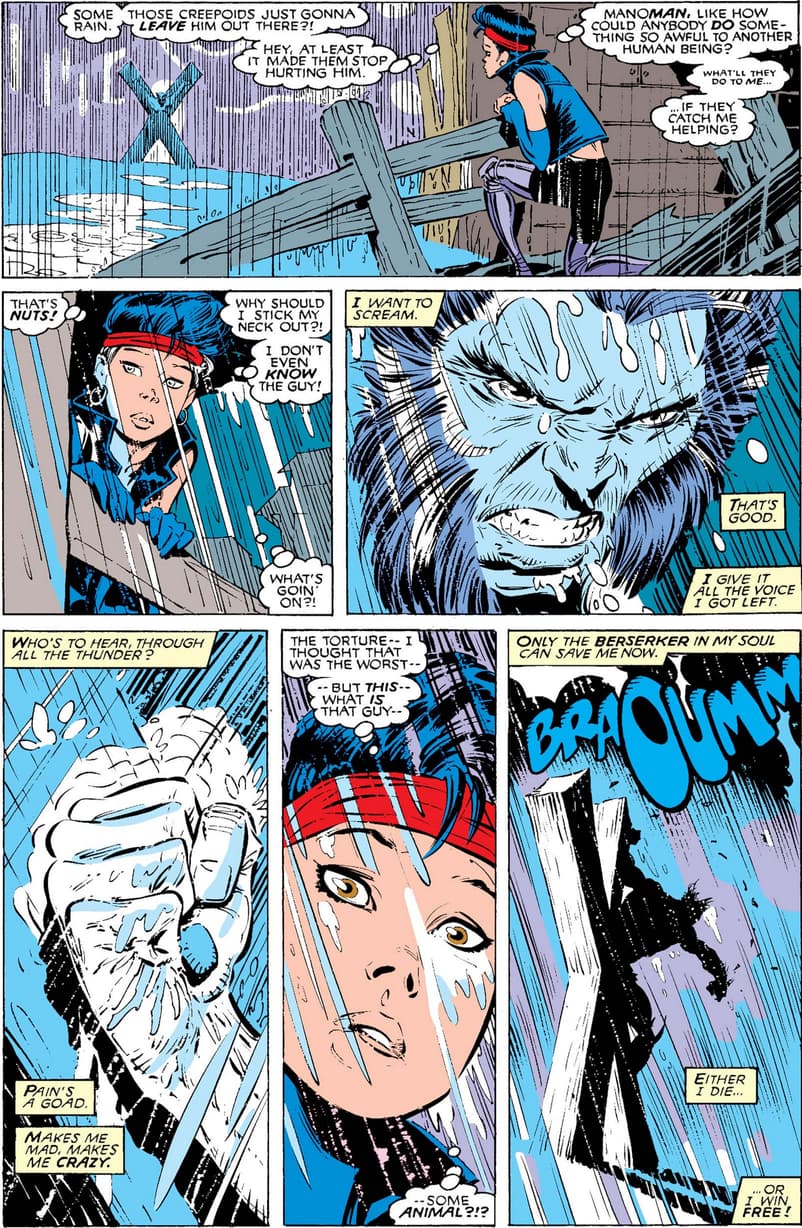 With UNCANNY X-MEN #218 he began a run on that title with Chris Claremont that would essentially carry over to the beginning of the '90s. Along the way they introduced, Mr. Sinister (issue #221) and Jubilee (issue #244), drafted iconic covers for issues #234 and #251 (both featuring Wolverine in precarious situations) and a pair of crossovers in FALL OF THE MUTANTS and INFERNO. He and Jim Lee would trade off issues leading into the '90s, which is around the time Silvestri switched gears over to WOLVERINE for another epic run.
As these artists have proven, Marvel Comics has always been able to adapt and change along with the rest of pop culture while opening doors – and sometimes entire universes – for its growing stable of classic characters. Super Heroes and Villains went to darker, stranger, and more dangerous places thanks to these risk-taking creators – and the greatest reward for those risks was timeless tales for the Marvel canon!
For more about Marvel's 80th anniversary, visit Marvel.com/marvel80!
The Hype Box
Can't-miss news and updates from across the Marvel Universe!