Comics
Published December 28, 2020
The Cards Are Dealt in 'X of Swords'
Let the games begin on Marvel Unlimited. Grab our highlights from opening chapter 'X of Swords: Creation.'
Have you tried Marvel Unlimited yet? It's your all-access pass to over 28,000 Marvel comics, all available at your fingertips. Sign up now and get your first year for $55!*
New on Marvel Unlimited: Ten mutant champions. Ten destined swords. Fated in the cards of Omniversal Majestrix Opal Luna Saturnyne is the future of all realities! Follow along weekly for new chapters to 22-part crossover event X OF SWORDS, and expect the unexpected in the tournament to come.
For the five cards pulled in X OF SWORDS: CREATION #1, here are five tokens of knowledge from a monumental first chapter.
[RELATED: How to Read 'X of Swords']
THE ARAKKII ARE THE LOST "SISTERS" OF KRAKOA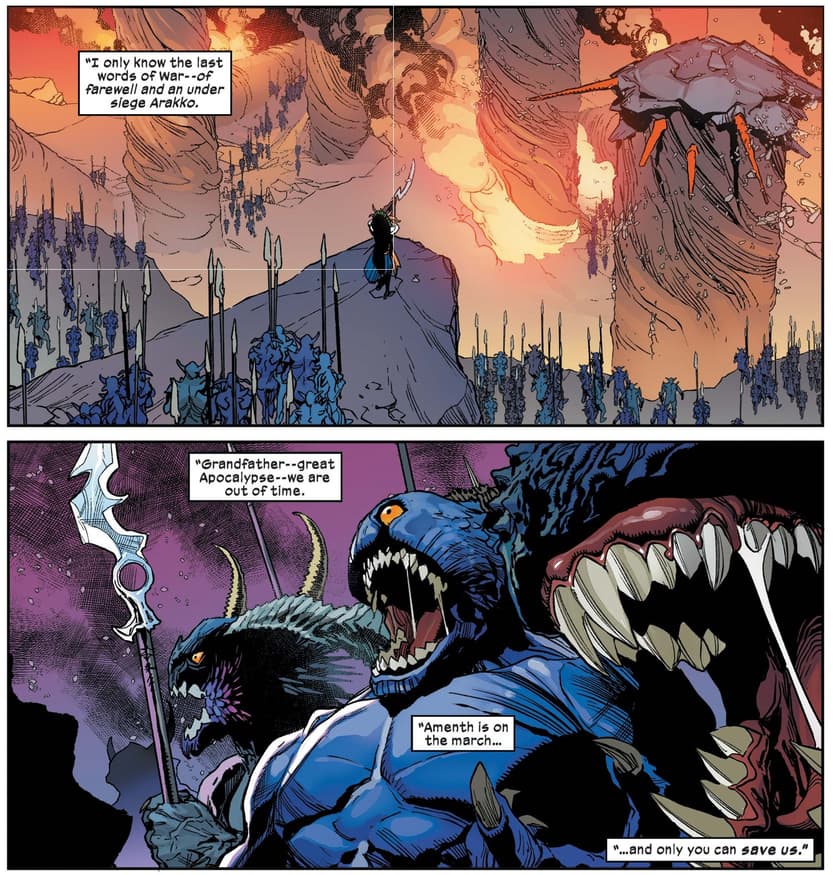 As told in POWERS OF X #4, Arrako is one half of the primordial island Okkara, forebearer to Krakoa. Millennia ago, Apocalypse and his First Horsemen faced an otherworldly invasion on Okkara, and the "warrior-god in blue" was forced to split his homeland in two, trapping his Horsemen, and family, in a fallen dimension. Krakoa remained safe on Earth, while Arakko was plagued by its conquerors, the demons of Amenth. Once locked in war to hold back an indeterminately-long age of darkness, Arakko has now fallen. And, they're taking their battle to Earth's mutants.
Read prelude issue X-MEN (2019) #12 for Okkara's complete history.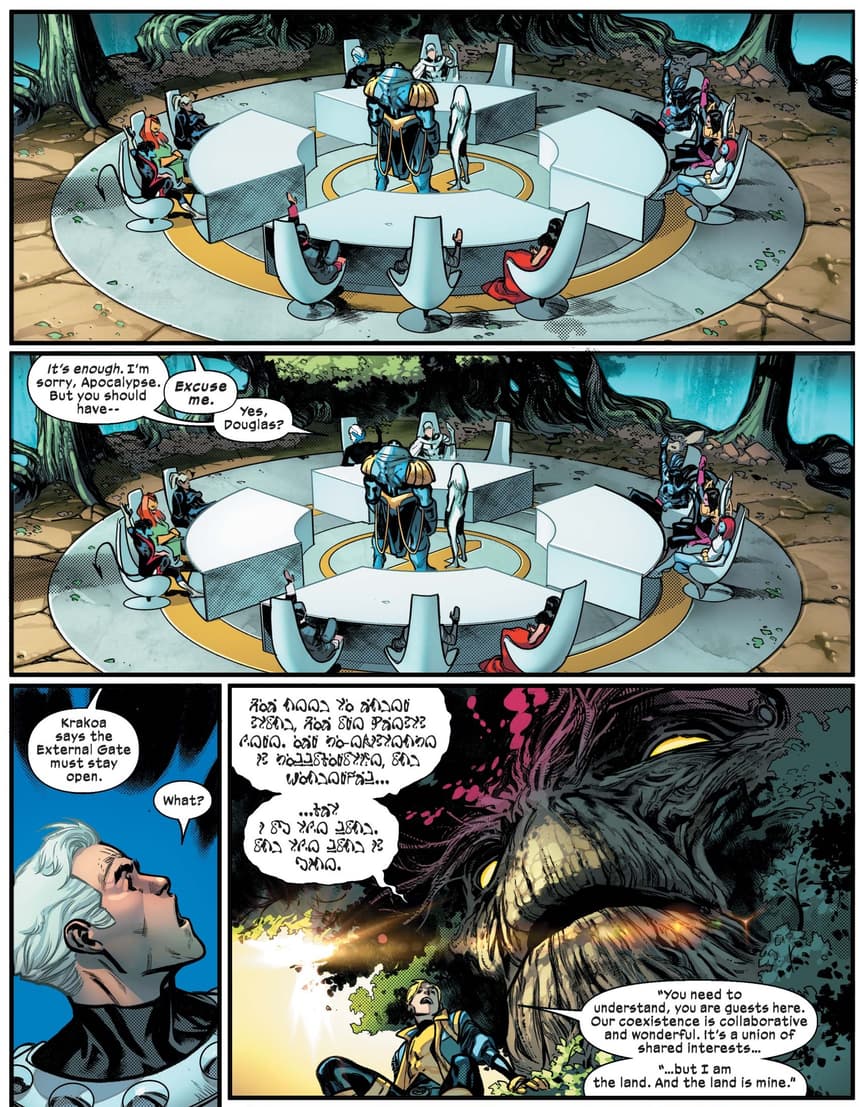 But several members are in agreement that Apocalypse messed this up. Badly. With very minimal heads up, Apocalypse dodged formal approval from mutantkind's political body and created an External Gateway to enter Otherworld (see: EXCALIBUR #12). Professor Xavier and Magneto are concerned that this portal may be accessible to non-mutants, but Krakoa feels otherwise.
Even though Arakko seems to be coming for blood, mutantkind's Living Island implores the Quiet Council to keep the Gateway open. Security risk and all, Apocalypse leads the rescue to pull out Krakoa's stranded mutants.
OMNIVERSAL MAJESTRIX OPAL LUNA SATURNYNE IS A HANDFUL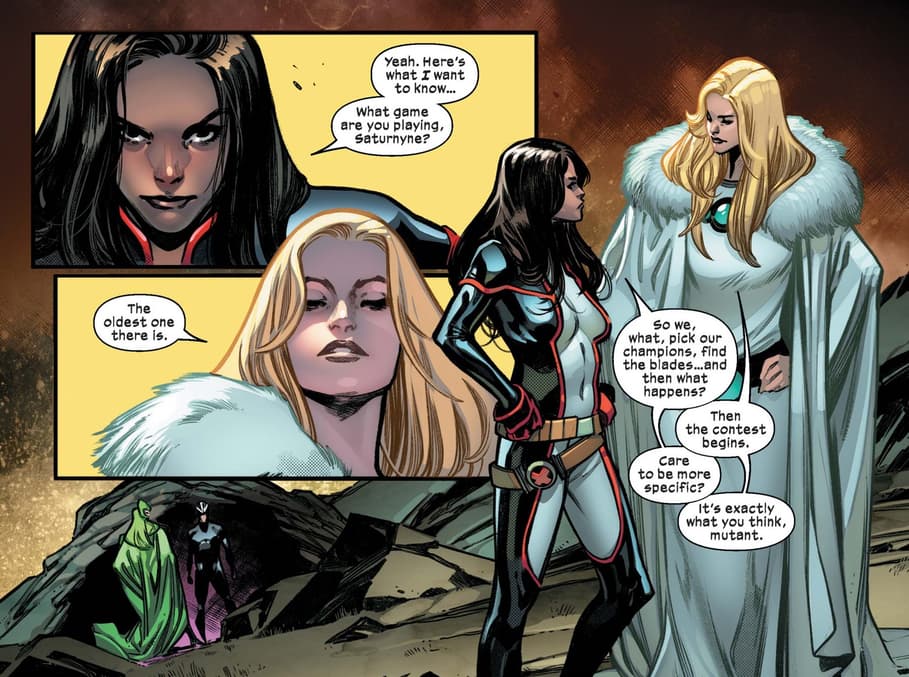 The keeper of all realties and the better-than-thou guardian of the Starlight Citadel, Saturnyne is the ringleader and reason behind the X OF SWORDS tournament. Her Royal Whyness is at wit's end keeping Arakko out of Otherworld, and has agreed to give the Arakkii direct access through her realm… if they can defeat her mutant champions at her appointed omniversal arenas.
Saturnyne will be a key player in the weeks to come. Read her recent return in EXCALIBUR (2019).
"X OF SWORDS" IS A PROPHECY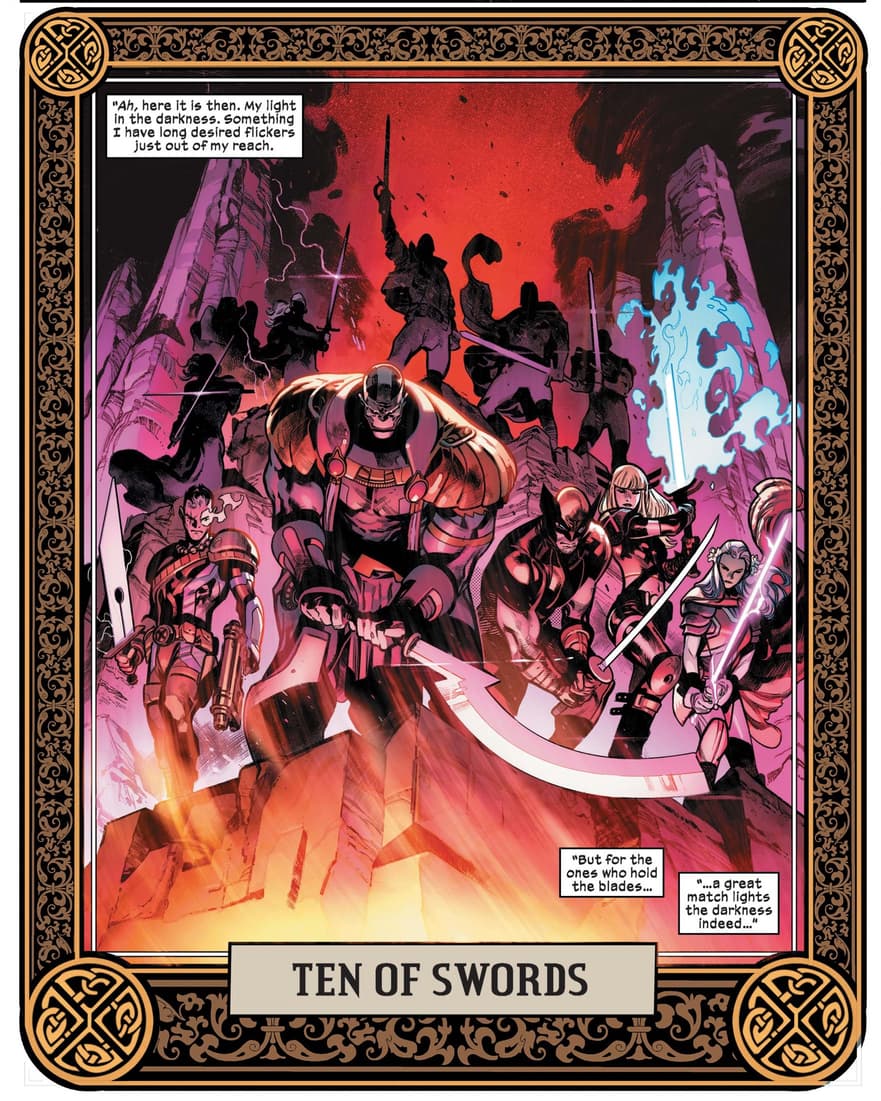 A tarot reading to be exact. Back in FREE COMIC BOOK DAY: X-MEN #1, Saturnyne drew five fateful cards for the fate of Otherworld, as seen in "Creation." Unsurprisingly, mutants were front and center in this loaded deck!
THE SWORDS HAVE NAMES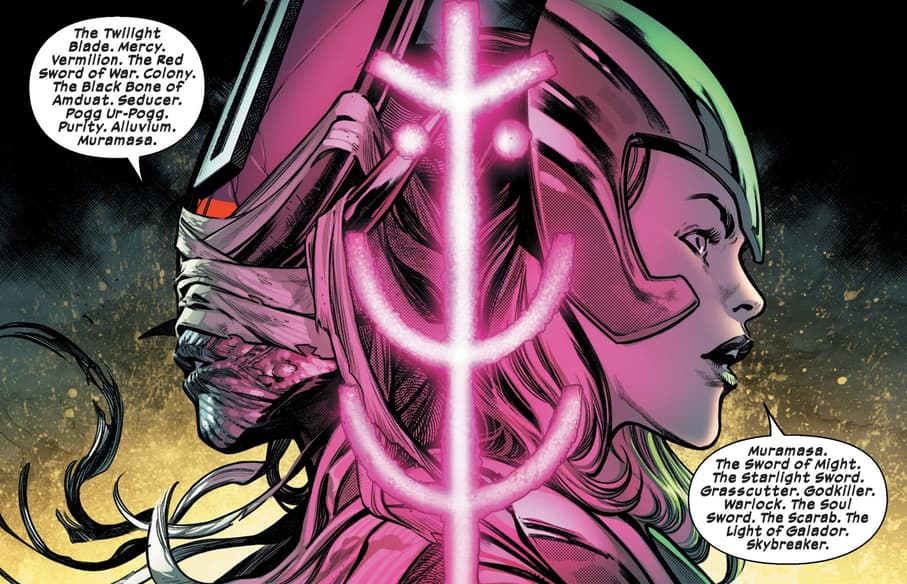 Like all legendary blades, the ten swords have mythic monikers. Saturnyne reveals the names of the selected weapons for the Krakoan and the Arakkii. And, the lifeforce-powered Muramasa makes the board twice!
Krakoan Swords: Muramasa, the Sword of Might, the Starkiller Sword, Grasscutter, Godkiller, Warlock, the Soul Sword, the Scarab, the Light of Galador, and Skybreaker.
Arakkii Swords: The Twilight Blade, Mercy, Vermilion, the Red Sword of War, Colony, the Black Bone of Amduat, Seducer, Pogg Ur-Pogg, Purity, Alluvium, and Muramasa.
See what else is new on Marvel Unlimited this week, including a fresh handful of Throwback Thursday additions, hitting the library December 31.
NEW ON DECEMBER 28
NEW ON DECEMBER 31
Follow Marvel Unlimited on Twitter and Facebook to stay tuned in to weekly announcements, articles, and more, all at @MarvelUnlimited. Follow us today to join the conversation with thousands of fellow fans, and let us know what you're reading!
*(plus tax where applicable) All prices in US dollars. Offer valid 12/14/2020 12:00 AM ET to 12/31/2020 11:59 PM ET on annual memberships only. First year billed upfront at a one-time payment of $55.00; subsequent years billed annually to the payment card on file at the then-current annual subscription fee (currently $69 per year) unless and until cancelled. Offer is open to new and former (now-cancelled) Marvel Unlimited members. Valid payment card required to redeem offer. Auto-renewal and others terms and conditions apply. See here for additional terms.
The Hype Box
Can't-miss news and updates from across the Marvel Universe!