Comics
Published May 9, 2018
Mike Hawthorne Says Farewell to Deadpool
The most prolific Deadpool artist ever pens his goodbye to the character.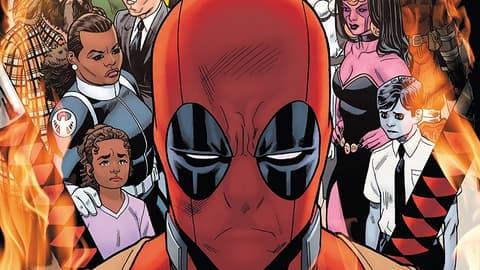 This week's DESPICABLE DEADPOOL #300 is a monumental moment in the history of the Merc with a Mouth.
Issue #300 not only packs plenty of surprises for Wade Wilson, but it's also the final Deadpool story for both writer Gerry Duggan and artist Mike Hawthorne. Duggan has elevated the Regeneratin' Degenerate to new heights since he began on the book in 2012, and Hawthorne has drawn more pages of the character than anyone in history.
In celebration of this classically-Deadpool, foul-mouthed farewell, we asked Hawthorne to sum up his Wade Wilson experience in his own words. So, Mike, take it away…
I think most people think they know exactly what Wade Wilson is about. And I thought I did too. A punchline with real punches. He's a comedy routine set to explosions. He's grilled clown and shredded straight-man all rolled into a tortilla and deep fried.
Then I learned more about him, and his fans.
I met a lady once who'd survived cancer and told me Wade was her hero. I don't know why it never occurred to me that his audience would include this woman looking at me with a mix of pride and genuine affection for this character that helped her get through some dark stuff.
I just assumed it was all goofballs like me. I'm self-centered like that.
So year after year, page after page, I got to know this guy. Draw his face angry, and sad. Lots of times smiling. And I got to love the creep for being so willing to beat himself up to find something like happiness, knowing deep down he kinda doesn't deserve it.
Let me tell you this joke my kid told me: A Horse walks into a bar. The bartender says, "Hey, why the long face?" The Horse says, "Alcoholism is killing and destroying my family."
I laughed my ass off when she told me that joke. The joke isn't perfect, you might not even think it was funny…but the way this kid delivered it was magic. I also felt a bit of terror at my laughing because I had an uncle that drank himself to death.
It occurred to me that this was my job with Wade—to sell all the jokes, with all their humor and horror, and hopefully make you feel like Wade is as real to you as he is to me. I tried to work some of that magic my kid showed me, knowing I'd brick a lot of those shots. But I tried like hell. Promise.
Wade is that one friend you want to hide from, but when he does show up, you catch yourself suppressing a grin. He's a terrible friend, father, husband…but he'd probably die for you if things got really, really bad.
So, here's to Wade Wilson! I hope the next crew loves you as much as we did.
Sorry I hit you with a planet once.
Con cariño,
Mike Hawthorne
Catch the end of an era with DESPICABLE DEADPOOL #300, right now.
The Hype Box
Can't-miss news and updates from across the Marvel Universe!