Comics
Published February 8, 2023
Finding Photon: The Cosmic Journey of Monica Rambeau
Writer Eve L. Ewing talks about the formula for launching Monica Rambeau into her current solo series!
Series MONICA RAMBEAU: PHOTON (2022) represents the alchemy of creating good comics by pairing special characters with the right creators. Monica Rambeau, former Captain Marvel and leader of the Avengers, has long been a favorite among discerning readers. But, for a long time, she's also skirted the solo spotlight. Enter IRONHEART writer (and sociologist) Eve L. Ewing, who, along with artists like Luca Maresca and Ivan Fiorelli, has found a perfect pitch for Monica and the ever-expanding world around her.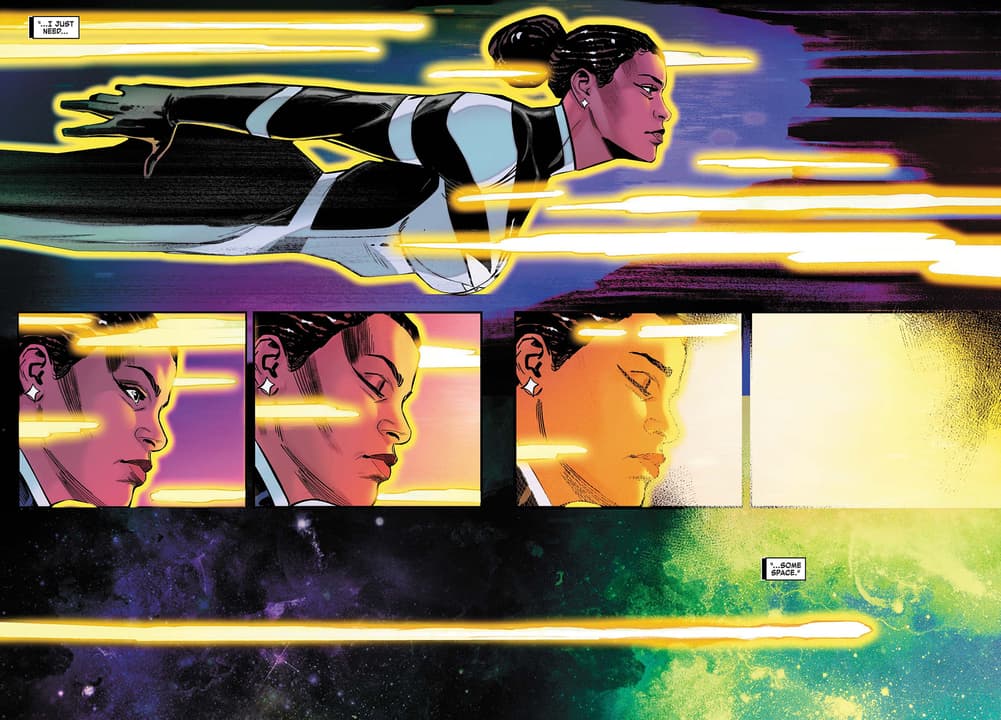 We caught up with Ewing to talk about all things Photon as well as what readers can expect from the remainder of the series. The first two issues are available now, so get caught up before picking up MONICA RAMBEAU: PHOTON #3 in comic shops on February 15!
How much research was necessary for this series and how did you go about it?
EVE L. EWING: With the exception of my time writing Peter Parker as part of MARVEL TEAM-UP (2019) (which was a much more limited series), Monica Rambeau is the oldest legacy character I've had an opportunity to write. It was really important to me to dive deep into her publication history and to read all of her major appearances. It was a lot of research and I'm lucky that we had a longer lead time for this title than I have had for some of my other Marvel projects. One thing about Monica, though, is that she is such an incredibly powerful character but was often relegated to the sidelines or didn't always have storylines that were commensurate with her power set. I felt like that was kind of an interesting and ironic meta-story: the Black woman who is always part of the team, always showing up and playing her post, and actually has all these tremendous powers, but often goes unrecognized, unacknowledged, and undersold, and who sort of casually has to shrug off a lot of disrespect—from Carol Danvers taking on the Captain Marvel moniker, to Doctor Druid scheming to displace Monica as the leader of the Avengers. So this narrative is sort of about Monica figuring out who she is independent of the team, and coming fully into her power.
Does writing comics specifically allow you to tap into a different toolbox from academic work, or do you find there are a lot of transferable skills?
EVE L. EWING: I think the research element is honestly one of the most transferable skills. I see it as a form of archival work. When I'm asked to work on a character, the first thing I do is dive into their back catalog from the perspective of a reader and a fan. I ask myself, what is missing from this story? What do I want to know about this character that I haven't yet learned? What tensions or issues in their world feel unresolved? What's an aspect of their realm that we haven't seen? And then, how can we put them in a situation to answer those unanswered questions? That's where the seeds of my stories begin. Also, in the case of Monica, a cosmic character who requires a lot of writing about energy and astrophysics—as well as in the case of Riri Williams' IRONHEART stories and her engineering—I do some research just to make sure that even though obviously this is fiction and we can have fun with it, it's grounded in some element of actual science. I used to be a middle school science teacher and I feel like that part is important, and also a lot of fun to research.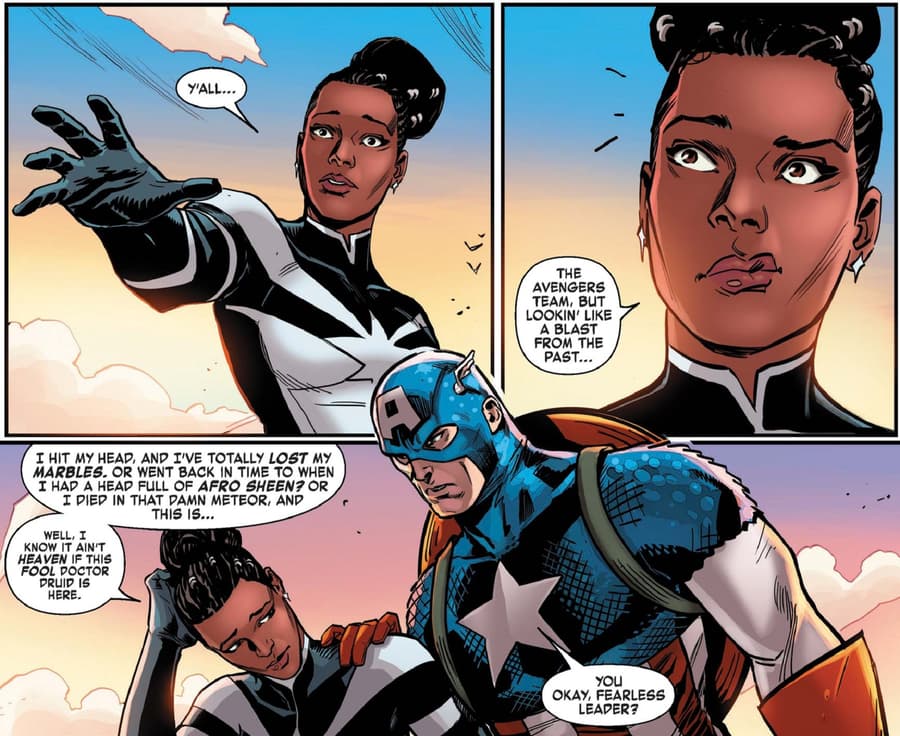 When you work on a comic, do you try to apply your areas of study to the story, or only if they fit?
EVE L. EWING: Well, as a scholar I'm interested in certain big questions that I think also show up in the stories I write, because they reflect the things about the world that I'm kind of obsessed with. That definitely includes social issues, political issues, and big philosophical questions. But I think that the beauty lies in the moments where those big questions intersect with the intimate inner life of a character.
How do you find yourself to be a different writer from when you were on, say, IRONHEART (2018)?
EVE L. EWING: When writing IRONHEART, as well as MARVEL TEAM-UP and CHAMPIONS (2020), obviously I was writing mostly about young heroes. It was a lot of fun to reflect on certain experiences I had as a teenager; the experiences of young people that I know and work with and interact with, their questions and dilemmas. But I'm writing Monica as someone who is roughly my own age, who grapples with some things I have grappled with in my own life; it has been both fun and also jarring. It's forced me to do some reflection that has been challenging at times but which I hope shows up authentically in the way the story unfolds. I hope people relate to it, because I certainly do.
I love that Roger Stern era of AVENGERS (1963) when Monica led the team, and enjoyed that you threw back to it in your first issue. Since that roster is also on the cover to issue #2, what eras of Monica's past did you feel were important to lean into?
EVE L. EWING: This is a short-ish run, and so if we were going longer I would do so much more! But given the space we have for this story, I thought going back to that Roger Stern era was essential. It provides some familiar ground for readers who have been longtime fans of the character, but it's also the place where I think some of her unresolved issues live—from questions about her origin, to the sort of (in my opinion) unsatisfying way that her leadership tenure ended. I'm also really inspired by the Monica we saw in Dwayne McDuffie's two one-shots of her [in 1989 and 1994]. Being the brilliant, legendary writer that he was, he crafted the character with so much care and clearly was trying to fill out her world in a way that felt important. Also he begins one of the titles with an Audre Lorde quote, which is extremely my jam.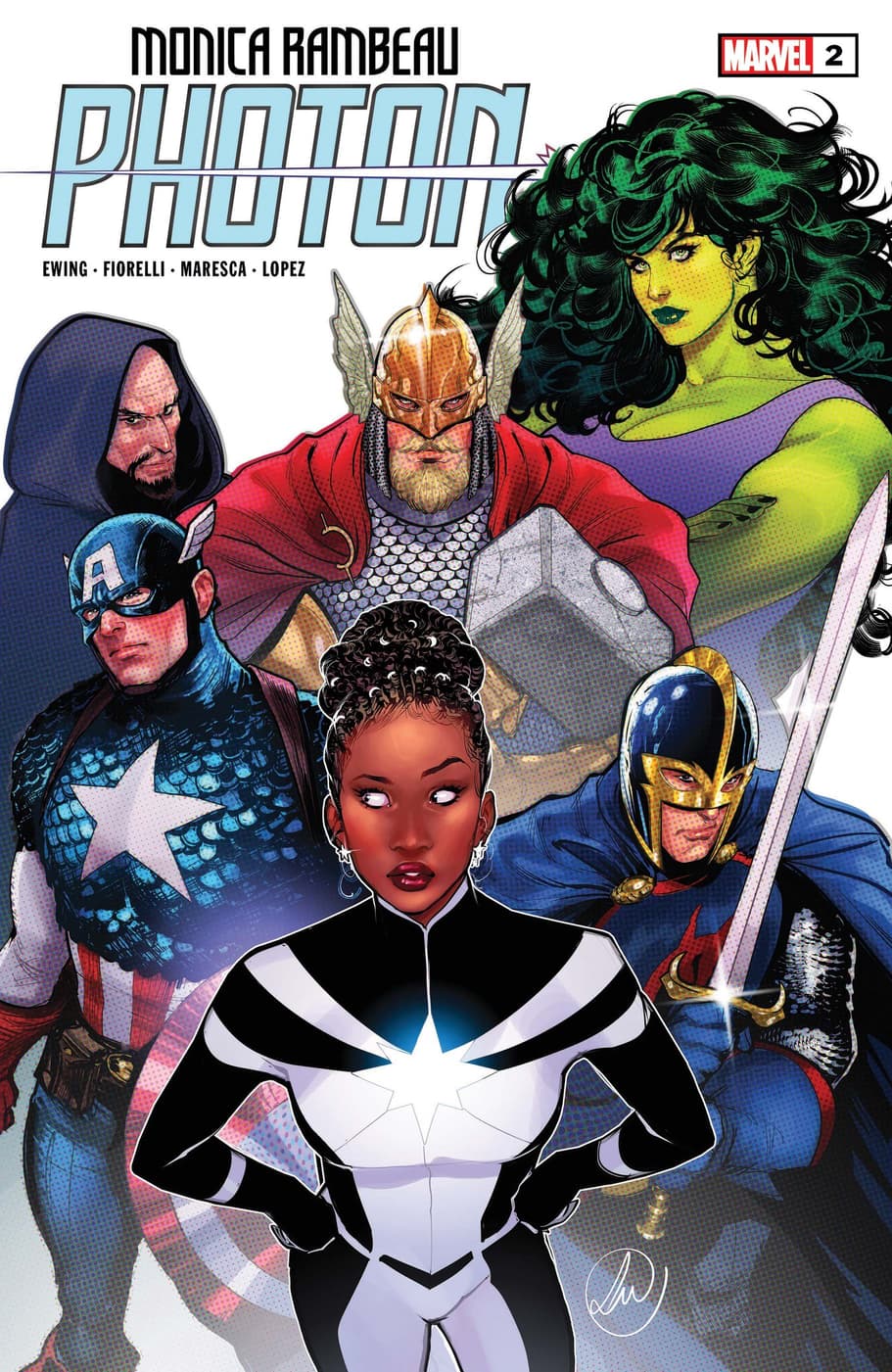 What pieces from your past efforts at Marvel did you want to use in this series? Is it cool to be able to advance seeds you planted?
EVE L. EWING: Oh, it's super cool! Early on I had a conversation with Jim Zub and that was a piece of advice he gave me. I asked him about a detail from his CHAMPIONS run and he was like, "oh, I don't know, maybe I'll pick that up later." In MARVEL TEAM-UP, Peter Parker and Kamala Khan switch powers, and at the end of the series Peter's friend, the scientist Yesenia Rosario, switches them back. But I thought it would be cool if, by virtue of being in the room, there was a malfunction where she got a little bit of each of their abilities, and I figured maybe that was a thread I would pick back up later. So now she appears as Hinge, this character who is stretchy and has a Spidey sense.
What can we expect for the remainder of this series?
EVE L. EWING: This is my first foray into the cosmic side of the Marvel Universe, and so I considered it a personal challenge to try to make this story weird, unpredictable, and galactic in scope. And the one particular charge I got from my amazing editor, Annalise Bissa, was that this story was purely a Monica story. We've seen her with a team oodles of times. This one is just about her.
The first two issues of MONICA RAMBEAU: PHOTON are currently in comic shops near you! Look out for issue #3 on February 15, and keep an eye out for Eve L. Ewing on BLACK PANTHER later this year!
The Hype Box
Can't-miss news and updates from across the Marvel Universe!