Comics
Published July 14, 2023
The Heart of the Marvel Universe Will Be Reborn in 'Ms. Marvel: The New Mutant' Comic Book Series
The new comic book series, co-written by Iman Vellani and Sabir Pirzada, will also debut a new Ms. Marvel costume design, created by Captain Marvel and Ms. Marvel character designer Jamie McKelvie.
Ever since Kamala Khan took up her mantle as Jersey City's greatest hero, fans have come to know her as an Inhuman. A Champion. An Avenger. And now, for the first time ever, fans will know her as…an X-Man! This August, Ms. Marvel will return for her most pivotal and defining chapter yet, and it all kicks off with an all-new comic book series: MS. MARVEL: THE NEW MUTANT!
Announced exclusively by Entertainment Weekly, MS. MARVEL: THE NEW MUTANT will be a four-issue limited series co-written by Iman Vellani (Kamala Khan in Marvel Studios' Ms. Marvel) and Sabir Pirzada (DARK WEB: MS. MARVEL), Marvel Studios' Ms. Marvel) and drawn by artists Carlos Gómez (ROGUE & GAMBIT) and Adam Gorham (STAR WARS: DARTH VADER). Covers will be drawn by Marvel legend Sara Pichelli, known for her stunning and acclaimed work on titles such as ULTIMATE SPIDER-MAN.
"This was way scarier than joining the MCU for me," Vellani told EW. "Those projects feel like they live in their own dimension, so I guess I can separate myself easier. But you can hold a comic book! I've never written anything before in my entire life, but I have read many comics, so I just wrote what I would want to read. I was given a very professional tool to write what is essentially my own fan fiction."
"It was actually a very humbling experience to work with Iman, because she knows her comics even better than I do, and that is saying something," Pirzada added. "She was throwing out references to specific comics that came out before either of us were born. She has a very great eye for what makes for a good sequence on the page as drawn by an artist. It was very impressive to me to see her throw out all these references to different artists that she's been following through the years."
After Kamala's heroic sacrifice that saved the world in AMAZING SPIDER-MAN, Ms. Marvel's tragic death sent heroes across the Marvel Universe in mourning. The Avengers, Spider-Man, Champions, and beyond came together to remember Kamala and Ms. Marvel's life and legacy. But not all was as it seemed. Fans will finally start to learn the truth about Kamala's mutant and Inhuman identity in the upcoming X-MEN: HELLFIRE GALA #1 one-shot later this month!
"I want to make it very, very clear that we are not reconning her Inhuman origin. That's a part of Kamala's identity that Marvel editorial and myself would very much like to keep and protect," Vellani shared. "Our book will absolutely reflect all those core themes of identity that the Ms. Marvel comics have consistently explored — only now there's a whole new label that Kamala has to learn to accept. It's going to be pretty crazy."
After being brought back via Krakoan Resurrection Technology, Kamala is shocked to learn she is mutant. But before she has a chance to come to terms with this revelation, the catastrophic FALL OF X will throw her world into chaos…and a secret mission on behalf of the X-Men.
MS. MARVEL: THE NEW MUTANT also marks the debut of Ms. Marvel's new X-Men costume design, created by superstar artist Jamie McKelvie, who designed Carol Danvers' iconic Captain Marvel suit and Kamala's original Ms. Marvel look in the comics. Fans can get their first look at McKelvie's new Ms. Marvel design, along with a stunning variant cover by artist Stanley "Artgerm" Lau depicting the same, right here on Marvel.com. Stay tuned for more showstopping cover reveals in the coming days!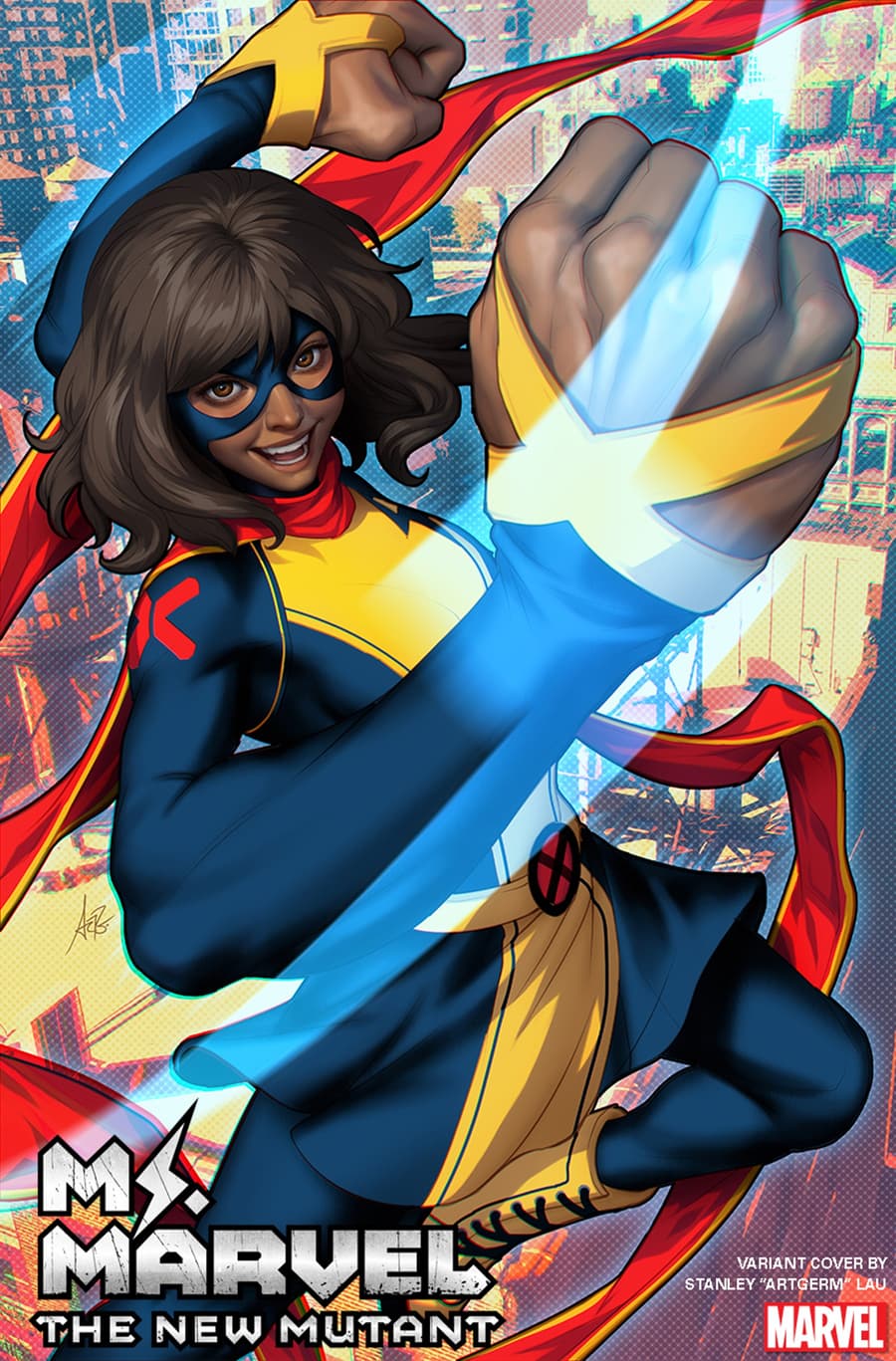 MS. MARVEL: THE NEW MUTANT #1 (OF 4)
Written by IMAN VELLANI & SABIR PIRZADA
Art by CARLOS GÓMEZ & ADAM GORHAM
Cover art by SARA PICHELLI
Variant cover art by STANLEY "ARTGERM" LAU
On Sale 8/30
Kamala Khan's journey as Ms. Marvel began in her first headline series in 2014. Quickly becoming one of Marvel's brightest stars and beloved characters among fans, Ms. Marvel grew to be a key pillar of the Marvel Universe. Over the years, her impact has only embiggened with hit solo comic runs, notable stints with the Avengers and Champions, pivotal roles in crossover events, and memorable team-ups with her favorite heroes. This summer, her next lifechanging story begins.
Don't miss the beginning of Ms. Marvel's mutant adventures this August in HELLFIRE GALA #1 and be there to witness the start of a new era in MS. MARVEL: THE NEW MUTANT #1! 
Welcome to the X-Men, Ms. Marvel—hope you survive the experience!
Grab these comics and more at your local comic book shop! Or redeem then read your digital copy on the Marvel Unlimited app by using the code found in your print comic. Find and support your local comic book shop at ComicShopLocator.com.
To read your Marvel comics digitally, download the Marvel Unlimited app for iOS and Android devices. Gain an expansive catalog of 30,000+ comics spanning Marvel Comics history, plus access your entire digital library including comics redeemed from print.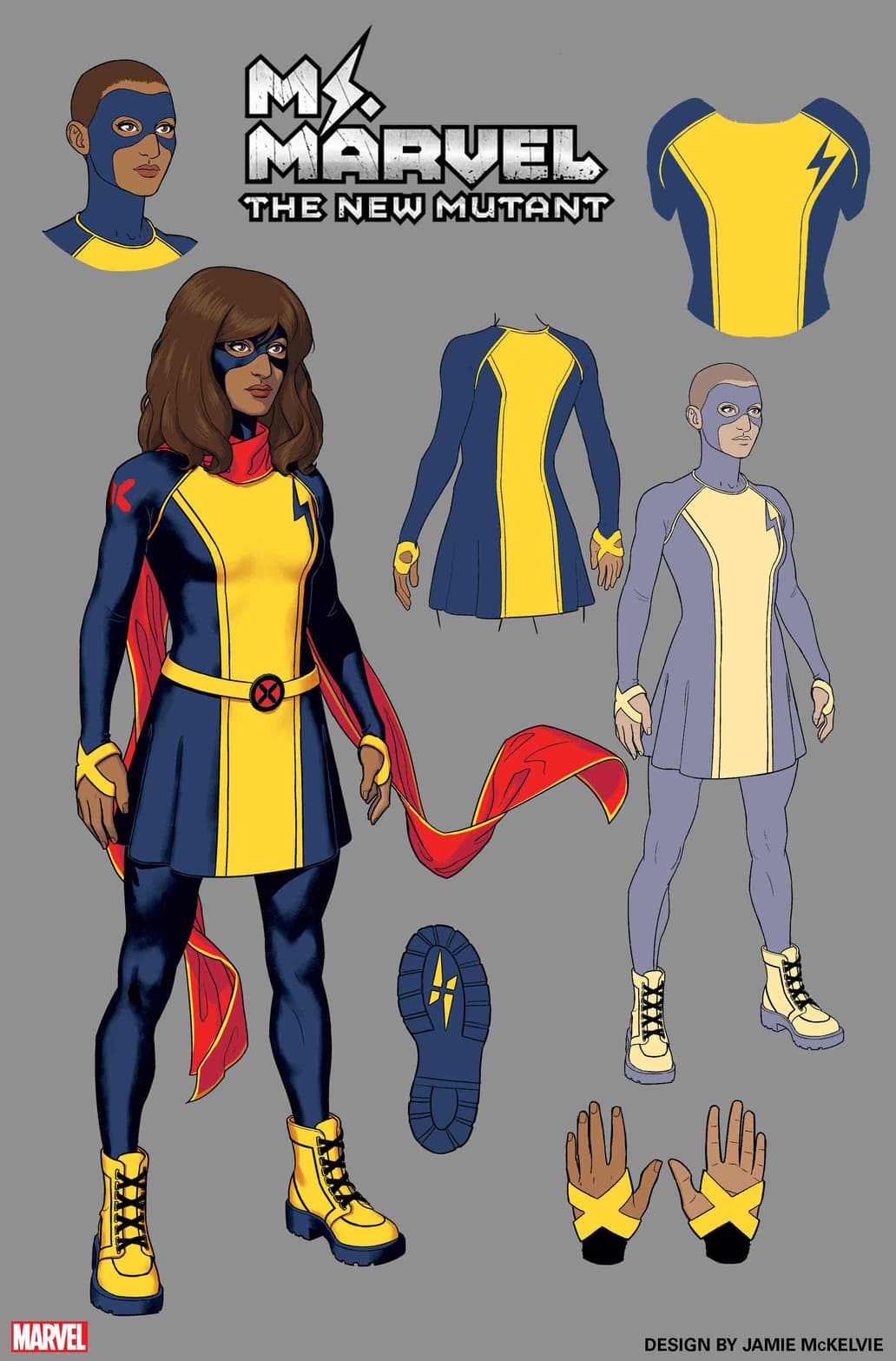 The Hype Box
Can't-miss news and updates from across the Marvel Universe!