Comics
Published June 13, 2023
'Hellfire Gala 2023' #1 Sets the Stage for Krakoan High Fashion, Drama, and the Fall of X
In a new trailer for this year's 'Hellfire Gala 2023' #1, Nimrod and some Stark Sentinels crash the party, and the results are devastating.
Every year, the world's best dressed Super Heroes and esteemed dignitaries descend on Krakoa for the Hellfire Gala, an evening of extravagant festivities and world-changing reveals… but this year's attendees are about to get more than they bargained for.
Written by Gerry Duggan alongside an all-star lineup of artists including Kris Anka, Joshua Cassara, Russell Dauterman, Adam Kubert, Pepe Larraz, R.B. Silva, and Luciano Vecchio, HELLFIRE GALA 2023 #1 will officially launch FALL OF X, turning mutantkind's greatest night into their worst nightmare. This year's Hellfire Gala will leave the X-Men reeling in the wake of shocking revelations, stunning betrayals, horrifying tragedy, impossible deaths, and so, so much more.
In addition to the devastating events of the evening, HELLFIRE GALA 2023 #1 will also reveal the winner of this year's X-Men Fan Vote, who will join an all-new X-Men lineup.
Featuring some never-before-seen artwork, a new trailer for the star-studded event finds fan-favorite characters like Jean Grey, Kate Pryde, Iceman, Emma Frost, and Rogue enjoying the party. A smash-cut to Destiny finds the precog experiencing a vision that makes her drop her champagne, only for the party crashers to arrive: Nimrod and a fleet of Stark Sentinels. Chaos ensues, but this is only the beginning…
"Every year [at the Hellfire Gala], something really big has happened," editor Jordan D. White explained at Marvel Unlimited's X-Men: 60 Uncanny Years Live Virtual Event. "The first year is when mutants surprised all of mankind by terraforming Mars in the moment and claiming it for mutant kind, which was a huge thing, obviously. At the second one, they were just kind of doing a little bit of a show off one, but that…it coincided with the world finding out that mutants have the power of resurrection and that no mutants die anymore. So that ended up being kind of not 100% great for them. But overall, okay, still they got some news out there about how great they are." 
"They've got their plans for this year, but this year also is the issue that kicks off FALL OF X. So I'll definitely tell you, things don't go the way they planned. How bad that is, you will have to buy the book to see," he teased. "But let me tell you, this is a book you're going to absolutely want to buy. It is jam packed with the best artists we've got working on it right now. We've got Kris Anka, Josh Cassara, Russell Dauterman, Adam Kubert, Pepe Larraz, R.B. Silva, Luciano Vecchio, and more. It is going to be a killer lineup."
Also revealed at Marvel Unlimited's X-Men: 60 Uncanny Years Live Virtual Event, Marvel and D23: The Official Disney Fan Club will host the first ever real-life Hellfire Gala during this year's San Diego Comic-Con in July! The event takes place Saturday, July 22 at PARQ Nightclub (615 Broadway, San Diego, CA 92101) from 8 pm to 11 pm. Get your gowns, crowns, and capes ready! Tickets are now on sale. You can find more details at D23HellfireGala.com OR D23.com/HellfireGala.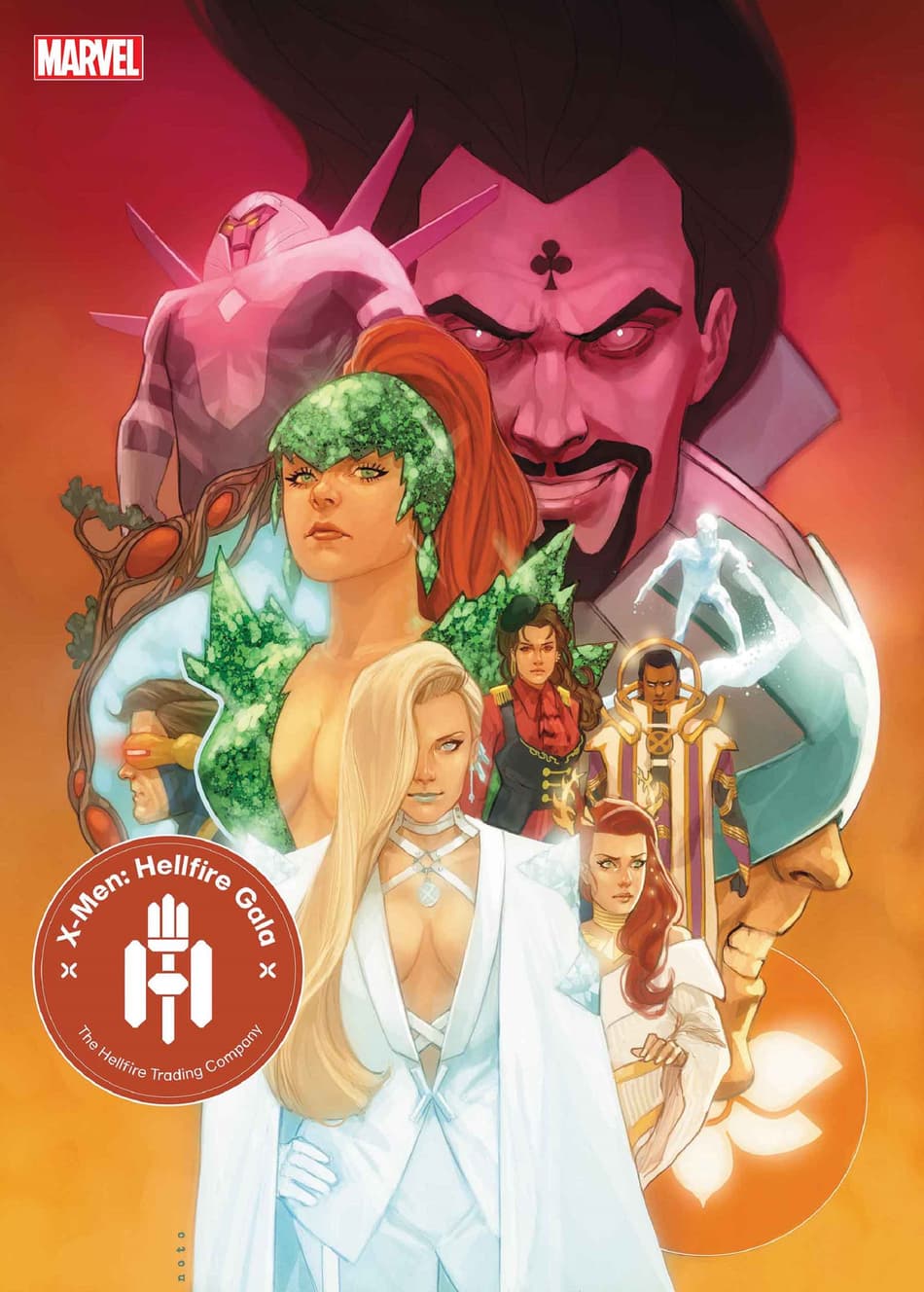 X-MEN: HELLFIRE GALA 2023 #1
Written by GERRY DUGGAN
Art by KRIS ANKA, JOSHUA CASSARA, RUSSELL DAUTERMAN, ADAM KUBERT, PEPE LARRAZ, R.B. SILVA, LUCIANO VECCHIO & MORE!
Cover by PHIL NOTO
X-Vote Variant Cover by FRANCESCO MANNA
Variant Cover by GEORGE PÉREZ
Virgin Variant Cover by GEORGE PÉREZ
Anniversary Variant Cover by J. SCOTT CAMPBELL
Virgin Anniversary Variant Cover by J. SCOTT CAMPBELL 
Retro Anniversary Variant Cover by J. SCOTT CAMPBELL
Stormbreakers Variant Cover by LUCAS WERNECK
Hellfire Gala Spoiler Variant Cover by MASHAL AHMED
Howard the Duck Variant Cover by GUSTAVO DUARTE
X-Men '97 Variant Cover by DAN VEESENMEYER
G.O.D.S. Variant Cover by VALERIO SCHITI
On Sale 7/26
Check out some variant covers below and don't miss X-MEN: HELLFIRE GALA 2023 #1 when the star-studded event kicks off on July 26.
Grab these comics and more at your local comic book shop! Or redeem then read your digital copy on the Marvel Unlimited app by using the code found in your print comic. Find and support your local comic book shop at ComicShopLocator.com.

To read your Marvel comics digitally, download the Marvel Unlimited app for iOS and Android devices. Gain an expansive catalog of 30,000+ comics spanning Marvel Comics history, plus access your entire digital library including comics redeemed from print.
The Hype Box
Can't-miss news and updates from across the Marvel Universe!