Comics
Published February 7, 2017
Nova: Starcrossed
Jeff Loveness invites you to the reunion of Gamora and Richard Rider!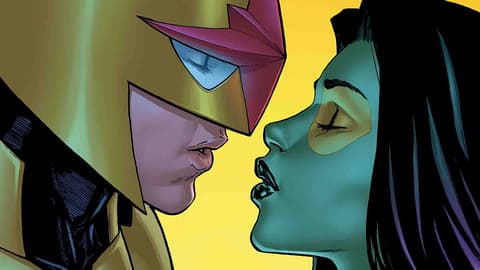 How can you not love Gamora? She's brave, tough…and oh yeah, green.
Fans of this awesome space chick have something exciting to look forward to, as she and Rich Rider will meet up again shortly, in the upcoming NOVA #4, available March 8. We caught up with writer Jeff Loveness, who let us in on what we can expect to see when these two former lovebirds reunite.
Marvel.com: Next month, Rich and Gamora will get back together briefly. How will this impact Rich? What do you think draws them to each other?
Jeff Loveness: I see them both as people of action. They met during the most stressful, yet meaningful, times in both their lives. They saw each other at their absolute peak. But sadly, it didn't last very long, and Rich ended up sacrificing himself to stop Gamora's dad from destroying the universe…so that complicates things.
But now Rich has come back to life—for reasons he keeps to himself. He has stayed purposefully distant from Gamora and many of his friends on Earth. He's not the same man he was. He feels traumatized and unsure of himself, and he doesn't want Gamora to see him this way. But these two have a habit of running into each other, and Rich has to confront all of his issues at once.
Marvel.com: Can we expect to see more of Rich and Gamora in the future?
Jeff Loveness: I hope so. I really like their banter and competitive nature with each other. I'd love to do some Thin Man-esque space-capers with Rich and Gamora in the future.
Marvel.com: Rich has had some other somewhat drama-filled relationships, like his time with Namorita. Who would you ship him with?
Jeff Loveness: Hmm…well, I was a lonely, confused boy growing up in the 90's, so I ship Rich with Rogue or Psylocke by default. But as a comic book professional, maybe I'd see if he and Jessica Drew got along. She seems like a nice person. On the other hand, perhaps Rich can finally tame Aunt May's wild heart. Scratch everything. Rich Rider and Aunt May. That's my ship.
Marvel.com: What do you think stands in the way of Rich having a lasting relationship?
Jeff Loveness: Well, he was dead for a while. That'll do it. But also, I feel he has a hard time settling down in general. When you've got one of those top jobs, you almost fear normalcy. You fear people getting to know you. People can know what you do—that's fine. But it can feel terrifying when people want to know you more deeply. Rich still doesn't have too many close friendships. I think maybe he has a reason for that. He hates letting people in and asking for help; and as you see in our series, that will backfire in a huge way.
Marvel.com: Rich isn't the only Nova running around the Marvel Universe. Do you foresee anything interesting in Sam Alexander's dating life?
Jeff Loveness: Things with Carrie, a girl from school, didn't work out…so goes high school. But Sam has his eye on the new girl, Lina. He usually comes off as a mess with women, so we'll see how that shakes out. Rich and Cosmo do their best to make him a bit more confident in himself, but that can feel hard when the people surrounding you include a living super hero legend and a psychic Communist space dog. Hopefully Sam pulls himself together.
Marvel.com: Would you like to tease or mention anything else?
Jeff Loveness: [Series artist and co-writer] Ramon [Perez's] art will blow you guys away. We've got some intense stuff on the horizon for these two Novas, but some fun stuff too. I grew up a hardcore X-Men fan, and I always respected how writers like [Chris] Claremont, [Joss] Whedon, and [Grant] Morrison could balance epic, timely storytelling with a sense of fun and wonder—one of the greatest strengths of this medium. So hopefully we give people that same type of balance.
Or we'll fail, and the fans will hunt me down and drag me through the streets as an example to others. I'd say it's 50/50 at this point.
Get your hearts racing with NOVA #4 from Jeff Loveness and Ramon Perez on March 8!
The Hype Box
Can't-miss news and updates from across the Marvel Universe!