Comics
Published May 5, 2017
Rocket: Caught in the Technet
Rocket Raccoon runs up against the bizarre bounty hunters!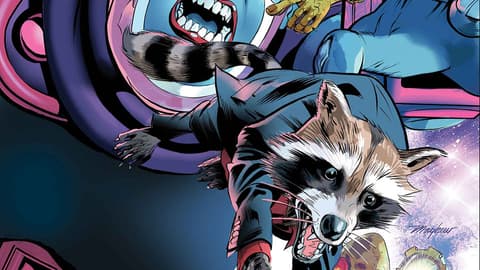 They may have been gone a long time, but they have returned in the pages of ROCKET #2 on June 7. Technet. Back and bickering more than ever?
Oh, you don't know Technet?
Don't worry, you will love them, we promise. Or love to hate them.
Can't believe it? Good thing we roped in ROCKET writer Al Ewing to give you the lowdown.
Marvel.com: Given most comics fan might have missed out on Technet since they haven't appeared in nearly 20 years, who or what is the Technet? What does it mean that they are seemingly at war with itself?
Al Ewing: The Technet are a group of extremely alien bounty hunters with very strange powers that are destined, in the future, to travel through time and become a headache for Captain Britain some years ago. Which is probably more information than readers strictly need to know.
What's important is that they tend to get into disagreements with each other about money, and this particular schism is no different; it's essentially half the Technet doing a walkout and striking out on their own because their leader, Gatecrasher, hasn't paid them in a while. I wish it was all about higher-minded ethics or morals, but it's not. It's about the moolah, as always.
Luckily, Rocket is on hand with an offer of work…
Marvel.com: What classic Technet members will readers get to see?
Al Ewing: Well, in the first issue, Technet fans will get to see Ferro-2, the skinny four-armed werewolf with the big swords, China Doll, a half-snake lady with excellent hair who shrinks things and people, Scatterbrain, a walking psychedelic episode, Numbers, a big cowardly lizard-creature with a head for accounting and a robotic turn of phrase, and then there's the egg.
Technet fans will remember the egg. We don't want to spoil the egg for new readers. We love the egg.
I've tried very hard to keep the Technet just the way I've found them, and use them in the spirit of their original appearances. Fans will hopefully feel like they're speaking in their authentic voices from the days of yore.
Marvel.com: How did you and artist Adam Gorham collaborate together to update the looks of the members of Technet for 2017?
Al Ewing: It's always a very difficult job, drawing characters that are so heavily associated with one particular creator—the marvelous Alan Davis—but Adam's been fantastic. I don't think he's updated the looks as such, but he's adapting them to his own style and the tone of the book and the results are, as ever with Adam, absolutely terrific. He's a complete joy to work with.
Marvel.com: How does Rocket fit into this larger conflict? Is he a helpful factor or does his presence promise to make things much worse?
Al Ewing: Well, in some ways he's a catalyst for events. Left to their own devices, the Technet would probably squabble and reconcile as they ever have, but Rocket slides in at the perfect moment with a big job offer—a heist that needs the team's unique skills—and that might keep the conflict going a little longer. If nothing else, Gatecrasher's going to be interested in any Technet members making big bucks outside her purview. But anyone who wants to know how it all shakes out will have to pick up ROCKET.
Catch up with the gang in ROCKET #1 by Al Ewing and Adam Gorham, available May 10, and then in issue #2 on June 7!
The Hype Box
Can't-miss news and updates from across the Marvel Universe!