Comics
Published July 19, 2019
SDCC 2019: 'Marvel Future Fight' Stars Enter New Comic Series 'Future Fight Firsts'
Luna Snow, Crescent and Io, and White Fox will lead the specials starting this October!
Announced today at San Diego Comic-Con, fan-favorite characters from Marvel Future Fight are getting their own specials with FUTURE FIGHT FIRSTS!
Written by Alyssa Wong alongside artists Jon Lam, Kevin Libranda, Gang Hyuk Lim, and more, CRESCENT AND IO #1, WHITE FOX #1, and LUNA SNOW #1 are coming to your local comic shop this October!
"The True Believers have spoken, and when they do, the teams at Marvel Games and Marvel Publishing assemble and leap to answer them!" says Marvel Games VP & Creative Director Bill Rosemann. "This time it began with the introduction of the all-new characters K-Pop Super Hero Luna Snow and the delightful duo of Crescent & Io, plus the modern update of secret agent White Fox's field uniform, in the mobile game Marvel Future Fight. Reacting to player response, all three characters then made their Marvel comic book debut in the sold-out WAR OF THE REALMS: NEW AGENTS OF ATLAS mini-series and are now leaping into the team's upcoming new series! And to give readers additional insight into these colorful characters' backgrounds and what forces set them upon their individual paths to battle evil, we're delivering not one, but three FUTURE FIGHT FIRST specials that unveil their previously unrevealed origin stories!
"We're so happy to see how True Believers around the world are embracing Luna Snow, White Fox, and Crescent & Io and will do our best to work closely with our friends in Publishing to create the adventures that they deserve!"
Here's the full rundown...
CRESCENT AND IO #1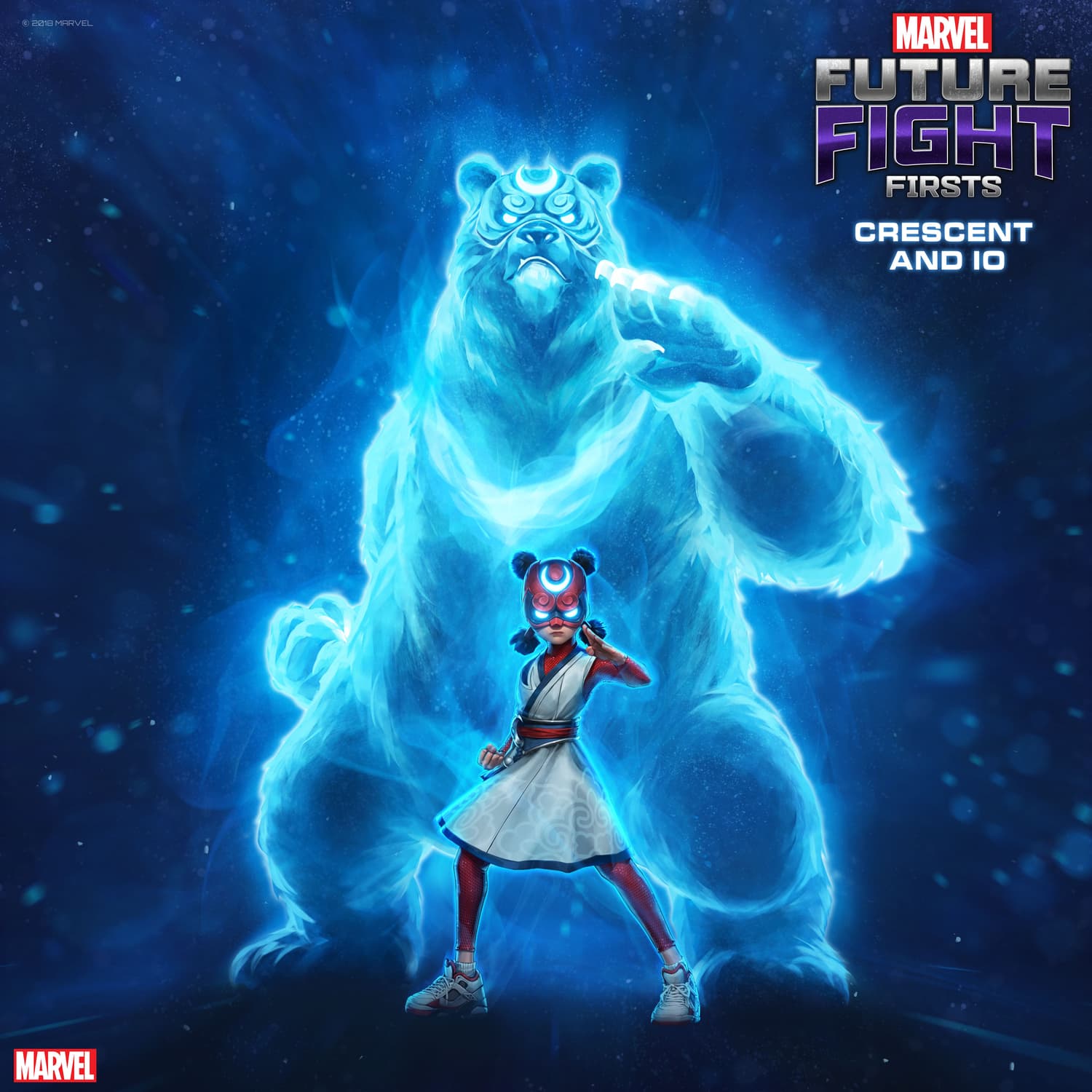 How did Dan Bi, a young girl from South Korea, first bring an ancient mystical bear spirit into the modern world? How did this unlikely duo become the evil-smashing team known as Crescent and Io? Writer Alyssa Wong, artist Jon Lam, and more join to tell the tale this October! Plus: Marvel's Future Avengers feature in a brand-new story that runs across each FUTURE FIGHT FIRSTS issue!
WHITE FOX #1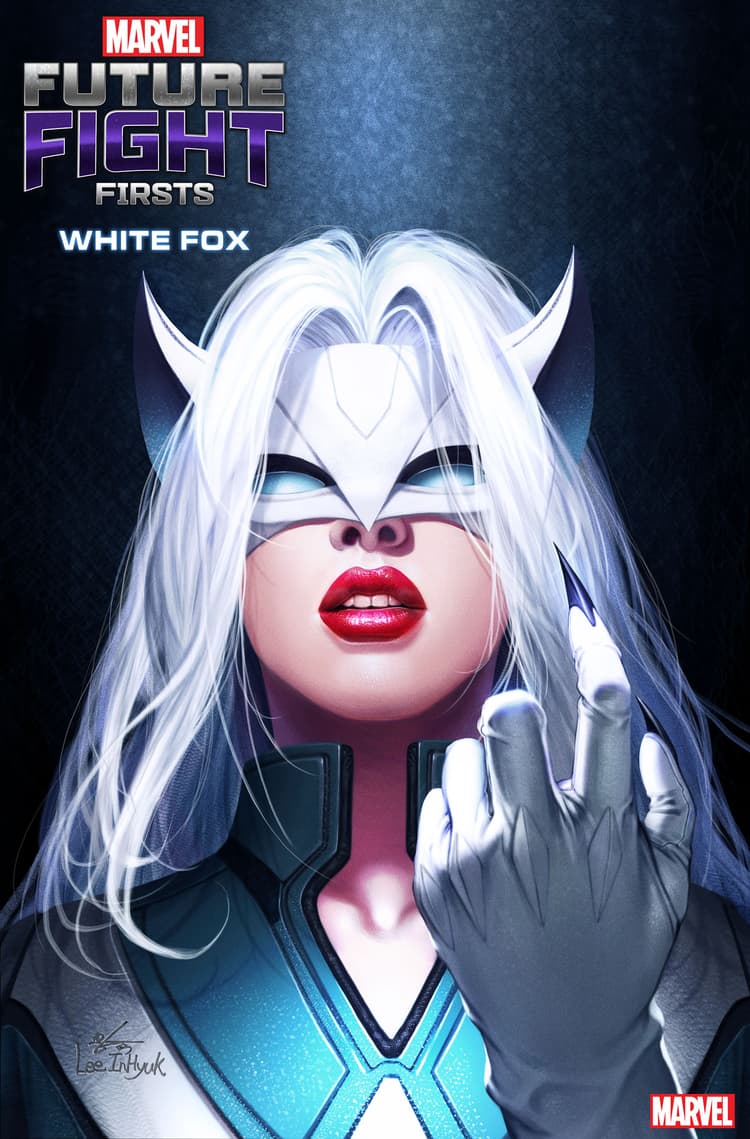 Ami Han is White Fox: a spy, a Super Hero, and the last of the kumiho—a mystical race of shapeshifters. But who was she before she became White Fox? And what happened to the rest of the kumiho? This October, Alyssa Wong teams up with Kevin Libranda and others to provide all the awesome answers!
LUNA SNOW #1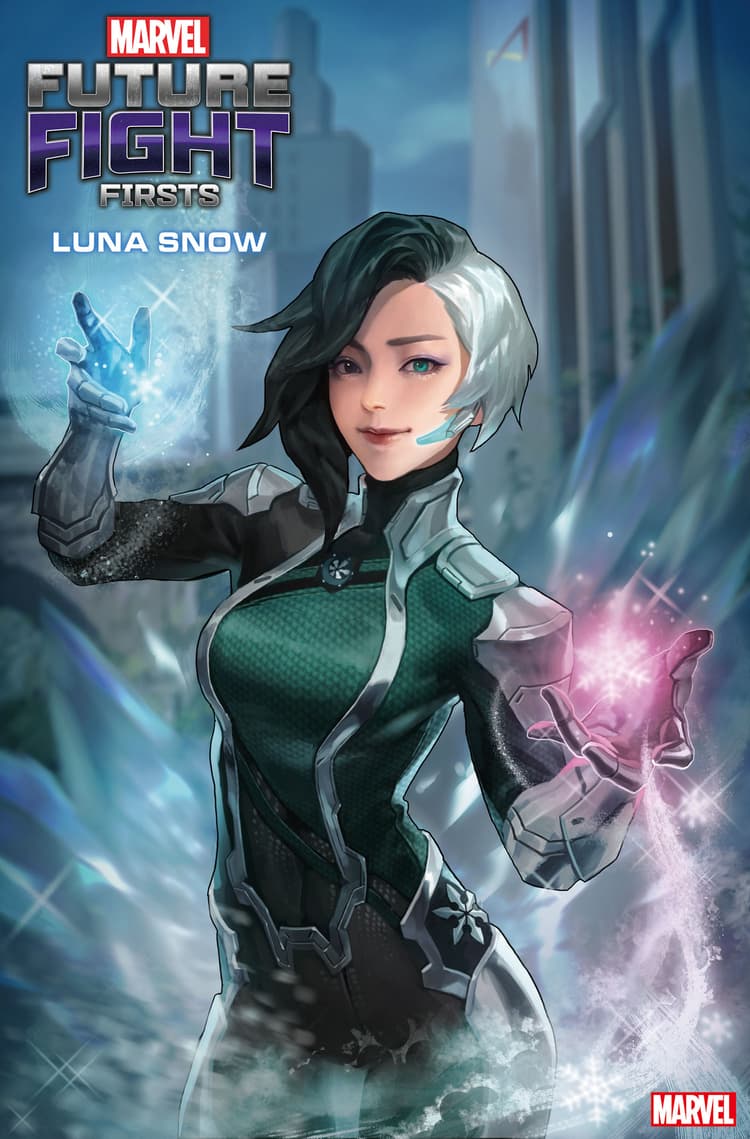 As a South Korean pop sensation, Seol Hee melt her fans' hearts…and now as Luna Snow she has the power to freeze her enemies! How does Luna juggle being an international pop star with battling evil as a Super Hero? How did she gain her powers and what does Stark Industries have to do with it? Alyssa Wong, Gang Hyuk Lim, and more join forces to forge the powerful answers this October!
"I am extremely thrilled to continue telling stories about Luna Snow, Crescent & Io, and White Fox," adds Marvel Games Senior Producer Danny Koo. "We work very closely with the Marvel Comics editorial team, especially Mark Paniccia and Lindsey Cohick, to explore the origins of these characters. We get to see all of the cool art and provide collaborative feedback to make it as authentic as possible because the fans deserve a great story! Speaking of great story, it is an honor to finally be able to work with Alyssa Wong on these books. I can't wait for the fans of Marvel Future Fight and Marvel Comics alike to get their hands on these stories!"
Stay tuned to Marvel.com/SDCC2019 for more breaking news from San Diego!
The Hype Box
Can't-miss news and updates from across the Marvel Universe!