Comics
Published June 1, 2017
Secret Empire Exposed: Deadpool
Captain America sends Wade Wilson on a murderous mission!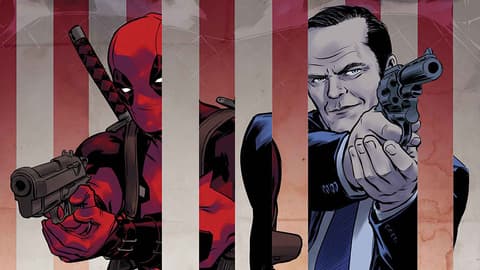 Each week, we use our super sleuth skills to dig into the histories of the characters fighting on both sides of Secret Empire!
Readers may have been surprised to see Deadpool still standing by Captain America's side in the pages of SECRET EMPIRE #1 wherein he and a handful of other heroes like Odinson, Scarlet Witch, and Vision continued to act as Avengers under Hydra's ruling fist. The Merc with a Mouth's not exactly known for towing the line or being much of a company man, so what's the deal?
Well, Gerry Duggan and Matteo Lolli attempted to answer some of those questions in this week's DEADPOOL #31, which takes place before the events of SECRET EMPIRE #0. The issue kicked off with DP remembering how he grew up as a huge Cap fan and felt honored when Steve Rogers asked him to join the Avengers Unity Squad.
Back when Steve was still running around at his actual physical age, he used his tactical genius to set up the Avengers as well as he could. In 2015's AVENGERS #0, he tasked Deadpool with stealing a canister of Terrigen mist so they could use it to save Rogue's life. Upon successful completion, Steve surprised Wade by handing him an Avengers ID card!
That, of course, led to Deadpool regularly appearing in UNCANNY AVENGERS as the squad took on the likes of Super-Adaptoid, Ultron, and The Red Skull outfitted with parts of Professor X's brain. They also made their way to Pleasant Hill during Standoff and got in on the Civil War II action. As Wade so helpfully explained, Cap would send him secret missions writtenon small white note cards that he would memorize and burn. With those gigs came specific rules, especially the one about not killing anyone. He found himself engaged in one of those very assignments before the Sentinel of Liberty showed his true Hydra colors.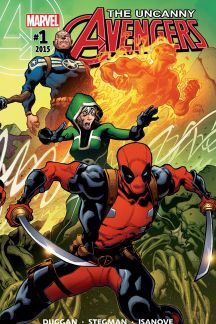 That mission involved tracking down another Cap-fan: S.H.I.E.L.D. Agent Phil Coulson who admitted that he'd been a bit suspicious of Rogers for a while. As he sent out a transmission warning about Cap's involvement in something big—including the business with the Chitauri queen—Deadpool shot a rocket launcher at him, sending Lola crashing into a forest. Knowing he couldn't take the merc on directly, Coulson ran for a nearby safe house he intended to use. He got inside, but Wade jammed a hand in and got a gut shot off. As he passed out, Coulson understood that he could have stopped Rogers' plans if Wilson had never shown up.
The issue ended with Captain America congratulating Deadpool on a job well done as they both watched Coulson's safe house burn…
The Empire Strikes Back
For more background on the Wade Wilson/Steve Rogers dynamic, check out THE DEATH OF WOLVERINE: DEADPOOL & CAPTAIN AMERICA one-shot. After Logan died, his fellow super soldier science experiments made it their mission to destroy any trace of the mutant powerhouse so he could''t be cloned or resurrected. That involved tracking down a knife with his blood on it that had recently been purchased by A.I.M. to Moscow. As they did, they remembered their friend and we got more of a look at why Cap believed in Deadpool so much. He'd seen what being created in a lab could do and also knew the potential those unique individuals had for creating good in the world. Then again, he turned out to be a mind-controlled despot, so who knows?
The Hype Box
Can't-miss news and updates from across the Marvel Universe!