Comics
Published August 3, 2020
See the Classic 'Spider-Man' #1 Cover Rendered as a "Shattered" Mosaic
After his stunning variant for 'Marvel Comics' #1000, Matthew DiMasi returns for a new "shattered" variant cover!
About a year ago, Marvel.com debuted a variant cover for MARVEL COMICS #1000 that was rendered as a mosaic by Matthew DiMasi, a "physician by day and an artist in the off hours" who has recreated over 20 comic covers in a mosaic style, including previous "shattered variants." Now, he's taking on another classic: 1990's SPIDER-MAN #1!
The issue, written and drawn by Todd McFarlane, who also did the cover, marked the first part of the "Torment" arc, which pitted the Webslinger against the Lizard. But one look at McFarlane's cover confirms that it's an image perfect for becoming a mosaic! A new facsimile edition, which hits comic shops on Wednesday, August 19, will celebrate 30 years since the issue was published.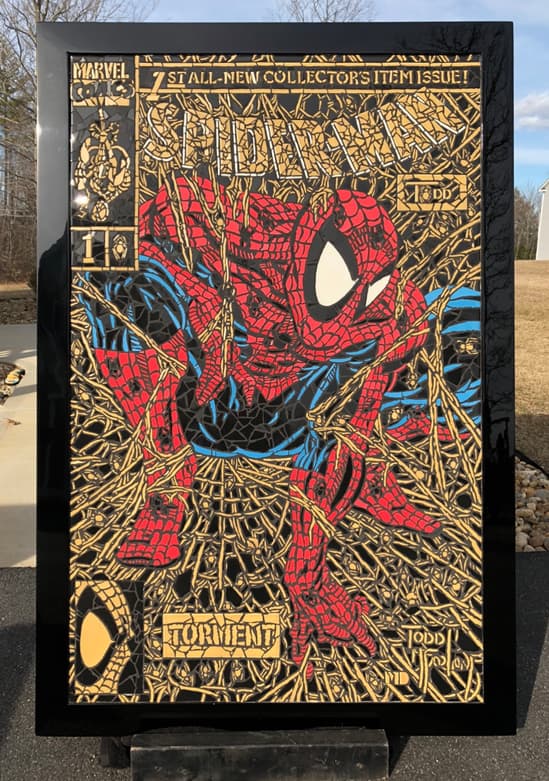 DiMasi's "Shattered" image will appear as a variant cover in silver, gold, and silver with red accents (known as the "Red" cover) on the facsimile edition of SPIDER-MAN #1. You can bid on a set featuring both the silver and gold covers and the red cover on eBay! Marvel.com had the chance to talk to DiMasi about his process on his latest variant cover:
How did you approach creating a "shattered" version of SPIDER-MAN #1?
Several years ago, I was fortunate to have the opportunity to create a secret commission mosaic of Spawn #1 for Todd McFarlane. When we unveiled the piece in his office he said "Wow, Spawn!! I thought you were going to do Spider-Man!" Right then I knew that somewhere down the line I would tackle a Todd McFarlane Spider-Man. I am a huge fan of his work, and to me, SPIDER-MAN #1 and "Torment" is the definitive cover!
You made versions in both silver and gold -- while both look great, had you initially decided on one, then wondered what the other would look like?
The gold version has always been my favorite. One day while working in my tile room, I came across a beautiful gold ceramic tile with satin glaze that I had ordered for a previous project but had never used. I immediately thought about that intricate gold webbing on the SPIDER-MAN #1 cover and was inspired. That same night, I was smashing tiles and laying down the preliminary pencils. The original art mosaic is the gold version but fortunately for those silver cover fans, my photographer was able to create a silver variant. The third cover is silver with red accents and a Marvel logo black border honoring the 30th anniversary of the cover.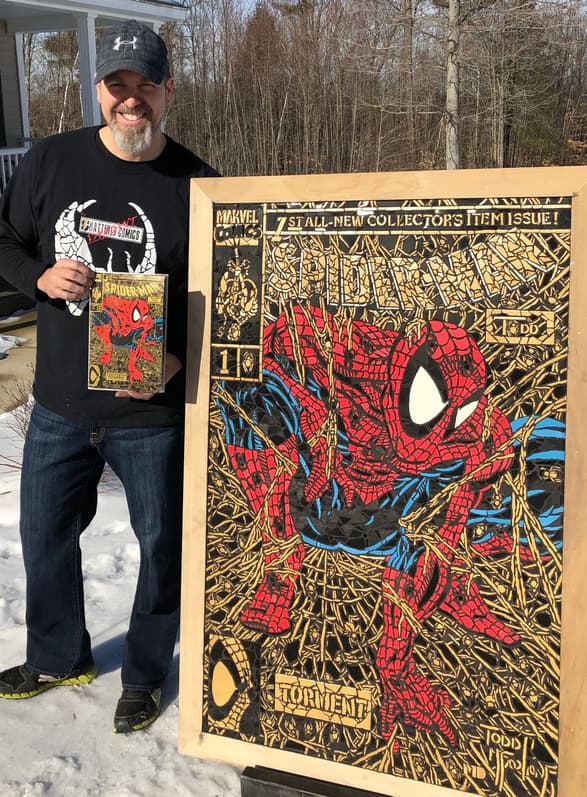 The scene depicted on the cover is a somewhat claustrophobic one for our hero -- what was it like to close in on Peter Parker in a mosaic?
Over [a] few months, I spent about 200 hours with Peter Parker in that claustrophobic space! I have "shattered" Spider-Man a few other times and the challenge is always to account for the black grout lines to create the webbing on the costume. Todd's webbing is very intricate, so this one was a tall task. The real TORMENT on this one, however, was the webbing and all of those little spiders! Yes, I counted them, and if you look very carefully at the bottom right of the Shattered Variant covers you will see the number next to the tile signatures.
Check out the image gallery below to see more of Matthew DiMasi's work-in-progress -- and visit his Instagram account to see even more!
You can pick up the facsimile edition of 1990's SPIDER-MAN #1, written and drawn by Todd McFarlane and featuring DiMasi's "Shattered Variant" covers, in comic shops on Wednesday, August 19! You can also bid on the gold and silver covers and the red 30th anniversary cover on eBay today!
The Hype Box
Can't-miss news and updates from across the Marvel Universe!