Comics
Published July 19, 2023
'Sensational She-Hulk' Gives Jennifer Walters 'Gorgeous' & 'Buoyant' Fresh Start
Speaking to Marvel.com, 'Sensational She-Hulk' writer Rainbow Rowell previewed what's in store for Jennifer Walters in the upcoming series.
Jennifer Walters is a sensation, and now she's got the title to prove it.
Following her Eisner Award-nominated run on SHE-HULK, writer Rainbow Rowell will propel the Jen into a new era with SENSATIONAL SHE-HULK this October. Alongside artist Andrés Genolet, Rowell will pit She-Hulk against her deadliest challenge yet as she reclaims the adjective and reminds readers why she's the best hero-slash-lawyer in the Marvel Universe.
Speaking to Marvel.com, Rowell explained how John Byrne's original SENSATIONAL SHE-HULK (1989) inspired her approach to the run. She described SENSATIONAL SHE-HULK (2023) as "an ongoing celebration" of the character and promised it will "hit the ground running." She teased the return of supporting characters like Patsy Walker and Jack of Hearts, as well as the appearance of more fun guest stars. She also hinted at villains to come, Scoundrel's future, a potential new member for Punch Club, and so much more.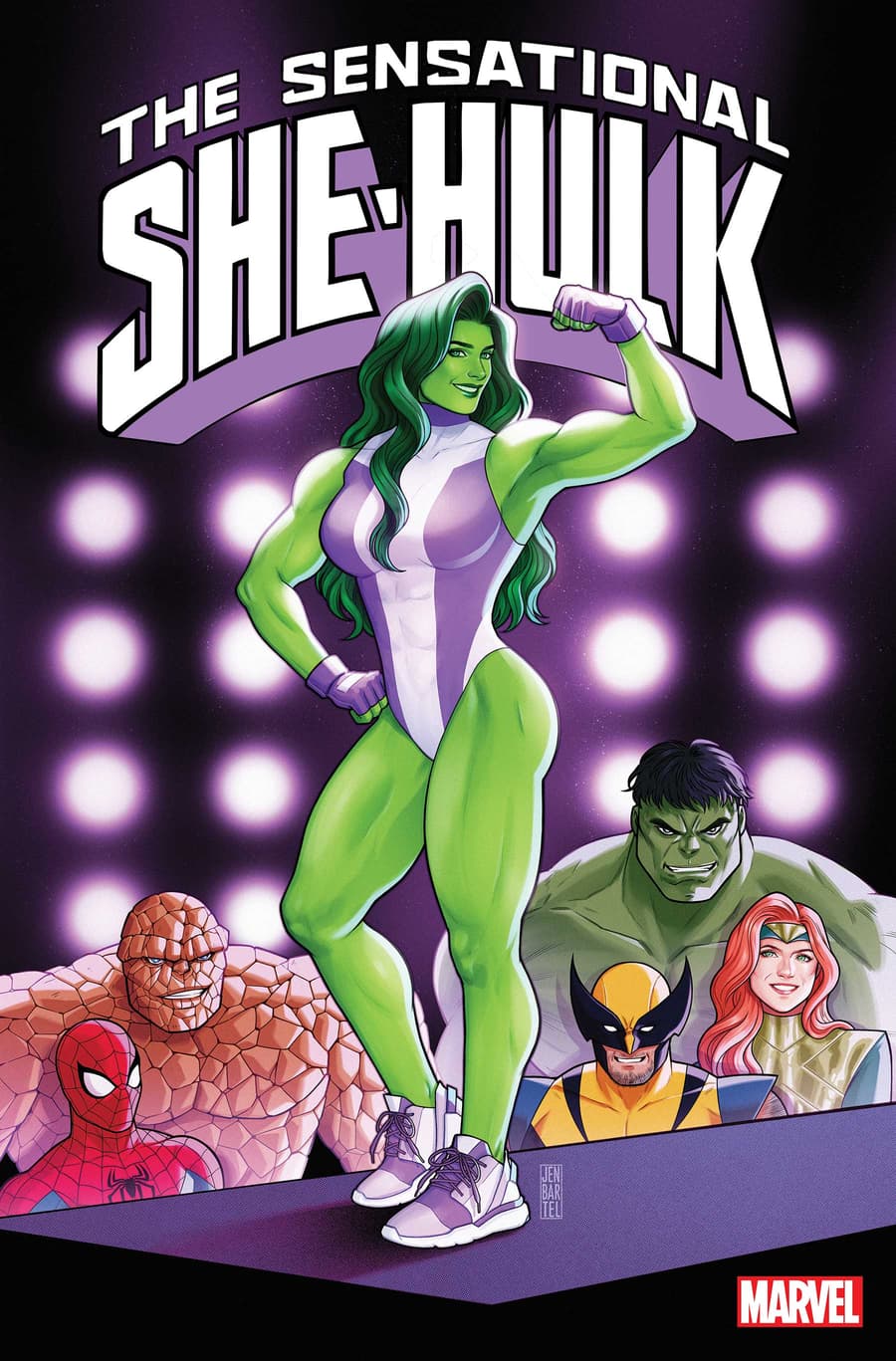 SENSATIONAL SHE-HULK #1
Written by RAINBOW ROWELL
Art by ANDRÉS GENOLET
Cover by JEN BARTEL
On Sale 10/18
MARVEL.COM: What does "sensational" mean to you? What makes your new She-Hulk run so SENSATIONAL?
RAINBOW ROWELL: That word makes me think of the original SENSATIONAL SHE-HULK from artist/writer John Byrne. It's a vibe, really: gorgeous art, gorgeous Jen, jokes, a feeling that anything can happen, and a focus on a Jen as a person, a woman. We were definitely inspired by that run in our previous issues, and we're leaning in even more with the new book. I want it to feel really smooth and buoyant, an ongoing celebration of Jen as a character.
MARVEL.COM: The last time we saw Jen in SHE-HULK #14, she was going through a rough patch, romantically and professionally. What is her outlook when we pick up with her in SENSATIONAL SHE-HULK?
RAINBOW ROWELL: I think she's feeling a little bit more stable, a little more confident. More ready to take on the world. 
In our first 15 issues, we watched Jen put her personal life together, and we met the important people in her life. We watched her fall in love with Jack and work a few things out. Now all those pieces are in place, so we can just have fun with it. We can hit the ground running.
MARVEL.COM: SHE-HULK involved some great supporting characters, from Jack of Hearts and Hellcat to Mallory Book and Awesome Andy. What does the new launch mean for this wonderful cast? Who else might be joining Team She-Hulk?
RAINBOW ROWELL: She-Hulk is a great book to write because Jen knows literally everyone in the Marvel universe—we've got sixty years of comics as our oyster. We really wanted to give Jen her own consistent supporting cast, so all the regulars will back for the new book. Jack, Patsy, the Punch Club... And we'll keep bringing in fun guest stars. I'm especially excited to give Mallory and Awesome Andy more attention. And Titania and Volcana. 
MARVEL.COM: In true Shulkie fashion, SHE-HULK has really leaned into romance. How will SENSATIONAL SHE-HULK continue that?
RAINBOW ROWELL: One of our goals for the book was to show Jen in love. As a character, she's always sought out romance, sex and companionship—but those relationships haven't always played out on the page. We wanted to foreground and make space for it. I think the romance is an even better fit for "Sensational" She-Hulk. It's in the spirit of giving Jen the biggest and richest life possible. (And the best outfits and hair.)
MARVEL.COM: On the flip side, SHE-HULK is still dealing with Scoundrel, the ridiculously charming thorn in Jen's side. What makes him the perfect villain for She-Hulk? What does the future hold for him?
RAINBOW ROWELL: Aw, Scoundrel. That rascal. He came on the scene because we wanted to give Jen a romantic option who's everything Jack isn't: confident, quick on his feet, touchy. Jack and Jen are still in a place where they can't touch, but Scoundrel and Jen can spar for days without either of them getting hurt.
Who can say what the future holds for Scoundrel? You can't keep a good (terrible) man down. 
MARVEL.COM: But every good Super Hero does need an antagonist. What kind of threat will Jen face in SENSATIONAL SHE-HULK?
RAINBOW ROWELL: We'll meet a few people again who Jen had hoped were behind her—and one that Jack had assumed was behind him. And then we'll see Jen trying to work through tough situations with people who can't help but get in her way, even if they don't mean to. (Life, as always, is the fiercest antagonist.)
MARVEL.COM: What has working on SHE-HULK taught you about the art of making comics? What lessons will you be taking with you into SENSATIONAL SHE-HULK?
RAINBOW ROWELL: This was the first time I've written a book focused on a single character and not an ensemble. That's a different rhythm—you have to bring the world to the character. And each artist that I work with has a different way of working, so every new collaboration is a new rhythm. 
I also got more practice with cameos and guest stars. The RUNAWAYS, my previous book, weren't integrated into the Marvel world the same way that She-Hulk is. 
MARVEL.COM: What are you most excited for readers to see in the remaining issue of SHE-HULK and/or the start of SENSATIONAL SHE-HULK?
RAINBOW ROWELL: I think I'm most excited for people to see Andrés Genolet's art. He came on the book on #11, and every issue is just better and better. (I don't think Jack of Hearts has ever looked this good.)
I'm also excited for people to see what Jack has been working on for the last few issues. His secret project. 
And then, with SENSATIONAL, I'm excited for our current readers to find out we're coming back (the party isn't over!) and for new readers to see what a good time this book is.
MARVEL.COM: And perhaps the most important question of all: when will we get more Punch Club?!
RAINBOW ROWELL: The Club is a huge part of the finale in #15, and then my favorite part of SENSATIONAL SHE-HULK #1 is Jen trying to introduce Jack to Punch Club.
See what makes Jennifer Walters so sensational in SENSATIONAL SHE-HULK #1, on sale October 18!
Grab these comics and more at your local comic book shop! Or redeem then read your digital copy on the Marvel Unlimited app by using the code found in your print comic. Find and support your local comic book shop at ComicShopLocator.com.
To read your Marvel comics digitally, download the Marvel Unlimited app for iOS and Android devices. Gain an expansive catalog of 30,000+ comics spanning Marvel Comics history, plus access your entire digital library including comics redeemed from print. 
The Hype Box
Can't-miss news and updates from across the Marvel Universe!