Comics
Published August 15, 2022
She-Hulk: Law and Disorder
Get to know the super-powered Attorney at Law! Read the acclaimed 2014 run starring Jennifer Walters: She-Hulk on Marvel Unlimited.
Have you tried Marvel Unlimited yet? It's your all-access pass to over 30,000 Marvel comics at your fingertips. Get your first year of Marvel Unlimited for just $60 by using code MUSAVE60 at checkout!
Jennifer Walters, AKA She-Hulk. When she's not avenging with the Avengers or filling in for the Fantastic Four, she's an attorney. Which brings us to her acclaimed solo series SHE-HULK (2014) by creators Charles Soule, Javier Pulido, Muntsa Vicente, Ron Wimberly and more. She-Hulk was working at Paine & Luckberg, LLP for a year and was called in for an annual review. She was adamant that she would receive a raise. But, her hopes were shot out of the sky when her bosses revealed that they only hired her to get super-powered clients, which, frankly, sucks. She-Hulk quit on the spot and was handed a mysterious blue file as she departed. Her now-former bosses should have made that their last action towards She-Hulk, but they made the mistake of insulting her, calling her a "bad investment" and a "deduction." In response, she "deducted" a table from Madripoor in half, right in front of their faces.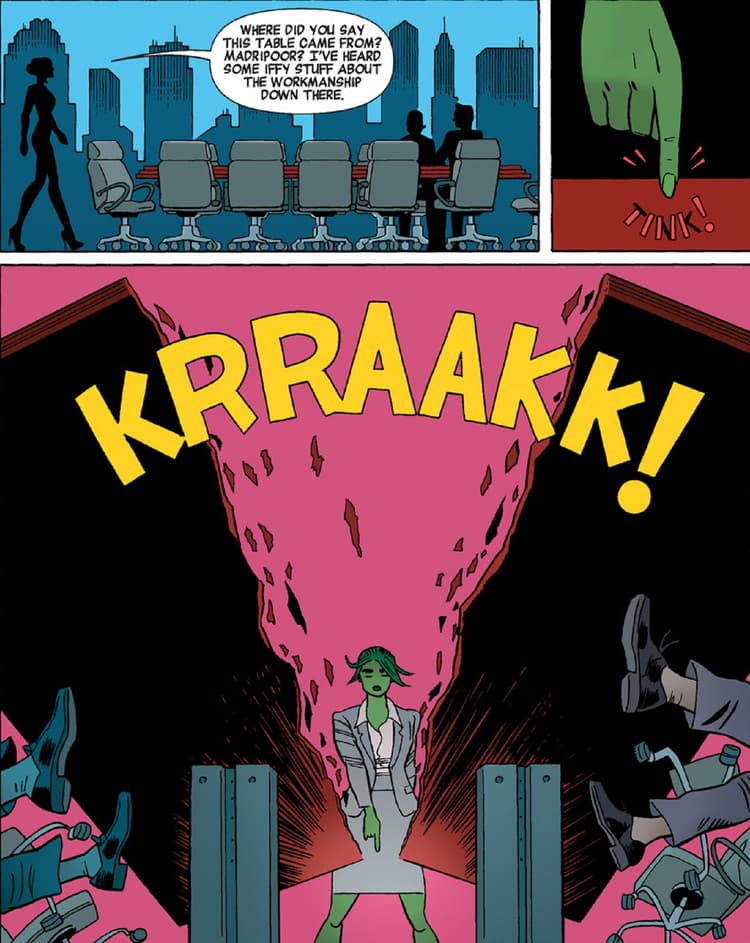 That should be where the story ended, but where's the fun in that? Instead, She-Hulk kicked off a new chapter, one where she called the shots as the head of her own law firm. What will She-Hulk do next? Who is she when she's not part of a Super Hero team? And, what, exactly is inside of that blue file? Get a sneak peek with our overview of the first arc of SHE-HULK (2014), issues #1-6. Not only is this a great starting point for new readers, but Marvel Insiders will earn 1,000 Marvel Insider points for reading these issues on Marvel Unlimited through September 11!*
UNEMPLOYMENT
At a lawyer bar, She-Hulk received her first freelance case from Holly Harrow, the widow of Jonas Harrow. Holly believed that her late husband's patent for repulsor technology was stolen by none other than She-Hulk's former flame and Avengers teammate Tony Stark. Awkward. Stark's legal team posed to the judge that She-Hulk was too incompetent to represent Mrs. Harrow, among other things, to stop the proceedings before they even started, but She-Hulk didn't give up easily. She's a lawyer, after all. After fighting a "robot death safe" in Harrow's storage unit, She-Hulk found recorded proof that a defunct Stark subsidiary, AccuTech, released the repulsor tech six months after their meeting with Harrow and confronted Stark about it. Holly Harrow paid $150,000 to She-Hulk as thanks, and She-Hulk knew exactly what to do with it: Start her own law firm.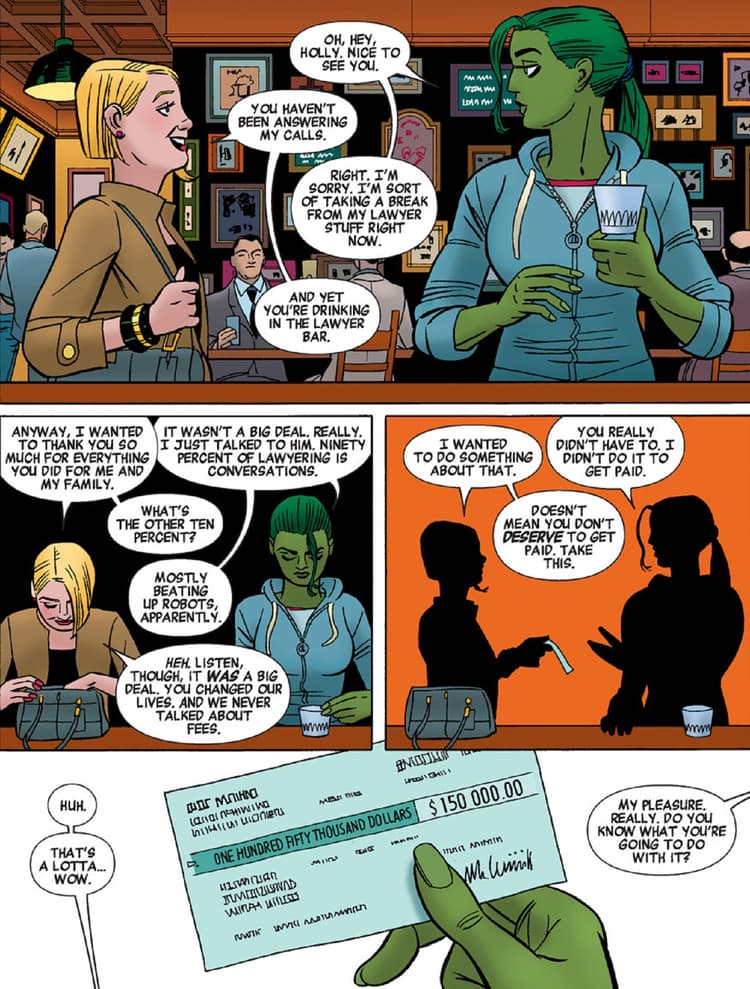 BROOKLYN
She-Hulk finally settled into her office in Brooklyn and hired a new paralegal named Angie Huang (and her monkey Hei Hei). Unfortunately, She-Hulk's good mood deflated. Word got around how she left P & L, and no one was willing to send her new clients. She had a girls' night out with Patsy Walker, AKA Hellcat, which evolved from drinking and dancing to beating up A.I.M. agents in the Bronx. After hiring Patsy as her new investigator, She-Hulk was visited by a new and unexpected client. Kristoff Vernard, the son of Doctor Doom, wanted to defect from Latveria and obtain political asylum in the United States…"immediately."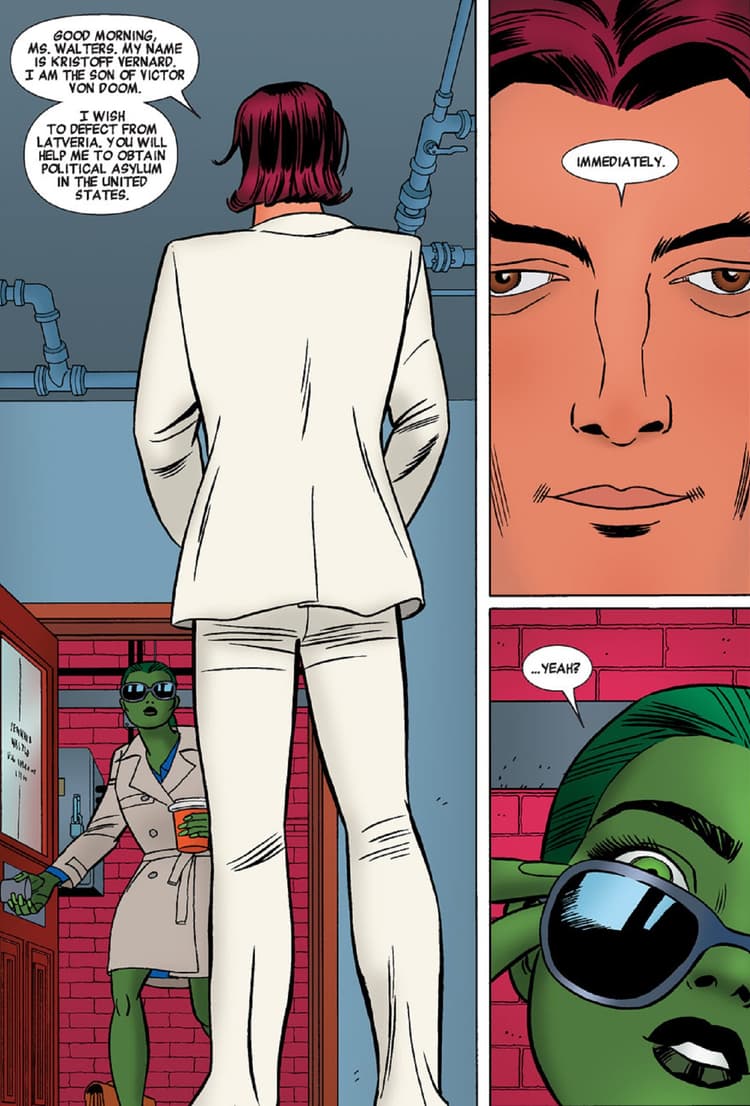 HEIR TO THE THRONE
Kristoff Vernard explained to She-Hulk that his father wanted "to perpetuate his own rule, through me" once he passes away. In short, Doom asked his son to be a puppet. A simple trip to file his asylum claim transformed into a race against time as Doctor Doom tried to sabotage them at every turn with Doombots. She-Hulk managed to plead Kristoff's case, and he was successfully granted asylum! But that didn't stop Doom from kidnapping his son from the courtroom…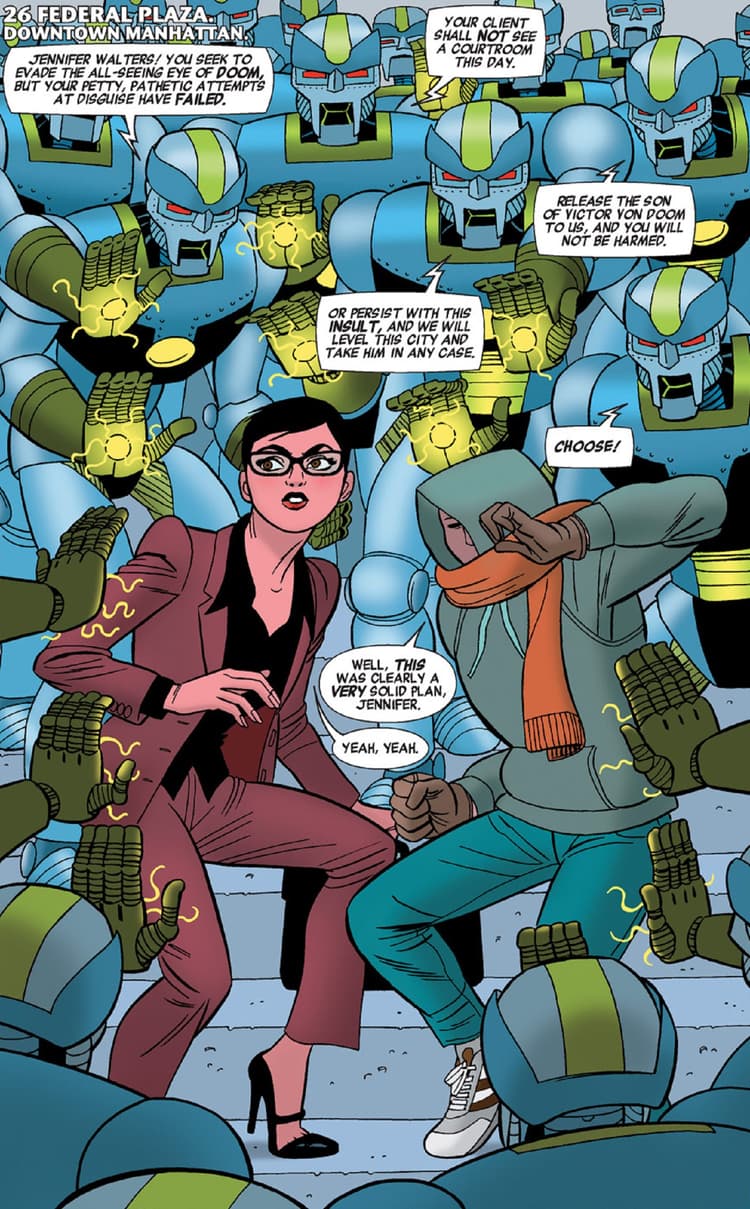 SEEKING COUNSEL
She-Hulk traveled to San Francisco to seek counsel from Matt Murdock (AKA Daredevil) about Kristoff and Doctor Doom. Talking to him helped her decision to fly to Latveria to rescue the son of Doom. The trip was not a waste as Kristoff was able to talk some sense into his stubborn dad and have the freedom he always wanted. Once the case was closed, She-Hulk shifted her focus to the infamous blue file, putting Angie and Patsy to work as well.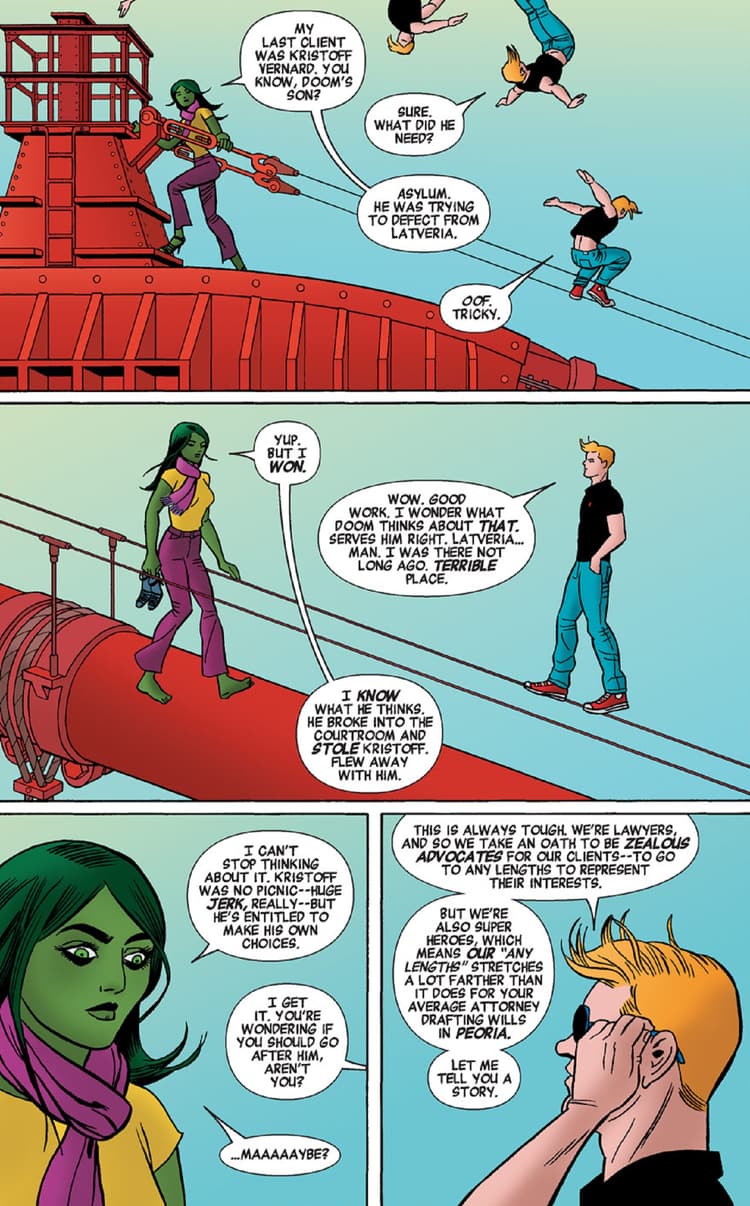 DIVIDE AND CONQUER
The blue file could no longer be ignored. She-Hulk went to Queens to speak to Super Villain Shocker, Patsy met with ex-Avenger Tigra, and Angie trekked to Crosby, North Dakota to find more information not available in the file. They all received very different results: She-Hulk learned from the Shocker that "someone was trying to change something…for guys like me." Patsy inadvertently sent Tigra into a rage and saved her from jumping off a building while injured. And Angie? A county clerk shot her just for digging!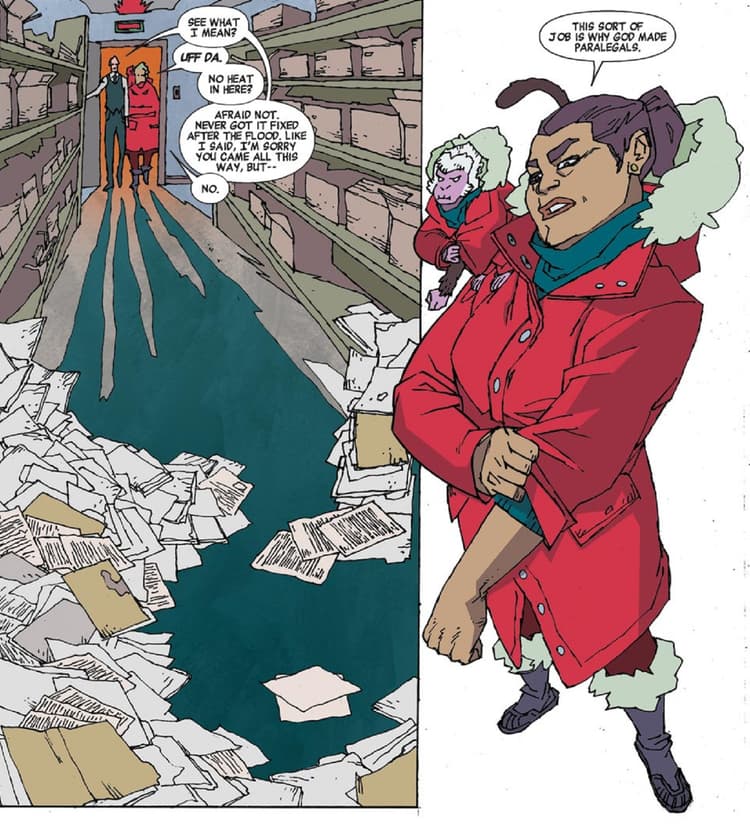 UNRAVELING THE MYSTERY
After listening to her voicemail, She-Hulk rushed to the hospital to check on Patsy. From Patsy, She-Hulk and Tigra learned that the name "George Saywitz" sent Tigra into a frenzy, and they all want to know why. Miles and miles away, Angie, who was shot in the head, was revived by Hei Hei. The courthouse was burned down, and all of Angie's items were stolen, but she remembered what she saw within the records. Back in New York, Nightwatch visited She-Hulk, but the nice little visit turned into a brawl as demonic creatures attacked the building. Angie returned with a revelation about the case. George Saywitz sued She-Hulk and other super-powered people for "wrongful death" and "emotional distress" because a town disappeared, in which he was the sole survivor. Reality warping may have been involved, adding another level of strange to this case.
At the end of issue #6, She-Hulk put a pause on the blue file, as it was raising more questions—and problems—than answers. Nightwatch spread the word that She-Hulk had her own practice and a long line of clients appeared outside her office the following day. Are things finally looking up for the Jade Giantess, or is this just a calm before the storm?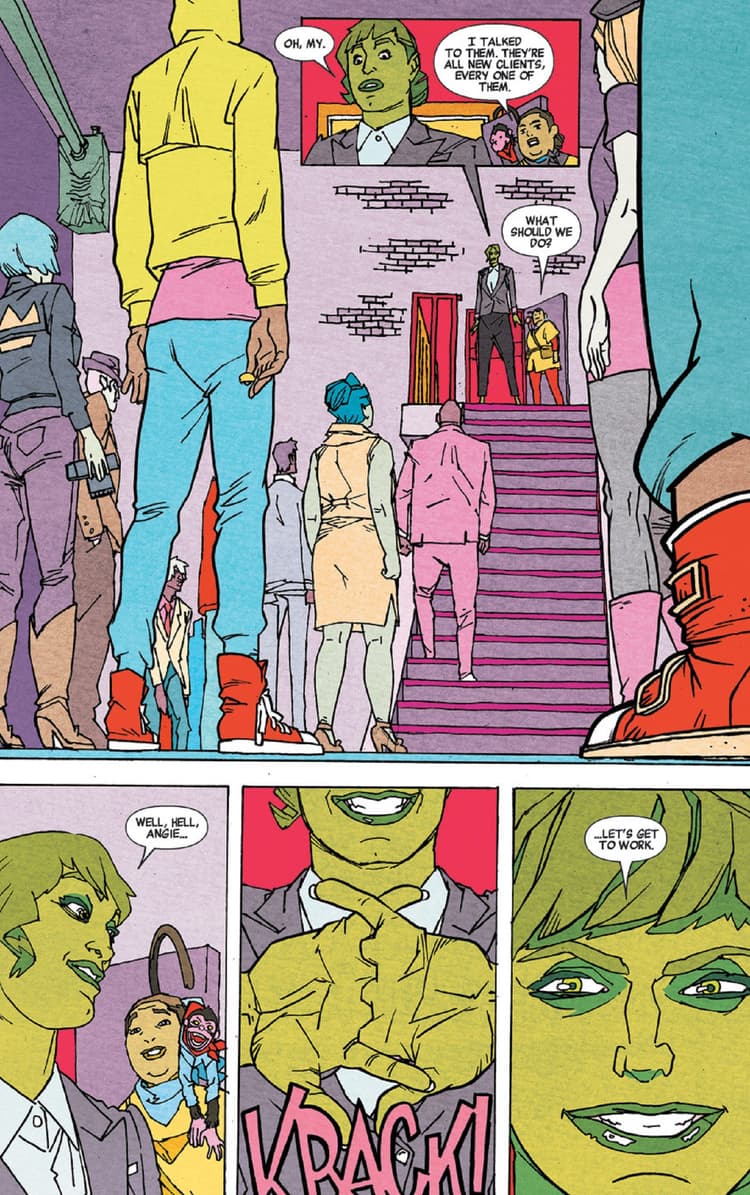 SHE-HULK (2014) #1-6, and the rest of the series if you are so inclined to read, is available in full on Marvel Unlimited!
Follow Marvel Unlimited on Twitter and Facebook to stay tuned in to weekly announcements, articles, and more, all at @MarvelUnlimited. Follow us today to join the conversation with thousands of fellow fans, and let us know what you're reading!
* Must be a Marvel Insider, Marvel Unlimited subscriber and complete reading each issue in the newest version of the Marvel Unlimited app by September 11, 2022 11:59 PM ET to receive points designated. Points will be awarded by September 12, 2022. Visit marvel.com/insider/faq for more details.
The Hype Box
Can't-miss news and updates from across the Marvel Universe!