Comics
Published December 2, 2016
Small but Mighty: The Art of Rocket Raccoon
Jorge Coelho discusses his unique perspective on this new series!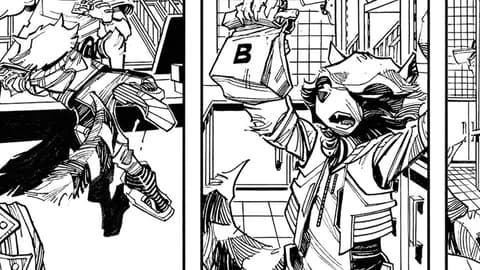 Earth's population of sentient talking animals increases by one with the conclusion of the GUARDIANS OF THE GALAXY story "Grounded." As the team goes their separate ways, everyone's favorite gun-toting raccoon-like creature sticks around on a planet he's none too fond of.
Matthew Rosenberg and Jorge Coelho will usher the former Guardian around Earth in the pages of his solo series ROCKET RACCOON launching at the end of December. We talked with Coelho about seeing the world through Rocket's eyes, the balance of Earthly and sci-fi elements, and working with Rosenberg.
Marvel.com: Rocket's not exactly the biggest fan of Earth or its inhabitants. Does that come into play when you're drawing him on the page?
Jorge Coelho: Right. I would add that Rocket is not a fan of much. He's got that Groucho vibe going on, which is fun to draw with a cute little face. I try to walk that line between a rusty Clint Eastwood and cute Puss 'n Boots look in the pages.
Marvel.com: Do you feel like you've been able to put your stamp on some characters either with tweaks or full-on re-designs?
Jorge Coelho: Small tweaks that come down to just me trying to do it right, really. Marvel supplied me with pretty good designs as a foundation so everything is coming easy. Personally, I dig this Rocket design above all I've seen before. Props to [GUARDIANS OF THE GALAXY artist Valerio Schiti].
Marvel.com: Does integrating a character like Rocket who's so different from everyone around him physically offer up any unique challenges when composing your layouts or poses?
Jorge Coelho: Yes! Early on I've noticed his size affects our camera angle right away and allows us sometimes to see the world as if we were kids. The world seems bigger in some shots. Characters also don't look in each other's' eyes as much and he's more cartoony, more physically expressive as opposed to a human character.
Marvel.com: Do you enjoy mixing the more real world elements of New York City with the sci-fi elements inherent in Rocket?
Jorge Coelho: Love it! It's super fun to mix it in, to be able to enjoy both elements without marrying to a perfectly realistic or sci-fi vision.
Marvel.com: How has it been working with Matthew so far?
Jorge Coelho: Matt has been super warm and supportive since the beginning, just like all of the ROCKET RACCOON team, now complete with Antonio Fabela on colors. I think we got that groove going on.
Look for ROCKET RACCOON #1 from Matthew Rosenberg, Jorge Coelho, and Antonio Fabela later this month!
The Hype Box
Can't-miss news and updates from across the Marvel Universe!