Comics
Published December 3, 2021
The Spider-Bots Take Over
Spider-Man's Spider-Bots fly into a new Infinity Comics series, only on the Marvel Unlimited app!
Have you tried Marvel Unlimited yet? It's your all-access pass to over 29,000 Marvel comics, available at your fingertips. Download our all-new, supercharged app on the App Store or Google Play today and enjoy a first year for $60!
New on Marvel Unlimited: The Spider-Bots swing into action in an all-new, vertically-scrolling series by creators Jordan Blum, Alberto Alburquerque, and Dono Sanchez-Almara!
For most of his crime-fighting career, the one and only Amazing Spider-Man has worked on his own—but some jobs are too big even for a wall-crawling, web-slinging wonder like Spidey to handle by himself. Luckily, he's got a team of technological wonders called the Spider-Bots, who're equipped with some of the most cutting-edge tech this side of Avengers Tower (and GREAT battery life)! By his side, the Spider-Bots are ready to stop trouble in its tracks!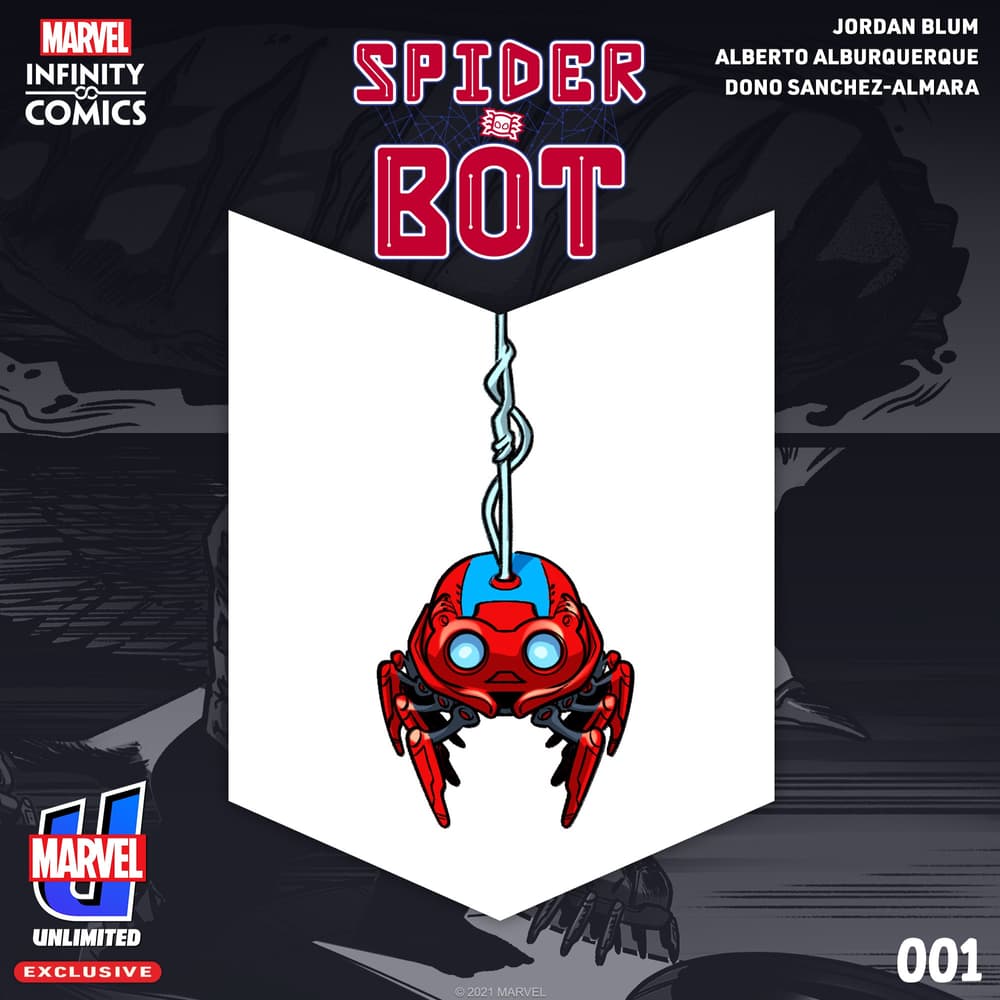 "It has been an absolute blast to explore the Marvel Universe through the digital eyes of the Spider-Bots," says series writer Blum. "Being a life-long Spider-Man fan and a father of two I leapt at the chance to create all-ages stories for both longtime Marvel fans and new readers ready to THWIP! their first web."
Blum also teases some high-profile guest-stars: "On their journeys, the bots will cross paths with a lot of familiar faces from the Spider-Man family as well as a purple shorts wearing dragon, Aunt Petunia's favorite nephew, a God of Mischief, a mutant Technarchy, Earth's Mightiest, and some familiar faces from a certain Marvel show I recently worked on."
[RELATED: Patton Oswalt and Jordan Blum's Favorite Comics]
"I love what we are doing with the Bots in this Infinity Comic," adds series artist Alburquerque. "It is such a great experience to work on this project from every aspect. It allows me to experiment with a new format, it gives me the chance to work with Jordan, and it is an opportunity to draw some of the characters I've always wanted to draw. I hope the readers are as surprised and entertained as I am with every chapter!"
Get your first look at SPIDER-BOT INFINITY COMIC #1, and read new issues of this ongoing, vertically-scrolling series every Friday on the Marvel Unlimited app!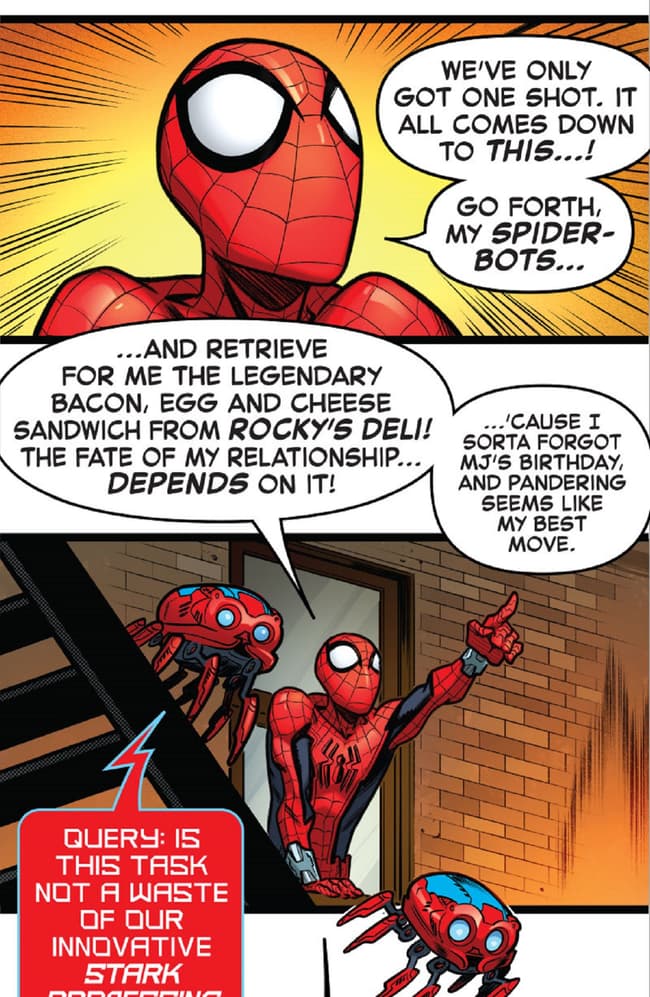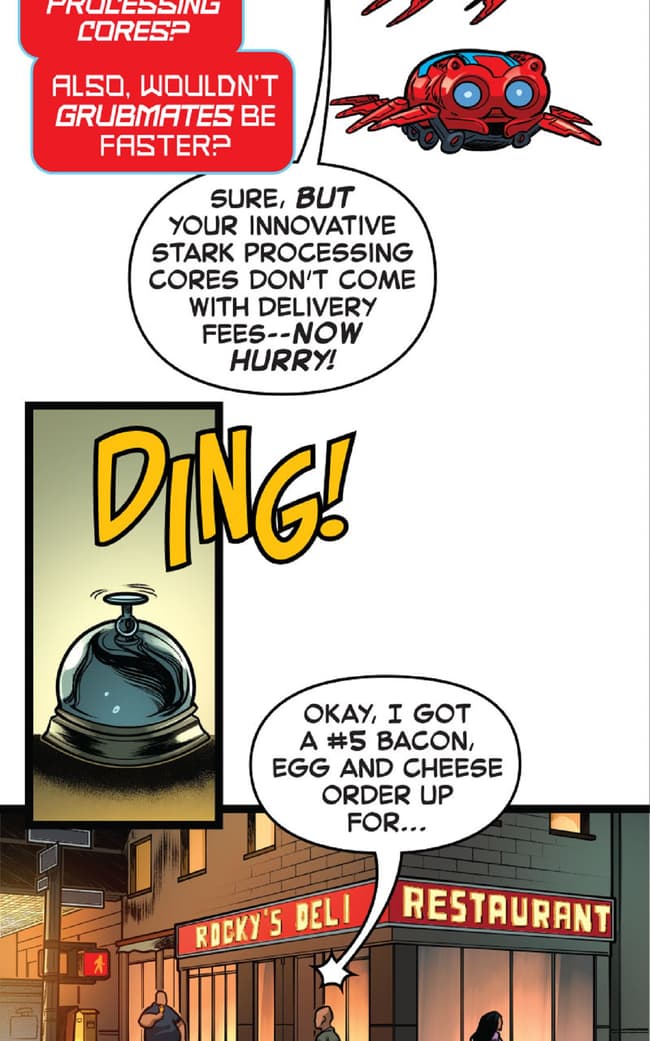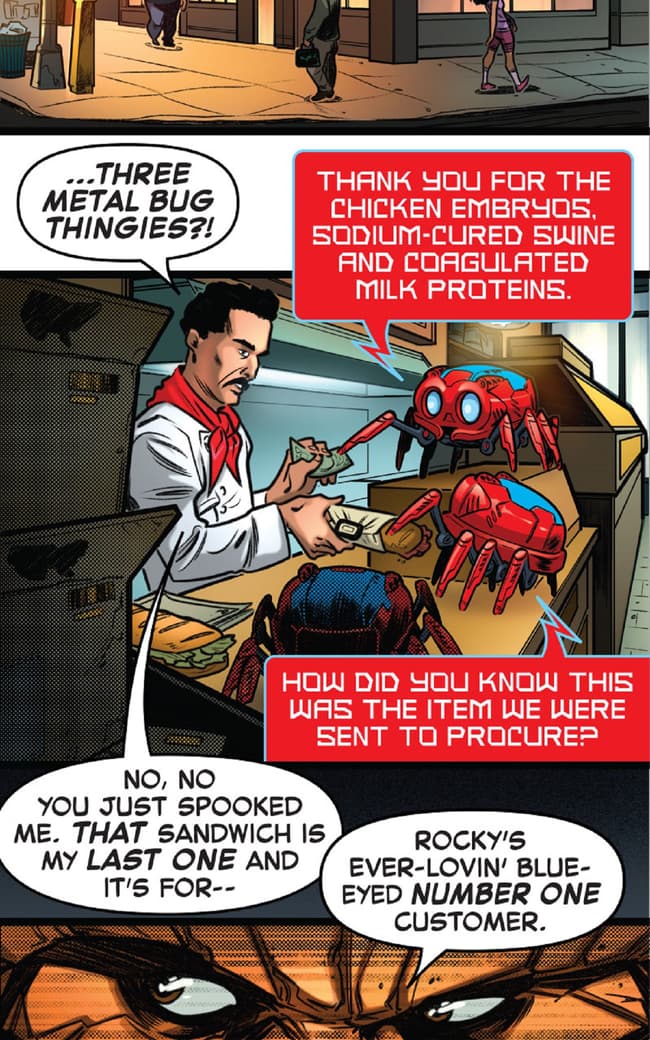 Start reading Infinity Comics now with the all-new, all-different Marvel Unlimited. Download the app for iOS or Android devices today.
Follow Marvel Unlimited on Twitter and Facebook to stay tuned in to weekly announcements, articles, and more, all at @MarvelUnlimited. Follow us today to join the conversation with thousands of fellow fans, and let us know what you're reading!
The Hype Box
Can't-miss news and updates from across the Marvel Universe!