Comics
Published October 11, 2017
Spider-Man/Deadpool: Feuding Frenemies
Writer Robbie Thompson explores a new dynamic between Spidey and DP!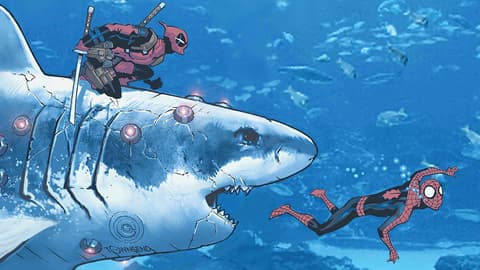 Fighting with your friends might just be one of the worst feelings in the world. When your pal has the proportional strength and speed of a spider or a nearly unmatched healing factor, well, then things can get really rough.
So it goes in SPIDER-MAN/DEADPOOL #23, due out November 8. Writer Robbie Thompson took a breath to tell us all about the quarrel between these former buddies.
Marvel.com: Despite surviving Arcade's death traps in SPIDER-MAN/DEADPOOL #22, Peter and Wade are not, shall we say, great at the start of issue #23. What has ruptured their awkward partnership?
Robbie Thompson: Spider-Man and Deadpool's lives are turned upside down post-Secret Empire. Spider-Man has gone back to basics, and Deadpool is wanted for murder—having killed Agent Coulson at the behest of St-evil Rogers.
When we pick up their story in SPIDER-MAN/DEADPOOL #23, Spider-Man learns that Deadpool is back to putting the "Merc" in the Merc with the Mouth. With S.H.I.E.L.D. no longer around, Deadpool has exploited their absence to the max and become [an] arms dealer.
From his POV, he tried to be a good guy, but it just didn't take. From Spider-Man's POV, Deadpool has to be taken in once and for all; he's gone too far this time and has to pay for what he's done.
Marvel.com: What does each one want to do to the other? How clearly defined are each's plan for the other?
Robbie Thompson: For Deadpool, it's no more Mr. Nice Guy. He's going back to what he's always been. And he does not care at all what anyone thinks about his decision…
…with the exception of Spider-Man. Spider-Man gets a pass! But of course, Deadpool has no interest in going to jail.
But jail isn't all that Spider-Man wants for Deadpool. He wants to bring Deadpool in for all the right reasons, but he also wants to help him. It's the Deadpool Reclamation Project to Spider-Man.
After everything that went down with Itsy-Bitsy, Spider-Man feels like he owes Deadpool—but he also feels that deep down, Deadpool has the capacity for good. He saw first-hand how good he could be. So, Spider-Man wants to rehab Deadpool…
…no matter how much punching and kicking that will take to make it stick this time.
Marvel.com: Besides one another, what antagonists are bedeviling the bickering duo in this issue?
Robbie Thompson: I don't want to spoil the end of our second issue, but they will find out that they are both being antagonized by a very familiar villain from Spider-Man's past, someone they can only stop by teaming up.
Marvel.com: Fights between friends can be no fun, but this book long has an established ability to balance the serious and the humorous. How are you making that balance work? How does new artist Chris Bachalo help you realize both sides of that tone?
Robbie Thompson: A big help in keeping it fun is the new status-quo in each of their main books. [AMAZING SPIDER-MAN writer] Dan Slott and [DEADPOOL writer] Gerry Duggan have done such an amazing job of placing these two in really new and exciting positions in their lives. Deadpool is in a dark place and Spider-Man is in a low point career-wise, and yes, they both have competing agendas in our book, but they're going to [go] down swinging and quipping the whole way!
Early on, too, editors Nick Lowe and Jordan D. White had a great idea to give Deadpool a supporting cast in this book; he's stolen a S.H.I.E.L.D. Hellicarrier, and it's populated with some really bizarre characters from the Marvel Universe that have provided a lot of levity. If you're a longtime Marvel fan, there will be some familiar faces and some new ones in Deadpool's motley crew.
But the hero of this book is Chris Bachalo. He's killing this thing with crazy action and a well-balanced tone. I'm looking at the art for #23 right now and it's so much awesome! Chris has an amazing eye for design and detail, but what I love about what he's done in this book is getting the most emotion out of the characters right from the jump. From the first time you see his Peter, you know exactly where Peter's at in his life and you get a sense of his exasperation and annoyance later on when he's in the Spidey suit. And it's the same with Deadpool. He's also brought our supporting cast to life with great performances, as well as new designs. Tim Townsend is inking and they are an absolute dream team.
Marvel.com: For fans of the duo, how much hope can you give them of these two making amends and reuniting? Is there any chance at all or is the end nigh?
Robbie Thompson: There's always hope for these two knuckleheads! But it's going to be a process; Spider-Man's heart is in the right place, but Deadpool is pretty dug in. They may come to blows, but they're also going to have to reluctantly team-up to beat a much bigger foe.
See what becomes of this dream team with SPIDER-MAN/DEADPOOL #23, coming your way from writer Robbie Thompson and artist Chris Bachalo on November 8!
The Hype Box
Can't-miss news and updates from across the Marvel Universe!