Comics
Published August 11, 2017
Spider-Man/Deadpool: The Making of a Murderworld
Elliott Kalan opens up about Arcade's latest deathtrap!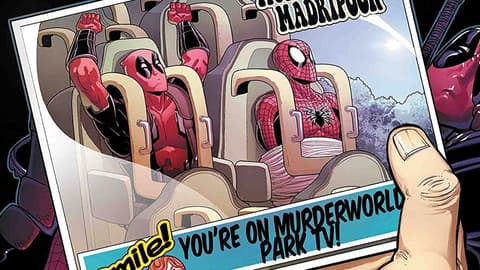 Some super villains like to take their opponents out with simple means: a gun, a knife, maybe even a bomb. But that's not Arcade's style. This baddie creates Murderworlds—death-themed carnivals of carnage. And on September 6, SPIDER-MAN/DEADPOOL #21 will see the Webslinger and the Merc with a Mouth thrown headfirst into the master assassins' bloody circus.
So, what kind of maniacal machinations will our heroes face in this Murderworld? We sat down with writer Elliott Kalan to find out.
Marvel.com: Murderworld is one of the most terrifying concepts ever. What inspired Arcade to create it?
Elliott Kalan: Arcade has three great loves in his life: showmanship, gamesmanship, and, of course, murder. It was only natural that he'd combine those things into an enormous deathtrap amusement park, which he consistently rebuilds and reopens despite the enormous cost involved and the almost inevitable likelihood that a super hero will destroy it. As for what was going on in his mind when he came up with it…probably calliope music?
Marvel.com: What goes into creating a Murderworld? It seems like it would require a fair amount of planning in advance.
Elliott Kalan: The most fun in writing Arcade was figuring out how this version of Murderworld would work, so I have to assume that's where the real fun of it is for him, too. If he's anything like me, then he starts with a theme—in this case, Madripoor—and factors in the people he's going to be trapping—in this case, Spider-Man and Deadpool—and then thinks of increasingly complicated things that can be thrown in their path. It's an incredibly complicated way to kill someone, but Arcade enjoys the game aspect of it more than the actual killing. He wants the chance to compete with his victims, not just take them out right away. He's like a cat toying with a mouse. A cat who has an unlimited supply of money and robots.
The real question I have is: does he build it all himself or does he hire contractors and make them sign NDAs and everything?
Marvel.com: We all know Deadpool and Spidey for their senses of humor. So in a weird way, they might have an appreciation for Murderworld, especially Wade…
Elliott Kalan: Deadpool definitely has a certain admiration for Murderworld because it combines fun and danger in a way he can really get into. Spider-Man likes his humor without the violence. Something I hope I was able to get across in this story is each character's moral limits when it comes to the "fun" of violence. Spider-Man is a true hero—violence is only a means toward righting a wrong and humor is how he makes it palatable for himself. Deadpool gets a certain joy from violence, but he doesn't like to see innocent people hurt and he recognizes that sometimes enough is enough. Arcade is a madman who essentially sees the world as his toy box; Spidey and Deady aren't so cool with that.
Marvel.com: So—while he does enjoy it a little—Wade also thinks that Murderworld casts violence in the wrong light…
Elliott Kalan: Sometimes it can be hard for Wade to remember that violence isn't fun for other people. He can regenerate pretty much any body part and it's nearly impossible to kill him—he can sometimes forget that isn't the way other people live their lives. Though ever since he became a family man, he's had a better understanding of this. The younger Deadpool would have loved the idea of a place like Murderworld—but the older, more mature Deadpool has mixed feelings toward it. It's almost like he's okay with violence as long as everyone involved is a responsible adult with super powers, or at the very least, is obnoxious enough that he thinks the world would be better off without them.
Marvel.com: The Murderworld's mainframe has demonstrated sentience in the past. Will we see more of that?
Elliott Kalan: Not in this one, but we've got plenty of other crazy things going on in the story. Basically, you might know where page one will start—they're trapped in Murderworld!—and where the last page will end—they escaped Murderworld!—but I guarantee you'll never guess the stuff that happens in between.
Marvel.com: Would you like to tease anything else?
Elliott Kalan: This story also sees the introduction of a bold, exciting new character to the Marvel Universe: The Stinger! But he may not make it out of this story alive. So…I guess don't expect to see him in any of the movies.
Dive into the murderous mayhem with SPIDER-MAN/DEADPOOL #21, by writer Elliott Kalan and artist Todd Nauck, on September 6!
The Hype Box
Can't-miss news and updates from across the Marvel Universe!