Comics
Published March 14, 2019
Spider-Man's 7 Greatest Battles with Mysterio
Get pumped for 'Symbiote Spider-Man' #1 with a look at the best of Spidey vs. Quentin Beck!
One is a world famous wall-crawler, while the other is a nefarious master of illusion...and they've been at each other's throats for almost 60 years now.
Spider-Man and Mysterio (A.K.A. Quentin Beck) are a Marvel match made in heaven, and the two iconic enemies are about to go head-to-head once again in SYMBIOTE SPIDER-MAN, a brand-new series from Peter David and Greg Land, which takes place during the BLACK SUIT SAGA!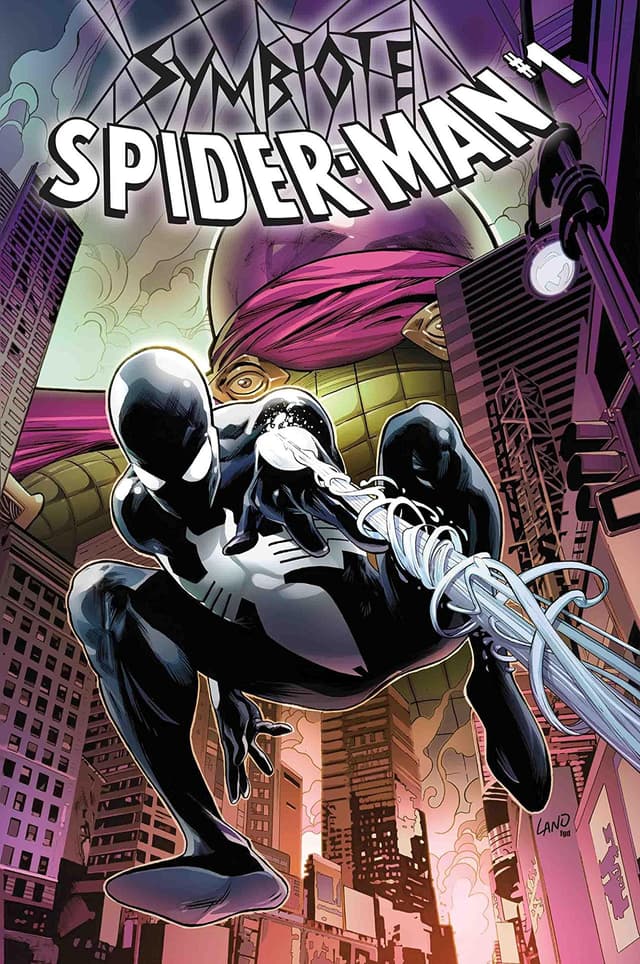 With issue #1 fast-approaching stands, we thought it would be appropriate to revisit some of Spider-Man and Mysterio's biggest battles and moments from the last five decades.
MEETING MYSTERIO
To understand the adversarial relationship between Spider-Man and Mysterio, one must go back to the beginning with 1964's AMAZING SPIDER-MAN #13.
Introduced just two years after Peter Parker himself, Mysterio made his world debut when he began framing Spider-Man for crimes committed throughout New York City. He challenged the hero to a showdown atop the Brooklyn Bridge in the hopes of defeating Spider-Man and cementing himself as a national hero, and Mysterio's smoke shroud messed with Peter's Spidey Senses and he lost the battle on the bridge.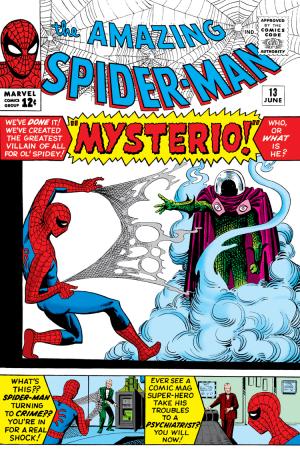 Ingeniously tracking down the villain at a later date, Spider-Man learned of Mysterio's intentions and got his confession on tape before subduing him on a movie set. This end was fitting, as this new enemy had previously worked as a stunt man and special effects artist for film and television.
WE COME IN…WHAT'S THE OPPOSITE OF PEACE?
In 1981's PETER PARKER, THE SPECTACULAR SPIDER-MAN #51, the web-head was taken hostage by a group of green-skinned aliens who appeared to be working for Mysterio. The villain wanted the location of a mobster's "loot," while the aliens (whom Spider-Man had fought before) wanted to conquer the Earth. The extra-terrestrials agreed to help Mysterio find the cache, while Mysterio promised to help them take over the planet.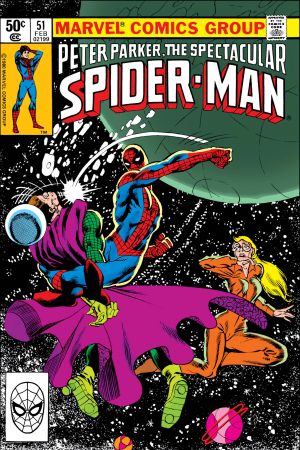 Peter Parker, the Spectacular Spider-Man (1976) #51
published

added to marvel unlimited

penciler

inker

letterer

writer

colorist
What is Marvel Unlimited?
By the end, Spidey got wise to the whole ruse, which was just an elaborately-staged illusion perpetrated by Mysterio and a collection of out-of-work movie extras and stuntmen. Using Mysterio's own tools against him (and with a little help from Deb Whitman), Spider-Man was able to defeat the globe-headed antagonist once-again.
EXIT STAGE LEFT
After staging an elaborate "production" to steal a bunch of money from the Maggia crime family and kill Spider-Man all in one go, Mysterio planned to buy his own island. Of course, that pesky wall-crawler showed up to fight him and punched Mysterio's helmet so hard that the glass shattered in epic fashion!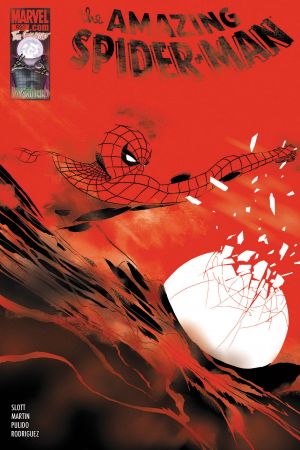 Amazing Spider-Man (1999) #620
published

added to marvel unlimited

rating

artist

penciller

colorist

letterer

editor

writer
What is Marvel Unlimited?
Always a showman, Mysterio put on a convincing performance to convince Parker that they were cousins, giving the bad guy just enough time to knee Spider-Man in the groin. He nearly got away on a trash barge, but Spider-Man was able to blow it up.
ENSNARING THE SINISTER SIX
Not long after Mysterio's introduction into the Marvel Universe, the illusion specialist became a founding member of the Sinister Six alongside Doctor Octopus, Electro, Sandman, Vulture, and Kraven the Hunter.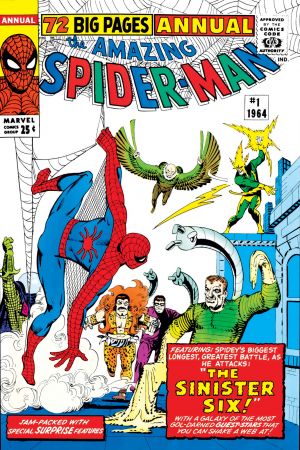 Each member couldn't agree on the best way to attack Spider-Man, so they drew numbers out of a bin to see which order they would each face off against the hero; this agreement basically sent Spider-Man on a glorified scavenger hunt for Betty Brandt. Mysterio was third in line to fight the web-slinger and used fake versions of the X-Men to misdirect. Even so, Spider-Man punched out Mysterio's lights, even after the criminal sprayed out his patented cloud of chemical mist.
SPIDER-MAN BECOMES ANT-MAN
Following a routine battle with Mysterio, Spider-Man was hit with a mysterious ray that shrunk him down to the size of an actual spider! Mysterio then tried to squash his enemy who bounced around a tabletop replica of an amusement park, which had become life-sized for Spider-Man.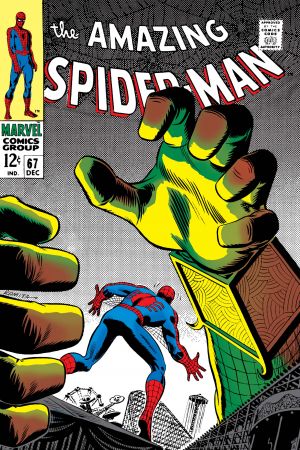 The horrifying fun house adventure came to a close when Peter realized that he had not been shrunken down, but only hypnotized to believe that he was. This revelation allowed him to find Mysterio's control center in the amusement park and punch the crud out of him.
CHEAPER BY THE DOZEN
Within the pages of AMAZING SPIDER-MAN #198, Mysterio lured Spider-Man to a nursing home, pitting the friendly neighborhood hero against fake old people, tigers, and snakes.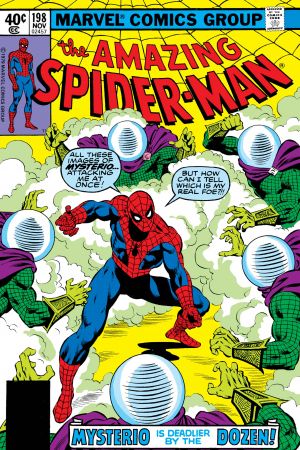 The Amazing Spider-Man (1963) #198
published

added to marvel unlimited

penciler

writer

inker

colorist

letterer
What is Marvel Unlimited?
When Spider-Man finally did find Beck, the villain "multiplied" himself by 12 to confuse ol' Spidey, who also had his arm in a sling. Weakened as he was, Spider-Man was overpowered and nearly drowned.
J. JONAH JAMESON GOES TO HELL
Following a deep dive into the past of Quentin Beck, Mysterio kidnapped J. Jonah Jameson, convincing the world that Spider-Man had killed the demanding Daily Bugle publisher. Of course, he did no such thing, but needed the cover story to attract Spider-Man.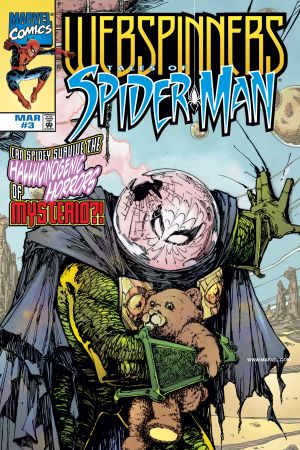 Webspinners: Tales of Spider-Man (1999) #3
published

added to marvel unlimited

letterer

editor

penciler

penciller (cover)

colorist

writer
What is Marvel Unlimited?
In the meantime, he convinced Jameson that he was dead and in Hell, being terrorized by a Spider-Man-inspired devil. The actual Spider-Man then got the location of Jameson from a bunch of out-of-work actors who'd been hired by Beck to play the rest of the Sinister Six. Finally, Spider-Man faced off against Mysterio in a reality that continued to shift from one form to another via state-of-the-art virtual reality technology.
In the end, Spider-Man finally came out on top, shattering Mysterio's helmet once more.
Pre-order SYMBIOTE SPIDER-MAN #1 at your local comic shop now, then pick it up on April 10!
The Hype Box
Can't-miss news and updates from across the Marvel Universe!