Comics
Published December 4, 2020
Stories from Marvel's Stormbreakers Now on Sale
Stock up on digital trades and issues by Marvel's top rising artists in the Marvel Comics app.
Incredible stories now on sale in the Marvel Comics app for iOS and Android!
Save up to 60% off on select stories from the inaugural class of Marvel's Stormbreakers! Representing Marvel's next generation of elite artistry and groundbreaking storytelling, this year's roster of Joshua Cassara (X-FORCE), Pat Gleason (AMAZING SPIDER-MAN), Peach Momoko (renowned cover artist), Natacha Bustos (MOON GIRL AND DEVIL DINOSAUR), Iban Coello (VENOM), Carmen Carnero (HELLIONS), Juann Cabal (GUARDIANS OF THE GALAXY), and R.B. Silva (FANTASTIC FOUR, POWERS OF X), have already left their mark on Marvel!
Enjoy stories by this top tier of talent in the cutting-edge digital reader of the Marvel Comics App, available on iPhone®, iPad® and select Android™ devices. Once purchased, all of your stories are accessible through your personal library, and can be read anytime, anywhere.
Sale ends December 17, so act now!
Read about a few of our must-read titles here:
Face the future—and fear the future—as superstar writer Jonathan Hickman changes everything for the X-Men! In HOUSE OF X, Charles Xavier reveals his master plan for mutantkind—one that will bring mutants out of humankind's shadow and into the light once more! Meanwhile, POWERS OF X reveals mutantkind's secret history, changing the way you will look at every X-Men story before and after. But as Xavier sows the seeds of the past, the X-Men's future blossoms into trouble for all of mutantdom. Stories intertwine on an epic scale as Jonathan Hickman reshapes the X-Men's past, present and future!
Collects POWERS OF X #1-6, HOUSE OF X #1-6.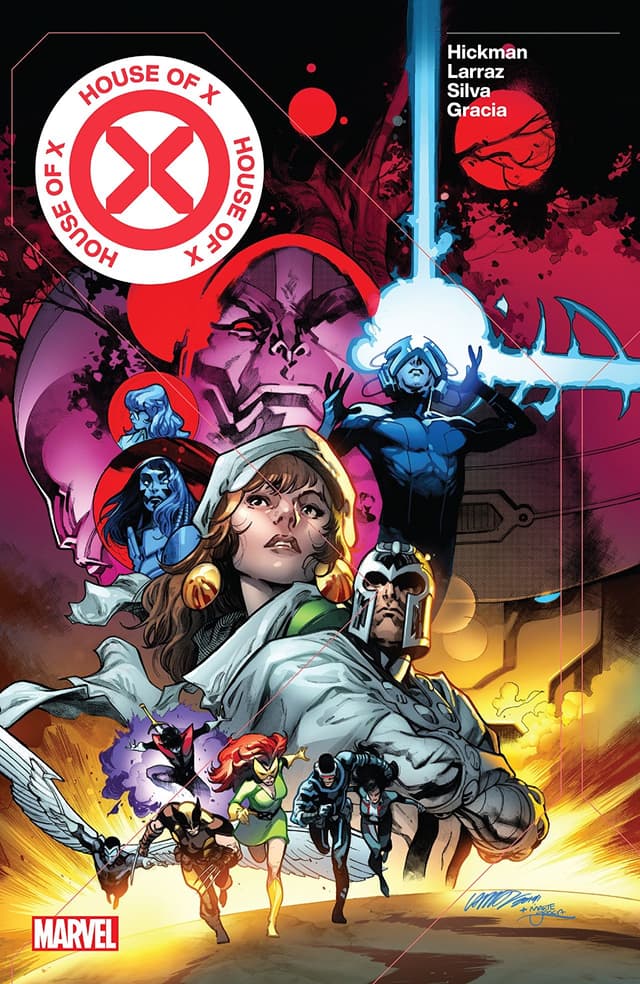 Lunella Lafayette is a preteen super genius who wants to change the world—but learned the hard way that it takes more than just big brains. Fearful of the monstrous Inhuman genes inside her, life is turned upside down when a savage, red-scaled tyrant is teleported from a prehistoric past to a far-flung future we call today. The pair are many things, and together they are the most amazing Marvel Team-Up.
Collects MOON GIRL AND DEVIL DINOSAUR (2015) #1-6.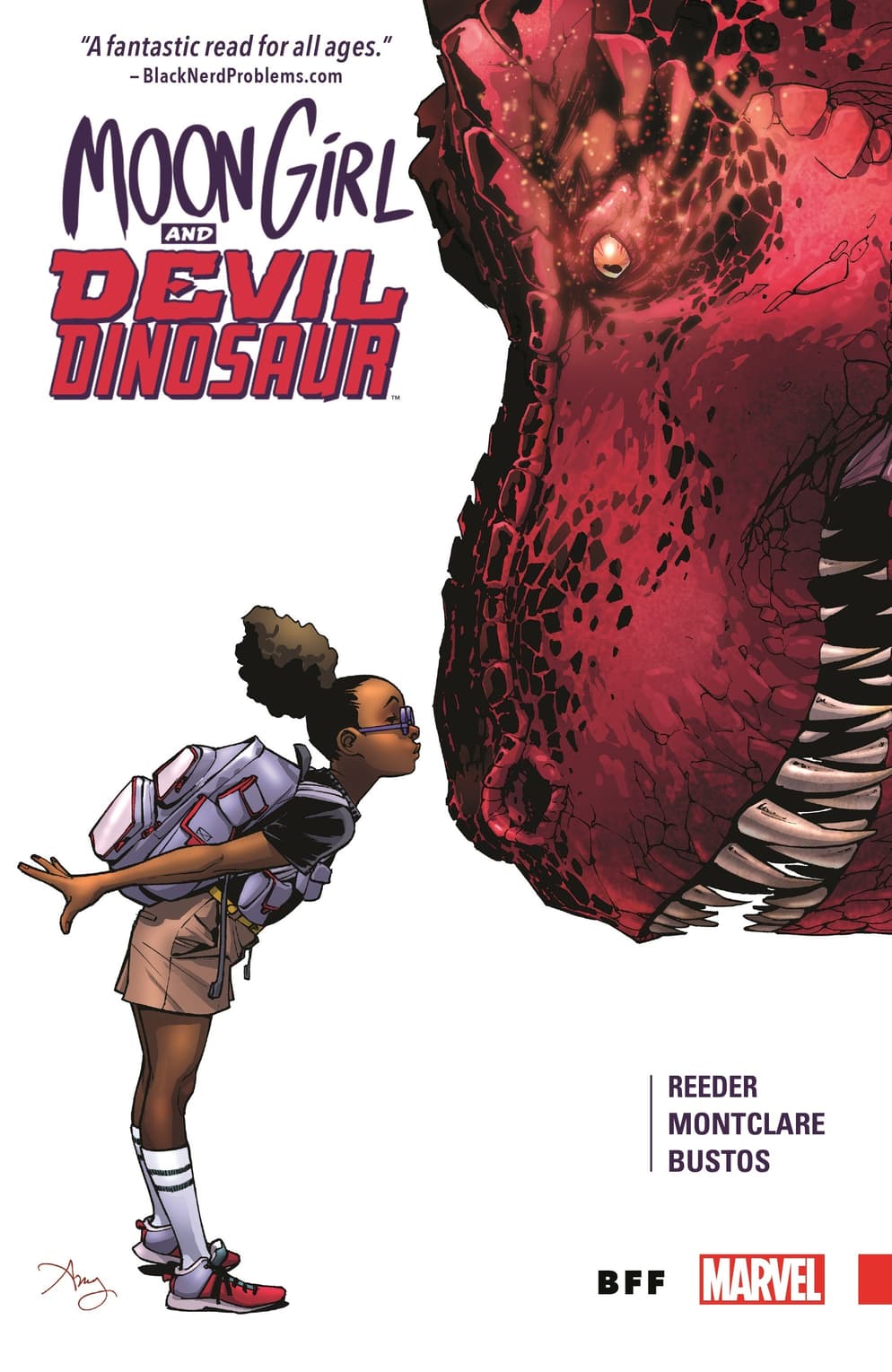 Spider-Man is the worst neighbor ever! There are always crazy villains and property damage and drama and… and he catches those villains. And he tries to fix the damage. And he helps carry your groceries. And actually that property damage keeps the rents down. You know what? Spider-Man is the best neighbor ever, and this book will give you a closer look at Spider-Man's (and Peter Parker's) neighborhood than any before it! But it wouldn't be a Spider-Man adventure without a threat that could destroy not only Spider-Man, but also all his friendly neighbors—and it's going to take him far from home, to a part of the Marvel Universe you've never seen before! Plus: Aunt May has a shocking secret that could change everything for Peter and his family!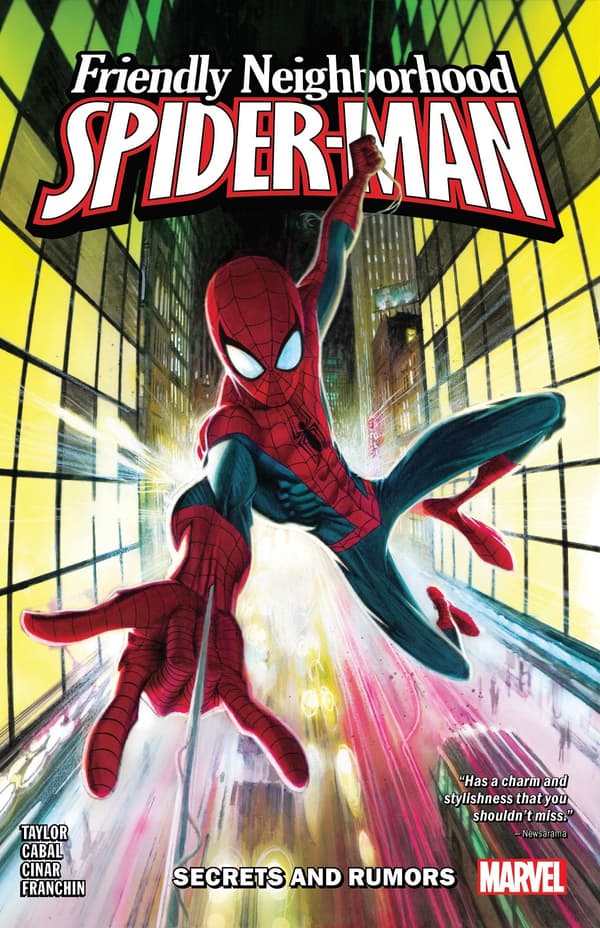 Venom no more?! Just when you thought the blockbuster story of Venom couldn't get any more intense, Donny Cates, Ryan Stegman, and Iban Coello turns the world of Eddie Brock on its head—again! But this time it won't be dragons and god-hosts and breakneck action. No, no. This time Eddie's going through an emotional meat grinder the likes of which has never been seen in the Marvel Universe! As Eddie finds himself truly alone for the first time in a long time, the silence is deafening. Plus: San Francisco offers anything but a happy homecoming thanks to Eddie's estranged father—and the little brother he never knew he had. Will Eddie's return to his old stomping grounds reveal secrets better kept buried?
Collects VENOM (2018) #7-12.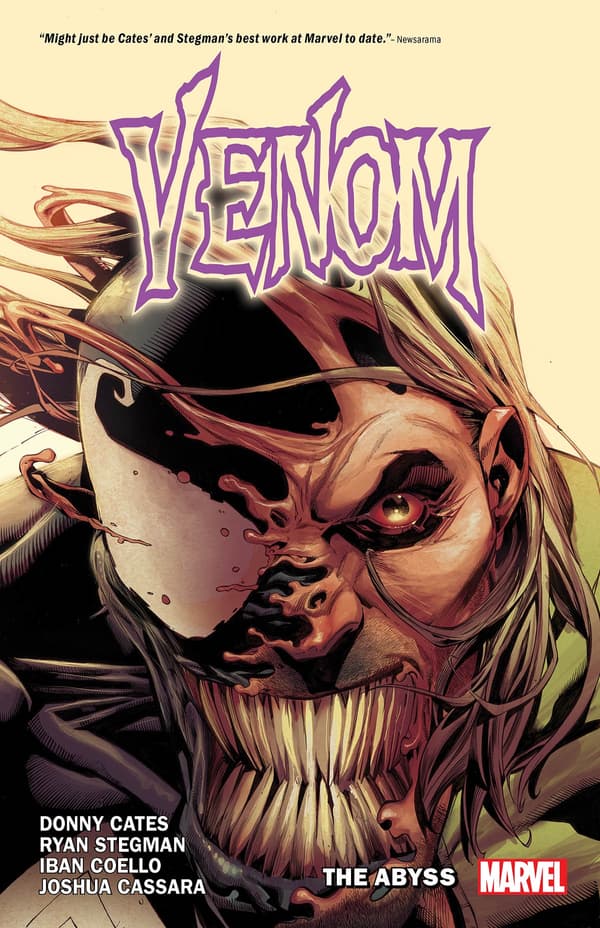 Captain Marvel comes home! Carol Danvers has spent months in space protecting the planet, but now she's back on Earth. And New York City has never looked so good—until a powerful villain turns Manhattan's Roosevelt Island into an apocalyptic wasteland! Cut off from the rest of the world, Carol needs a new crew—including Spider-Woman, Hazmat and Echo—to kick-start a revolution! But which face from her past is about to reappear and change everything? The life of every man, woman and child on the island rests on Carol's shoulders—it's time to show exactly why they call her "Earth's Mightiest Hero"!
Collects CAPTAIN MARVEL (2019) #1-5.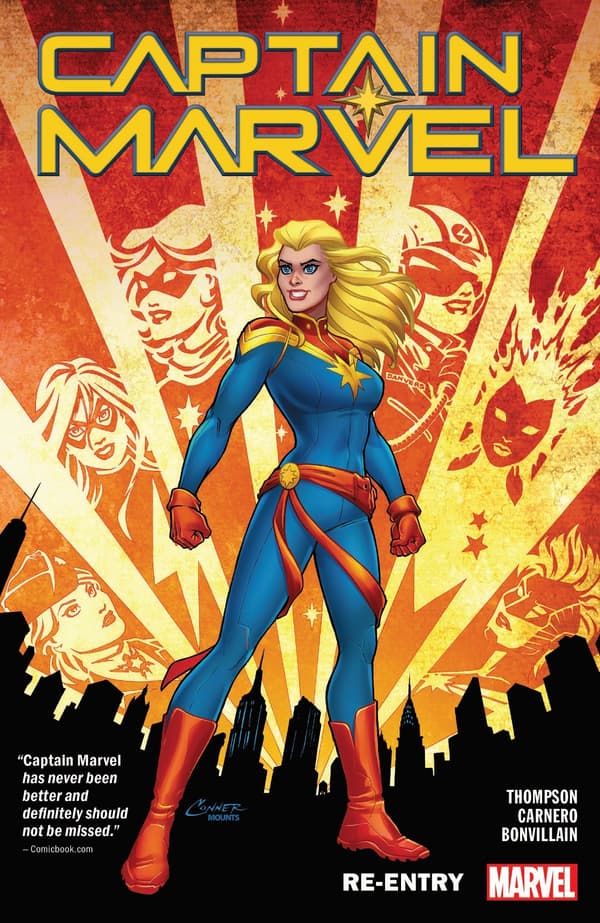 The future is in danger! Miguel O'Hara, the Spider-Man of 2099, is back in the present day—and he needs to find Peter Parker! But since Miguel's being held in an off-the-books Roxxon prison, that's easier said than done. He needs a plan, and fast—because his mysterious return to the here and now threatens his entire future! Meanwhile, J. Jonah Jameson has a new scheme—and the modern-day Spider-Man has his hands full with classic villains, family problems and international incidents! As the web-slingers of two eras see their troubles converge, the fate of everything may rest with Peter, Miguel and— Victor Von Doom?! What villain could be so heinous to call for a Doom and Spidey team-up? And what does it all have to do with Silver Sable?
Collects AMAZING SPIDER-MAN (2018) #32-36.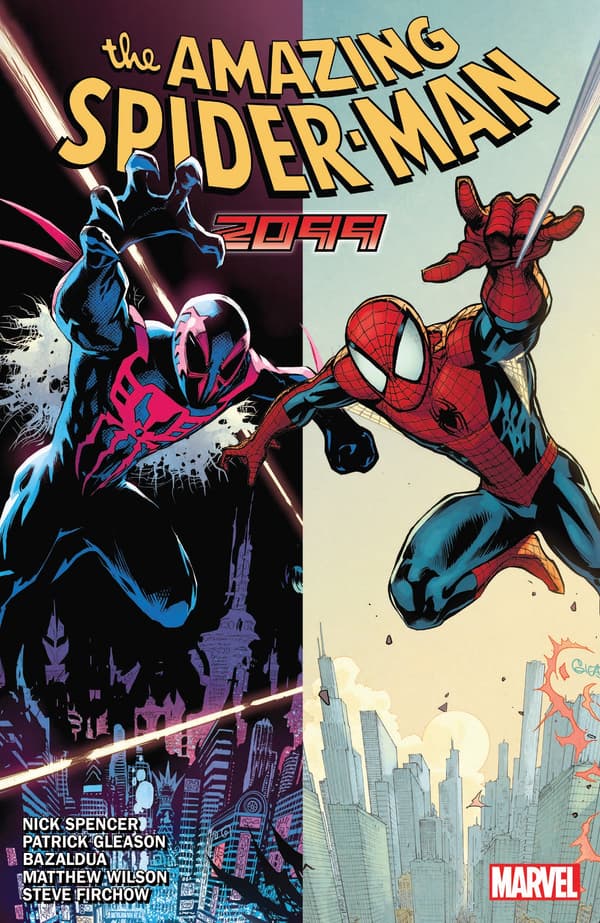 The high price of a new dawn! The X-Men have an island home and a bright future at last—but the dangers they face are far from over! That means they need X-Force, the mutant CIA—half intelligence branch, half special ops. Beast, Jean Grey and Sage are on one side; Wolverine, Kid Omega and Domino are on the other. But when the X-Men's foes launch a devastating strike, Krakoa faces a major security breach—and a staggering loss! The new X-Force must hit the ground running, and take on the threats targeting mutantkind—beginning by unraveling a mystery and taking vengeance! But their deadly choices will have dark consequences. Plus: When new technology threatens Krakoa's safety, Beast takes matters into his own hands! And can the team save the life of the one person the X-Men cannot lose?
Collects X-FORCE (2019) #1-6.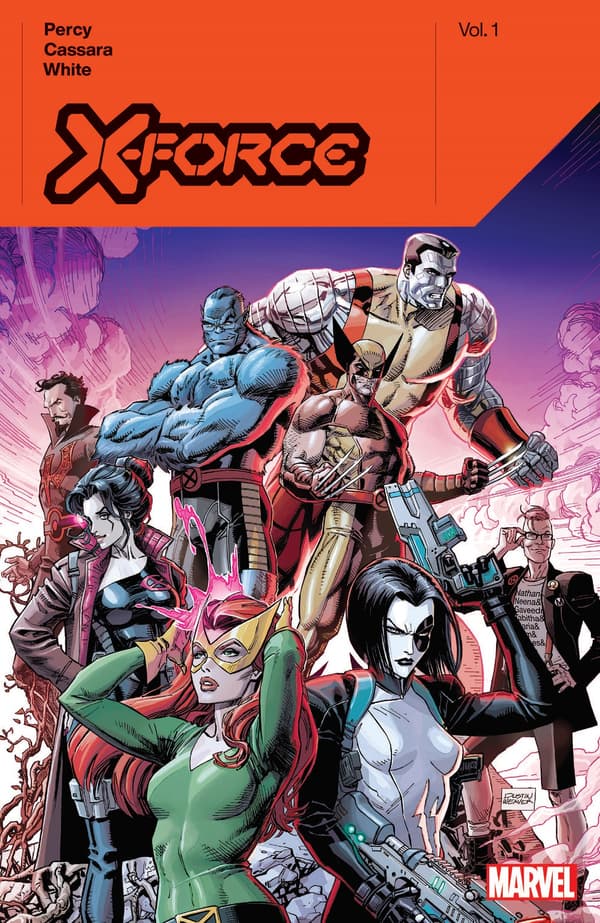 See the full list of sale titles here!
FALCON: TAKE FLIGHT
MARVEL KNIGHTS 20TH
NEW AVENGERS: A.I.M. VOL. 2: STANDOFF
SECRET EMPIRE: UNITED WE STAND
SENTRY: MAN OF TWO WORLDS
STAR WARS: TIE FIGHTER
VENOM UNLEASHED VOL. 1
X-FORCE BY BENJAMIN PERCY VOL. 1
AMAZING SPIDER-MAN BY NICK SPENCER VOL. 8: THREATS & MENACES
DEADPOOL & THE MERCS FOR MONEY VOL. 1: MO' MERCS, MO' MONKEYS
DEADPOOL: WORLD'S GREATEST VOL. 8: 'TIL DEATH DO US...
DEATH OF WOLVERINE: THE WEAPON X PROGRAM
MAN WITHOUT FEAR: THE DEATH OF DAREDEVIL
SILVER SURFER: DEVOLUTION
SYMBIOTE SPIDER-MAN
THANOS: A GOD UP THERE LISTENING
VENOM BY DONNY CATES VOL. 2: THE ABYSS
VENOM BY DONNY CATES VOL. 3: ABSOLUTE CARNAGE
VENOM: WAR OF THE REALMS
VENOMIZED
VENOMVERSE
CAPTAIN MARVEL VOL. 1: RE-ENTRY
CAPTAIN MARVEL VOL. 2: FALLING STAR
CYCLOPS VOL. 1: STARSTRUCK
THE END
THE PUNISHER VOL. 2: BORDER CROSSING
X-FACTOR VOL. 21: THE END OF X-FACTOR
X-MEN RED VOL. 2: WAGING PEACE
GENERATIONS
HOUSE OF X/POWERS OF X
HUNT FOR WOLVERINE: ADAMANTIUM AGENDA
NOVA: THE HUMAN ROCKET VOL. 2: AFTER BURN
SPIDER-MAN & THE X-MEN
UNCANNY X-MEN: X-MEN DISASSEMBLED
X-MEN BLUE VOL. 4: CRY HAVOK
X-MEN BY JONATHAN HICKMAN VOL. 1
X-MEN GOLD VOL. 1: BACK TO THE BASICS
X-MEN GOLD VOL. 3: MOJO WORLDWIDE
ASGARDIANS OF THE GALAXY VOL. 1: THE INFINITY ARMADA
BLACK CAT VOL. 2: ON THE RUN
DOMINO VOL. 2: SOLDIER OF FORTUNE
MONSTERS UNLEASHED PRELUDE
MOON GIRL AND DEVIL DINOSAUR VOL. 1: BFF
MOON GIRL AND DEVIL DINOSAUR VOL. 2: COSMIC COOTIES
MOON GIRL AND DEVIL DINOSAUR VOL. 3: THE SMARTEST THERE IS
MOON GIRL AND DEVIL DINOSAUR VOL. 4: GIRL-MOON
MOON GIRL AND DEVIL DINOSAUR VOL. 5: FANTASTIC THREE
MOON GIRL AND DEVIL DINOSAUR VOL. 6: SAVE OUR SCHOOL
MOON GIRL AND DEVIL DINOSAUR VOL. 7: BAD DREAM
SPIDER-WOMAN VOL. 2: NEW DUDS
THE TOTALLY AWESOME HULK VOL. 4: MY BEST FRIENDS ARE MONSTERS
ELEKTRA: ALWAYS BET ON RED
FRIENDLY NEIGHBORHOOD SPIDER-MAN VOL. 1: SECRETS AND RUMORS
FRIENDLY NEIGHBORHOOD SPIDER-MAN VOL. 2: HOSTILE TAKEOVERS
WOLVERINES VOL. 4: DESTINY
X-23 VOL. 1: FAMILY ALBUM
AMAZING SPIDER-MAN: 2099 (VOL. 7)
Read these sensational stories now by heading to the Marvel Comics App and enjoy the amazing adventure that is the Marvel Universe.
All purchases in the Marvel Comics App are added to your personal library, and can be read on iPhone®, iPad® and select Android™ devices! Our smart-paneling feature provides an intuitive reader experience, ideal for all types of mobile device and tablet users!
For more on Marvel's Stormbreakers program see here.
The Hype Box
Can't-miss news and updates from across the Marvel Universe!