Comics
Published October 19, 2020
The End Is Just the Beginning in 'Captain Marvel' #22
Carol Danvers' life has been rocked to its core!
WARNING! THIS ARTICLE CONTAINS SPOILERS FOR CAPTAIN MARVEL #22, SO READ ON AT YOUR OWN RISK, TRUE BELIEVERS!
It's been a rough time for Carol Danvers AKA Captain Marvel since the current run of CAPTAIN MARVEL began. First, Carol's half-Kree heritage was leaked to the press, which made her a pariah. Then Star further dragged Carol's name through the mud before nearly stealing her powers and her life. Things were just beginning to calm down when EMPYRE caught the Marvel Universe by storm. Carol was briefly the new Accuser for the Alliance before she discovered the existence of her half-sister, Lauri-Ell. In the aftermath of that cosmic war, Lauri-Ell took the burden of the Accuser's mantle from Carol's shoulders and accepted her place among the stars.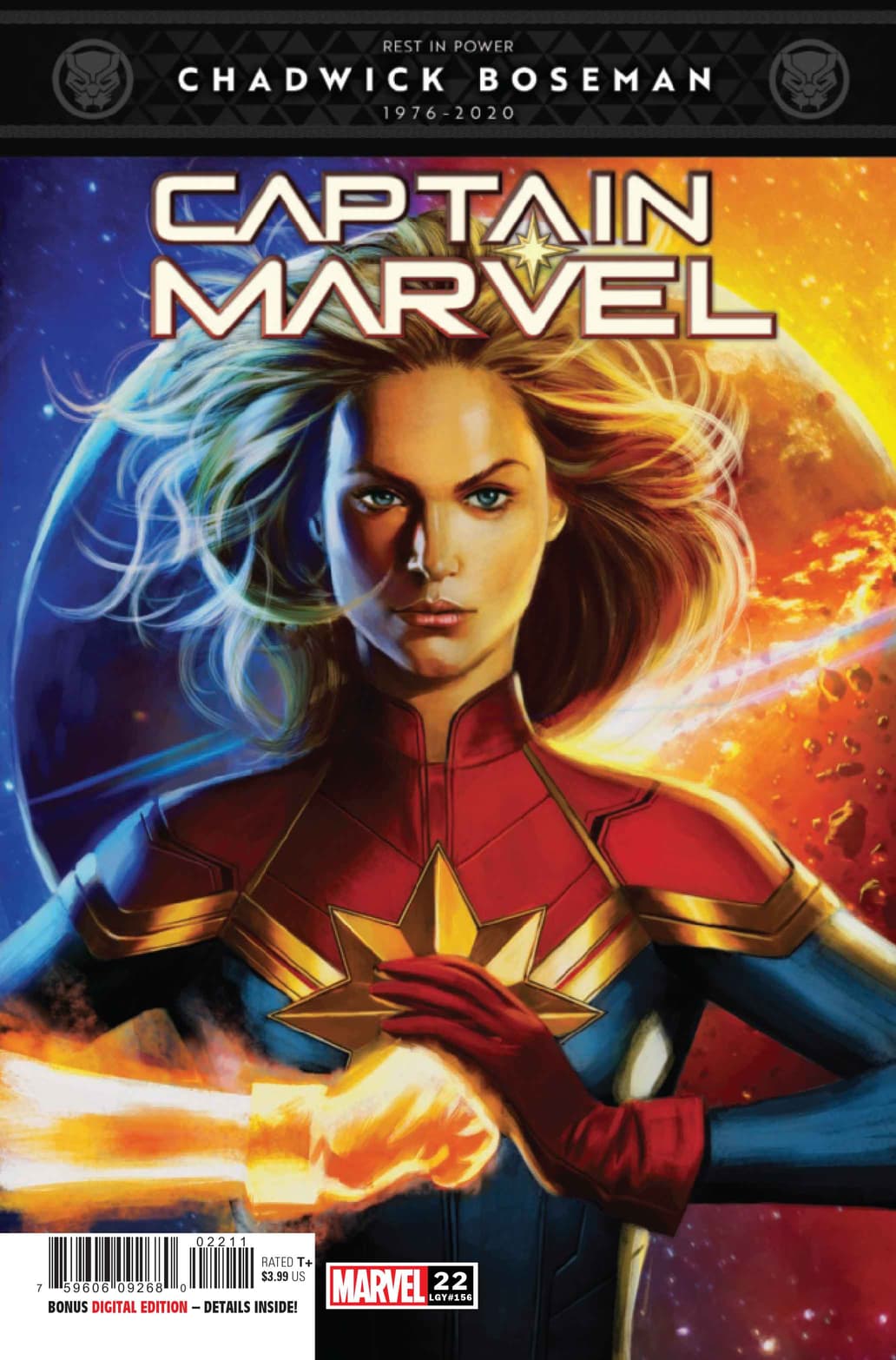 In last week's CAPTAIN MARVEL #22, Kelly Thompson and artist Lee Garbett gave Carol a taste of everything she wanted. Carol's romance with James Rhodes AKA War Machine has been rekindled, and she has an extended surrogate family with Jessica Drew AKA Spider-Woman and Jennifer Takeda AKA Hazmat. How close does Carol feel to those three? She shared the Universal Weapon's power with them during EMPYRE, just so she could clear her half-sister's name.  
Now that the war is over, Carol's life is returning to normal. She even told Rhodey that the Air Force reinstated her. That was one of the big consequences of Star's assault on Carol's life and reputation. Getting that back meant everything to Carol. However, Carol's joy was short-lived. Shortly after the four heroes confronted an alien creature, Carol found herself mysteriously transported to the future, past the end of her own personal story.
That's not a euphemism. Thompson previously introduced readers to this timeline in CAPTAIN MARVEL: THE END #1. In the year 2051, Carol returned to Earth after decades in space and discovered that the ruined world had a few survivors. Those survivors included Emma Frost, an older Jessica Drew and her son Gerry, Hazmat, and more. Against all odds, they held on to what little they had. Carol's return gave them hope, and in return, they gave her a new sense of purpose. She sacrificed herself by entering the Sun and repairing the damage. It was just enough to give humanity a second chance on Earth.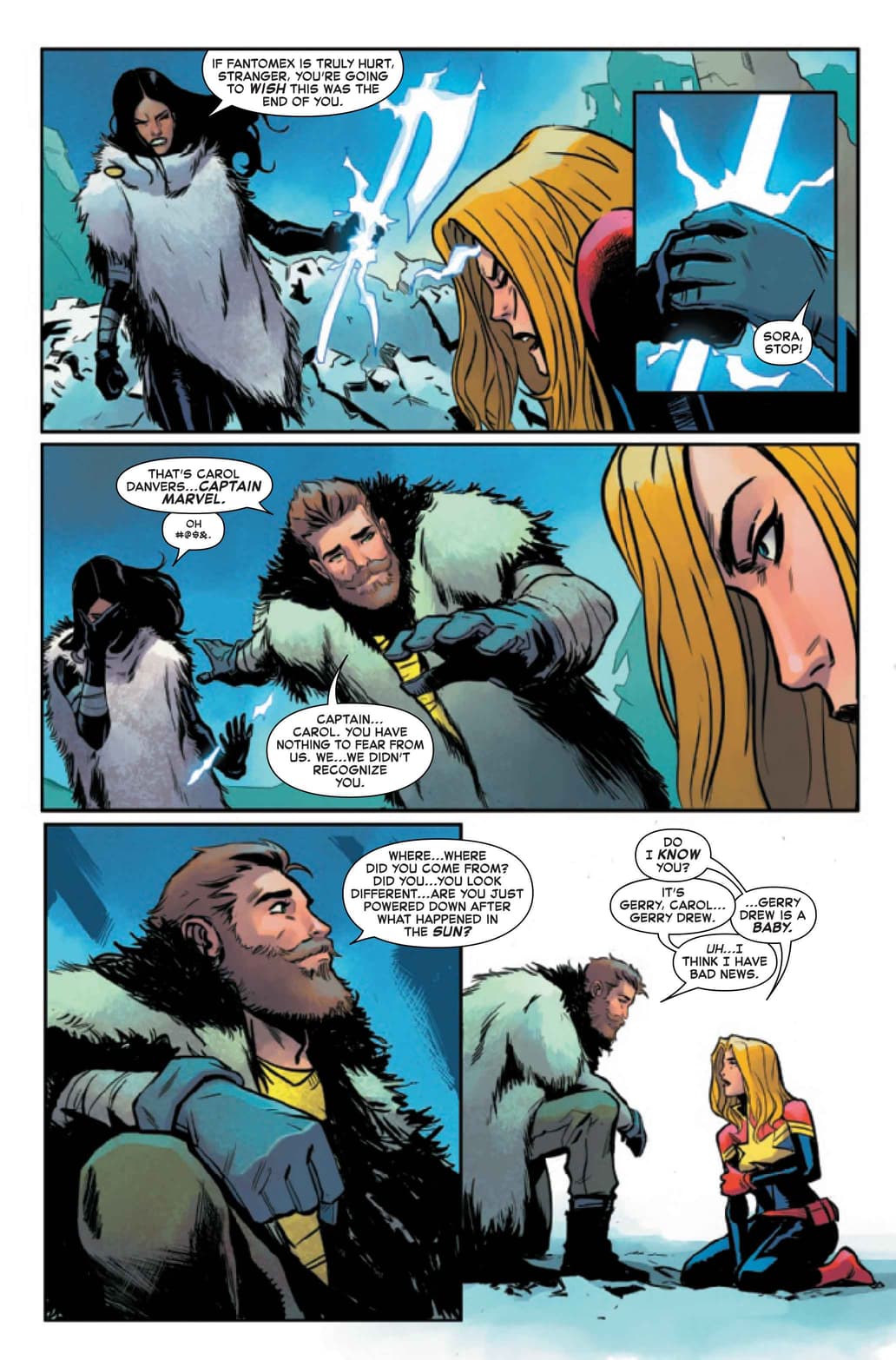 Unfortunately for Carol's younger incarnation, that grand gesture didn't solve her most immediate problem. Fantomex 5 and Sora (the daughter of Psylocke and Forge) briefly attacked Carol before Gerry interjected and reintroduced himself. Gerry initially thought that Carol was the same woman who flew into the Sun until Carol convinced him that she came from an earlier part of her past.
It didn't help that Carol immediately met Rhodey's daughter, only to learn that she wasn't her mother. It's also been nearly a year since the older Carol's demise, but the world is now under siege from demons – more specifically, demons from Limbo. That's the domain of Magik, another long-missing hero.
According to Emma (who is permanently stuck in her diamond form), a new adversary called Ove may be behind the demonic attacks. That means either Ove is holding Magik captive – or Magik is Ove. Neither prospect is particularly enticing, but before Carol and her friends can take a course of action, Ove has already made the first move. Luke Cage, seemingly alive and well, has reintroduced himself as an emissary for Ove with a message specifically for Captain Marvel.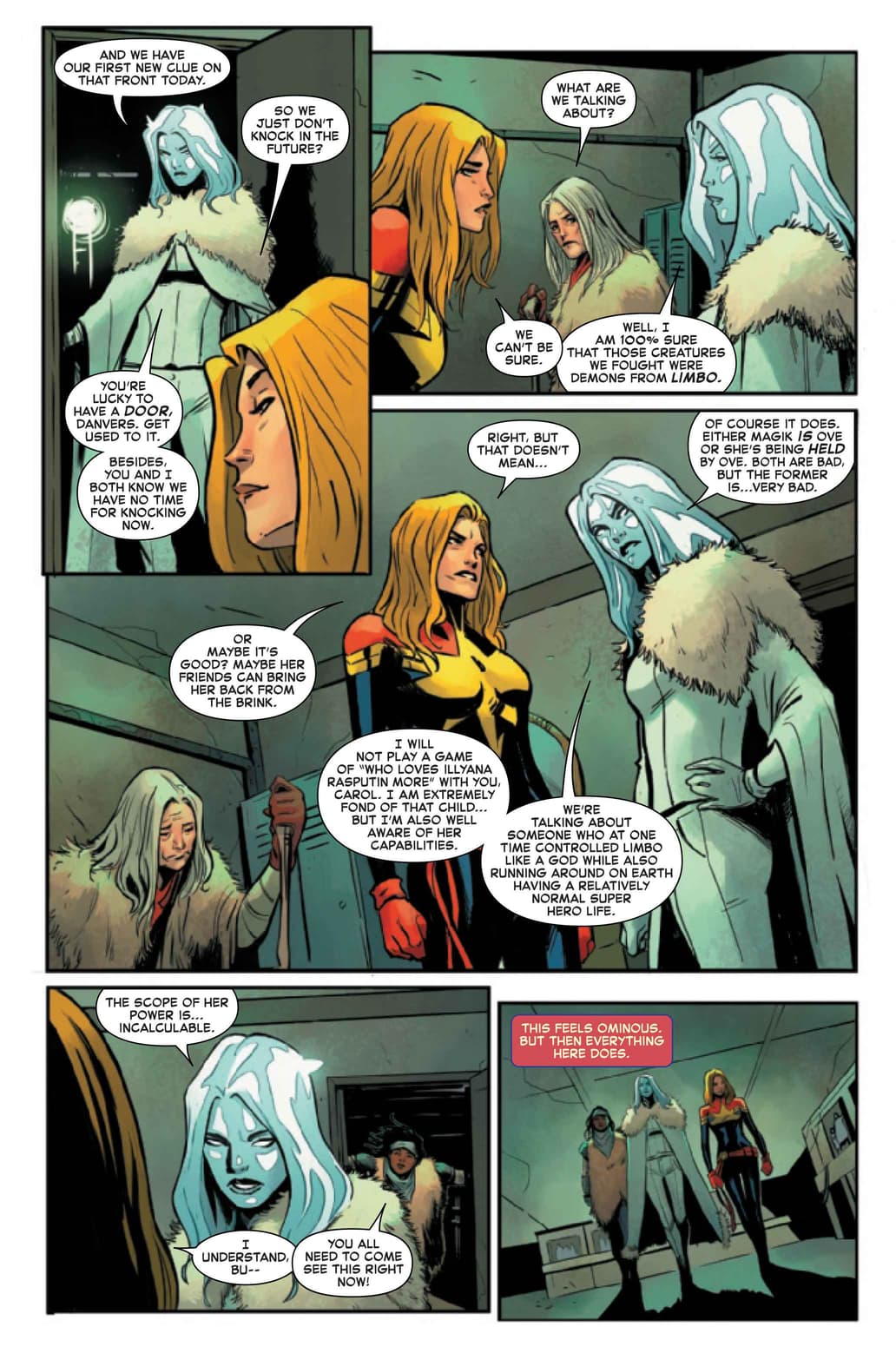 Can Carol escape the new world of 2052? And what's Ove's message for Carol? There's more to come when CAPTAIN MARVEL #23 hits stores next month!
CAPTAIN MARVEL #22, written by Kelly Thompson with art by Lee Garbett, is on sale now online and at your local comic shop!
Be sure to ask your local comic book shop about their current business policies to observe social distancing or other services they may offer, including holding or creating pull lists, curbside pick-ups, special deliveries and other options to accommodate. Find and support your local comic book shop at http://comicshoplocator.com or by visiting http://marvel.com/lovecomicshops.
For digital comics, all purchases in the Marvel Comics app can be read on iPhone®, iPad® and select Android™ devices! Our smart-paneling feature provides an intuitive reader experience, ideal for all types of mobile device and tablet users!
The Hype Box
Can't-miss news and updates from across the Marvel Universe!