Comics
Published October 13, 2020
The History of the Hellions
Pair this week's exceptional 'X of Swords' Chapter 6 with a look at every team of Hellions!
Writer Zeb Wells and artist Stephen Segovia's HELLIONS #1 is now available on Marvel Unlimited, as one of the recent additions to the Dawn of X lineup. Havok, Psylocke, Greycrow, Wild Child, Nanny, Orphan, and Empath are the proverbial misfits of Krakoa. They don't fit in with the X-Men or any of the other teams. And only Mister Sinister has shown an interest in taking them under his less-than benevolent wing.
And this week, on October 14, these broken mutants may prove to have an important role to play in X OF SWORDS, which is currently unfolding in the X-Men family of titles, as HELLIONS #5 presents a new chapter of the crossover event!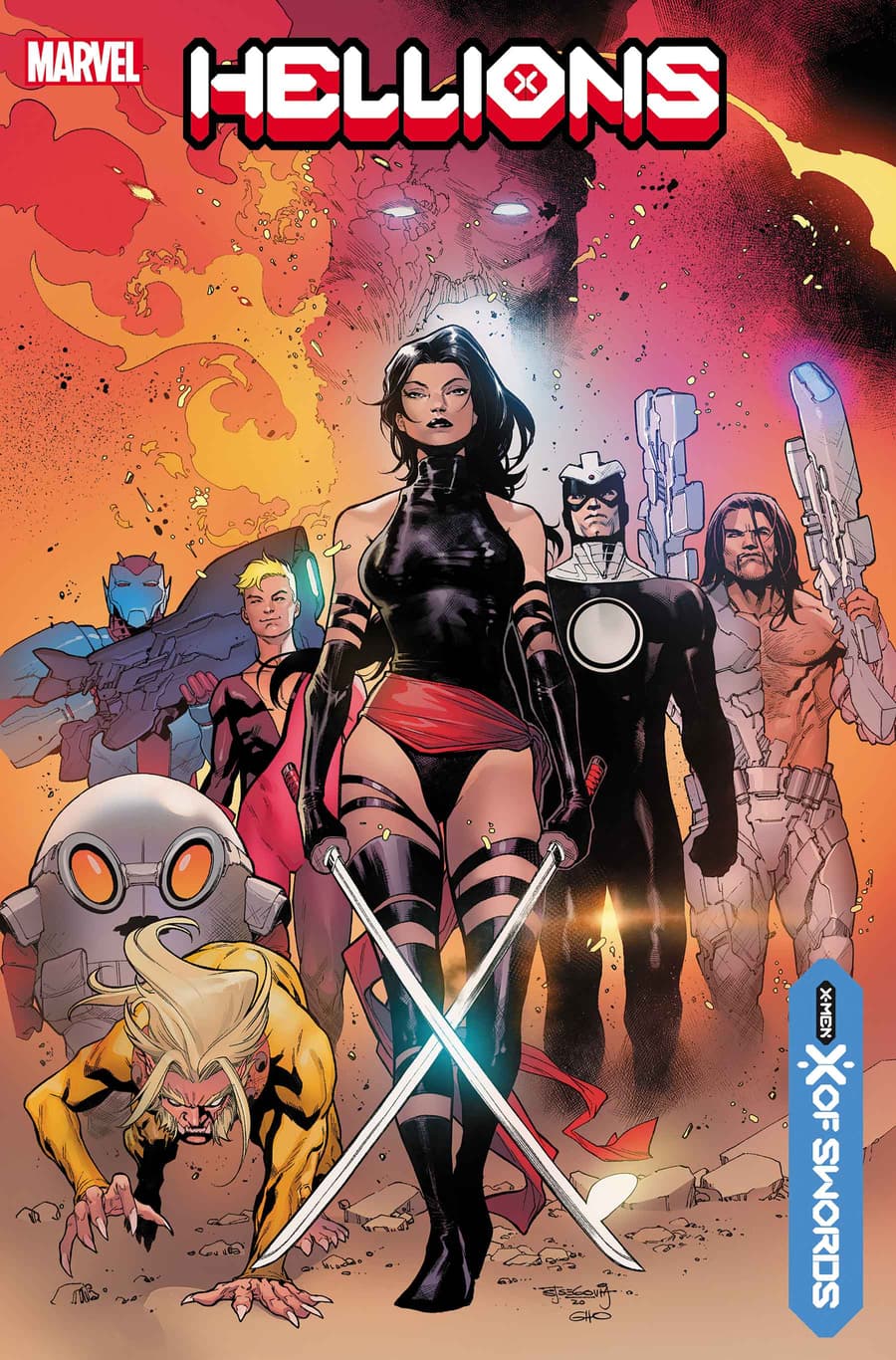 It's fitting that the Hellions now have a title of their own, since they've been a thorn in the sides of the New Mutants and the X-Men since 1984. Havok's team is not the first group to go by the name, but they may be the last... This is the history of the Hellions!
The Original Team
Empath is the lone member of the current Hellions team who was also on the original Hellions. Before Emma Frost guided Generation X and joined Xavier's team in NEW X-MEN (2001), she coveted the students who comprised the New Mutants. In NEW MUTANTS (1983) #16, the Hellions debuted as Frost's answer to that team. Jetstream, Tarot, and Catseye even had similar powers to Cannonball, Mirage, and Wolfsbane.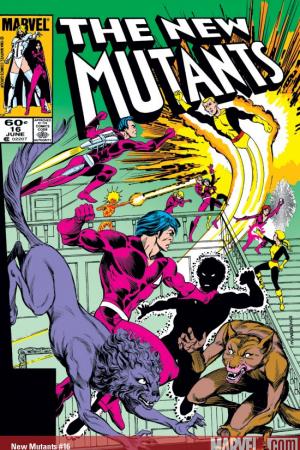 Roulette, Tarot, Empath, and Thunderbird rounded out the first team of Hellions. As chronicled in FIRESTAR (1986), the future New Warriors and Avengers hero was groomed by Frost herself to be a prominent member of the Hellions. But after encountering Xavier in UNCANNY X-MEN (1963) #193, both Thunderbird and Firestar left the Hellions behind.
Over time, the New Mutants and the Hellions managed to get along, even if they were never quite on the same page. Unfortunately, most of the Hellions were slaughtered in UNCANNY X-MEN (1963) #281. Frost genuinely grieved for her students, and she was emotionally haunted by their murder for years. But thanks to the Resurrection protocols in the Dawn of X, the original Hellions are once again among the living.
A Second Incarnation
Emplate was the first villain to challenge Frost, Banshee, and the kids of GENERATION X (1994). When he returned in issues #12-14, Emplate took a shot at Frost by assembling a new team of villains who claimed the Hellions name for themselves. Under Emplate's command, D.O.A., Bulwark, Vincente, Murmur, and Gayle Edgerton actually defeated Generation X and nearly served them up to Emplate's vampiric hunger.
They also returned for a rematch in issue #57, with Nocturne and Wrap replacing Bulwark and Edgerton. But they've only appeared sporadically since then.
The New Hellions
There is a direct link between the first team of Hellions and the third incarnation. Christopher Aaronson, AKA King Bedlam, was once recruited by Emma Frost to be a member of the original Hellions. Christopher turned down the offer, but he fell for Tarot and the feeling was mutual. Somehow, Tarot was able to return from her death in UNCANNY X-MEN #281 thanks to her link with Christopher. Together, they formed the New Hellions.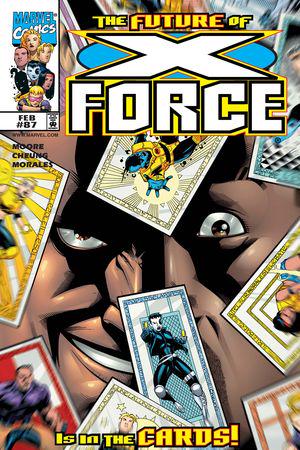 In X-FORCE (1991) #87-90, King Bedlam and Tarot enlisted Switch, as well as former X-Force member Feral and ex-New Mutants member Magma. King Bedlam even briefly managed to convince his brother, Jesse Aaronson, AKA Bedlam, to defect from X-Force and join his team. But the New Hellions were ultimately defeated by X-Force.
Hellions Squad
When the Xavier Institute for Higher Learning reached its peak for mutant enrollment, Frost took the opportunity to reclaim the Hellions name in NEW X-MEN: ACADEMY X (2004) #2. Frost picked Julian Keller, AKA Hellion, to lead the new Hellions Squad that consisted of Mercury, Dust, Rockslide, Icarus, Specter, Tag, and Wither. They were the primary rivals of the New Mutants, a young squad that took on the name of Xavier's earlier class of students.
However, the events of HOUSE OF M left most of the mutants at Xavier's school without their powers. The remaining New Mutants and Hellions were brought together as a single unit, and many of its members continue to have prominent roles in the Dawn of X.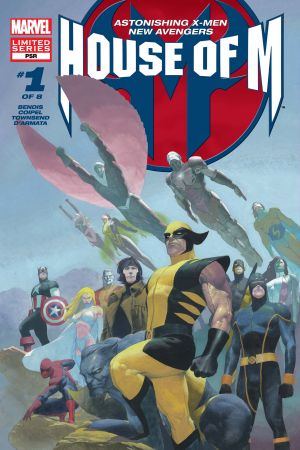 House of M (2005) #1
published

added to marvel unlimited

writer

penciller (cover)

inker

letterer

penciller

colorist
What is Marvel Unlimited?
All-New Hellions
During WOLVERINE & THE X-MEN (2011), Kade Kilgore and his Hellfire Club attempted to destroy the Jean Grey School for Higher Learning and everything that it stood for. Towards that end, Kilgore formed Hellfire Academy, and he lured several of Wolverine's students into joining the school. Oya, Glob Herman, and Broo were also compelled to join the All-New Hellions alongside Tin Man, Mudbug, Infestation, and Snot.
The attempt to turn Oya, Glob Herman, and Broo into villains failed, but Kilgore's Hellfire Club has recently resurfaced as Homines Verendi. Kate Pryde and her team have crossed swords with Homines Verendi in MARAUDERS (2019).
And now the current team continues their adventures every month in HELLIONS!
Read HELLIONS #1 on Marvel Unlimited today, and pick up HELLIONS #5 at your local comic shop this Wednesday, October 14!
The Hype Box
Can't-miss news and updates from across the Marvel Universe!