Comics
Published March 3, 2021
The Past Comes Back to Haunt a Hero in 'America Chavez: Made in the USA' #1
Read a recap and watch a trailer for the new comic starring America Chavez!
What do you know about America Chavez? She's one of Marvel's premiere heroes, she's immensely powerful, and she sometimes goes by Miss America. America has also been a Young Avenger, a West Coast Avenger, and a member of the Ultimates. However, America is more than capable of saving the day by herself. She's got a lot going for her, and the future looks bright for America Chavez.
This week, writer Kalinda Vazquez and artist Carlos Gomez with Jesus Aburtov (colors) are putting America through the ringer in AMERICA CHAVEZ: MADE IN THE USA #1. For the first time in recent memory, America's powers are failing her. More alarmingly, this doesn't appear to be a random occurrence. Someone is targeting America Chavez – and whoever it is knows almost everything about her.
America's unseen enemy actually narrates the issue, and they clearly have a grudge against her. The adversary's tone mocks America's struggles, and seems to be eagerly awaiting a chance to play with their prey. We don't have enough intel to guess the identity of this mystery person, but we do have a better idea of how America became the hero she is today.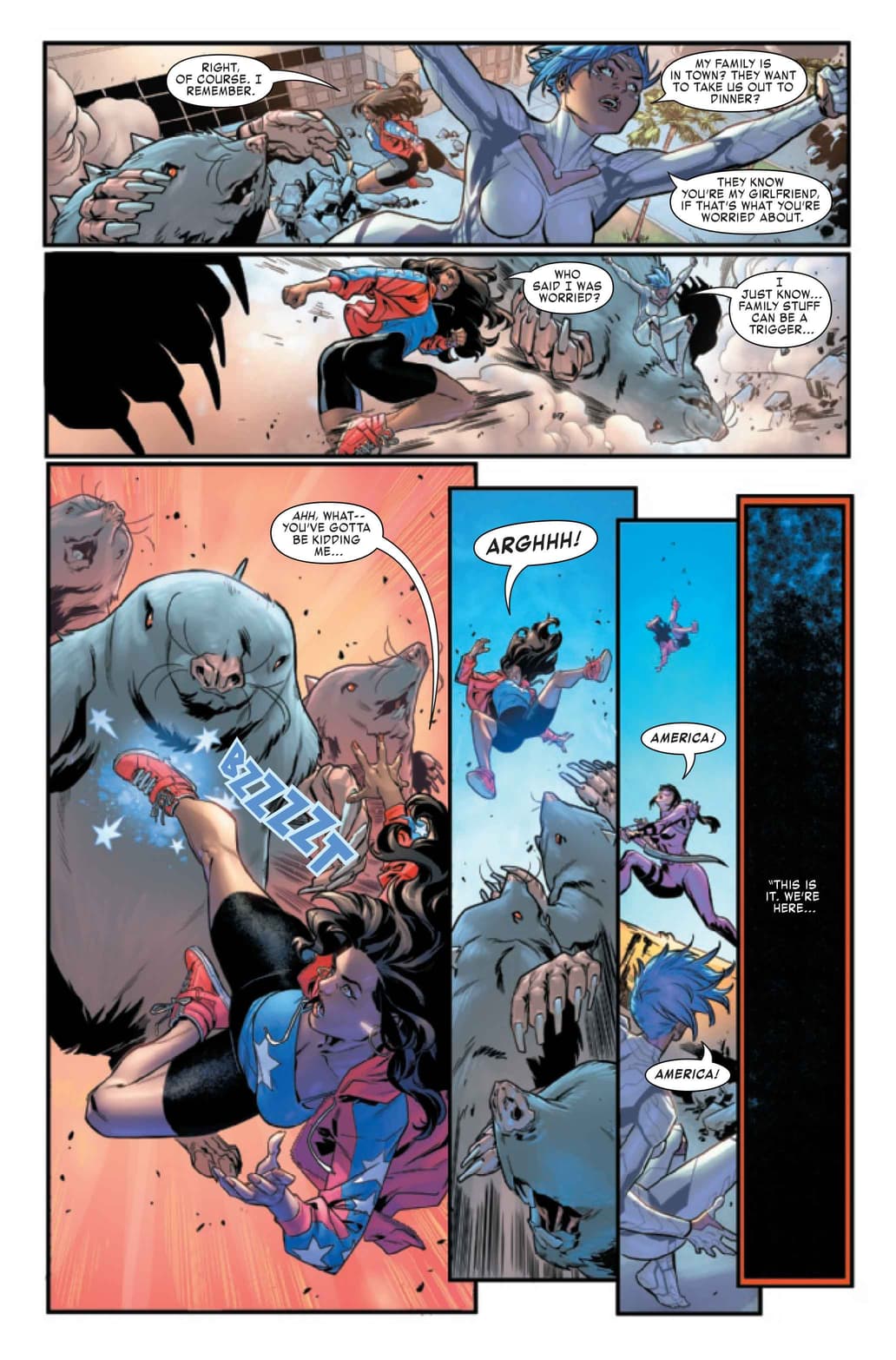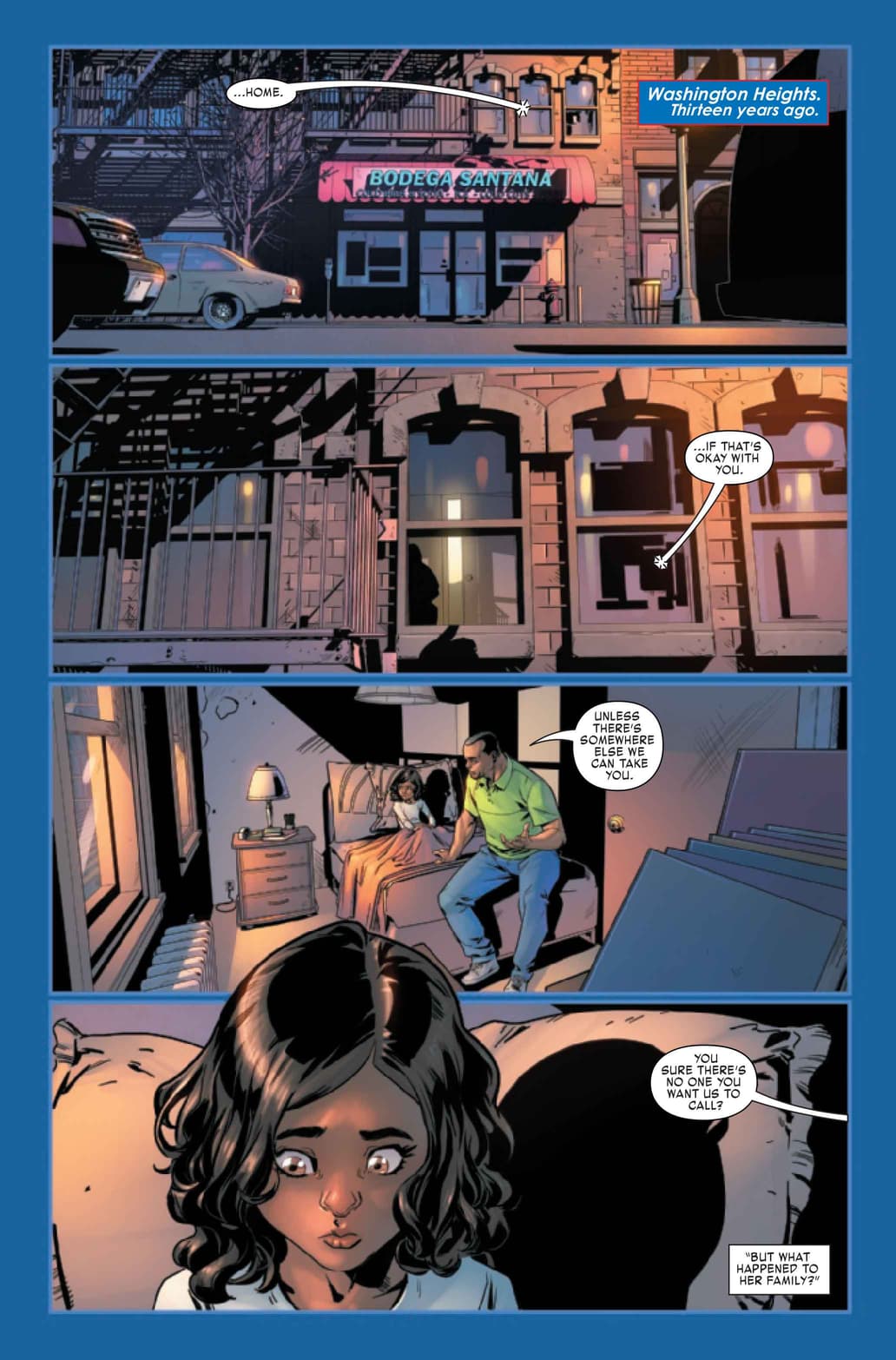 YOUNG AVENGERS (2013) touched upon America's origin in an alternate dimension called the Utopian Parallel. America was raised by her two mothers, Amalia and Elena Chavez. After America's moms sacrificed themselves to save their world, America abandoned the Utopian Parallel and ended up in the Prime Marvel Universe. At least, that's what we've been told.
AMERICA CHAVEZ: MADE IN THE USA #1 shows us what happened next. Young America arrived 13 years ago, and she was immediately taken in by the Santana family. Javier Santana and his wife found America semi-conscious on a beach, and she was clearly weakened by her ordeal. Over the concerns of his wife, Javier decided to take America in despite their limited means. Javier's son Alberto also reached out to his new foster sister. Alberto's gesture of kindness clearly touched her heart.
Yet there's also something left unsaid in these scenes. The Santana family accepted America as one of their own, although she has clearly been absent from their lives. America is even openly shocked when a high school student reporter brings up the Santanas while trying to interview her in the midst of a superhuman battle.
In the present, the giant moles attacking Los Angeles are in line with the insane events of WEST COAST AVENGERS (2018). Normally, America would find more joy in fighting back-to-back with her best friend Kate Bishop AKA Hawkeye as well as America's girlfriend, Ramone Watts AKA Alloy. But two things seem to weigh heavily on America: Ramone's desire to introduce America to her family and the unexplained power losses that briefly leave America helpless and unconscious.
Regardless of the alarming turn of events that left her out cold, America keeps Ramone at an emotional distance and doesn't open up to her. She also receives an alert that someone has attacked her old neighborhood back in New York. More specifically, someone targeted the building where the Santana family lives and torched it. America was able to put out the flames and rescue her family. But someone slipped the Santanas a threatening note before the fire started: "You should keep a closer eye on your family, America."
Someone is declaring war on America Chavez. But who hates her this much? And why? The answers will begin to unfold in AMERICA CHAVEZ: MADE IN THE USA #2 on Wednesday, April 7!
AMERICA CHAVEZ: MADE IN THE USA #1, written by Kalinda Vazquez with art by Carlos Gomez and Jesus Aburtov on colors, is on sale now online and at your local comic shop!
And don't miss our Marvel.com interview with Kalinda Vazquez!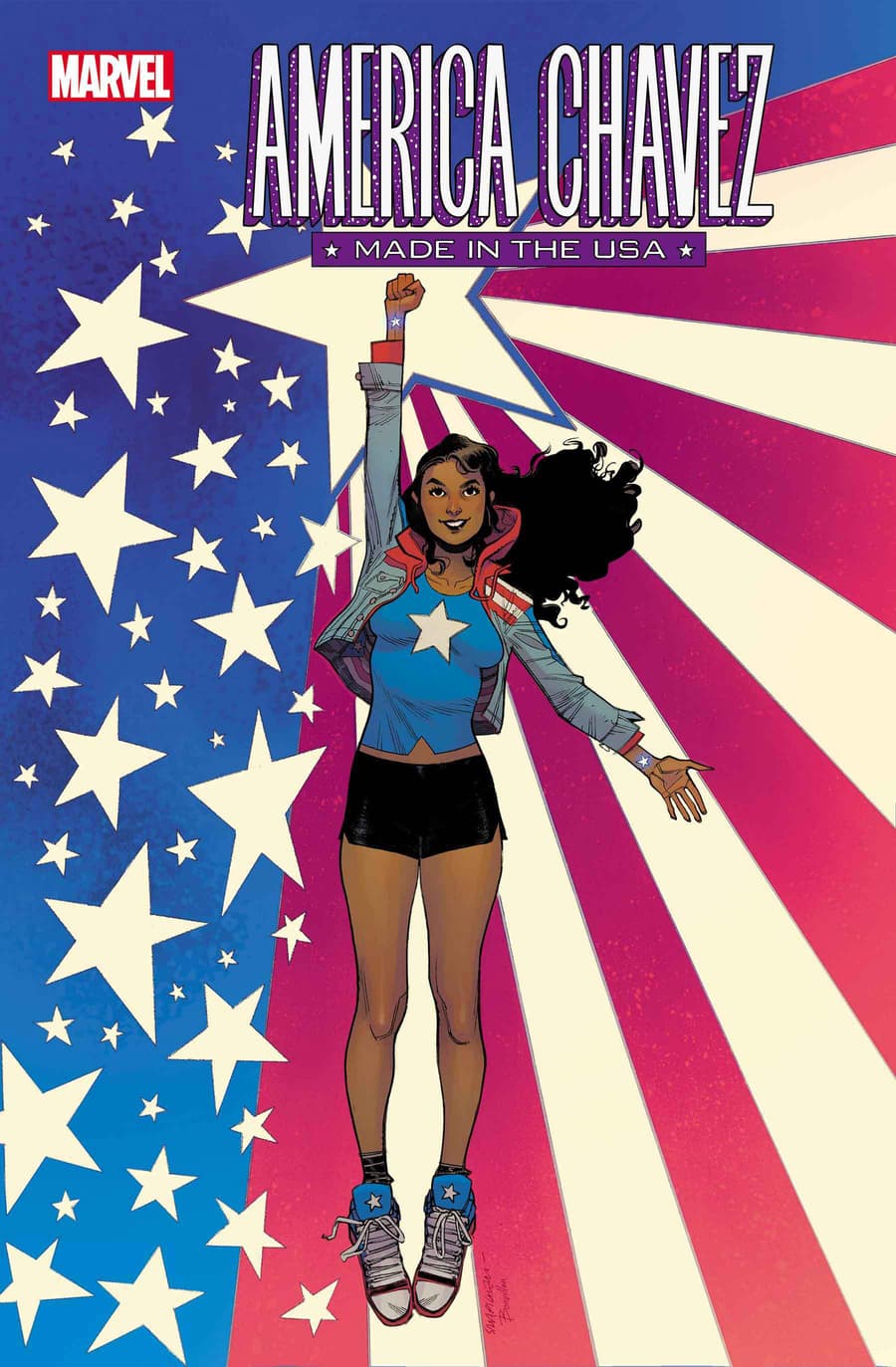 Be sure to ask your local comic book shop about their current business policies to observe social distancing or other services they may offer, including holding or creating pull lists, curbside pick-ups, special deliveries and other options to accommodate. Find and support your local comic book shop at http://comicshoplocator.com or by visiting http://marvel.com/lovecomicshops.
For digital comics, all purchases in the Marvel Comics app can be read on iPhone®, iPad® and select Android™ devices! Our smart-paneling feature provides an intuitive reader experience, ideal for all types of mobile device and tablet users!
For Marvel's most up-to-date release schedule for your favorite comics, visit http://marvel.com/newcomics.
The Hype Box
Can't-miss news and updates from across the Marvel Universe!