Comics
Published January 29, 2020
This Is How Deadpool Dies
Spoiler alert! Read through a full breakdown of Wade Wilson's "final" story...
Warning! This article contains spoilers for today's DEADPOOL: THE END #1, so read on at your own risk, Deadpool diehards!
2020 has kicked off with "The End" for Marvel's modern icons, including Venom, Captain Marvel, and Miles Morales. And now it's Deadpool's turn.
This week's DEADPOOL: THE END #1 united writer Joe Kelly and artist Mike Hawthorne, both of whom have extensive history with Marvel's mirthful Merc with a Mouth. However, the bulk of the story dealt with threads introduced after Kelly's landmark run on DEADPOOL (1997)...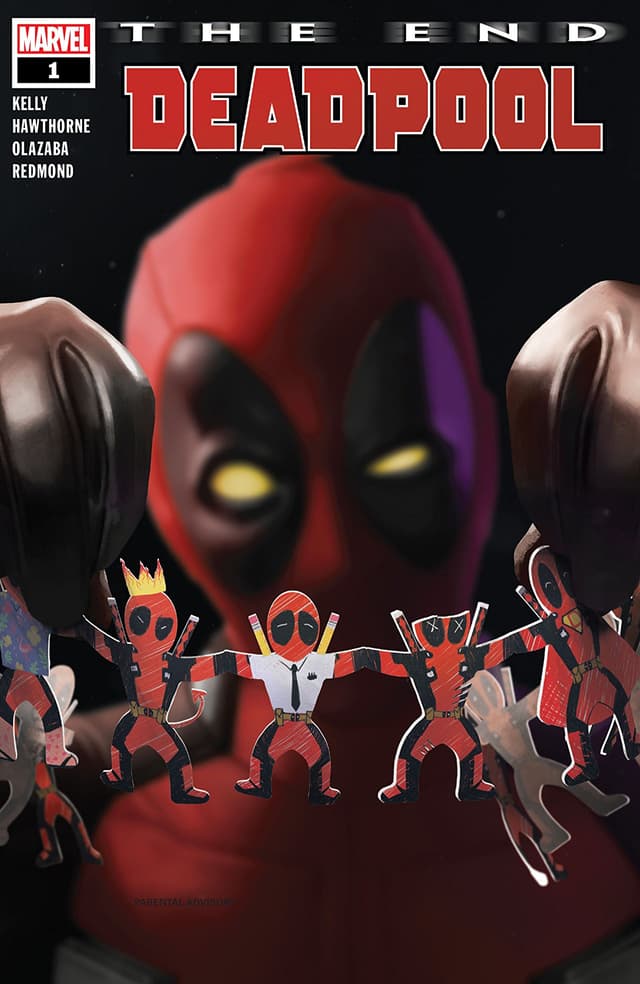 Way back in DEADPOOL AND DEATH ANNUAL (1998) #1, Kelly established that Death was one of the great loves of Wade Wilson's life—and we mean the personification of Death (who also happens to be Thanos' object of desire). However, Wade was willing to kill Death herself if it meant preventing the demise of his daughter, Eleanor Camacho.
Eleanor first appeared in DEADPOOL (2013) #19, and she's been the guiding light of Wade's life ever since...even when he can't remember her! This issue's vision of the future echoes the one from DEADPOOL (2016) #12, which re-introduced Eleanor as Deadpool 2099 opposite her half-sister, Warda Wilson...who was also Deadpool 2099.
While Warda sat out of this story, Wade was able to reconcile with Eleanor before the end. He simply didn't want his daughter to die, even though his soul was online. This may be a callback to DEADPOOL (2018) #15, which was the time that Mephisto sought to trap Wade in a devil's bargain. Mephisto set up Eleanor to be his new collector of souls if Wade refused to do the job himself. To save his daughter, Wade took the deal...and quickly alienated Mephisto with his endless stream of small talk.
Mephisto's revenge called for Wade to kill Eleanor in order to prevent his eternal damnation. And thanks to a creative interpretation of the events, Deadpool successfully argued that he had fulfilled the terms of the deal. Mephisto was sentenced to a fate worse than death while Deadpool had his happy ending in the afterlife alongside Death herself.
But this is Deadpool, and he could never leave on too high of a note. The rest of the issue was essentially a "Choose your own ending" for Deadpool, including a riff on a certain mobster TV show's enigmatic conclusion. Kelly and Hawthorne also hinted that even Death will eventually be put off by Wade's bad decisions.
In the meantime, we learned that Wade may be the only hero who can romance both Captain Marvel and Iceman in the same issue. We've never noticed this before, but Bobby Drake and Carol Danvers really do have similar hairstyles. Hey, Deadpool has a type! And ending with Deadpool as a member of the Avengers isn't too big of a stretch. After all, he was an invaluable member of the Avengers Unity Squad in UNCANNY AVENGERS (2015). But that was all before...well...we won't get into that.
Remember, this is a vision of what could be, rather than what necessarily will be. Deadpool's final destination is still unwritten, but his current adventures are unfolding in DEADPOOL (2019) by Kelly Thompson and artist Chris Bachalo!
Read DEADPOOL: THE END #1 for yourself at your local comic shop now!
The Hype Box
Can't-miss news and updates from across the Marvel Universe!