Comics
Published June 17, 2019
This September, 'Black Panther and the Agents of Wakanda' Unite
General Okoye, the Wasp, Gorilla Man, and Ka-Zar team up with T'Challa later this year!
This September, T'Challa leads a hand-picked outfit of unexpected Super Heroes in BLACK PANTHER AND THE AGENTS OF WAKANDA!
Written by Jim Zub with art by Lan Medina, the new ongoing series brings a squad first seen in the pages of Jason Aaron's AVENGERS (2018) into the spotlight—or, more appropriately, into the shadows.
An under-the-radar task force spearheaded by the King of Wakanda with the help of General Okoye, the Agents of Wakanda introduce their very own brand of covert operations as the Wasp, Ka-Zar, and Gorilla-Man come together to take on threats across realities...
We caught up with Mr. Zub to find out more about how this team is going to take on vampires, aliens, angry fish kings, and more.
Can you tell us a little bit about the vibe you're going for with BLACK PANTHER AND THE AGENTS OF WAKANDA?
BLACK PANTHER AND THE AGENTS OF WAKANDA is Kirby-fueled Mission: Impossible in the Marvel Universe. It's over-the-top action and unexpected twists with a cast of characters pulled from strange places in the Marvel Comics canon. This is a strike force of misfits and monsters tasked with defending humanity and that gives me the freedom to tell a huge range of stories—serious and sadistic, epic and emotional. 
Did you pick up any tips or tricks from Jason Aaron's take on this team in AVENGERS?
Jason assembled a really bold group of weird and wonderful heroes. I'm using that as the foundation for the series and building up from there. Black Panther is at the forefront, of course, but each story will also rotate in or out other agents as needed, mixing up our character dynamics to keep it fresh and fun. The Agents of Wakanda are part of the broader Avengers support structure, but also operate independent of Earth's Mightiest Heroes, dealing with a staggering array of dangers, big and small. That's what Jason started with, and I'm pushing that out even further. 
Expanding from that, what makes the Agents of Wakanda different from other teams we've seen before?
Black Panther is Chairman of the Avengers and also leader of the nation of Wakanda and that's a mix of super heroics and politics that puts foreign governments in an uneasy position. The global support the Avengers took for granted no longer exists, so T'Challa realized he needed to assemble a "ground crew" to handle intelligence gathering and ops that used to be dealt with by S.H.I.E.L.D. and other espionage agencies around the world. That's where the Agents of Wakanda come in. Under Okoye's supervision, this cadre is tasked with dangerous quick response missions on Earth or even in other realities, gathering information about and defending the planet from threats both known and unknown.
The Avengers handle big front line foes around the world. The Agents of Wakanda take care of everything else. Under the radar of other Super Heroes is where we find some of the strangest and most sinister enemies in the Marvel Universe.
 
Will T'Challa have trouble juggling the throne and this team?
Absolutely. T'Challa is trying to be everything to everyone: a peacemaker and a warrior, a thoughtful leader and an imposing King. He needs to be mindful of everything, but there's no way he can be everywhere at once. That's why Okoye's team of agents is so crucial to his long term plans.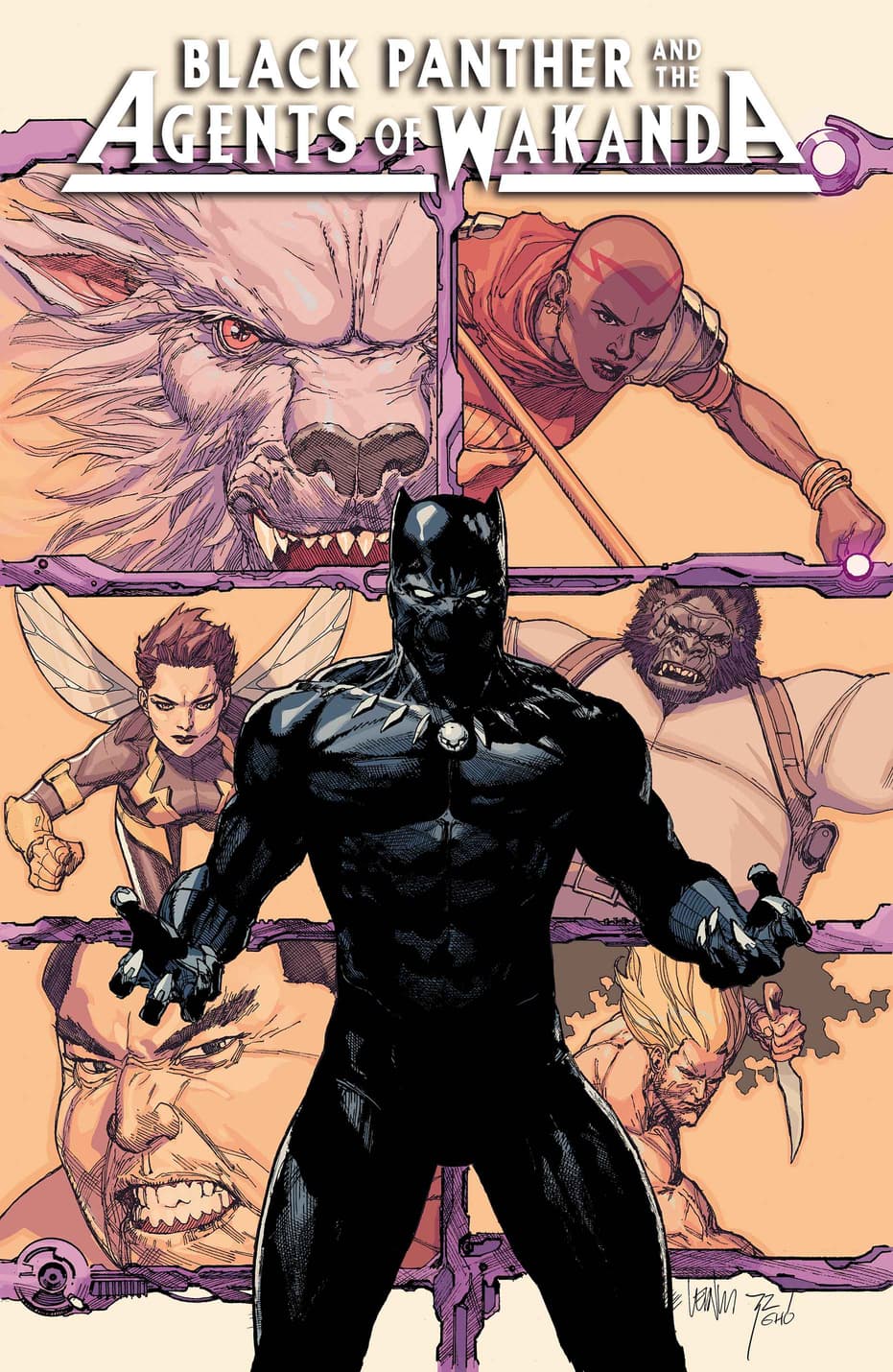 Ka-Zar and Gorilla-Man may not be as well-known as other heroes. What's it like getting to write these slightly more obscure characters?
It's been eight or nine years since Ka-Zar or Gorilla-Man have had a regular series, so it's nice to be able to move their stories forward and create new challenges for them. They have history I can work with, but not so much material that it's hard to handle.
Both Ka-Zar and Gorilla-Man carry secrets that will cause strife as our series rolls onward. Ka-Zar's secret is one he's trying to run away from while Ken Hale's is more immediate, and it undermines his important role as Chief of Security for Avengers Mountain (as readers of Jason's AVENGERS are already aware!).
You've also got fan-favorites Janet Van Dyne, AKA the Wasp, and Okoye. How are they going to slot into the team?
Janet is a founding Avenger and a capable leader in her own right. That experience and confidence will be crucial as these missions catapult the team to unexpected places against unimaginable enemies. On top of that, she's currently dating Tony Stark, and that creates unique opportunities and problems as well. I wrote Janet as part of the UNCANNY AVENGERS (2015) and she also appears from time to time in TONY STARK: IRON MAN (2018), which I'm co-writing with Dan Slott, so keeping her story going here is a real pleasure.
Okoye is a skilled tactician and potent warrior who has led the Dora Milaje, but this new responsibility as director of the Agents of Wakanda will test her in ways she hasn't anticipated. Her life is one of strict duty and intense concentration, but the others operate quite differently, and that's going to be a challenge for her to navigate. The team's varied backgrounds is part of their strength, but also creates a lot the internal conflict as well. 
How does the artwork of Lan Medina inform this series?
Lan has been working in comics for 20 years, plugging away on beautiful artwork without sacrificing rock-solid storytelling. His work feels both contemporary and classic in all the right ways. Simply enough, AGENTS OF WAKANDA is being built as a showcase for Lan's top-notch abilities. I'm writing really wild stuff—huge action set pieces that offer a lot of artistic challenges and Lan is knocking each one right back at us with the best art of his career so far. When he works this hard on the book, it encourages me to dig down even deeper and make sure the stories we're telling are worthy of that artwork.
What can you tease about the threats this team will face?
The initial slate of missions I pitched to editor Wil Moss included some really out-there elements: obscure Marvel creatures, off-the-wall connection points between old and new stories, and brand-new villains I've had jangling around in my mind for quite a while. The fact that Wil responded enthusiastically to all of it and dared me to up the ante even more got me excited about where we can take this series.
Around the world, other worlds, other dimensions, cosmic calamities, and unexpected guest stars—sure, why not? I want readers to come to each issue primed for excitement but never quite sure of where we might take things next.
BLACK PANTHER AND THE AGENTS OF WAKANDA might be the most fun I've had on a Marvel book so far and, given how much incredible stuff I've had the pleasure of working on, I know that's quite the statement. Jump in with us and we'll show you some madcap missions in the Mighty Marvel Manner!
Pre-order BLACK PANTHER AND THE AGENTS OF WAKANDA at your local comic shop now, then pick it up this September!
The Hype Box
Can't-miss news and updates from across the Marvel Universe!