Comics
Published August 12, 2020
Tony Stark's Most Quotable Moments
From one-liners to pearls of wisdom, Iron Man knows how to turn a phrase.
LOOKING FOR MORE OF STARK'S STYLE? LOOK HERE!
As one of the Marvel Universe's premiere heroes (and biggest brains on the planet), Iron Man always has something to say. Time and again, Tony Stark has been front and center in some of the greatest Super Hero battles in comics history… and that includes verbal smackdowns.

Sure, he might not be the one inspiring the masses like his pal Captain America, but Iron Man has had his fair share of rousing speeches and killer one-liners over his nearly sixty years! With that in mind, check out a few of the best lines from this knight in titanium alloy armor!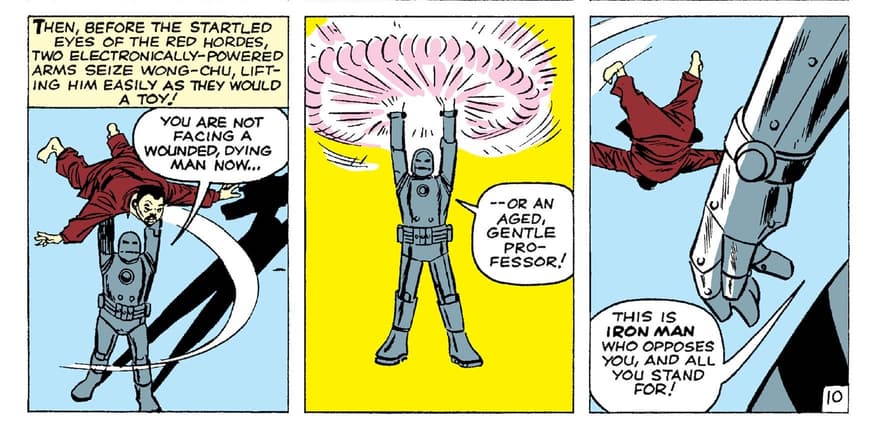 During Iron Man's debut in TALES OF SUSPENSE (1959) #39, readers met a confident weapons industrialist whose main concern was scoring another government contract… and possibly another date. Although, life got a lot more complicated when this billionaire-with-everything-to-lose was attacked and kidnapped.
With some help from Professor Ho Yinsen, Stark built the first Iron Man armor to keep himself alive and to break free from his captors. After first donning the suit and faltering at its controls, our hero had a poignant moment when he overtook the enemy shortly after realizing he would forever rely on machinery to fend off death. Consider this the moment that changed Stark's entire life.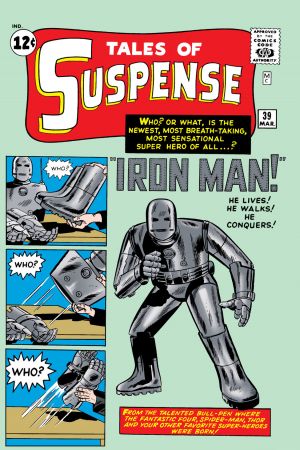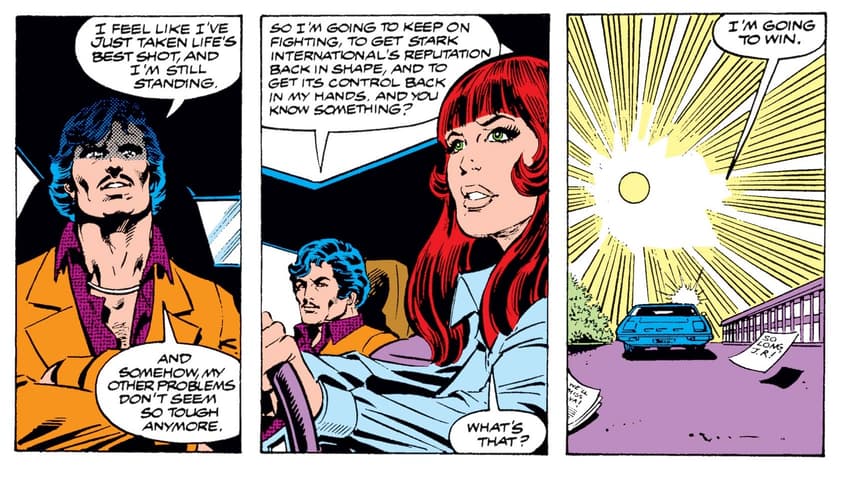 Though many think of the wise-cracking billionaire philanthropist when they imagine Tony Stark, he's also gone through his share of struggles—including a battle with alcoholism. After drunkenly piloting his armor in the "Demon in a Bottle" arc, Tony finally decided to ask for help in getting sober from Bethany Cabe in the now-famous IRON MAN (1968) #128. The issue ends with an inspirational statement that not only covered his sobriety, but getting his life back on track too: "I'm going to win."
Though Tony is continually challenged, this confidence and self-belief has fueled his heroic journey. Start with issue #120 and read through!
"I MAKE REALLY. GREAT. WEAPONS." (FEAR ITSELF #5)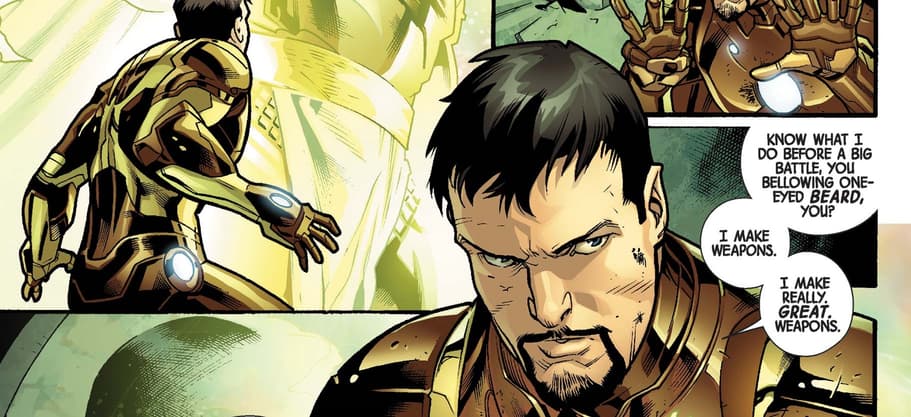 And it's true.
During the 2011 FEAR ITSELF event, an ancient anxiety god named Cul began spreading seeds of fear and terror across the planet. Leave it to Iron Man to not only throw the proper amount of insult at a god-king, but also demand the use of his armory to clean up a global mess!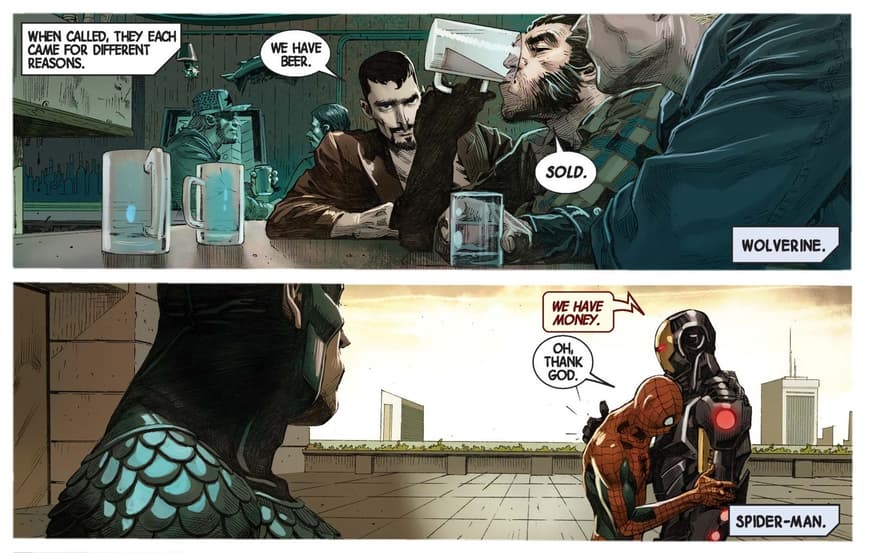 Staring down the threat of existence-ending forces, Tony Stark and Steve Rogers began a new Avengers team in this 2012 run with the driving thought of expanding not just the roster, but their reach as well. To that end, Iron Man got to work bringing in a variety of heroes, telling them exactly what they needed to hear to sign on… whether that be beer for Wolverine, cash for constantly-broke Spider-Man, or a new metaphorical mountain to climb for Master of Kung Fu Shang-Chi.
Just call him the master negotiator.
Also true.
Though he would probably never admit it, Tony Stark met his match in the form of Rocket during his 2013 stint with the Guardians of the Galaxy. The pair had great rapport as the small Furry One constantly ribbed the taller, More Coiffed One about his technical know-how. Rocket constantly disparaged Earth and its "backwater" nature too, even questioning how Stark could live there, to which he gave this perfect response.
After consulting with Doctor Stephen Strange about Doctor Doom's desire to become a hero (and to address Madame Masque's growing collection of mystical items), Stark raised a high-five in pure thanks and appreciation. While we're not sure why Strange left Tony hanging so long, these "facial hair bros" eventually got on the same page to carry out their team-up.
Being dead for a time and waking up to find that your two armored predecessors are dealing with just about every one of your old Super Villains is a lot to take in, even for Stark. Still, after reviving himself and James Rhodes, Iron Man and War Machine got back in on the action in INVINCIBLE IRON MAN (2016) #600. However, it took a little time for Stark's sardonic sarcasm to fully reboot, something Rhodey called out in the middle of the fight!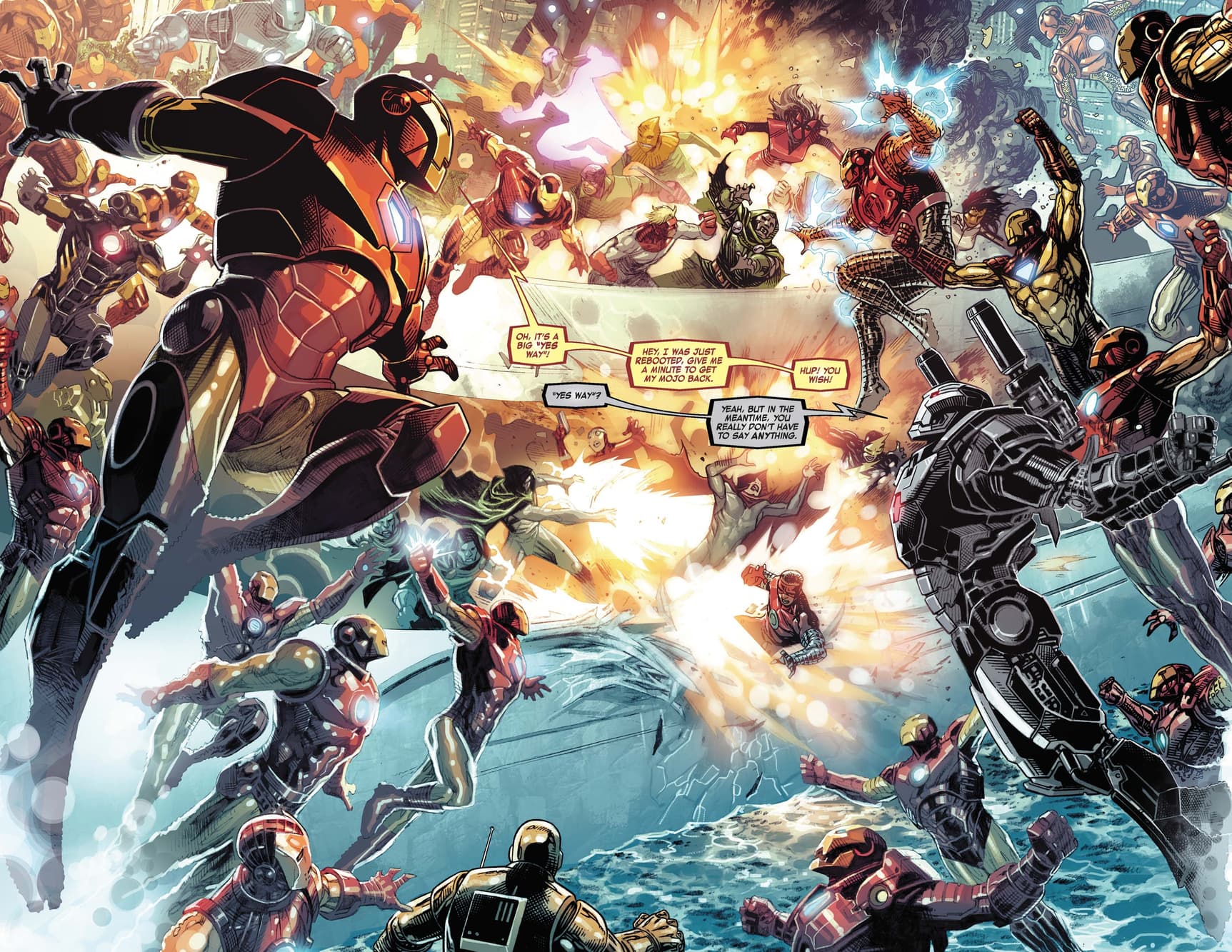 Even when he's not "on," you do have to hand it to Stark's enthusiasm!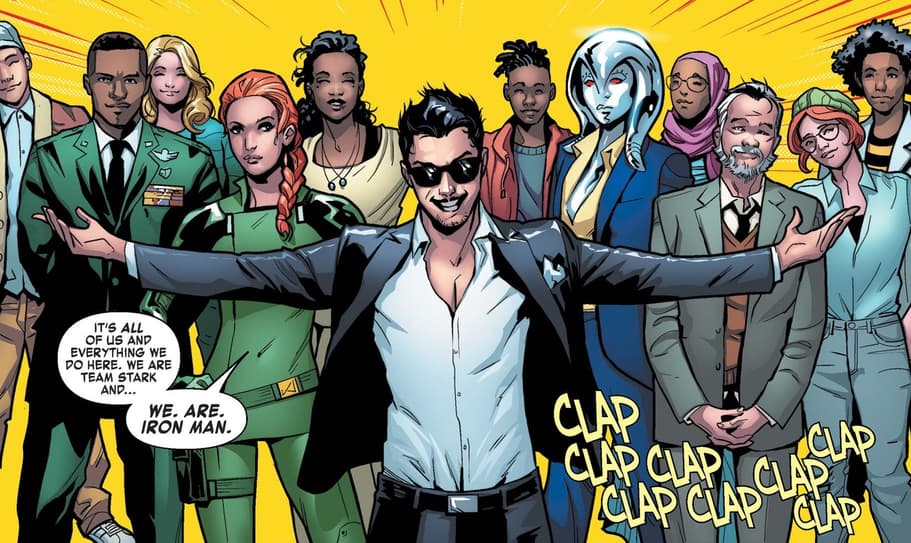 Last but not least—a little slice of humility to show just how far he's come! In the wake of being dead and recreating his mind and body through science, the Armored Avenger got back to work as the head of Stark Unlimited in TONY STARK: IRON MAN (2018). After stopping Fin Fang Foom's city rampage, Tony gave a press conference where he not only talked about the ever-changing nature of his technological achievements, but also the importance of the team he had built around him to make it all work!
Need more Iron Man inspiration? Head over to Marvel Unlimited to read thousands of Tony Stark stories, from blockbuster events to starring, solo turns!
It's Stark Week! Stay tuned to Marvel.com and Marvel on Twitter, Facebook, and Instagram for even more of the Armored Avenger!
Marvel Unlimited, Marvel's digital comics subscription service, offers members unlimited access to over 27,000 issues of Marvel's classic and newer titles, delivered digitally through your desktop web browser and the award-winning Marvel Unlimited mobile app.
The Hype Box
Can't-miss news and updates from across the Marvel Universe!