Comics
Published January 10, 2017
Totally Awesome Hulk: Asian Americans Assemble
Greg Pak runs down the participants in the Big Apple Showdown!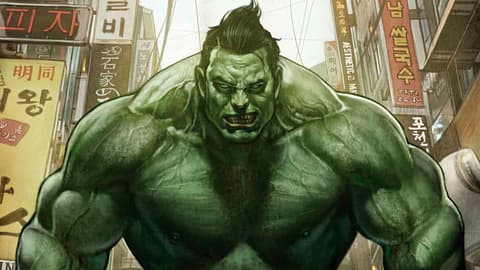 There's trouble brewing in New York City. And there's only one Totally Awesome thing standing between the Big Apple and destruction. On January 25, Amadeus Cho jumps fist-first into the "Big Apple Showdown" in TOTALLY AWESOME HULK #15!
But even with a Champion's might, Hulk can't wage this war alone. So, who's coming to help Amadeus in the fight? An all-star array of Asian American heroes will be answering the call.
We caught up with writer Greg Pak to see who's ready to rumble. Greg, over to you…
The Totally Awesome Hulk
"First off, we've got Amadeus Cho, aka the Totally Awesome Hulk, who thinks he's gonna be the best Hulk ever. Amadeus has been through some traumatic and humbling experiences over the past few issues, but you can't keep a good Hulk down, and he probably still thinks a bit too much of his own awesomeness. But our story begins with Amadeus having the chance to hang out with some of his fellow Asian American super heroes. And we're going to see a whole other side of Amadeus and all of these heroes as they chill and bond; and then see how long that bonding will last as a massive crisis hits."
Ms. Marvel
"Kamala Khan, aka Ms. Marvel, is one of Amadeus' teammates on the Champions. She's well aware of Amadeus' impulsiveness and cockiness and may serve as a good check for him. But even more importantly, she's got the heart of a champion, always focusing on the underdog and protecting whoever needs protecting. And although she might be the smallest of the group in her 'normal' form, her shape-shifting abilities can make her the biggest asset the team has in any fight."
Jake Oh
"S.H.I.E.L.D. agent Jake Oh just tangled with Amadeus in our Civil War II tie-in. Jake's a young Korean American dude like Amadeus, and in some ways they actually have a lot in common. But Jake's a military guy with a genuine respect for discipline and the chain of command. We'll see how much he's willing to trust Amadeus and how much Amadeus can trust him. Jake's great in a fight; he's got total mastery of a variety of S.H.I.E.L.D. tech, but I'd say what he really brings to the table is measured judgement and a commitment to serve."
Jimmy Woo
"Jimmy Woo's one of Marvel's oldest characters; he first appeared as the hero of the YELLOW CLAW book in 1956, years before the Fantastic Four and the Avengers! He's been an agent of S.H.I.E.L.D. and now runs another shadowy organization, the Atlas Foundation. Jimmy's the oldest and most experienced of all these heroes. He also might be the most ruthless, which could be a huge asset, or could be pretty darn scary. Keep on reading and we'll see!"
Shang-Chi
"Shang-Chi is the Marvel Universe's greatest martial artist; the undisputed Master of Kung Fu. He's a bit older than most of the younger heroes in this team up and absolutely has an emotional center and discipline that most can only dream of. His abilities also aren't based on technology or super-powers, which means under certain circumstances, he could be absolutely key. We're also going to learn a bit more about Shang-Chi in this story arc; he'll do something you've never, ever seen him do in issue #15. Dontcha dare miss it!"
Silk
"Cindy Moon, aka Silk, is a bit older than Amadeus, but she spent 13 years alone in a bunker, so in some ways she still interacts with the world as a much younger person might. In a lot of ways, she and Amadeus have a similar spirit and vibe. I could imagine the two of them getting in a lot of trouble together pretty quickly, given the opportunity. Or they might just have way too much fun eating Korean barbecue and singing karaoke. Cindy's got awesome spider-based powers which are absolutely going to come in handy as our story progresses."
Throw down with TOTALLY AWESOME HULK #15, by Greg Pak and artist Mahmud Asrar, on January 25!
The Hype Box
Can't-miss news and updates from across the Marvel Universe!