Comics
Published August 20, 2018
6 Must-Read Marvel Annuals
This Week in Marvel's Agent M picks 6 of his favorite Marvel Comics Annuals
It's the most wonderful time of the year -- the season for Marvel Annuals!
What's an Annual? How does it differ form a regular issue of your favorite Marvel Comic? WELL, YOU'LL JUST HAVE TO LISTEN TO EPISODE #355 OF THIS WEEK IN MARVEL TO FIND OUT, OKAY? We dig deep into Annuals this week, going way back to 1962, with the first massive Marvel Comics annual to feature new stories in the mighty Marvel manner -- MILLIE THE MODEL ANNUAL #1!
With so many Annuals to check out, we wanted to spotlight a handful of my favorite annuals you can read right now!
FANTASTIC FOUR ANNUAL #6
FANTASTIC FOUR ANNUAL #6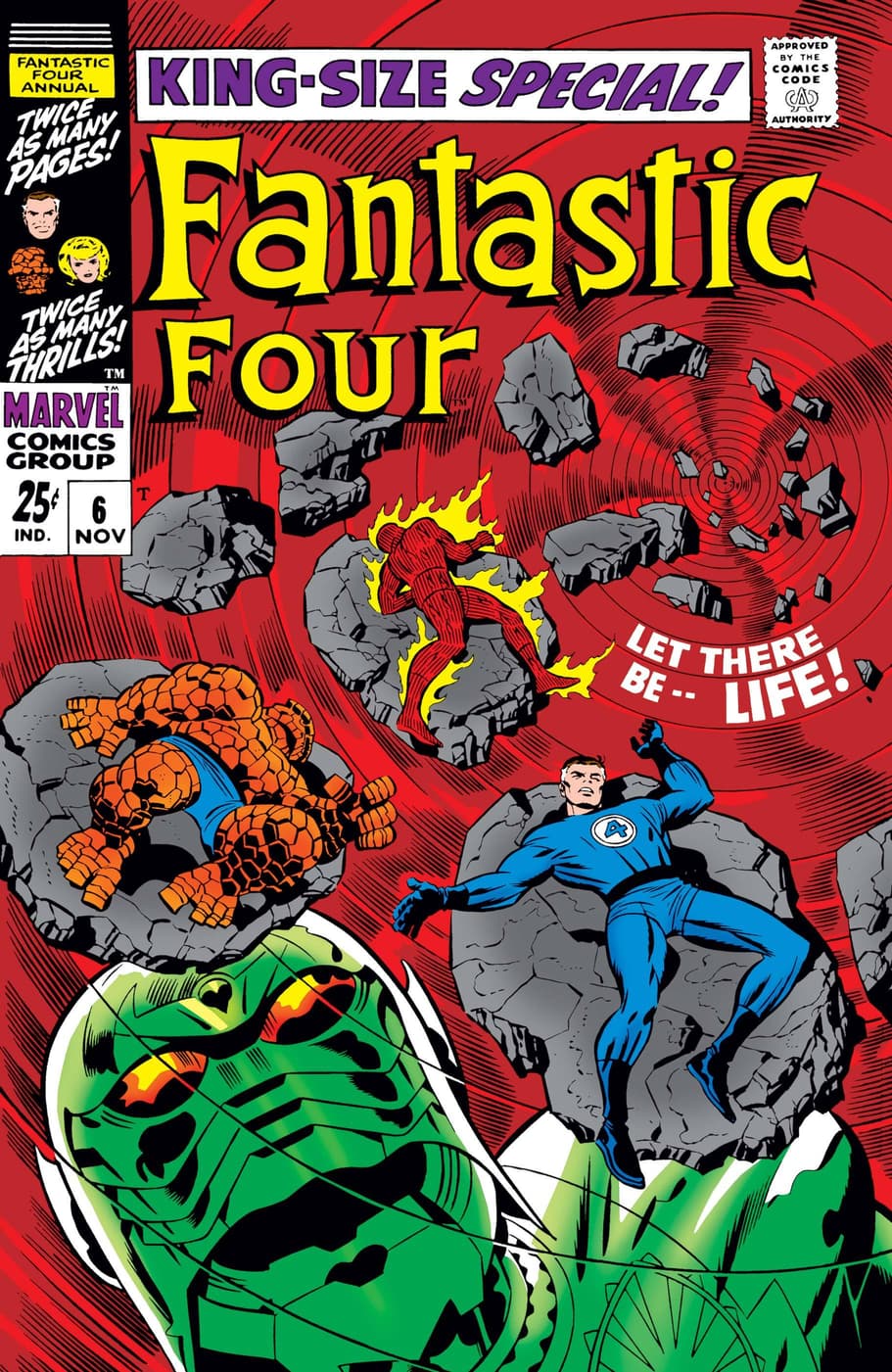 I could easily fill this whole list with Fantastic Four annuals, but #6 is one of my favorite FF issues. Stan Lee and Jack Kirby? Check! Bombastic proclamations and descriptions about the story? Check: "Featuring: The glory of birth, 'neat the shadow of death!" Amazing and impossible machines as only Jack Kirby could design them?! Check! Amazing new villains? HOW ABOUT ANNIHILUS, "THE LIVING DEATH THAT WALKS"?! Check! The greatest art? CHECK! Reed, Ben, and Jonny go beyond their universe, to the Negative Zone, in order to save Sue's life while she struggles through childbirth. Drama and action and joy and a true epic.
AMAZING SPIDER-MAN ANNUAL #1
AMAZING SPIDER-MAN ANNUAL #1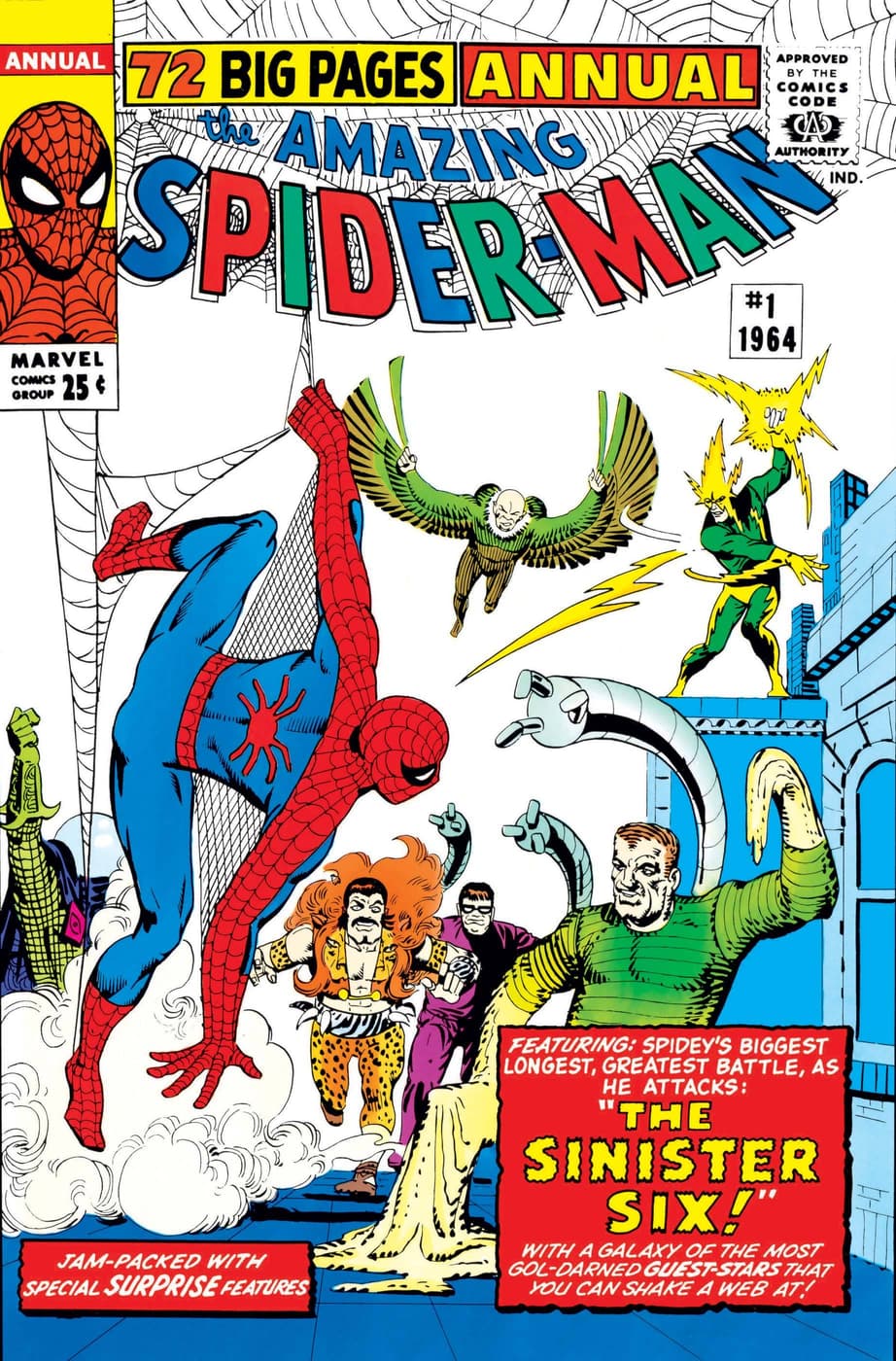 Forty-one pages of Spider-Man comics by Stan Lee and Steve Ditko. That should be all you need. BUT WAIT, THERE'S MORE! This issue introduces the Sinister Six, putting Doctor Octopus, Electro, Vulture, Mysterio, Kraven, and Sandman together for the first time! There are cameos from other Marvel heroes, but it's Spidey vs his greatest foes. Gorgeous battle splash pages pepper the issue as Spidey battles through each foe until he takes on Doc Ock underwater. Plus, the issue features a gallery of Spidey's villains, sections on Spidey's powers and gadgets, friends and allies, a fun comic on how Stan and Steve created Spidey, and maybe my favorite Spider-Man pin-up.
AVENGERS ANNUAL #7...
AVENGERS ANNUAL #7...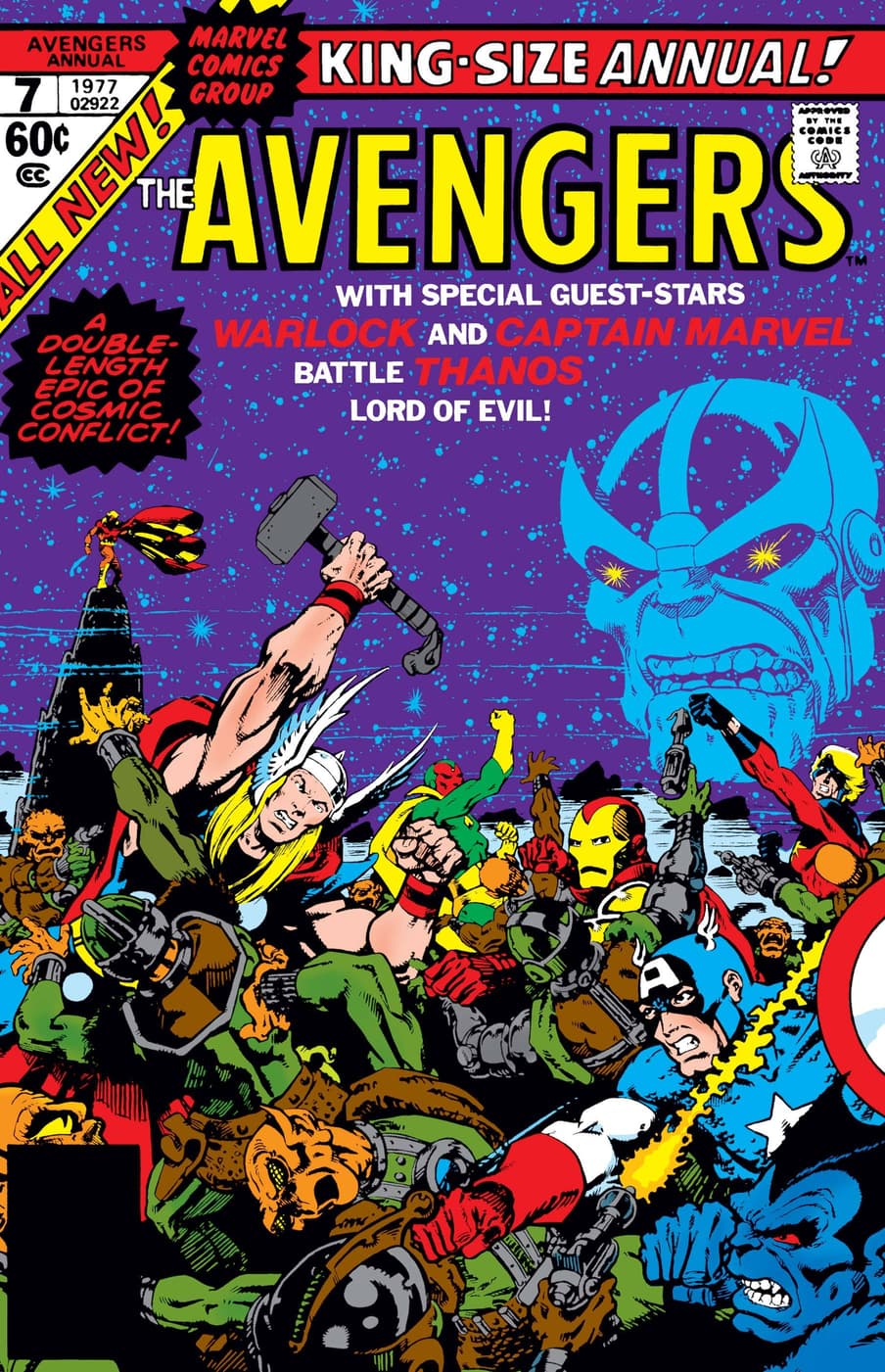 ... and MARVEL TWO-IN-ONE ANNUAL #2!
Here's a special two-parter! One story taking two slots on my list! It's a sort of proto-Infinity Gauntlet tale, both issues written and drawn by Jim Starlin. The first part in Avengers features Adam Warlock, Moondragon, and Captain Mar-Vell joining Earth's Mightiest Heroes against Thanos! Big action, big endings, and big drama! The second part has Order and Chaos tapping Spider-Man and the Thing of all people to help save the Avengers and halt the Mad Titan's plans of destroying all the stars in the galaxy!
X-MEN ANNUAL #9
X-MEN ANNUAL #9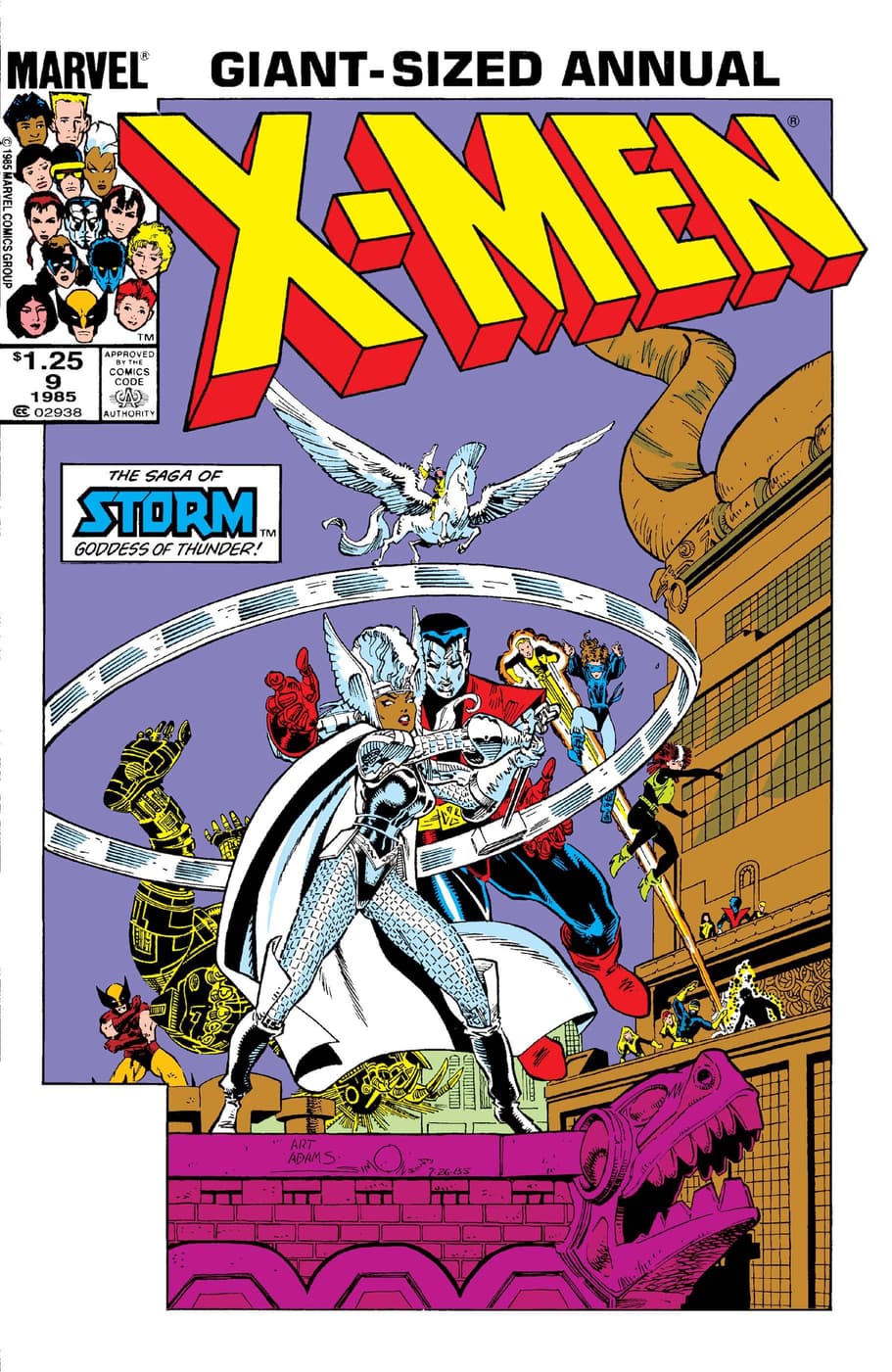 Picking a single X-Men annual was so very tough for me. Days of Future Present in #14? Mojo and the X-Babies in #12? Vampire Storm in #6? Mojo madness with the New Mutants in #10? Debut of X-Cutioner and death of Mastermind in #17? ALL WOULD BE GREAT PICKS. But I'm going with #9, for the second part of the Asgardian Wars storyline. Loki kidnapped the New Mutants and Storm, bringing them to Asgard and all kinds of wild stuff happens, including Storm going full goddess mode in the annual. All of it in a rollicking story Chris Claremont and Arthur Adams -- whose art is so incredible that every page makes you wonder how a human could have created it. Bonus cheat here: You'll want to read NEW MUTANTS SPECIAL #1 (not an annual, so it doesn't count!) for the first part.
NEW X-MEN 2001 ANNUAL
NEW X-MEN 2001 ANNUAL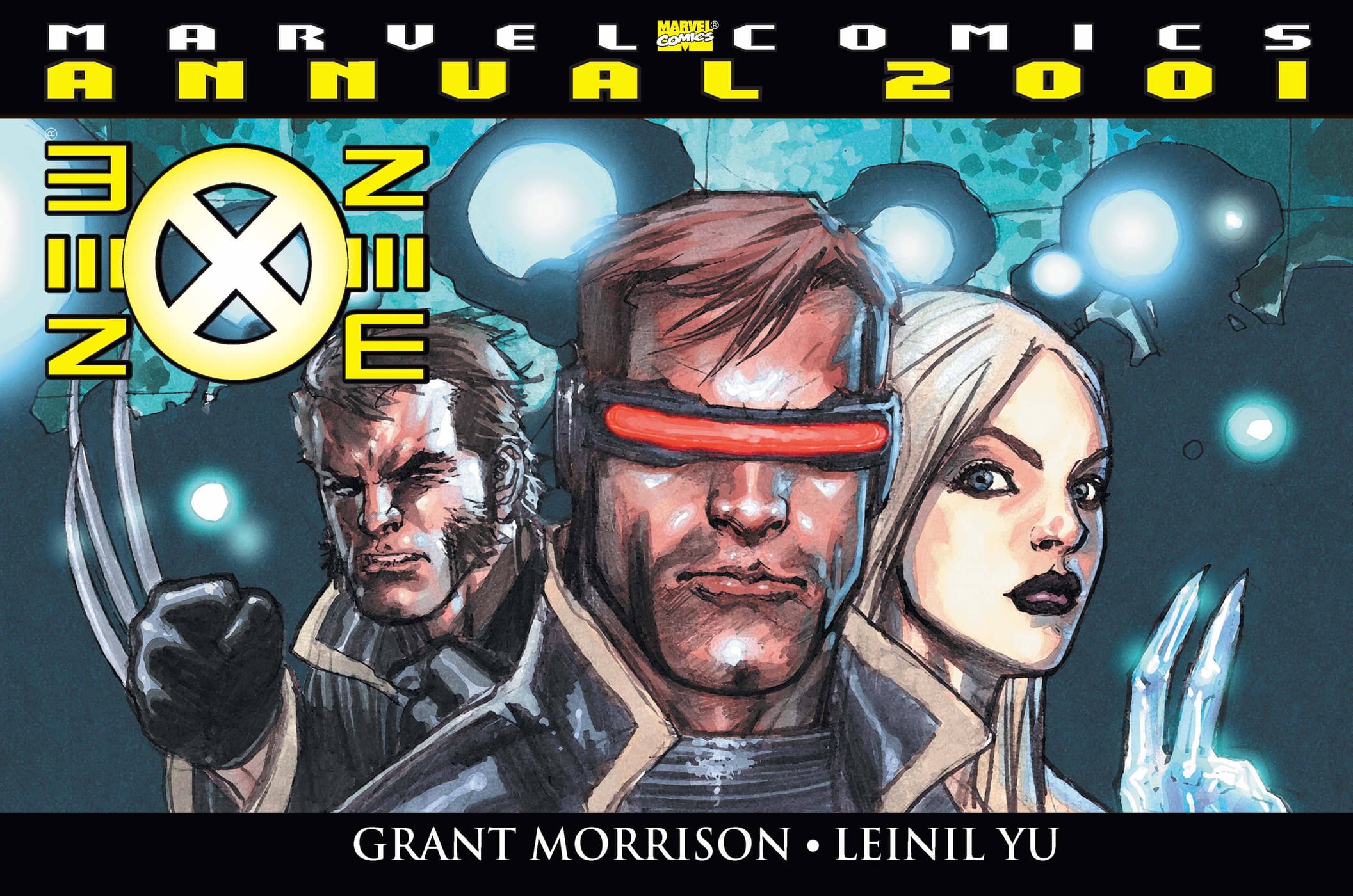 Okay, so I'm picking a second X-Men Annual, but it's from a totally different series. Just a few issues into New X-Men, writer Grant Morrison and artist Leinil Yu introduced a brand new character who would play a huge role in the run -- Xorn. The book's part horror, part comedy, part international action adventure spy caper as the X-Men go to China and rescue Xorn, a man in an iron prison with a star for a brain. The book was produced horizontally, giving it a widescreen cinematic feel. It also features some interesting beginnings for the Scott Summers/Emma Frost relationship.
These are just a few fabulous annuals, and with new bangers such as Astonishing X-Men Annual #1, which just released, there will surely be more to add to the list soon! Listen to This Week in Marvel #355 for more on Marvel Comics Annuals, and be sure to tweet your favorite annuals to me @AgentM using the hashtag #ThisWeekinMarvel.
Subscribe to This Week in Marvel on Apple Podcasts or download the episode from Marvel.com/podcasts!
With new episodes every Friday, This Week in Marvel delivers all the latest Marvel discussion and news about comics, TV, movies, games, toys, and beyond! Tweet your questions and comments about the show to @AgentM, @jamiefrevele, or @Marvel with the hashtag #ThisWeekinMarvel!
The Hype Box
Can't-miss news and updates from across the Marvel Universe!