Comics
Published April 27, 2020
When Green Goblin Met Carnage
It's "Threat Level: Red" for Spider-Man in this amazing arc. Read it for free on Marvel Unlimited.
READ THE RED GOBLIN STORYLINE HERE!
The "Red Goblin" story, one of the most vicious Super Villain team-ups in comic book history by Dan Slott, Christos Gage, and a slew of superstar artists, is free for your reading pleasure. It all goes down in THE AMAZING SPIDER-MAN (2015) #794-801, and we promise it's gonna get messy.
This arc is the conclusion to Dan Slott's titanic run on AMAZING SPIDER-MAN, and no punches are pulled in this farewell to a Wall-Crawler. After a decade plus of writing for Peter Parker, this story encapsulates Slott's mastery over the character and Spider-Man mythos. You just have to read it to believe it.
Between the monumental downfall of his company Parker Industries, maintaining a cover story for Spider-Man as the "bodyguard of its CEO," and also – you know – actually being Spider-Man, Peter Parker is keeping a lot of plates spinning. Strapped for cash and with his public image in the dumps, Ol' Web-Head could use a win.
But at least he managed to stop the all-seeing time menace that is Zodiac from taking over the world. That's something, right?
Yeah. Something.
Peter also developed nanotech that prevented Norman Osborn from reverting to the Green Goblin's madness. Until Osborn got his hands on something that unlocked an even more chaotic insanity: the Carnage symbiote! With two of his most terrible foes now combined, Spider-Man must deal with an enemy as insidious as the Green Goblin and as brutally unrelenting as Carnage. Good news for both baddies? Their new Red Goblin state has virtually no weaknesses. That's right! Sonic attacks and flames? No problem for this symbiote monstrosity.
Spider-Man will need help wherever he can find it, and thankfully he's got friends in high places. Or at least acquaintances who owe him a favor. Like, for instance, the Sorcerer Supreme!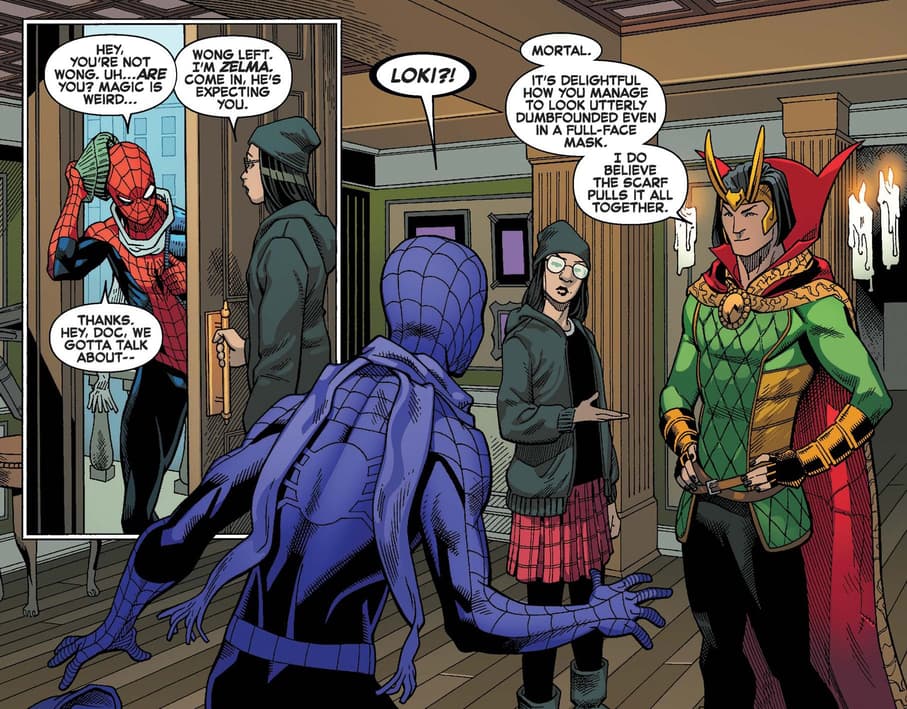 What, does something look strange to you? Not Strange enough, perhaps? If you're wondering why the Sorcerer Supreme happens to be sporting a fancy set of horns, you'll have to check out DOCTOR STRANGE (2015) #381. But it's true! Loki wears the mantle of Earth's magical protector, and he owes our Friendly Neighborhood Web-Slinger a favor.
Thankfully, Loki isn't the only ace up Spidey's sleeve. War hero, football enthusiast, and former locker-stuffer Flash Thompson is now Agent Anti-Venom, a powerful commando with potent anti-symbiote powers and the ability to heal others with his titular Anti-Venom serum. He also has a penchant for cleaning up the streets before Spider-Man can get there.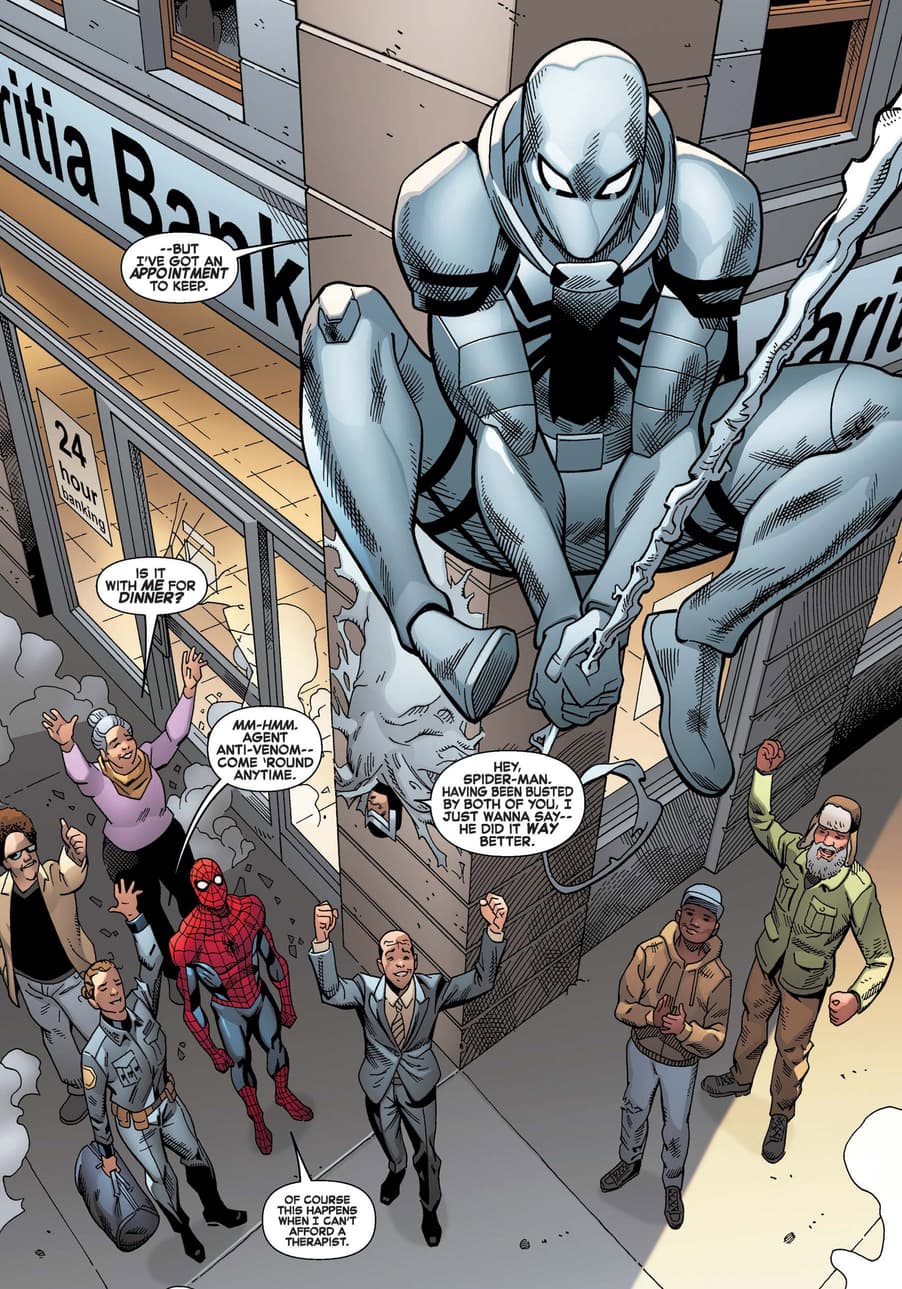 Some guys have all the luck.
But Peter manages to find a little of his own when he reunites with an old friend. Just a redhead he used to kinda have a thing with. Maybe you've heard of her?
As Peter and Mary Jane catch up, an amnesiac Norman Osborn does some digging of his own, trying to pin down Spider-Man's civilian identity. And he's not afraid to kidnap or kill anyone in his way. Or not in his way. Did we mention he's a bad guy who's now merged with a mindless murderer?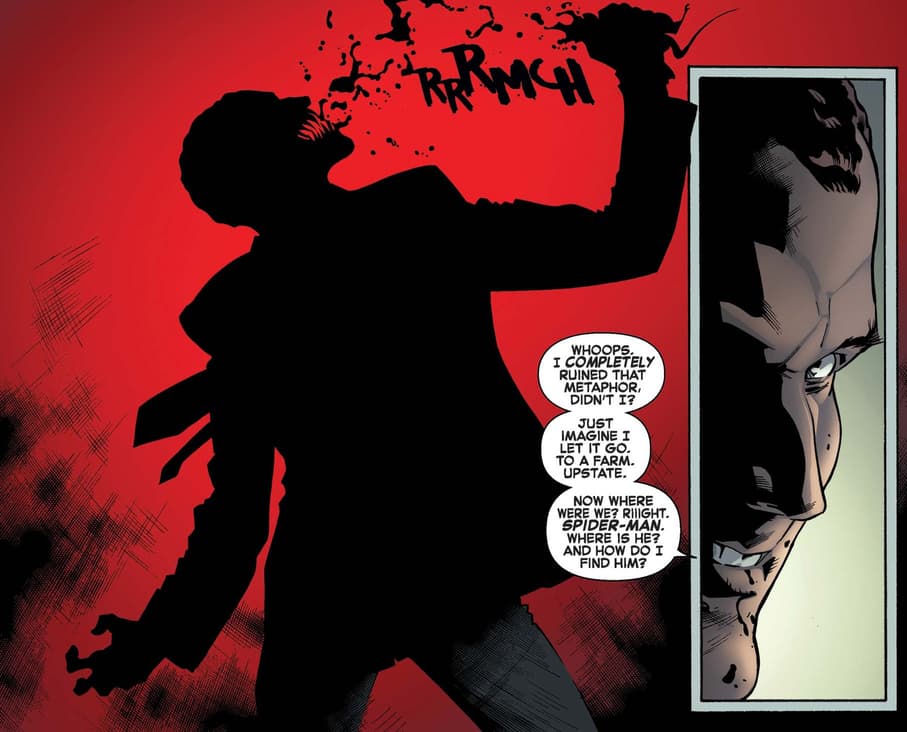 Suffice it to say, some truly terrifying tales are in store. This arc reads like a love letter to Spider-Man's mythic web. It simultaneously pays homage to some of the greatest characters in Wall-Crawler lore, while evolving and devising around those ideas. Villains like Red Goblin, an amalgamation of evil, and heroes like Anti-Venom (also a Slott creation), are the products of vast experience in this pocket of the Marvel Universe.
In addition to the outstanding writing on the Super Hero front, Slott's final arc nails that all-important quality: a deeply human story. In a genre like comics where death is so often a pause button, this arc brings back a sense of finality and consequence.
The story, like its author, occupies a meaningful place, a special place, in Peter Parker's sprawling tapestry. It's a story of friends and enemies, of heroism and the cost of doing the right thing. And, of course, alien parasites and green-skinned maniacs.
Now, don't get us wrong, we could tell you tales of the titanic fights that ensue, the epic twists and turns, the triumphs and defeats, but… you'd rather just see it, wouldn't you? With the entire "Red Goblin" arc (which starts in AMAZING SPIDER-MAN #794) free on Marvel Unlimited, you can!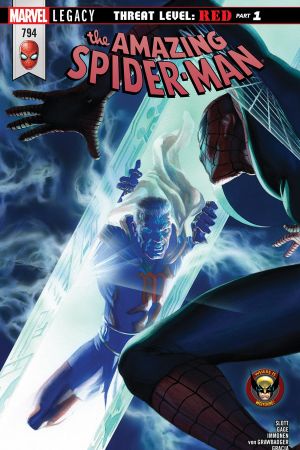 The Amazing Spider-Man (2015) #794
published

added to marvel unlimited

painter (cover)

penciler

inker

colorist

editor

letterer

writer
What is Marvel Unlimited?
Looking for more iconic arcs, complete events, and Marvel must-reads you can read for free? Read online here, or download or update the Marvel Unlimited app for iOS or Android at the Apple or Google Play app stores today.
For more of Marvel's greatest comic books in print, please reach out to your local comic book shop to ask about services they may offer, including holding or creating pull lists, curbside pick-ups, special deliveries and other options to accommodate. Find and support your local comic book shop at http://comicshoplocator.com.
The Hype Box
Can't-miss news and updates from across the Marvel Universe!