Comics
Published May 27, 2021
Hellfire Gala Previews and Predictions: S.W.O.R.D.
Abigail Brand has a plan for the future, and she's sharing details at the Hellfire Gala!
On June 23, Abigail Brand and the agents of S.W.O.R.D. will be attending the Hellfire Gala as guests of honor. Krakoa's "planet-size" plans are still under wraps for now, but rest assured, Brand's ambitions go far beyond a single nation of mutants.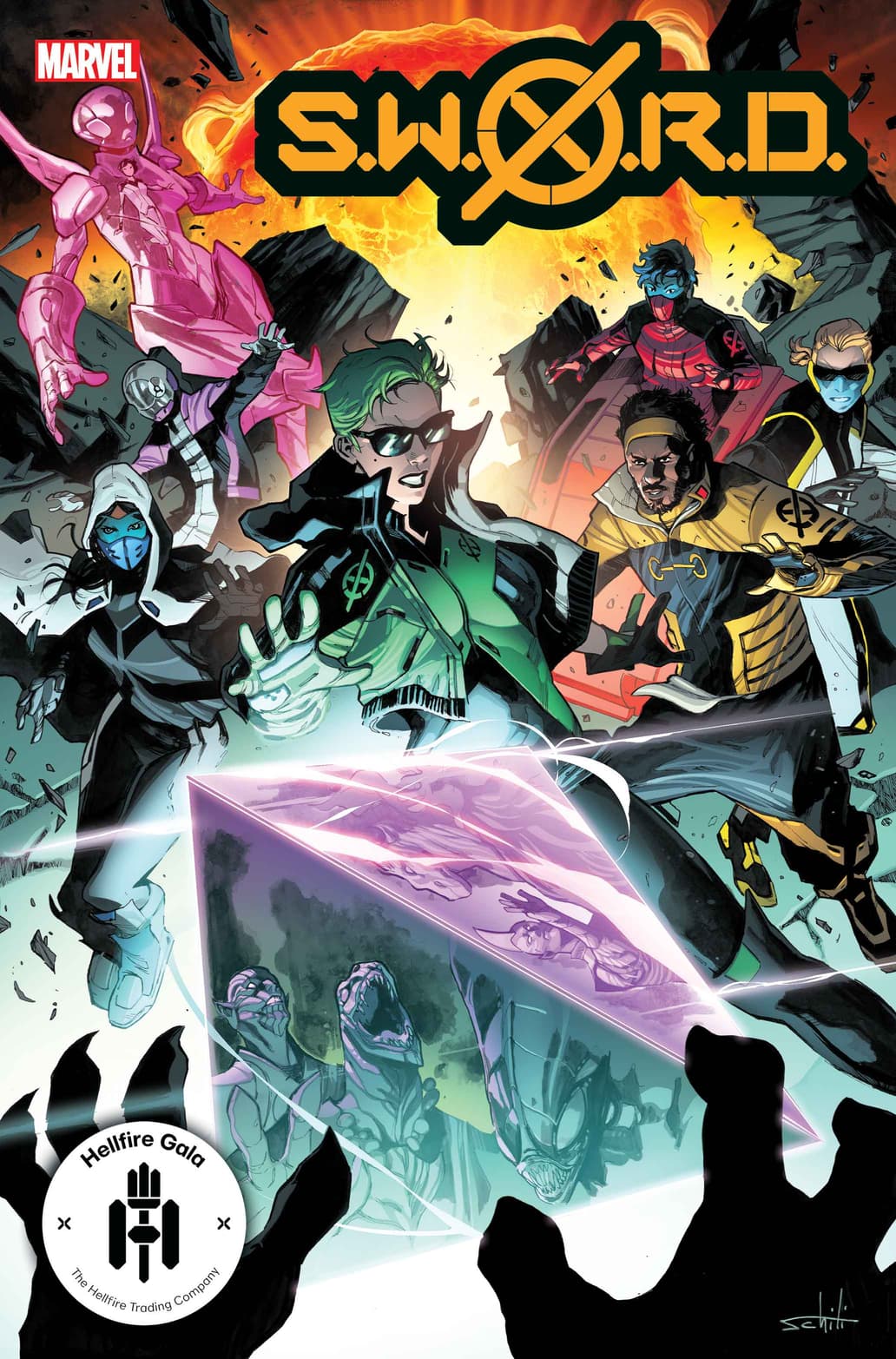 As the director of S.W.O.R.D. and one of the few mutant and alien hybrids living on Earth, Brand has a unique perspective. She doesn't see humans and mutants as separate species. Both share more in common with each other than do with the various alien races in the universe. More tellingly, Earth was nearly wiped out twice in recent history. Especially when the Cotati Empyre caught the Avengers and Alpha Flight unprepared. That's why Brand resigned from Alpha Flight and reformed the new incarnation of S.W.O.R.D. in a direct alliance with Krakoa's Quiet Council.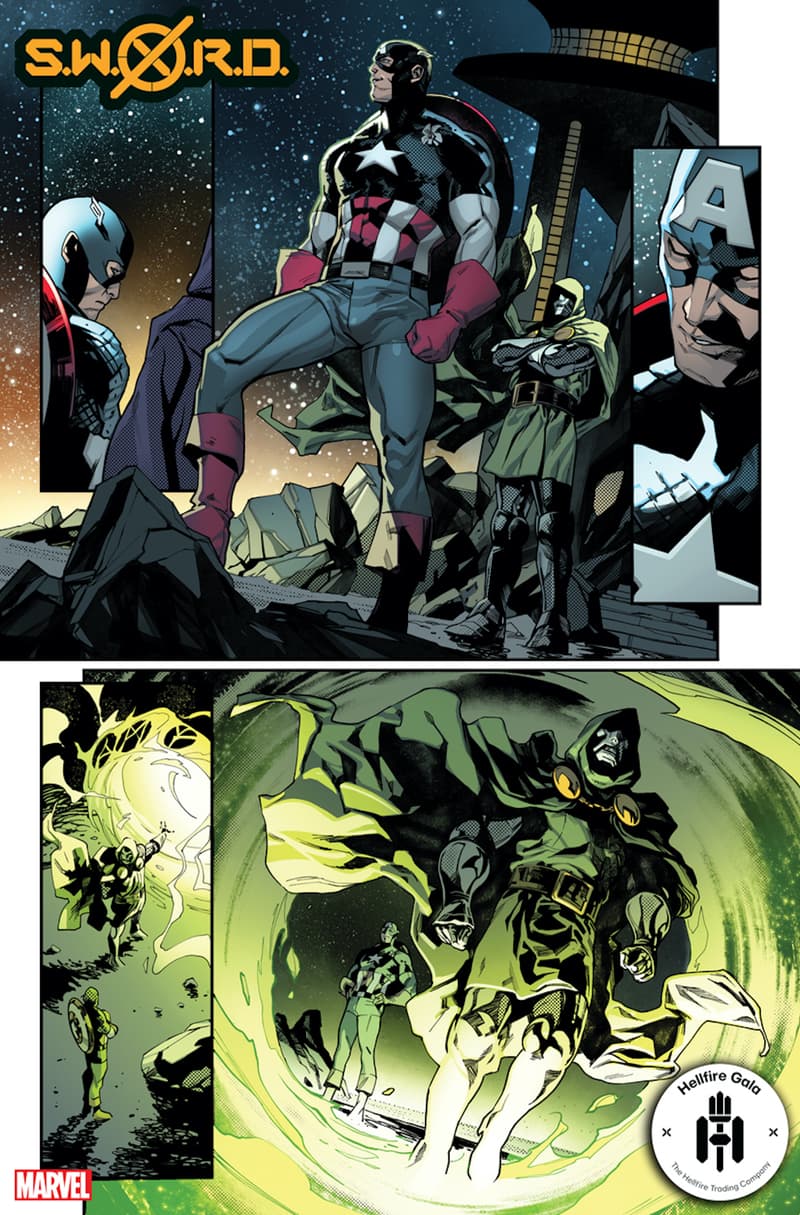 Brand may not have a strong fealty to Krakoa's ruling figures, but she was also instrumental in helping to defend the mutant nation from Knull, the self-proclaimed "God of Symbiotes." While other worlds fell to Knull's power, humans and mutants alike fought side-by-side for their home...and prevailed. This was the first real test of the new S.W.O.R.D. team, which includes several mutants on its roster. Fortunately, they passed with flying colors. And once Krakoa's expanded agenda is revealed at the Hellfire Gala, S.W.O.R.D. will only become more important in the long run.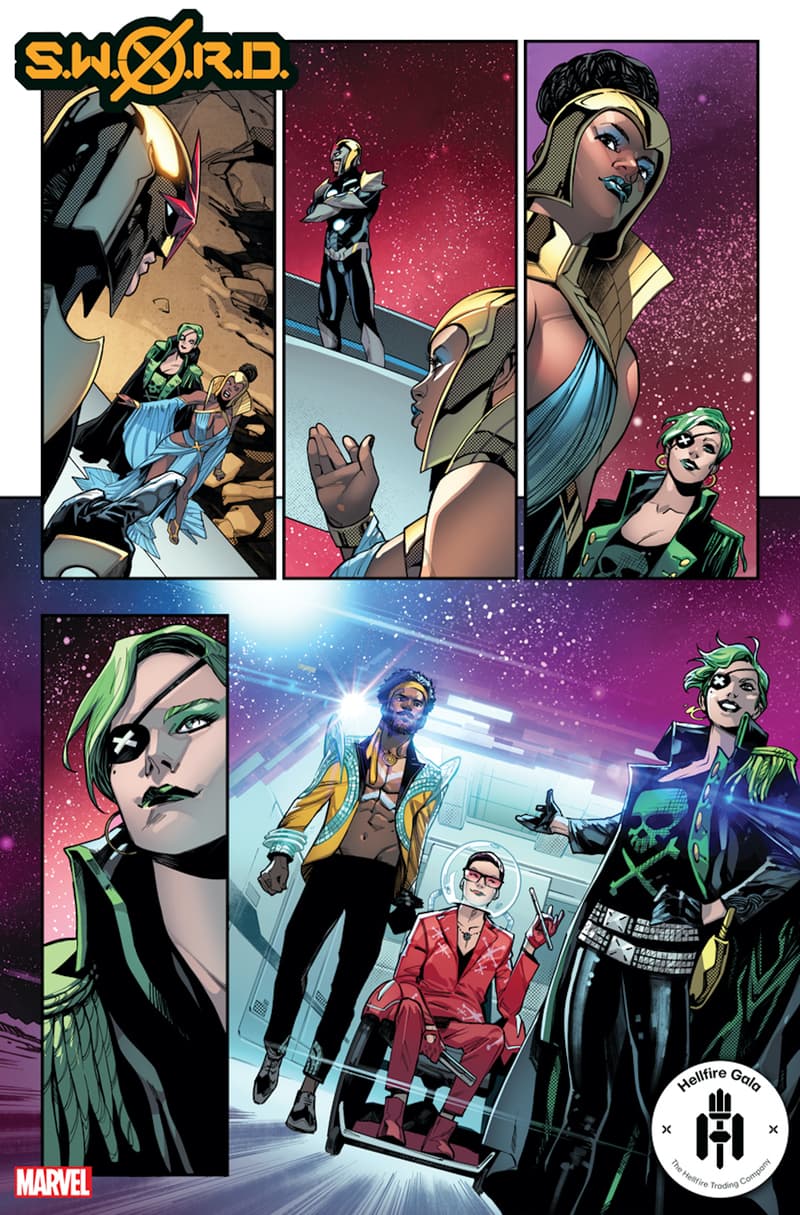 During a recent demonstration on S.W.O.R.D. Station One, Brand's team unveiled Mysterium, a newly discovered type of metal that was plucked from another realm thanks to the dimension hopping abilities of her team. It's not entirely inaccurate to say that they stole fire from the heavens, much like the mythical Prometheus. The full capabilities of Mysterium are still not fully understood. Nor is it known if Brand and her team will face any consequences for their actions. It's worth noting that the mythical gods harshly punished Prometheus for his hubris. If there's a higher power behind Mysterium, history could repeat itself.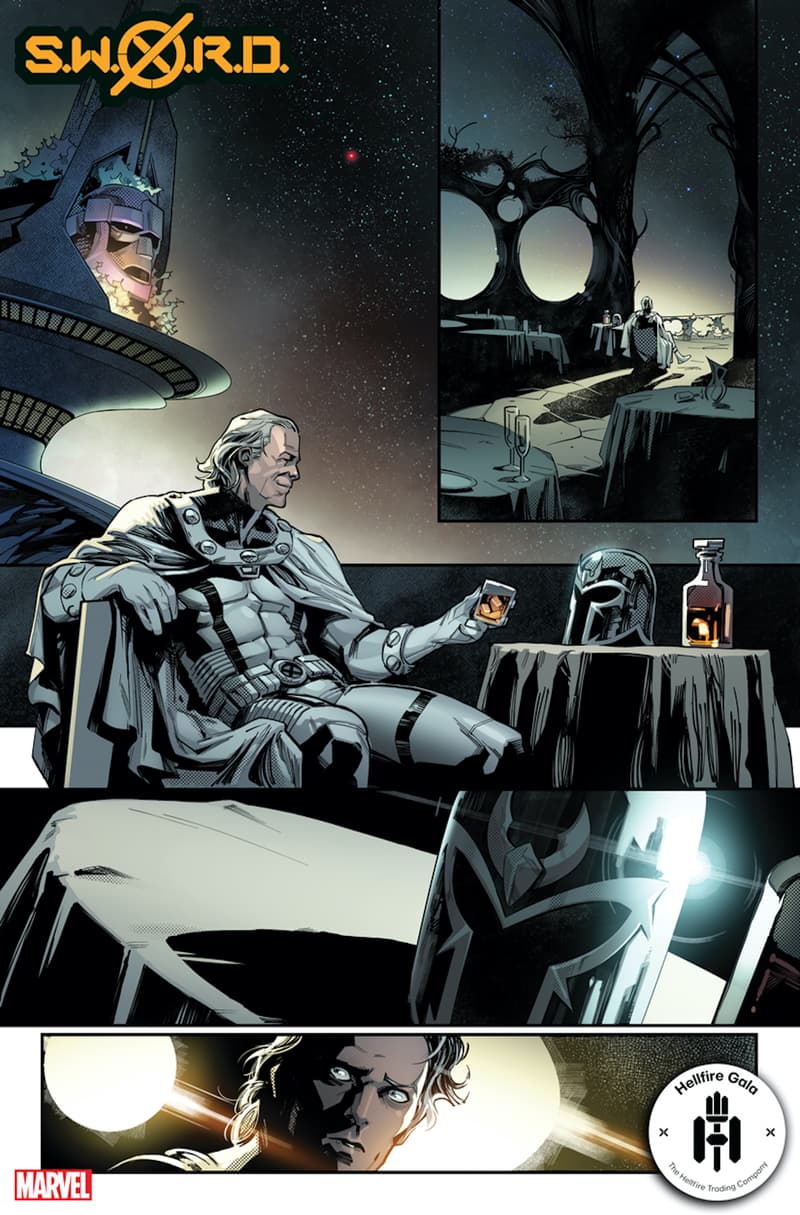 But the Hellfire Gala is a party, first and foremost. And designer Valerio Schiti is making sure that Brand's team will arrive in style. Manifest's outfit is already making a splash thanks to its colorful representation of his powers. It also embraces this year's bare chest trend.
Frenzy's ensemble also seems likely to be a sensation at the gala. In a party filled with eye-catching outfits, Frenzy's stands out; she simply exudes power.
Magneto's outfit seems to combine the best of human and mutant fashion. The Master of Magnetism just couldn't resist wearing a top hat in place of his iconic helmet. The gold trim and white colors lend Magneto a regal air as well.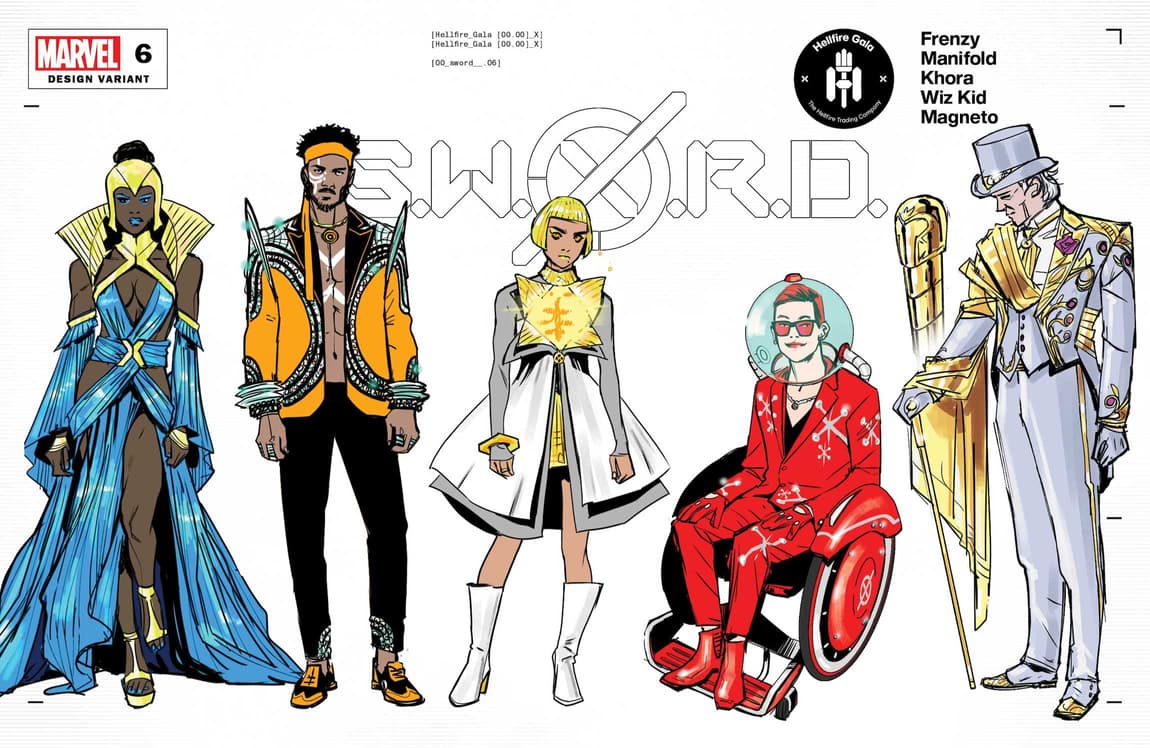 Wiz Kid is making a very daring fashion statement by color coordinating his suit with his high tech chair and the shade of his lips. He's been out of the spotlight for years, but he's impossible to miss in this getup.
Finally, we have Khora of the Burning Heart, Brand's hand-chosen replacement for the treacherous Fabian Cortez. Khora is a mutant from Arakko, so the human-like ways of her distant Krakoan cousins mean very little to her. Regardless, Schiti's design for Khora demonstrates that her "burning heart" is not a euphemism. It's the source of her power-enhancing abilities, and that may make her a major player in the years to come.
What will happen at the Hellfire Gala? Find out when S.W.O.R.D. #6 hits comic book stores on Wednesday, June 23!
The Hype Box
Can't-miss news and updates from across the Marvel Universe!