Comics
Published February 1, 2021
Our Top 5 Moments from 'X of Swords: Stasis'
Who are Arakko's champions? We break down the halfway point to 'X of Swords,' now on Marvel Unlimited.
Have you tried Marvel Unlimited yet? It's your all-access pass to over 28,000 Marvel comics, available at your fingertips. Sign up now to get 50% off your first month.
THIS ARTICLE CONTAINS SPOILERS FOR X OF SWORDS: STASIS #1, SO READ ON AT YOUR OWN RISK, FRANTIC ONES!
Stasis: a state of static balance or equilibrium.
New on Marvel Unlimited! X OF SWORDS reaches its halfway point, and at last, the champions of Arakko have been named.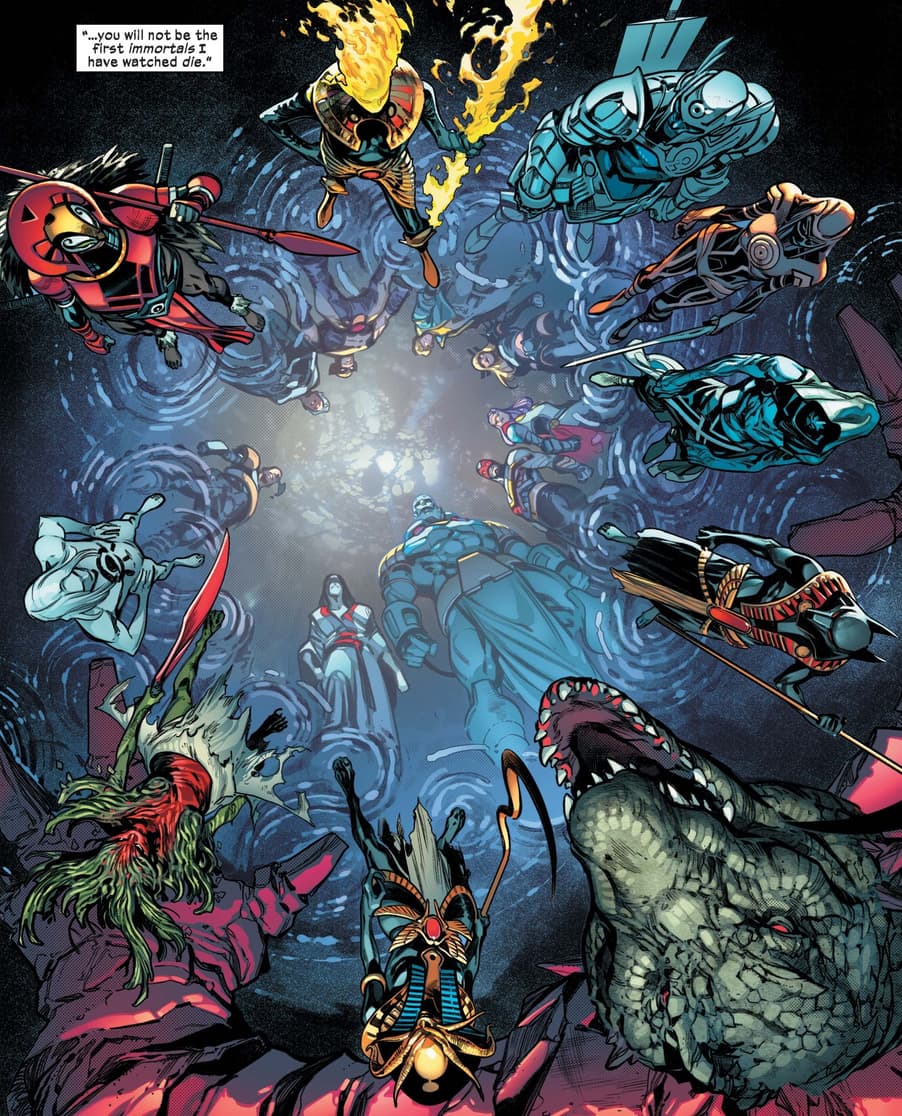 Who are the sword bearers for Krakoa's fallen half, and what threat do they pose in the tournament ahead? Saturnyne continues her windy, wily game in this week's installment of the epic X-event!
Here are our pivotal takeaways from X OF SWORDS: STASIS #1.
Plus, see what other new titles are hitting MU this week!
NEW ON February 1
DRYADOR NO MORE
At Saturnyne's council vote for the "Contest of Worlds," we learn that Dryador has been conquered and seized, a fallout from X OF SWORDS: CREATION #1. Now, the fish-like inhabitants of this oceanic realm are kingless and under the grip of the Arakkii, and, by proxy, the hordes of Amenth.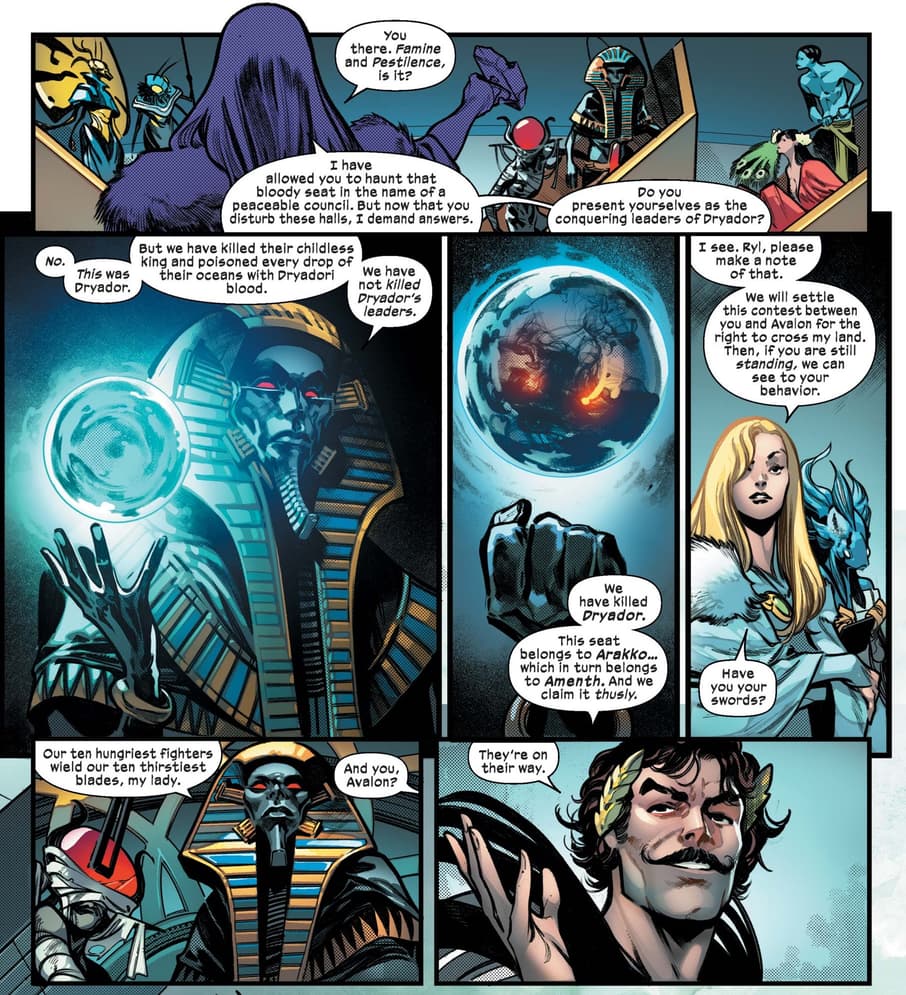 Saturnyne's strange cabinet meeting also gives us a good look at Otherworld's omniversal worlds and leaders, from the lawless Blightspoke, to the upside-down "Floating Kingdom," and even the "Buyers Beware" bazaar that is the Crooked Market.
WHO ARE ARAKKO'S CHAMPIONS?
And what swords will they wield? At last, the faces of the mutants' opponents are given names, and they're a terrifying bunch!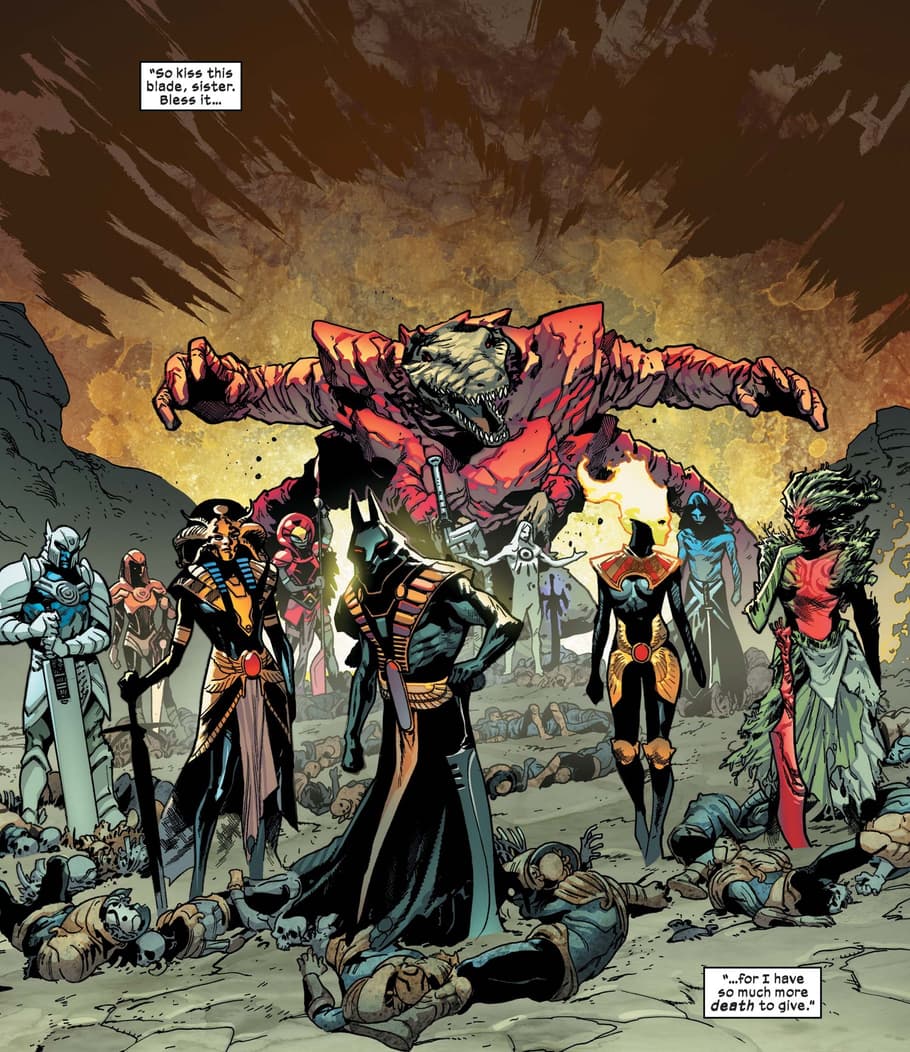 We have: the living embodiment of death, the Muramasa-wielding Solem, a warrior from Okkara with the "curse" of always winning, "Annihilation" herself, and a multi-limbed alligator beast that speaks in forced rhyme.
Plus, a helpful guide on which blade belongs to who!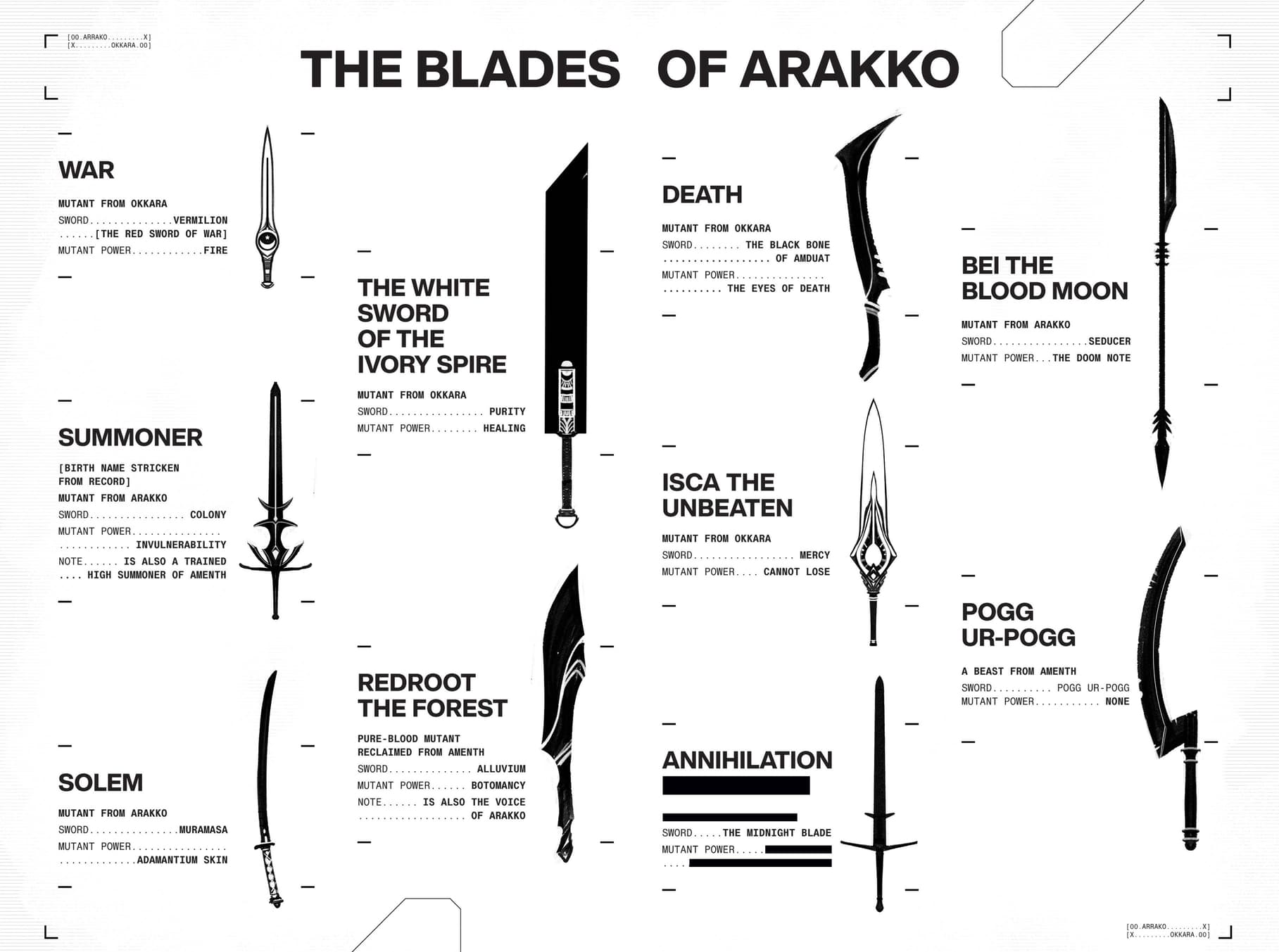 REDROOT: THE VOICE OF ARAKKO
Just as the X-Men's Cypher is the translator of Krakoa, Arakko has their own mouthpiece in Redroot the Forest.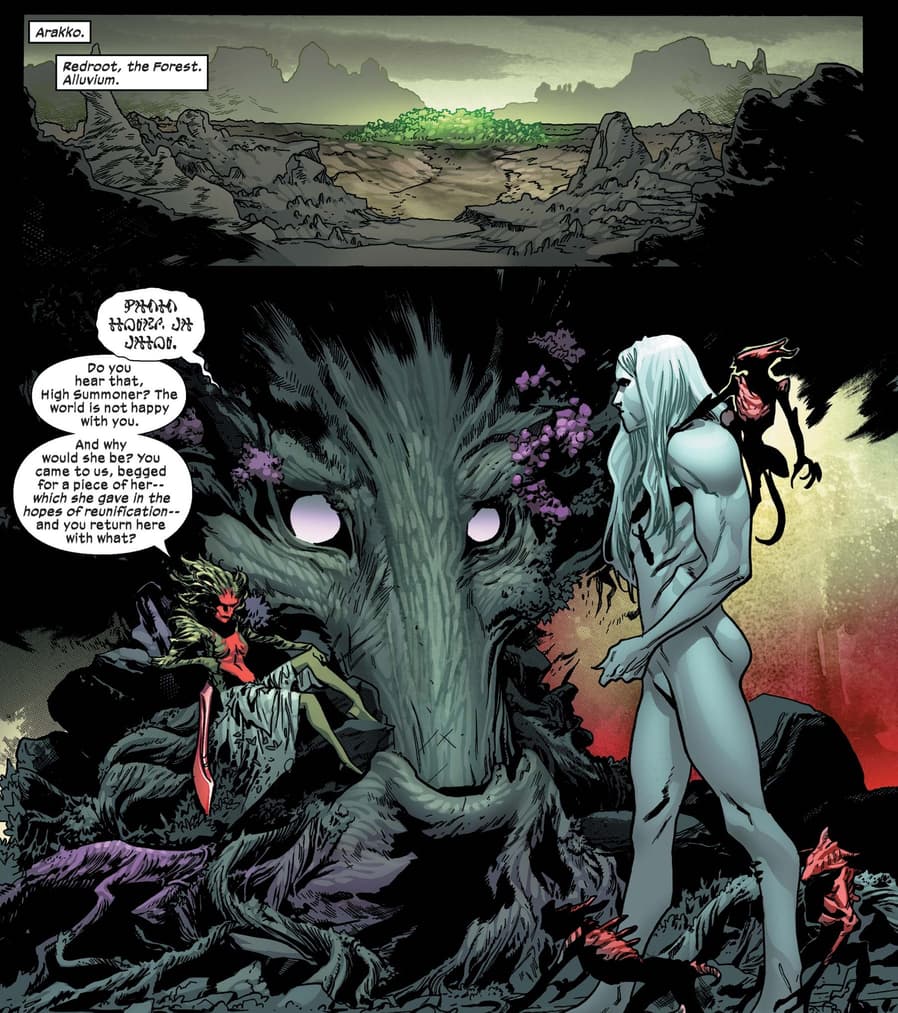 A reluctant participant set on peace, Redroot is goaded into the game by Summoner... under the promise that she will never be forced to unsheathe her sword. But should she need her weapon, Alluvium is hers to wield.
OMNIVERSAL MAJESTRIX OPAL LUNA SATURNYNE IS UP TO THE SAME TRICKS
She's a tricky one! In event opener X OF SWORDS: CREATION #1, Her Royal Whyness pulled five fateful prophecies for Otherworld's future, a few of which have come to pass. In "Stasis," Saturnyne greets her "guests" at the Starlight Citadel with more unsolicited tarot readings: Some baffling, a few foreboding, and one… kinda mean.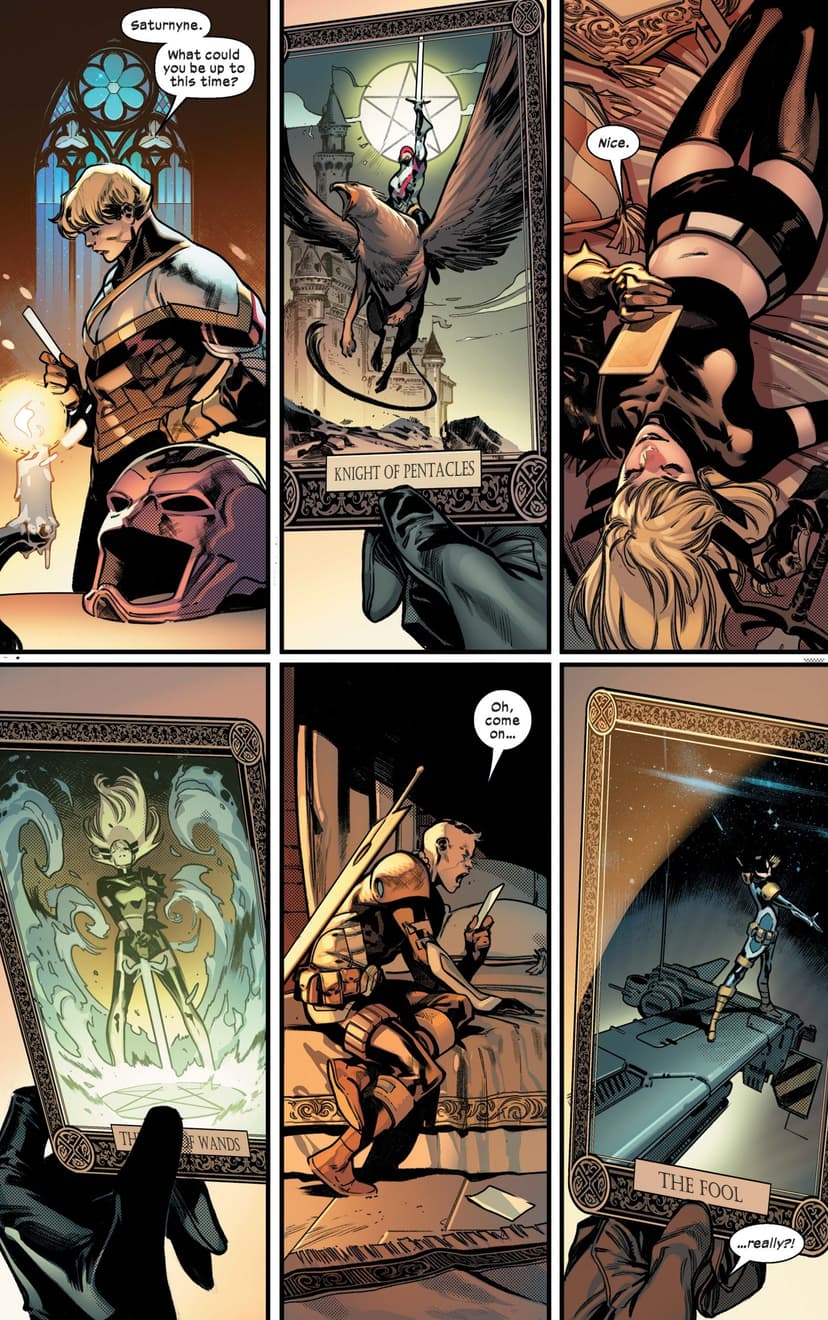 Romance, death, a duel of strength—it's all in the hands of X OF SWORDS' Mistress of Ceremonies. And so far she's been spot-on.
THE FACE OF ANNIHILATION
AKA, Apocalypse's wife?!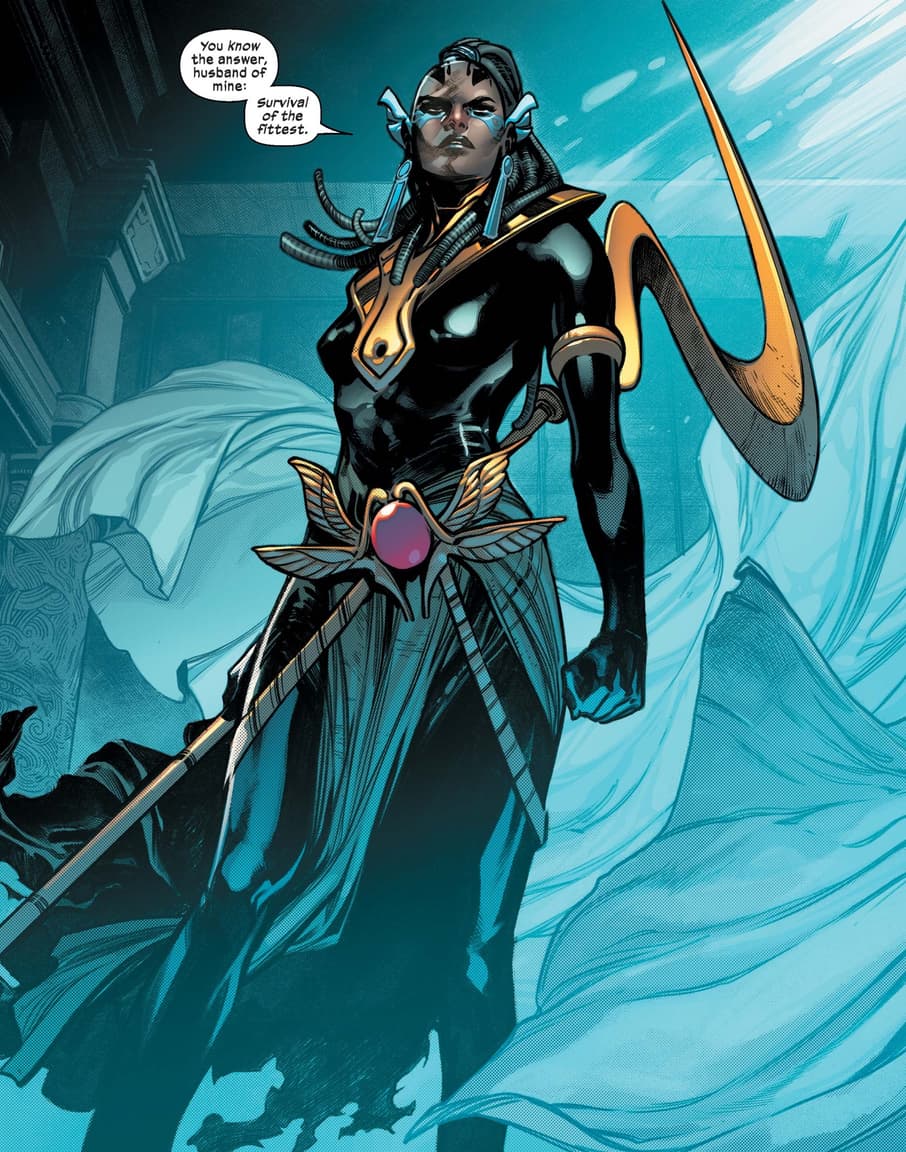 Apocalypse's once-better half is shaping up to be his ultimate competition. Now going by "Annihilation," this fearsome contender has been granted power over the Midnight Blade, and no amount of sentiment will stand in her way.
But first, the backstory: Millennia ago, Apocalypse and his First Horsemen faced an otherworldly invasion on Okkara. The "warrior-god in blue" was forced to split his homeland in two, trapping his Horsemen, and family, in a fallen dimension. Annihilation was one of those left behind, a recurring nightmare of lost love for Apocalypse. Now the spouses are reunited in contest—but does any romance remain?
Grab your blades, and let the tournament begin! Follow X OF SWORDS weekly with our MU Reading Guide, or grab the complete reading order for upcoming chapters.
Follow Marvel Unlimited on Twitter and Facebook to stay tuned in to weekly announcements, articles, and more, all at @MarvelUnlimited. Follow us today to join the conversation with thousands of fellow fans, and let us know what you're reading!
The Hype Box
Can't-miss news and updates from across the Marvel Universe!