Comics
Published January 31, 2019
'Ziggy Pig – Silly Seal Comics #1': Saluting the Animal Heroes of the Marvel Universe
All hail our animal friends!
Before Marvel became Marvel, it went by the moniker Timely Comics. At Timely, an animal duo—Ziggy Pig and Silly Seal—strode the proto-Marvel Universe like colossuses. Over 76 years ago they debuted in the pages of KRAZY KOMICS before quickly transitioning to their own team-up series. With Ziggy as the straight man, well, porcine, and Silly as the fool, they delighted the kids of the World War II era.
In time, the duo would fade from prominence. However, their legacy lived on in the animal heroes of the Marvel Universe that followed them.
In celebration of Silly and Ziggy returning to the four-color world in ZIGGY PIG – SILLY SEAL COMICS #1 on Wednesday, February 27, we have assembled several of those animal heroes below.
Spider-Ham

While there exists an entire universe of Marvel hero-inspired animals, no single character has endured as much as Peter Porker. A spider in a world of swine, he dwelled in the basement of a sow Aunt May. A scientist working without benefit of oversight, May accidentally irradiated herself and, in a fit of madness, bit Peter. He quickly became a pig himself – a pig with spider powers.
For years, he fitfully appeared here and there. Now, however, he has returned in a big way, a hero of the Secret War and Spider-Verse, a member of the Web Warriors and a co-star in a "Spider-Man: Into the Spider-Verse."
Lockjaw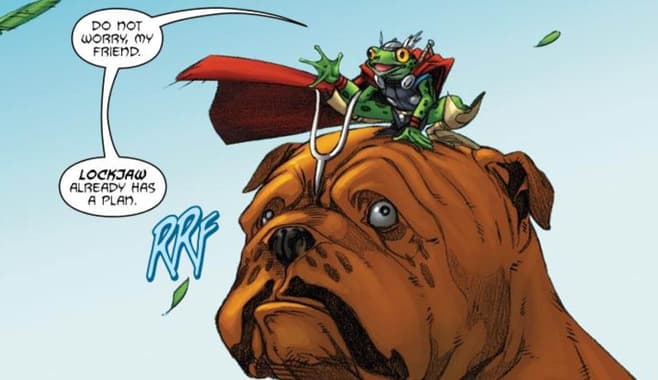 We all love good pooches. But do you know this great, giant pupper with teleportation abilities? Well, you should.
The official pet of the Inhuman family/unofficial mascot of all of Inhumankind, Lockjaw has proven himself just as loyal as the best of dogs. Add in his wonderful temperament and his uncanny ability to appear just as he's needed the most and you have an intergalactically wonderful canine. Don't imply that he's actually an Inhuman who was turned into a dog. That has been revealed as a prank pulled on the ever-loving blue-eyed Thing, and we never need speak of it again.
Howard the Duck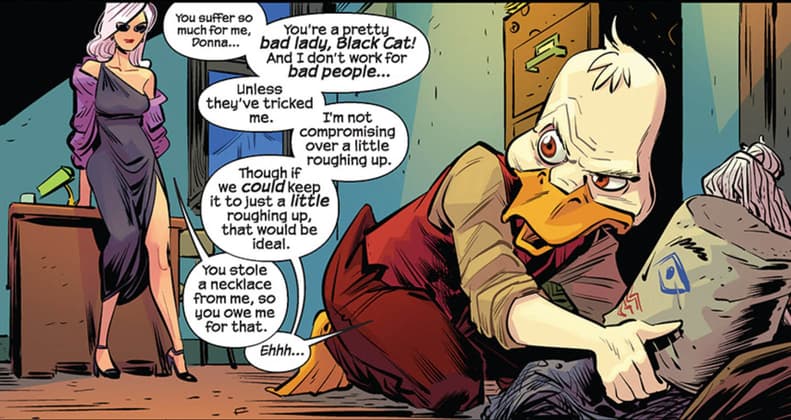 Not all animal heroes have warm energy. Some, like Howard here, project a little bit more cutting wit in their interactions.
A displaced resident of, you guessed it, Duckworld, Howard has long made his home in the MU. Using his role as a stranger in a strange world, he has frequently held up human nonsense for inspection and re-evaluation, especially when it comes to the United States. Satiric to a point of near cynicism, the Duck nonetheless seems motivated to do the right thing. Whether he has aligned himself in dimension-jumping quests with the likes of Man-Thing, taken on the role of mentor to Gwenpool, or utilized his job as a private investigator to help the helpless, no matter how bad his attitude may seem, he always seems up for improving the world.
Rocket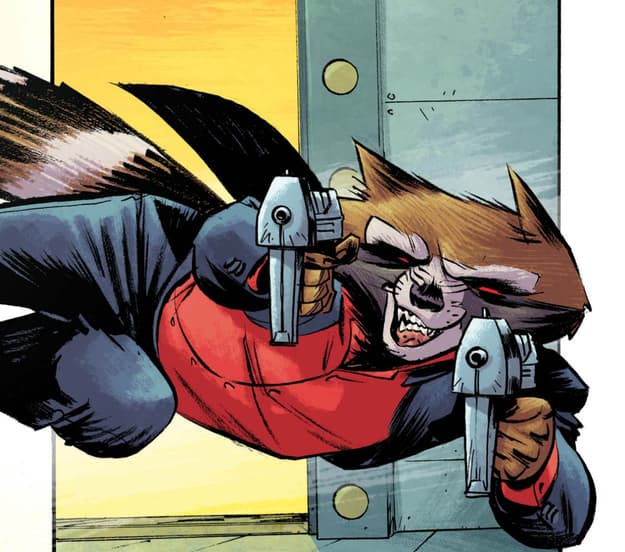 Ahh, yes, the gun-wielding raccoon. Although, if he ever asks, we'll deny ever referring to him as that particular rodent.
Yes, we know he sure looks like one of those domino mask-wearing furballs that exist to knock over your garbage cans and spread trash all over your front lawn. However, in reality, that seems to just be coincidence. He actually happens to be an alien who endured brutal experiments that upped his natural physical and mental abilities.
Although he quickly faded from view after his introduction, Rocket has been back in full effect for over a decade now. A cosmic hero and rascal in equal measure, he has saved the universe and organized heists with equal talent. If you need to find him, get a message to his teammates at the Guardians of the Galaxy. Or, even more reliably, follow the distinctive vocalizations of his closest partner Groot.
Devil Dinosaur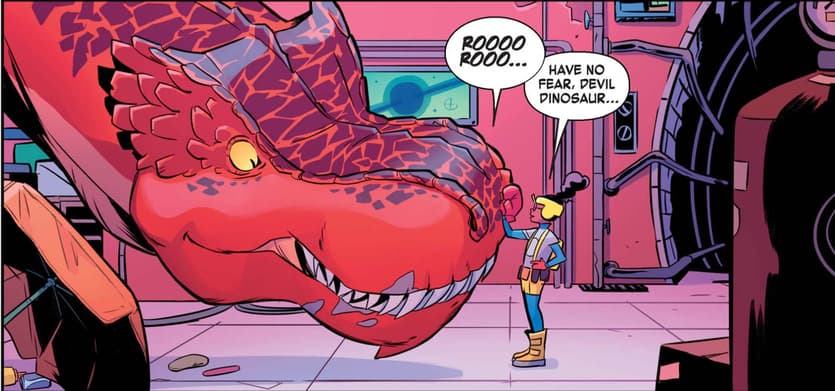 A prehistoric beast born in the center of an active volcano and from the pen of Jack Kirby, the deep red dino has teamed up with a caveman-esque Moon Boy and literal genius Moon Girl with equal aplomb. Heck, even his evil clone, a smoking jacket-wearing, would-be conqueror who went up against Nextwave, may not have been the nicest of creatures, but he sure had a sense of style.
Zabu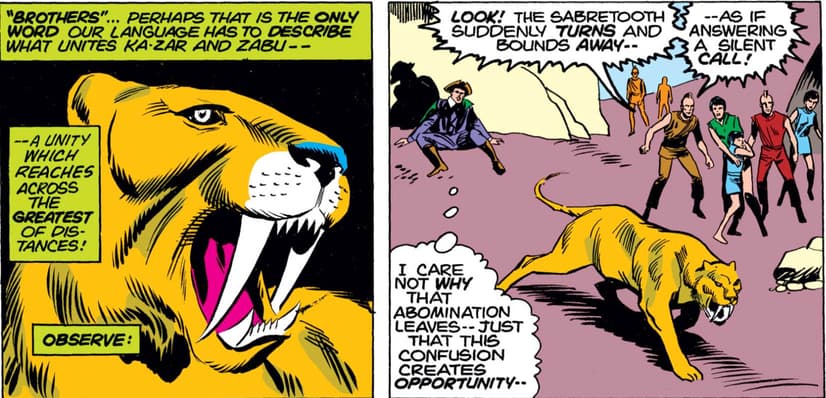 Speaking of beasties of a different era, meet Zabu, the sabretooth tiger. Ka-Zar's pet/partner, the duo patrol the Savage Land keeping the peace. They also keep an eye out for shipwrecked heroes and visiting villains looking to stir up trouble. Even on an island filled with the monsters of old, Zabu will be your best ally if you stand on the side of good or your least favorite creature to find in the jungle if you have dark intentions on the brain.
While he dwells most of his time in his native land, Zabu does take a holiday now and then. While he may stick out like a sore thumb in the cities of the world, he nonetheless has proved equally adaptable in the concrete jungles as the literal ones.
Tippy Toe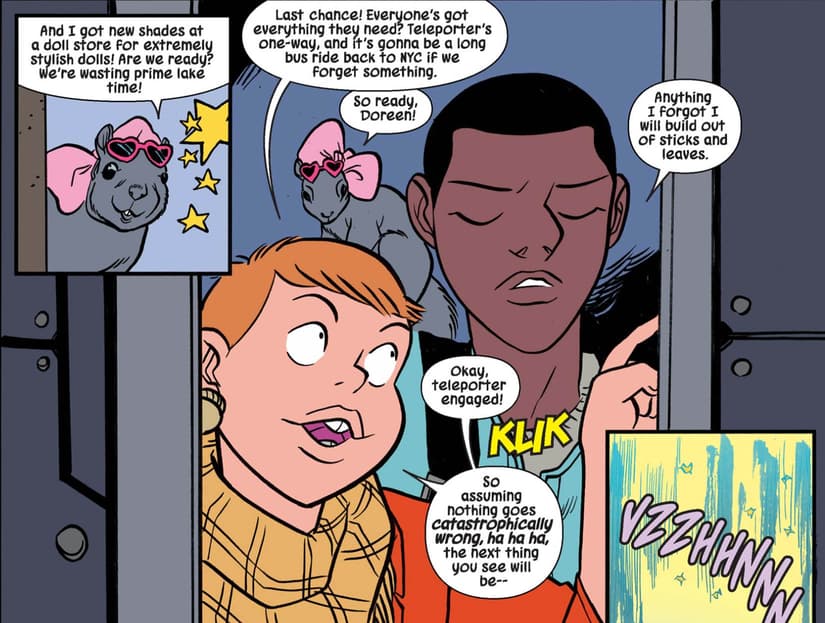 Squirrel Girl has had lots of squirrel teammates over the years, as befits her name. None, however—excepting perhaps Monkey Joe—have been closer or more helpful to her than Tippy Toe. Proving almost as unbeatable as Squirrel Girl herself, Tippy Toe has been by her side in adventures all over the country, the world, and even space. Toe even got a taste of the Power Cosmic for a bit before passing it along to someone else who might do a better job with it. He might just be a squirrel, but he has pretty clearly demonstrated that being "just a squirrel" means a lot more than we might think.
For a new story about vintage animal heroes, though, get ready for ZIGGY PIG – SILLY SEAL COMICS #1, written by John Cerilli and Frank Tieri with art by Jacob Chabot, on sale Wednesday, February 27. Pre-order your copy today online or at your local comic shop!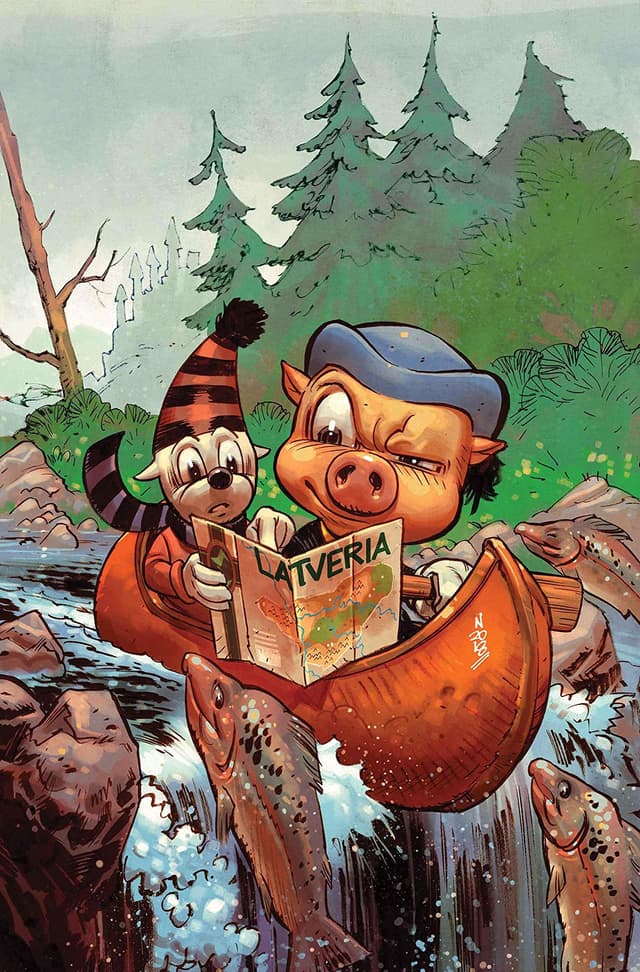 The Hype Box
Can't-miss news and updates from across the Marvel Universe!