Culture & Lifestyle
Published August 18, 2022
'Asked & Answered with the Women of Marvel': Lorraine Cink
Get to know Marvel Entertainment Director of Creative Content and 'Marvel: Powers of a Girl' author Lorraine Cink!

You may know Lorraine Cink (she/her) from the multiple books she's written about the Marvel Universe (Marvel: Powers of a Girl, Marvel: Absolutely Everything You Need to Know). You may recognize her as host of This Week in Marvel or as a long time contributor to the Women of Marvel podcast. You may know her as Director of Creative Content of Marvel Entertainment, a force behind YouTube's Marvel HQ, or as the Executive Producer of Marvel's Squirrel Girl: The Unbeatable Radio Show. While this list may seem like a lot for mere mortals, it's all in a day's work for one of our favorite Women of Marvel.
She is one with the universe. Her sleep habits are an occupational hazard. She is a Woman of Marvel. And we had some questions for her.
We asked. She answered.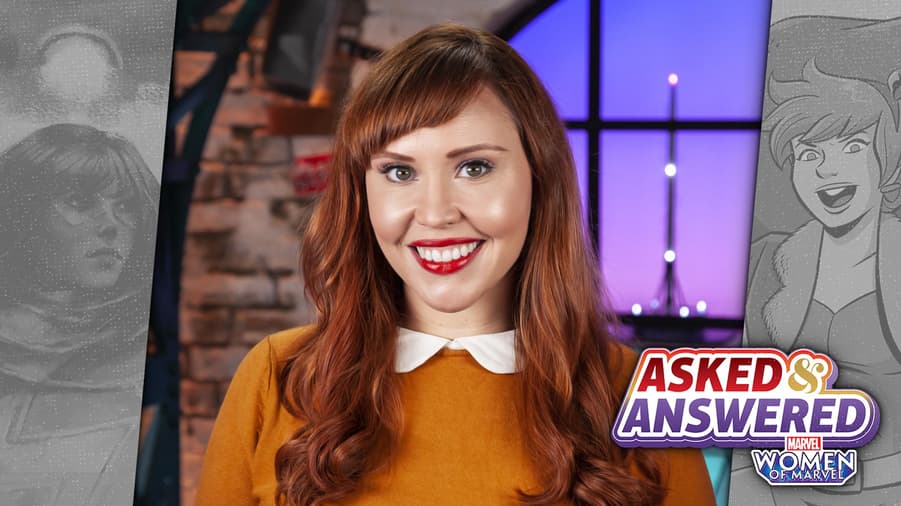 What is the first thing you do when you wake up?
I hit snooze. I am a three snoozes kind of gal. At which point, I generally head downstairs to make coffee and take a morning walk for some bloodflow and vitamin D.
What are you totally into right now?
Romance novels (it's beach book season), TikTok, and She-Hulk. When I am not working, I need to escape into the mindless fun of books, scrolling, and the thrill of one of my all-time favorite characters getting their own Marvel Studios series on Disney+.
You are an expert on the Powers of a Girl – so which powers are you going with?
Empathy. In my book you'll learn that a Super Hero isn't defined by super powers, but is a sum of their choices to do good. For me, doing good begins with a heart open to helping others. And if I get more than one – super strength sounds awesome. I'd love to never need to hire movers again and so would my back.
When I was a kid, I was obsessed with…?
I always had a lot things I was into as a kid: various comic books, playing with She-Ra and My Little Pony toys, dancing, pretending my bicycle was a horse, acting in school plays, playing instruments. I had a big imagination and exploring it was key for me.
How would you describe your job at an elementary school career day?
I am a Director of Creative Content at Marvel Entertainment, which means I work on video series for the Marvel YouTube channel and our family channel Marvel HQ as well as podcasts, and I've even hosted Marvel Studios' Red Carpets. Yes, I have met Tom Holland. (The last time I visited a school, a little girl asked if I met Tom and then pretended to faint when I said yes. She was hilarious.)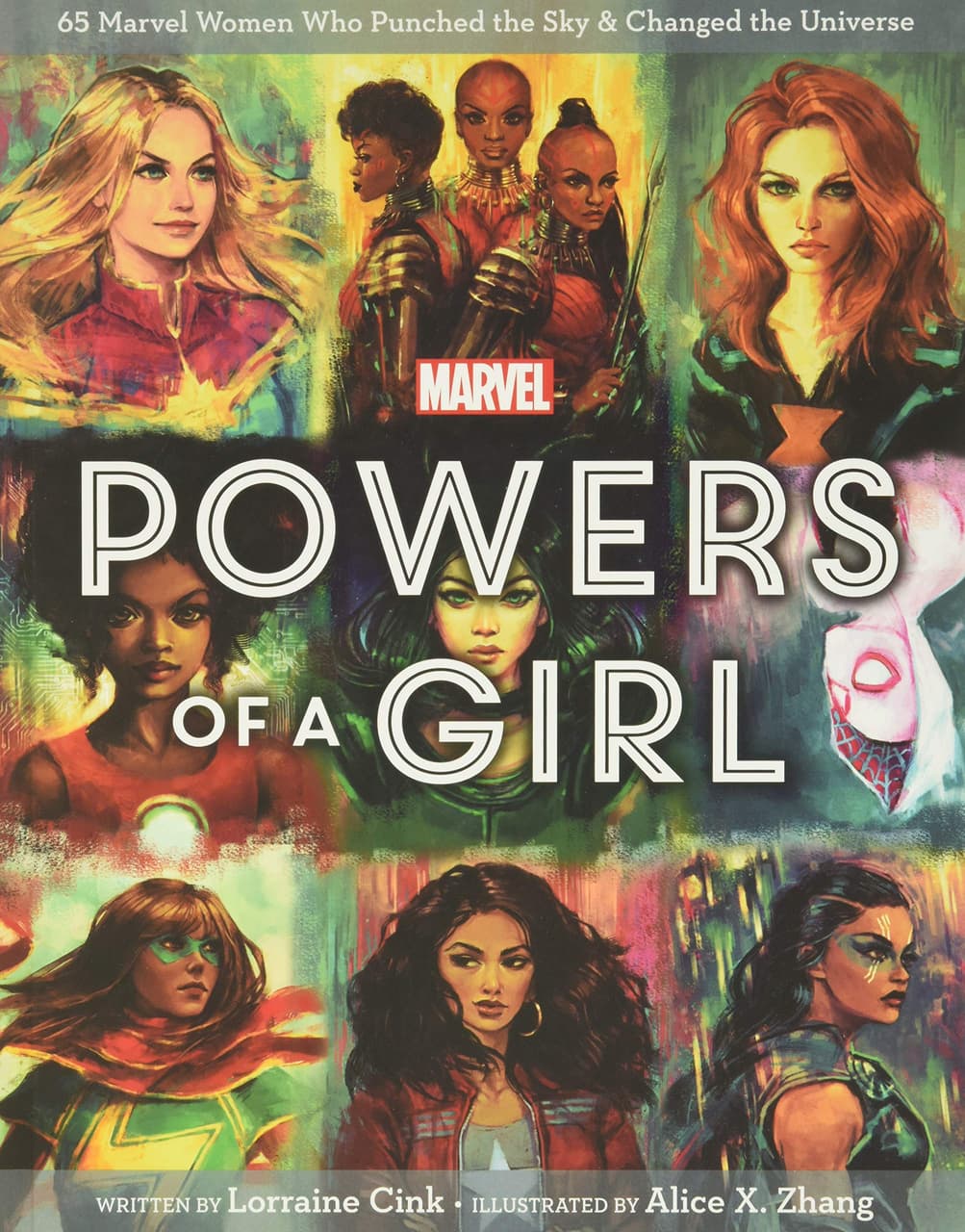 What gets you up at 3am?
My own voice. If you noticed yet – I have an active imagination – and I am a vivid dreamer. I talk, yell, scream and laugh in my sleep and it does on occasion wake me up.
Rollercoaster or Merry-Go-Round?
Rollercoaster is my default answer, but as a HorseGirl™, I could never say no to a merry-go-round.
Pool or beach?
A pool for swimming and a beach for walking. I've never been stung by a jellyfish in a pool… just saying.
If you could, how many dogs would you adopt right now?
All of them. Every. Single. One. I currently have two dogs, and I am constantly showing my husband new dogs on the daily to foster or adopt. I love animals and, in another life, I could very happily be pet farmer… that's a real job, right? 
What's your go-to food for summer cookouts?
Beyond burgers and an enormous cheese plate. No one can deny the cheese plate.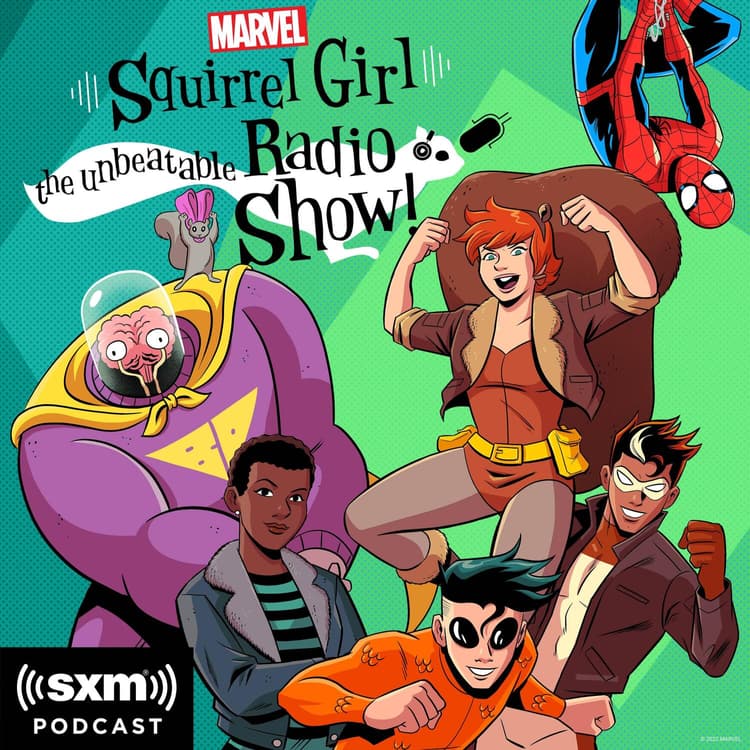 The convention moment you'll never forget?
A few years back, I got to go to a Comic Con in Chile as a guest. After getting the chance to speak to a full panel with hundreds of people, we stuck around to chat with some fans. One teenage girl came up dressed as Kate Bishop and asked for a hug and photo. I happily obliged. As she hugged me, she began to cry as told me how much it meant to her to see women, especially queer women, in the Marvel Universe and how it helped her come out and grow into the woman she was becoming. I felt so honored that she shared this moment with me and that I get to be part of telling stories that help people find and love themselves.
Which super hero costume gets ALL the candy at your house on Halloween?
Squirrel Girl! She eats nuts, kicks butts and deserves all the candy! Listen to Marvel's Squirrel Girl: The Unbeatable Radio Show wherever you get your podcasts! 
Best advice you've gotten?
Do it now. Whatever you want to do with your life (whether it's to write a comic, make a movie, climb a mountain), start now. Start training. Do bad stuff. Do it wrong. Learn from those mistakes. Make better stuff. Do better stuff. Life is short, so don't wait for permission to do what brings you joy now.
The universe – sending you messages or dealing with enough of its own stuff to worry about you? 
This is a big question and I'm not sure I can answer without going to what some might feel is pretty woo-woo, but here we go. We are made of star dust. We are the universe as much as the universe is the universe. Our sentience is purely energy and thus we're all energy thus we're all one. 
I don't think 'The Universe" is sending anyone email, but I believe because we are all energy and we're all capable of tapping into that energy around us. If we're open to it, maybe we can be open to what that energy is doing. Was that an answer? Maybe? Who's to say. Ask the universe, I suppose.
If you could go back in time and tell your younger self one thing, what would it be?
You're perfectly fine as you are right now. The things that make you feel weird and bad about yourself now will be the things you learn to love and treasure about yourself when you are older.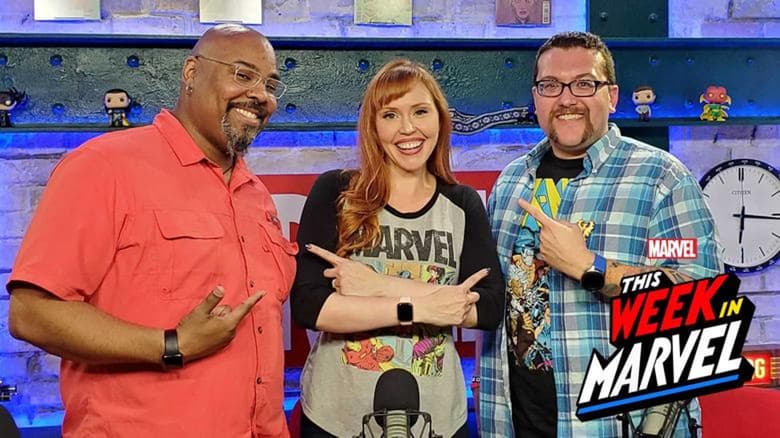 Truth or dare?
Truth. Being alive is enough of a dare for me.
Must-have item when turning your home office into an on-air studio?
A ring light – good lighting makes everything better when it comes to video.
What do you always make time for?
I always make time for dinner with my spouse. No matter what is going on, we always do everything in our power to sit down and talk about our days while we eat. It's a small thing, but I really cherish that window of time every day.
Mantra or quote that keeps you going?
"You're okay." Not necessarily profound, but as a worrier, it's just a good reminder.
Best thing about being a woman/non-binary creator of Marvel?
The feeling of being together with other people who love what you love, who support you, who make you feel like you're part of something powerful. To be a Woman of Marvel is to feel like you're in the best girl gang in the multiverse.
MacKenzie Cadenhead (she/her) is a children's book author and an old school (Read: former) Marvel editor — not old-old but let's just say she knew Gwen Stacy when she was dead. She co-authors the "Marvel Super-Hero Adventures" chapter book series for young readers and is a proud Woman of Marvel. You can see what she's up to over at Instagram @mackenziecadenhead.
The Hype Box
Can't-miss news and updates from across the Marvel Universe!