Culture & Lifestyle
Published December 1, 2022
'Asked & Answered with the Women of Marvel': Midnight Suns' Esther Didini-James
Get to know 'Marvel's Midnight Suns' character artist Esther Didini-James!
As a character artist on Marvel's Midnight Suns – the gorgeous new video game that explores the supernatural side of the Marvel U – Esther Didini-James takes heroes like Nico Minoru, Doctor Strange, and Scarlet Witch from 2D concepts to the 3D models that we love to play and interact with. (And if you're looking for that perfect holiday gift for your favorite Marvel fan, it's on sale tomorrow!).
She makes a good case for the awesomeness of eggs. We love her superpower of choice. She is a talented Woman of Marvel. And we had some questions for her. 
We asked. She answered.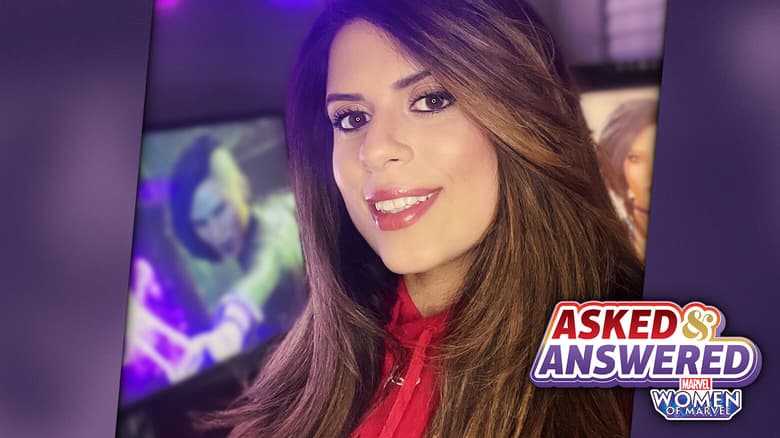 What is the first thing you do when you wake up?
Drink water—got to stay hydrated!
Superpower of choice?
Omni-Communication. My curious brain would love to understand all languages, living or ancient, and communicate with anything/everything—thinking of my pet and plants!
How would you describe your job at an elementary school career day?
I work with talented people to make characters for videogames using a computer.
The thing I always bring to parties is…?
Sweets! And my favorite sweet: Brigadeiro—a delicious Brazilian treat!
What was your favorite book, movie, game or TV show as a kid?
Movie: The Sword in the Stone (1963), still love to re-watch it.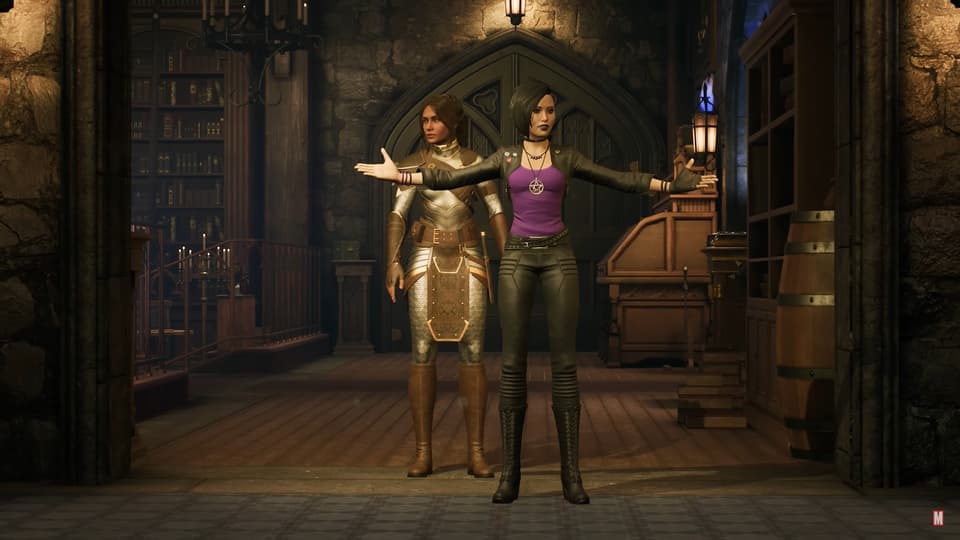 What is your favorite book, movie, game or TV show now?
Now... Wings of Desire (1987) and Spirited Away (2001).
Must-have item when working?
A filled coffee mug—always—to start my workday; and since working from home, a comfy blanket!
What takes your breath away?
Sitting at the beach on a warm sunny day, breathing in the ocean breeze before going in for a swim… or the smell of a scented candle on a snowy Christmas day. Hugging a friend who I haven't seen in a long time. Making art. Doing anything I love. 
Which of the Midnight Suns has your back in a supernatural showdown?
Nico Minoru! She is intelligent, powerful, and a bestie!
Better to ask permission or forgiveness?
Is it fair to say it depends?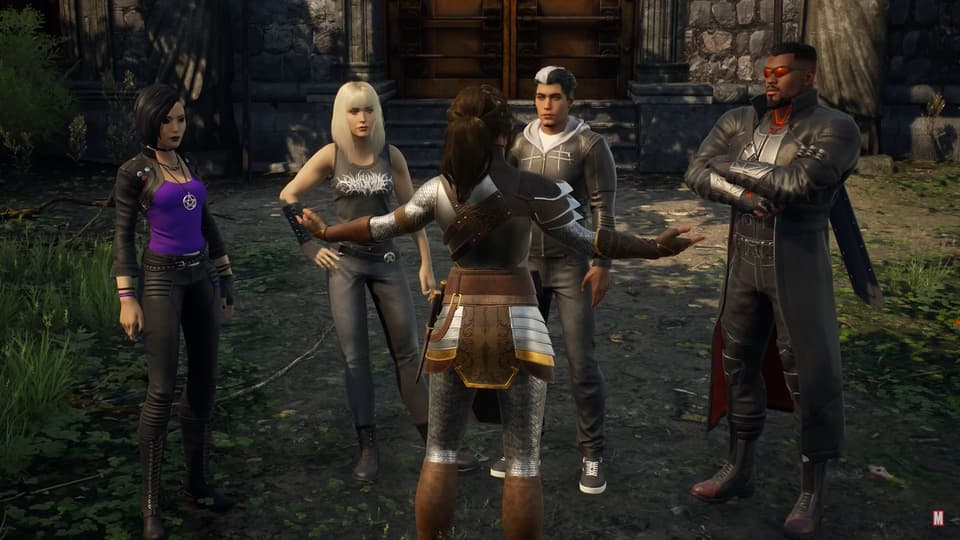 Rollercoaster or Merry-Go-Round?
Rollercoaster! The rise in adrenaline as the cart is slowing, ascending before the fall, when all the butterflies kick in. The feeling that makes you feel alive and want to do it all over again! 
Snowmen or sandcastles?
Snowmen are fun and I love Olaf, but I've seen the most intricate sandcastles—true sculptural masterpieces. Sandcastles have my vote! 
Truth or dare?
Truth. I'm a knowledge seeker :) 
What's on your desert island mix tape?
Goldroom, Tinashe, Sade, and lots of Prince!
What's the best thing about your best friend?
She has an amazing heart!
What object do you save from a burning building?
My sketchbook.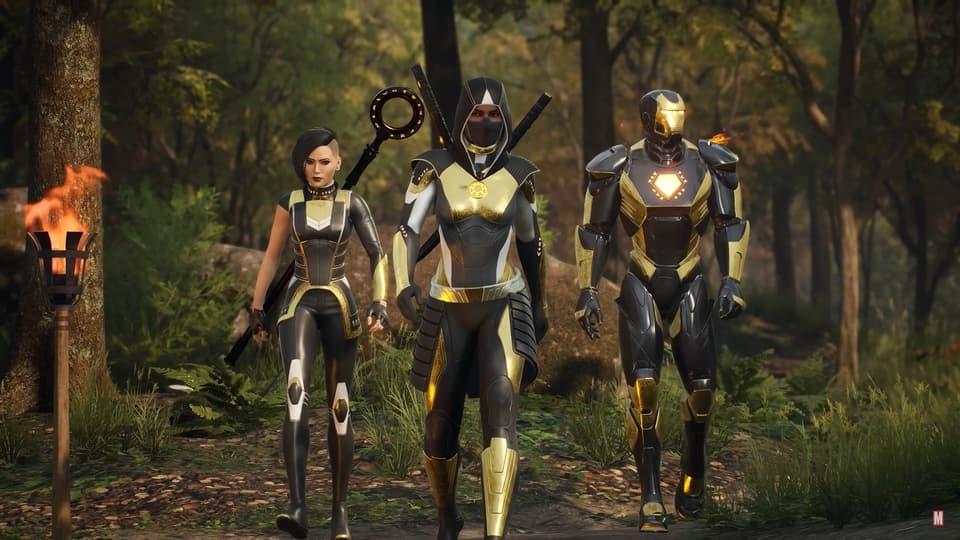 The game that started it all?
The first game I vividly remember blowing my mind, making me want to do what I do right out of university, was Uncharted 4.
When humans live on Mars, what one food must we bring with us?
Eggs! Breakfast is my favorite meal of the day, so I'm biased. I eat eggs every morning, it tastes great when prepared (scrambled, sunny-side-up, boiled, poached… you name it), and it's like nature's multivitamin!
Mantra or quote that keeps you going?
Stan Lee said it best—what became my career mission statement: "Entertainment is one of the most important things in people's lives. Without it, they might go off the deep end. I feel that if you're able to entertain people, you're doing a good thing."
Best thing about being a Woman of Marvel?
The heroic nature of Marvel female characters that are featured in Marvel's Midnight Suns, like Magik, Nico, Scarlet Witch, Captain Marvel—or beyond, like Gamora, Jessica Jones, Squirrel Girl... the list goes on. They tell a powerful story, which many people deeply connect to. Being a part of helping bring Marvel characters to life, in the form of interactive entertainment, is truly an honor. 
Don't miss Esther Didini-James' character work on Nico Minoru in Marvel's Midnight Suns, on sale December 2 for PC, PlayStation 5, and Xbox Series X|S!
MacKenzie Cadenhead (she/her) is a children's book author and an old school (Read: former) Marvel editor — not old-old but let's just say she knew Gwen Stacy when she was dead. She co-authors the "Marvel Super-Hero Adventures" chapter book series for young readers and is a proud Woman of Marvel. You can see what she's up to over at Instagram @mackenziecadenhead.
The Hype Box
Can't-miss news and updates from across the Marvel Universe!