Culture & Lifestyle
Published April 15, 2022
'Asked & Answered with the Women of Marvel': Roseanne A. Brown
Get to know the New York Times best-selling author and pre-order her upcoming 'Shuri and T'Challa: Into the Heartlands' novel!

Roseanne A. Brown (she/her) is the New York Times bestselling author of fantastic and fantastical young adult and middle grade fiction (A Song of Wraiths and Ruin, the upcoming Serwa Boateng's Guide to Vampire Hunting).
She makes her Marvel debut this month with the middle grade Black Panther graphic novel Shuri and T'Challa: Into the Heartlands (with illustrations by Dika Araújo, Natacha Bustos and Claudia Aguirre). Pre-order the graphic novel now and get it on April 19!
She's got advice on advice columns. She knows the perfect way to spend two days in Wakanda. She's a Woman of Marvel. And we had some questions for her.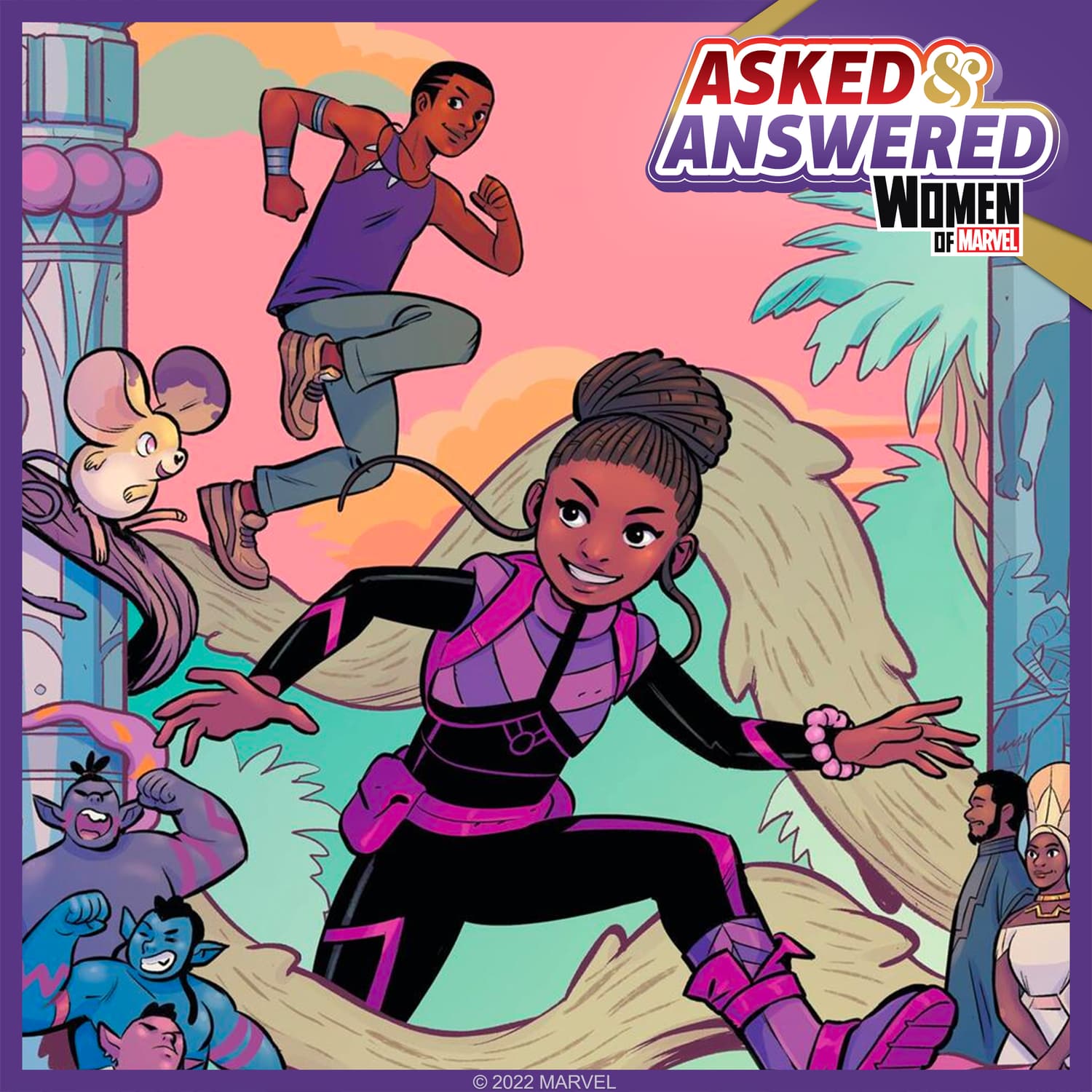 We asked. She answered.
What is the first thing you do when you wake up?
The unfortunately very sad, yet also very real answer, is check my phone. I'm a huge fan of advice columns, so my day doesn't feel started until I've caught up on my favorite columnists and all the wacky shenanigans their readers are up to. ("Dear Prudence" being a favorite column of mine!)
What are you totally into right now?
I just saw Everything Everywhere All At Once and it's easily in my top ten movies of all-time. Michelle Yeoh, Stephanie Hsu, and the entire cast are a delight, and the way the film blends together science fiction elements, tender family drama, and mind-blowing visual effects is nothing short of masterful. 
The thing I always bring to parties is…?
I'm the drinks and ice girl. No one ever gets upset with the person who brings drinks and ice! 
What gets you up at 3am?
I rarely get up at 3 AM, but if I am awake at 3 AM, it's usually because I either have a deadline that day or read a book that stirred me too much to fall asleep. The last book to do this was I'm the Girl by Courtney Summers. I'm still shaken up honestly.
When I was a kid I was obsessed with…?
Neopets! When I was in elementary school, I was in an exclusive Neopets roleplay guild that frequently had Game of Thrones-level beef with another guild. When I say I took that as seriously as the Montagues versus the Capulets!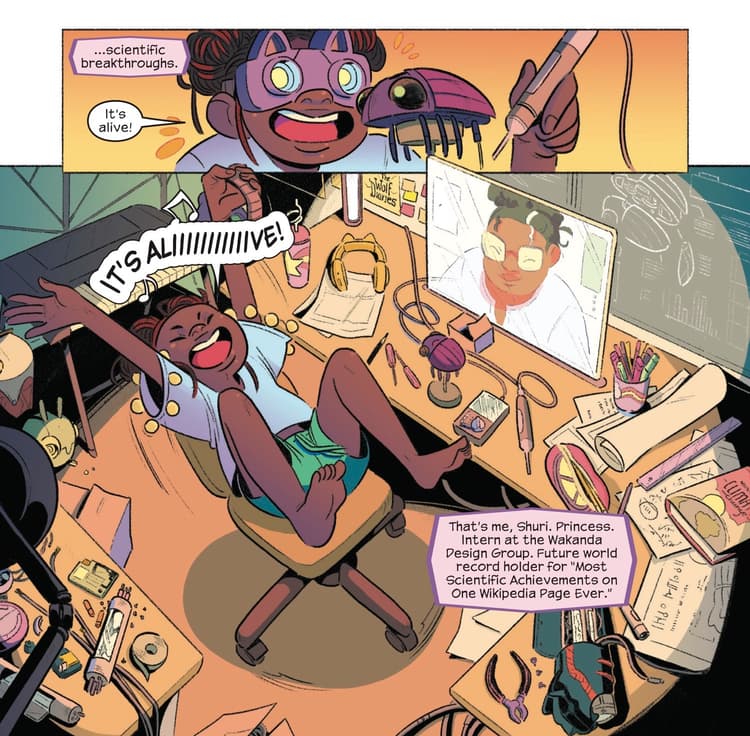 What's your must-have Shuri-engineered invention?
This might be biased, but I'd really like the weather machine Shuri created in Into the Heartlands! How great would it be to have a snow day whenever you want? 
What takes your breath away?
Standing at the top of a mountain and seeing the world unfurled beneath my face. It's both breathtaking and so humbling in the best possible way.
Super-power of choice?
I think phasing through objects is a super cool, OP power that is constantly underestimated. Like have you SEEN what Shadowcat can do???
Best advice you've gotten?
An author once told me all there is the work and not the work. Some of the things that aren't the work can be fun and influence it, like social media, but in the end, the work needs to be front and center in all you do. That advice helped me reframe my thinking as a creator in a primarily online world.
Where do you write?
These days, it's usually at the library or a coffee shop. I actually have a hard time writing at home, as my body is very comfy and my willpower is very low if napping is a viable alternative 
The universe — sending you messages or dealing with enough of its own stuff to worry about you? 
The universe is sending messages, but 99% of those messages are the figurative equivalent of "lmaoooooooo that's wild. Good luck."
Checkers or chess?
Checkers because my older cousin tried to teach me chess when I was 6 and it ended with us both in tears. My Queen's Gambit dreams ended that day. 
Who would you road trip with (dead or alive, someone you know or wish you knew, fictional or real)?
The Queen of Sheba because you just KNOW she'd have the best road trip gossip to share.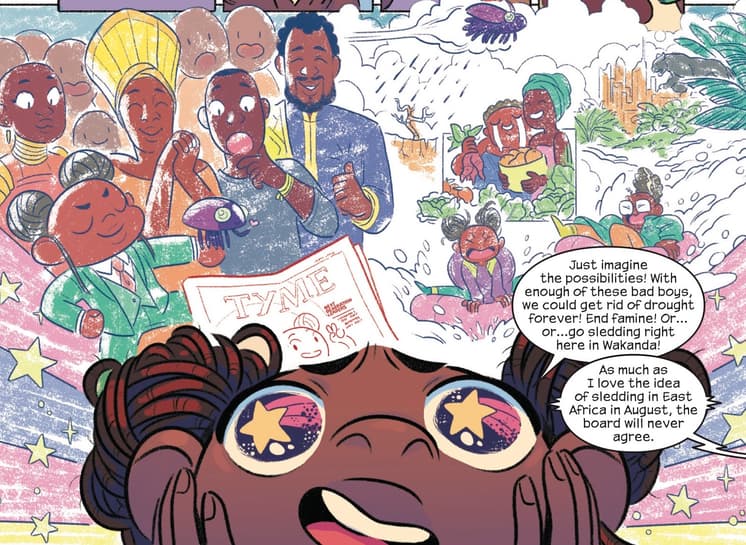 What item do you save from a burning building?
Is it cheating to say every single dog in said building, because every dog deserves saving. 
If you could go back in time and tell your younger self one thing, what would it be?
When people show you who they are, believe them the first time. Stop searching for acceptance from people who take joy in your destruction.
You have 48-hours in Wakanda – what's on your must-do list?
Get a dress made by Queen Ramonda's seamstresses, visit the Wakandan Design Group to play with the new tech, and pet at least one panther (ideally receiving no fatal injuries in the process!).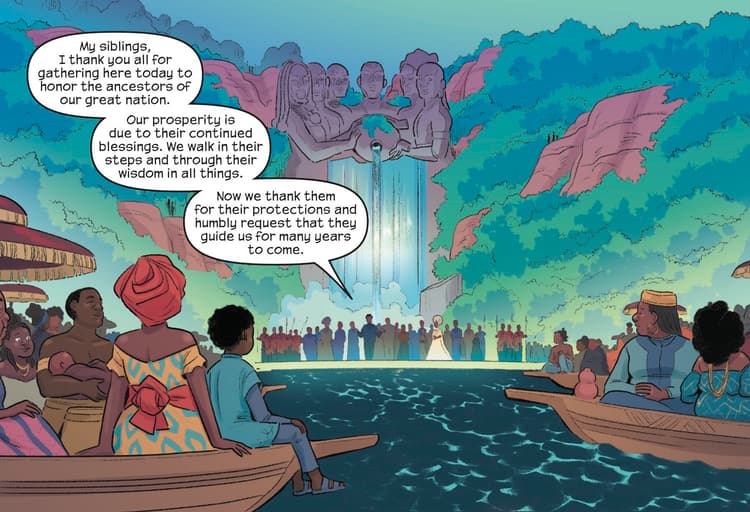 Truth or dare?
Dare!
What do you always make time for?
Quality time with my friends and family. Writing can get so isolating that if I'm not careful, I can go days without speaking to another person. My loved ones ground me, and remind me why I started this in the first place.
Mantra or quote that keeps you going?
"May the space between where I am and where I want to be inspire me." — Tracee Ellis Ross
Best thing about being a Woman/Creator of Marvel?
Getting to put my spin on these characters that mean so much to so many people. For the rest of my life, I can point at the giant tapestry that is the Black Panther mythos and say, "Hey, that's my part of it!" You can't put a price on something like that.
Pick up Roseanne A. Brown's upcoming graphic novel with illustrators Dika Araújo, Natacha Bustos and Claudia Aguirre, Shuri and T'Challa: Into the Heartlands, everywhere books are sold, on April 19!
ICYMI, we featured illustrator Natacha Bustos on Asked & Answered with the Women of Marvel last year!
MacKenzie Cadenhead (she/her) is a children's book author and an old school (Read: former) Marvel editor — not old-old but let's just say she knew Gwen Stacy when she was dead. She co-authors the "Marvel Super-Hero Adventures" chapter book series for young readers and is a proud Woman of Marvel. You can see what she's up to over at Instagram @mackenziecadenhead.
The Hype Box
Can't-miss news and updates from across the Marvel Universe!