Culture & Lifestyle
Published February 12, 2021
'Asked & Answered with the Women of Marvel': Natacha Bustos
Discover who the 'Marvel's Voices: Legacy' artist would assemble for the Pet Avengers and more!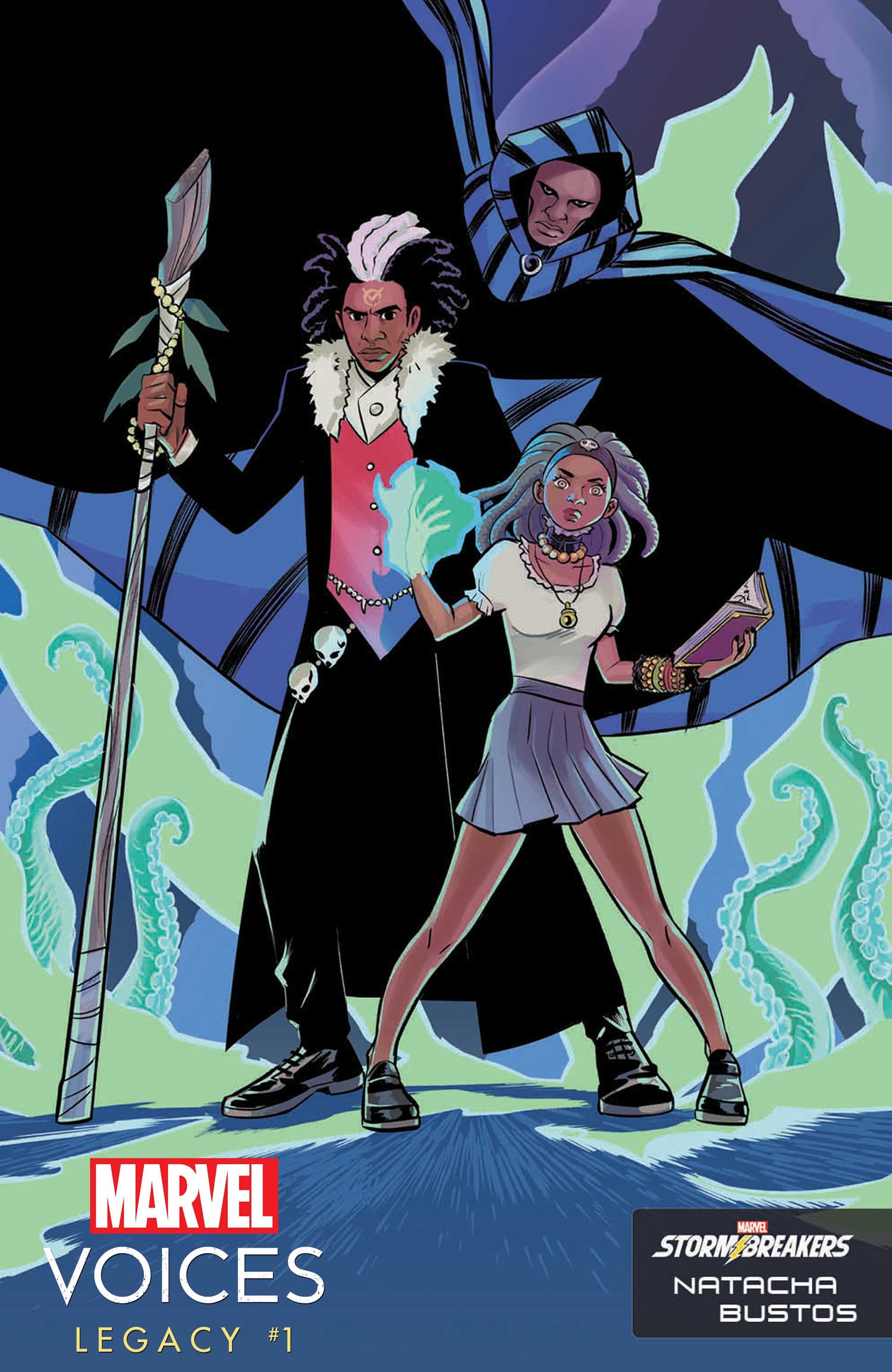 We asked, she answered.
What is the first thing you do when you wake up? 
Take care of my toddler.
What are you totally into right now? 
Korean K-dramas and Rhythm of War by Brandon Sanderson.
Socially-distanced activity of choice? 
Read.
Have any superstitions? 
Do not talk about projects/works that you have not started yet.
Who or what makes you laugh? 
People with a good sense of humor and sarcasm, and my toddler.
What are you proud of? 
I am proud to have drawn Moon Girl and Devil Dinosaur.
If Devil Dinosaur were to lead the Pet Avengers, who would be on his team? 
Lockheed, Marsupilami, Totoro and Appa from Avatar.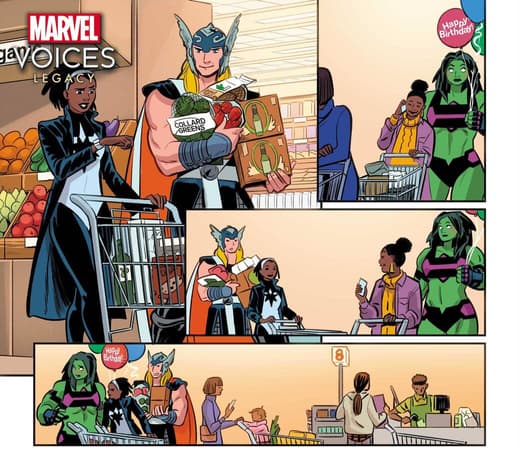 What's on your desk? 
Mess! Used tissues, a cup of coffee from yesterday, a notepad, and pencils.
Favorite spot in Barcelona to sketch? 
Plaza de la Virreina
Of the Marvel characters you've drawn, which one has your back in an alien invasion? 
Doctor Strange.
What's on your desert island mix tape? 
Some of King Gizzard & The Lizard Wizard, Marcelo Camelo, Gorillaz, David Bowie, Beatles, PJ Harvey and Roots Radics.
What are you craving right now? 
Traveling and meeting friends.
What's your most vivid childhood memory? 
Watching cartoons with my brother on Saturday mornings.
Salty or sweet? 
Sweet.
Favorite Lunella cosplay you've seen at a con? 
Devil Dinosaur cosplay father petting little Lunella, so cute!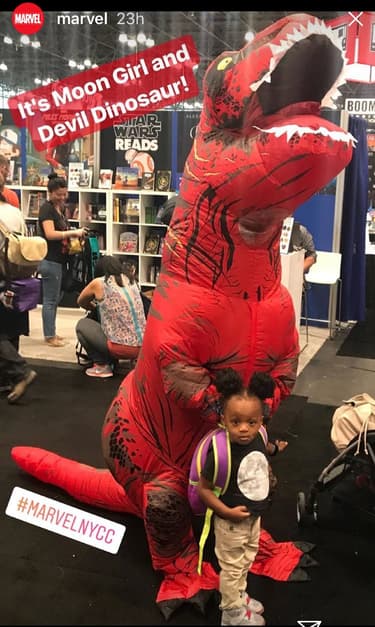 Coffee or tea?
Actually a coffee person.
Most amusing photo reference you've taken of yourself? 
Super Hero pose in pajamas.
Truth or dare? 
Truth.
Super power of choice?
Ability to stop time.
Mantra or quote that keeps you going? 
Everything in life is stages — navigate or enjoy them.
Best thing about being a Woman of Marvel? 
Being part of a family that is continually growing.
Natacha Bustos returns this month with a Monica Rambeau (Spectrum) story this month, with writer Stephanie Williams, on comic shelves Wednesday, February 24! Featuring a dazzling array of stories by both new and established creators, MARVEL'S VOICES: LEGACY #1 will consist of seven thrilling tales plus an introduction by New York Times best-selling author Nic Stone. Eisner Award-winning writer Nnedi Okorafor pens a Venom story highlighting the importance of heroes who fight for the downtrodden. Explore Blade's legacy – vampiric and heroic – in a story by writer Danny Lore. And in their exciting Marvel Comics debuts, Ho Che Anderson brings Luke Cage fans an old-school story about the choices that make a hero, author Tochi Onyebuchi tells an action-packed tale of a wild night in Madripoor with Domino, writer Stephanie Williams highlights family in a light-hearted Monica Rambeau story, and Marvel's most promising young heroes—Ironheart, Ms. Marvel, and Shuri— team up for an adventure by award-winning novelist Mohale Mashigo! Lastly, Academy Award winning screenwriter John Ridley closes out this epic issue with a poignant look at the impact of Miles Morales. See these outstanding writers take on their favorite heroes in tales designed to inspire and uplift, featuring interior art by ChrisCross, Valentine De Landro, Sean Damien Hill, Ken Lashley, Natacha Bustos, Chris Allen, and Olivier Coipel.
Can't get enough of Natcha? Listen to her on the Women of Marvel podcast here!
MacKenzie Cadenhead is a children's book author and an old school (Read: former) Marvel editor — not old-old but let's just say she knew Gwen Stacy when she was dead. She co-authors the "Marvel Super-Hero Adventures" chapter book series for young readers and is a proud Woman of Marvel. You can see what she's up to over at Instagram @mackenziecadenhead.
The Women of Marvel podcast assembles to chat all things Marvel and more! New episodes are released every other Thursday. You can find Women of Marvel on Sirius XM, Marvel.com/podcasts and Apple Podcasts.
The Hype Box
Can't-miss news and updates from across the Marvel Universe!