Culture & Lifestyle
Published March 11, 2020
Avengers Campus: Behind-The-Scenes Details on the New Spider-Man Attraction
Preview WEB SLINGERS: A Spider-Man Adventure at the Disneyland Resort!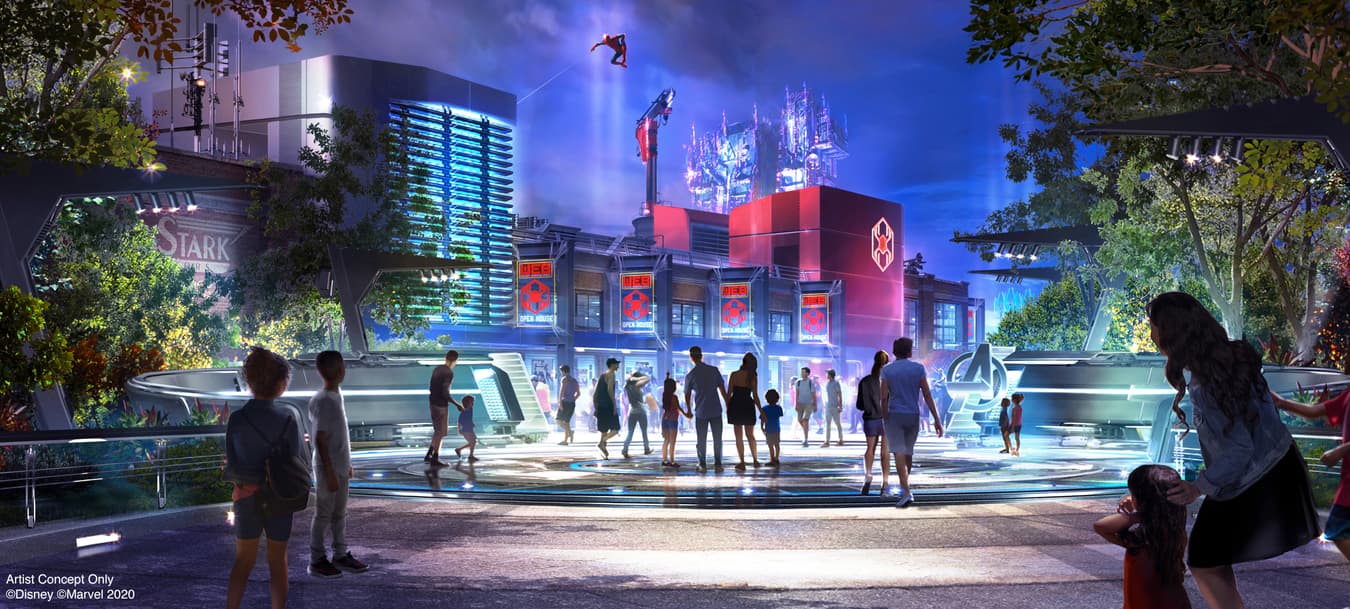 The truth is none of us are ever going to be Spider-Man. However, that's no longer going to stop us from saving the day like Spider-Man. 
When Avengers Campus opens at Disney California Adventure Park at the Disneyland Resort, WEB SLINGERS: A Spider-Man Adventure will invite guests to help Peter Parker stop an unfolding crisis at the Worldwide Engineering Brigade — aka WEB. Teaming up with Spider-Man, guests will assist in capturing a bunch of out-of-control Spider-Bots that are wreaking havoc across the Campus. During the mission, guests will sling webs like Spider-Man and experience what it's like to have superpowers...and keep Peter out of trouble with Mr. Stark.  
And yes, you read that right. Do you want to shoot webs, just like Spidey? Because it's now a reality.
The family-friendly attraction, which doesn't have a height requirement, is perfect for budding web-slingers as guests work as individuals and as a team to try and capture as many of the loose Spider-Bots as possible. Using innovative technology, guests will simply be able to launch their hands out, as the attraction detects movements and gestures creating the ability for all of us to thwip like pros. 
We recently got the chance to go behind-the-scenes of WEB SLINGERS: A Spider-Man Adventure at Avengers Campus, and before you start slinging webs yourself, here's what you need to know about the brand new attraction. 
Here's What You Need to Know About WEB
Back before it was Avengers Campus, this location used to be a former Stark Industries site. The building that houses WEB SLINGERS: A Spider-Man Adventure used to be a Stark Automotives facility that has been redressed by some of the brilliant kids at WEB (like Peter Parker, Lunella Lafayette, and Doreen Green, just to name a few!). It's here at WEB that these future innovators are trying out their latest inventions, one of which happens to be the Spider-Bot — a robotic sidekick capable of building anything a Super Hero might need. 
Peter's invited us all to WEB to witness a Spider-Bot demonstration...and it quickly goes awry. The Spider-Bots get stuck in a replication loop, creating even more Spider-Bots. Uh-oh. 
Turning to us for help, Peter recruits us to try and stop the Spider-Bots before they get too out of hand across the Campus. Donning 3D glasses, guests then get to test-drive another invention, the WEB SLINGER vehicle, in hopes of stopping the Spider-Bots on an adventure across different locations inside Avengers Campus.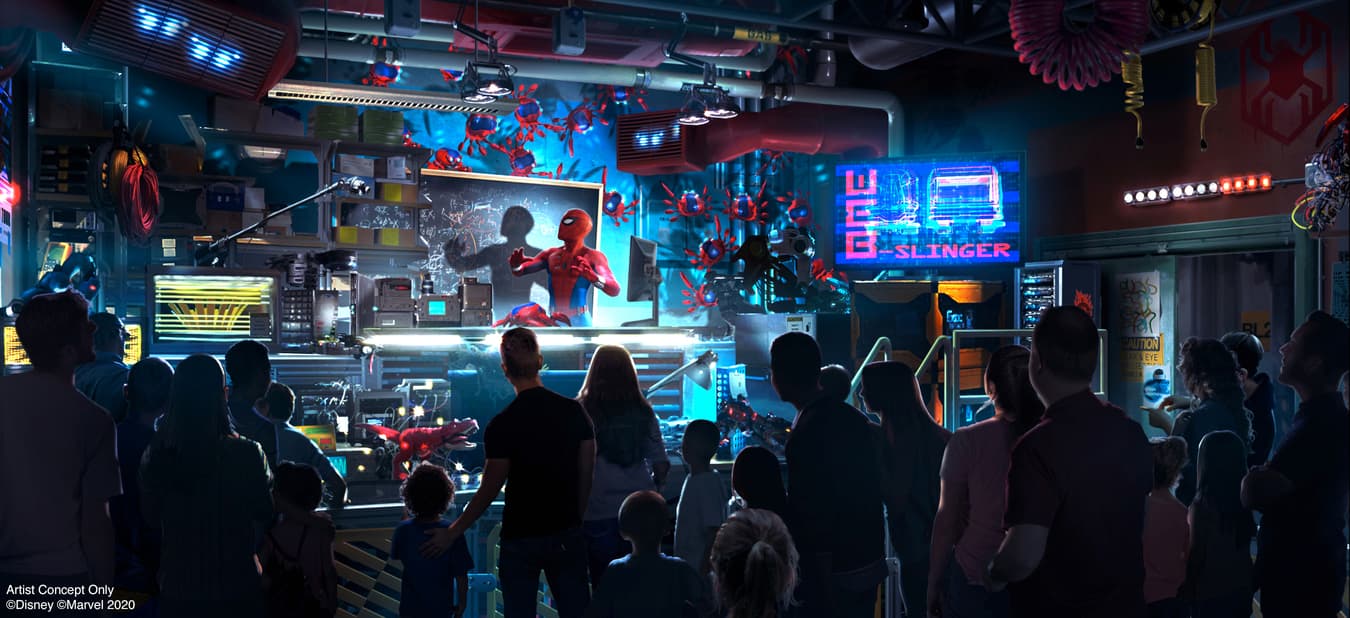 How does WEB SLINGERS: A Spider-Man Adventure Work?
The attraction utilizes a brand new, innovative gesture detection technology, that can identify 60x movements a second. Allowing guests to be able to reach their hands out and sling webs from their wrists, just like Spider-Man. 
"At the end of the day, we didn't want it to feel like [the ride] has superpowers. We wanted it to feel like you had superpowers," Brent Strong, Executive Creative Director Walt Disney Imagineering explained. "There's a lot of technology [that went into this ride] and we're talking about how it works. But when you just sit down and sling webs, you're the hero, which is really wonderful."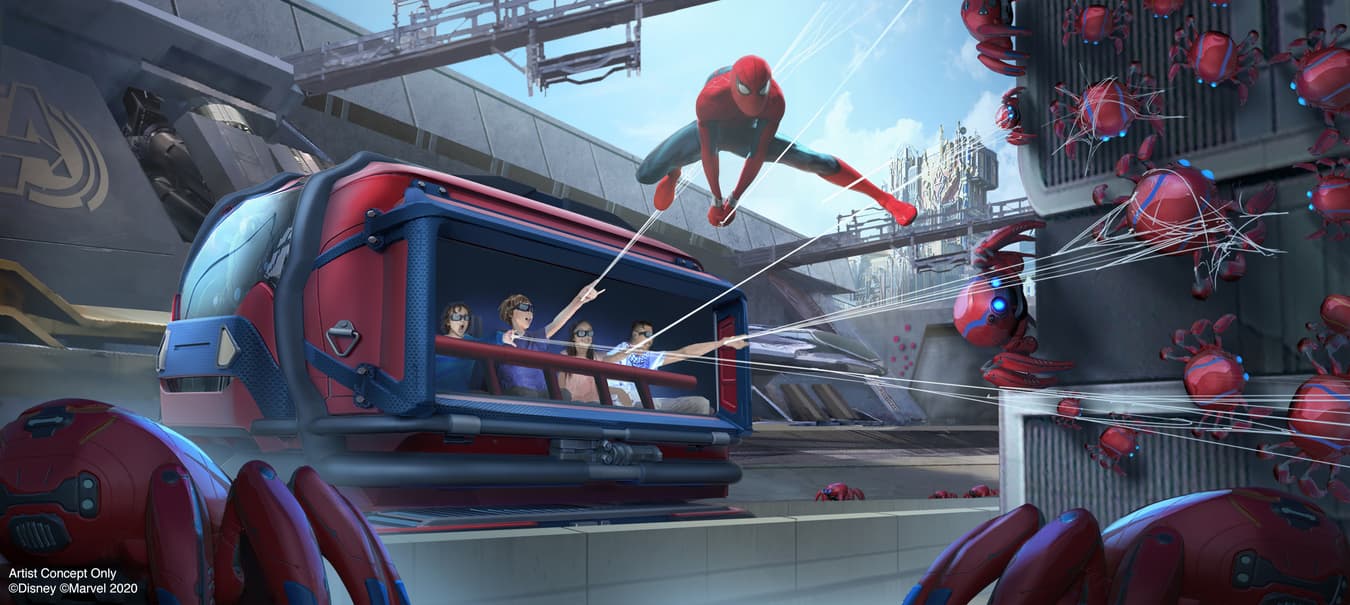 How to Score Points on WEB SLINGERS: A Spider-Man Adventure
Like other Disney parks attractions, WEB SLINGERS will keep a point tally counting how many Spider-Bots you're able to hit. The Spider-Bots are also worth different points depending on where they are and what they're doing. 
"[Players] are awarded bonus points depending on what state the Spider-Bots are in when you stop them," Strong continued. "When they go to start destroying the environment, [like] eating things, they start to glow red. When they're about to self-replicate, they start to glow blue. When they get into The Collector's crazy alien goo, they become unstable and green. There's even a handful of gold bots that escape the lab with heat shielding on them. Those are worth a lot of points." 
So pay attention to the colors of the Spider-Bots! But even on top of that, you're not only working towards an individual score but a team score as well. There will be a leaderboard of high scores displayed in the land showcasing team scores for the hour, day, and month so you're going to want to work together and coordinate a plan to stop these Spider-Bots. Strong suggested, "It's really important to the collaboration to know what your teammates are doing, so you can adjust your strategy accordingly." 
Additionally, the "webs actually allow you to not just blast spider bots but interact with the environments. You can pull doors off of shipping containers. You can activate conveyor belts. You can grab onto things and move them around. The level of control that you have is amazing." And for those players who are looking to unlock hidden things you might not find the first time, "There are so many fun things to discover along the way, layers, and layers, and layers of gameplay for our die-hard gamers, and layers, and layers, and layers of fun for comic fans, just really leaning into all of the details that this world has," Strong hinted.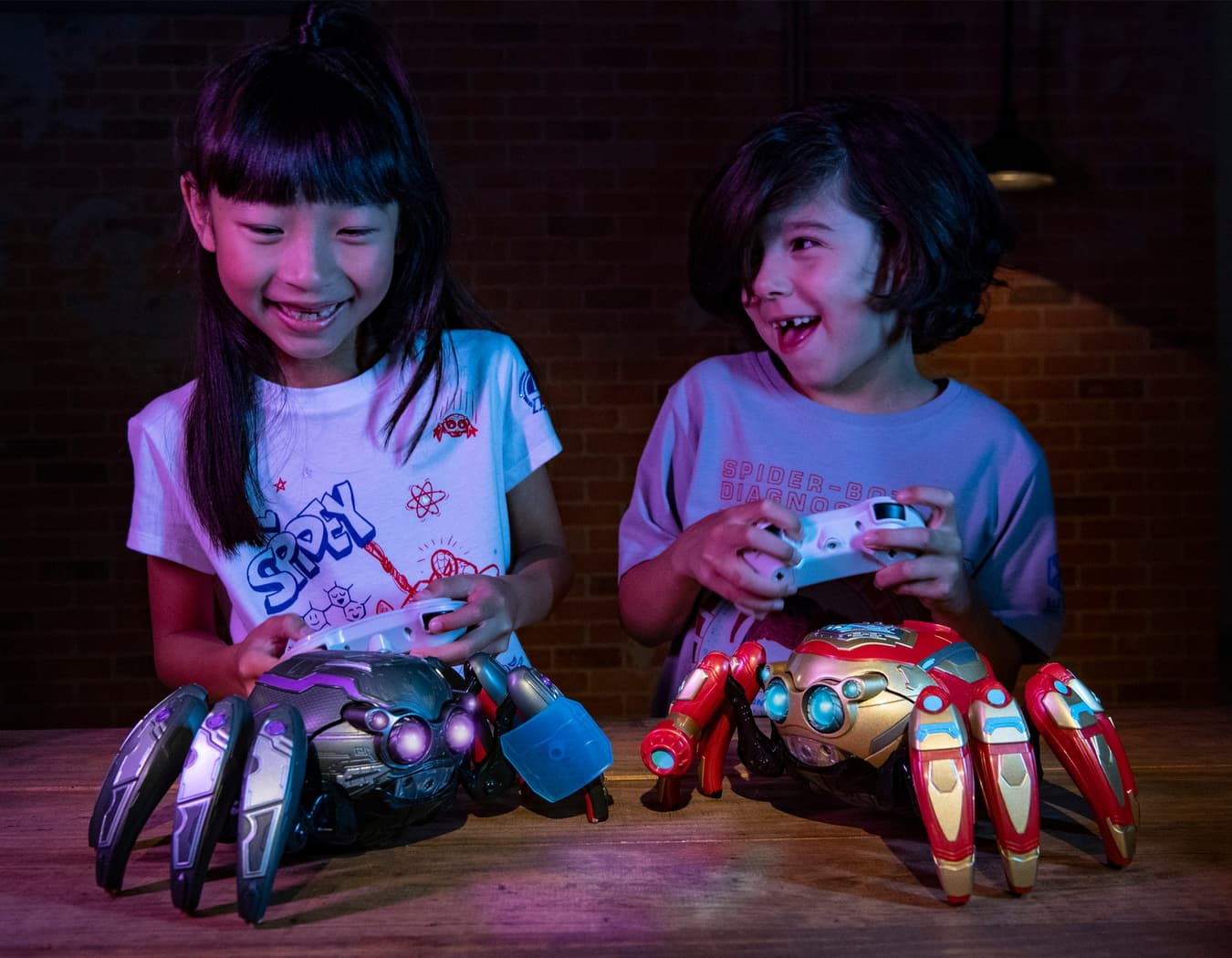 You Can Own a Spider-Bot, too 
Though they might be a menace in WEB SLINGERS: A Spider-Man Adventure, don't let that stop you from bringing a Spider-Bot home. Located across from the attraction will be WEB Suppliers, where guests can snag the latest WEB inventions, including the troublesome bots. The interactive bots are powered by remote control with eight articulated legs that move backward and forward. Guests can also customize their Spider-Bot with tactical upgrades to harness the powers and styles from Super Heroes like Black Panther, Iron Man, Black Widow, Ant-Man, and The Wasp. Control the bots on your own, or let them battle other bots! 
Want to learn more about Avengers Campus? Check out everything we learned about the land, merchandise, and food and beverage offerings. 
The Hype Box
Can't-miss news and updates from across the Marvel Universe!