Culture & Lifestyle
Published March 10, 2020
Avengers Campus: Here's Everything You Need to Know About The New Land at the Disneyland Resort
From Heroic Encounters to Pym-enhanced food, Avengers Campus has something for everyone!
Are you ready to be a hero? Then let's go be heroes at Avengers Campus at the Disneyland Resort! 
Coming soon, guests visiting Disney California Adventure Park will be able to step into the world of the Avengers and their allies to live out their own Super Hero dreams. The all-new, completely immersive land will welcome recruits (both big and small!) to Avengers Campus. 
The six-acre land, anchored by the thrilling Guardians of the Galaxy – Mission: BREAKOUT! attraction, will feature a second brand new family-friendly attraction, a quick service restaurant, brand new food carts for shawarma and treats, heroic encounters with some of our favorite Super Heroes, and so much more! Ahead of its opening, we had the opportunity to go behind-the-scenes with some of the Disney Imagineers on the project for an up-close look at what's coming soon. 
While planning out the land, the Disney Imagineers behind the project kept coming back to three things they wanted to accomplish: guests need to feel a sense of heroism, optimism, and empowerment. Those three things make up the core of Avengers Campus and everything you can see and do during your time there. 
"Since day one, we have been trying to figure out, how do we bring this land to life, and not just bring it to life where we get to see your favorite heroes or you get to meet your favorite heroes, but where you actually get to become a hero?" Brent Strong, Executive Creative Director, Walt Disney Imagineering, explained during a recent press day for Avengers Campus. "That is what Avengers Campus is all about. It's about actually living out your Super Hero fantasies. This land is finally the invitation for all of us to join the Avengers, all of us to join the team, and all of us actually find the hero within, which is just incredibly exciting."   
So fire up the Helicarrier, Quinjet, Milano, or whatever your vehicle of choice is. Go ahead and grab your shield and PYM particles (please leave all Infinity Stones at home), and let's go be heroes. Here's what you need to know about Avengers Campus: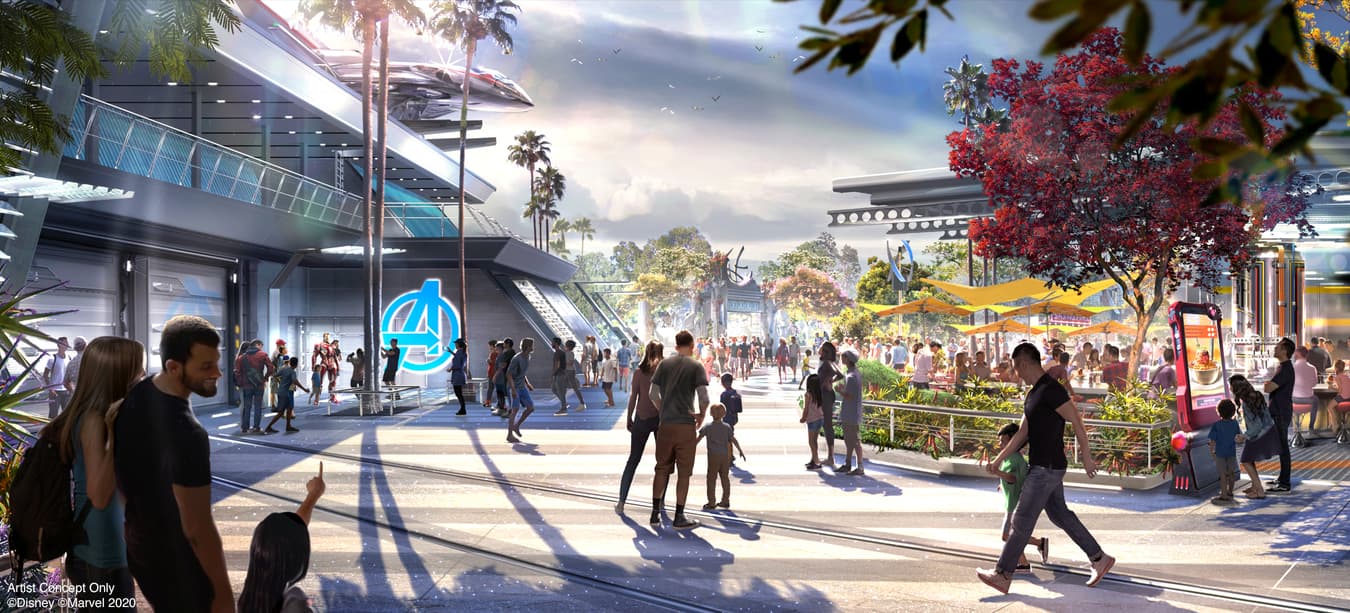 At Avengers Campus, We're All Part of a Bigger Universe
Citing Nick Fury's line to Tony Stark — "You've become part of a bigger universe, you just don't know it yet " — Scott Drake, Portfolio Executive, Walt Disney Imagineering, explained that this is what the Disney Imagineers were looking to accomplish with the feeling of the land. "We take that [idea] into every attraction, every heroic encounter, everything should make you feel like you're part of something even bigger." 
"We see characters that have great powers and they use them to do good, right? We see ourselves, and we all ask the question, what would we do with that power? And hope that we would make those same decisions and all of those things," Drake later continued. "I don't think the goal was, 'just play,' but it was really, 'how do we get it in the story, and how do we make sure that we're not just witnessing Super Heroes, but we're participating?' We're part of the story." 
The story of Avengers Campus starts the moment you walk in, as the main entrance gives the appearance of compression and expansion, akin to the look of Tony's Arc Reactor, with lots of light and metal grates. 
From there, guests will pass by the Worldwide Engineering Brigade, where they may see Spider-Man defying gravity as he flips 60 to 65 feet in the air above the rooftop of the WEB building. Inside this building is a brand-new Spider-Man attraction where guests can sling webs like Spider-Man. Further along, there's an ancient sanctum where guests will find Doctor Strange practicing mystic arts. Nearby, a Quinjet has landed atop the Avenger's Headquarters, which is adjacent to Guardians of the Galaxy – Mission: BREAKOUT!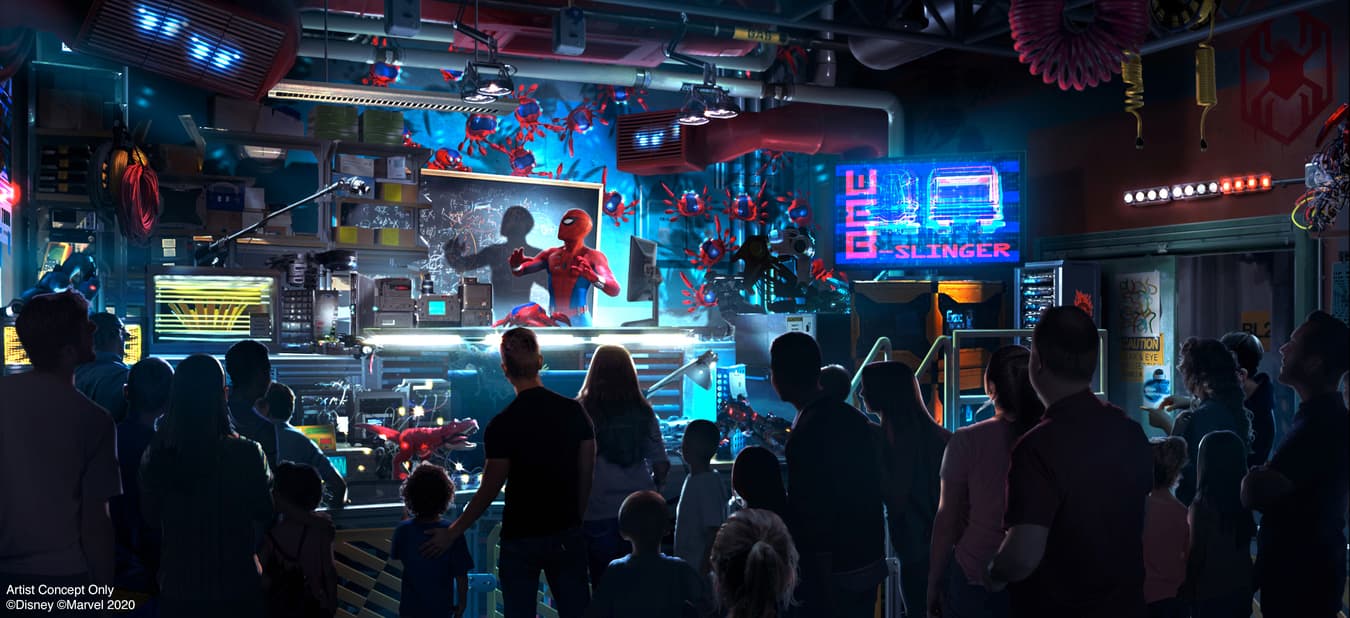 Web-Slingers: A Spider-Man Adventure
"If you think about the story of Avengers Campus, this is us being invited by the Avengers to essentially join the big leagues, to become a hero, to learn what it is to be a hero," Brent Strong, Executive Creative Director, Walt Disney Imagineering, explained. "That is Spider-Man's arc, right? He is a young hero who has an everyday life, who has, you know, struggles with school and with dating and holding down an internship, and he is also a Super Hero. He's not, you know, sort of well-established. [The Imagineers] were quickly like, 'this is the character that you want to follow in the footsteps of.'" 
The attraction uses innovative technology that detects movements and gestures, so guests will be able to reach out their hands to sling webs, just like Spider-Man. Get ready to thwip in real life!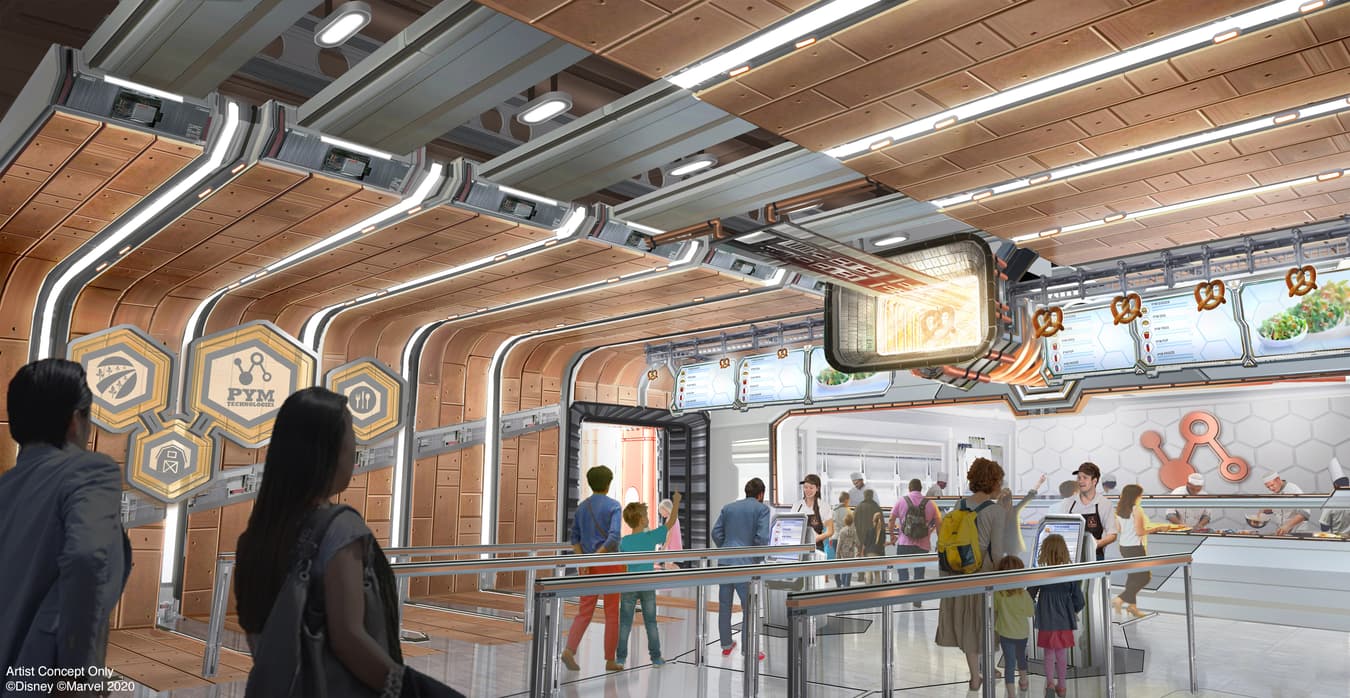 All Super Heroes need to eat, and when it's time to refuel, Pym Test Kitchen has it all – big and small. Putting the particle accelerator to good use, the team at Pym Test Kitchen has been shrinking and growing foods of all sizes and now it's time to try it all out. The quick service restaurant offers a variety of different options (including plant-based) in adult and kid-sized portions for anyone with a grumbling stomach. 
Additionally, at Pym Tasting Lab adult guests can grab a specialty alcoholic beverage in a souvenir Pym beaker. 
Nearby The Collector has opened up his own sweet spot, Terran Treats, featuring intergalactic eats. Plus, guests and heroes on the go can enjoy their favorite shawarma-inspired snacks at the Shawarma Palace food cart, which is decked out with memorabilia for Avenger fans. This cart offers hand-held savory wraps with fragrant chicken shawarma and garlic sauce. Or, guests may choose the Impossible™ plant-based falafel wrap.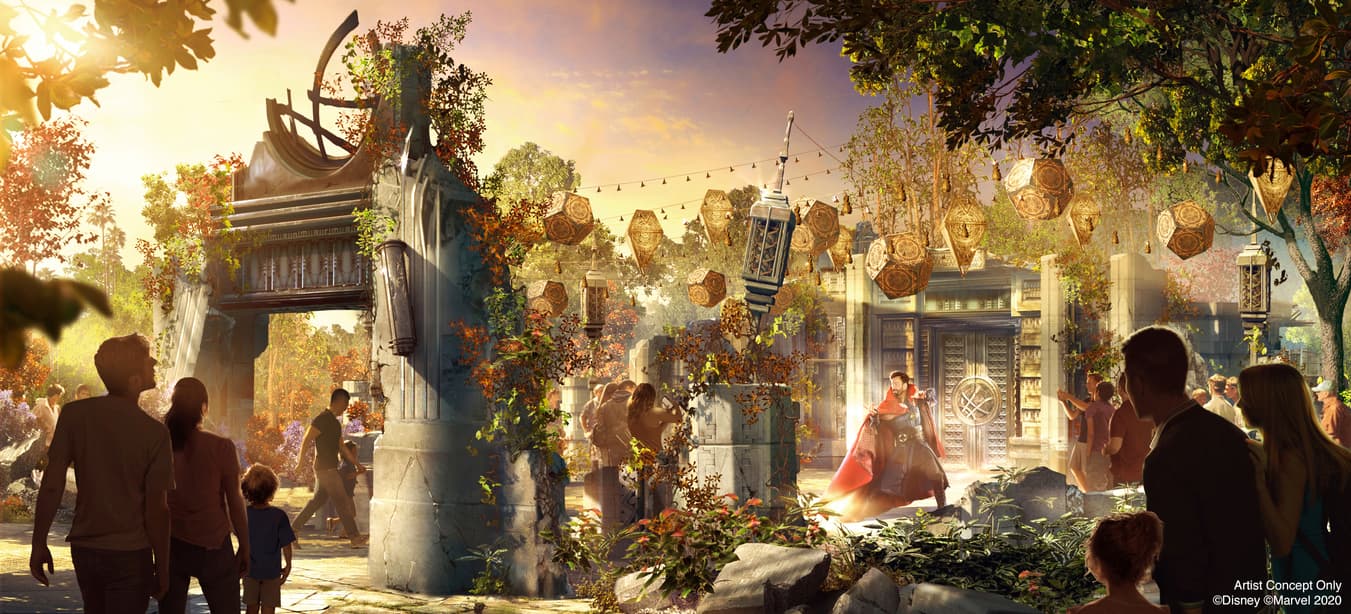 Heroic Encounters
It wouldn't be Avengers Campus without some of Earth's Mightiest Heroes roaming around. "This is going to be the largest assembly of these heroes any place, anytime, anywhere," Dan Fields, Executive Creative Director, Disney Parks Live Entertainment, explained. "We really have a place for them to live, and work, and play, and protect, and train."
The land will include over a dozen different characters that guests can meet and interact with on a daily basis, including Spider-Man in his new suit (based off his time at WEB), and Iron Man showcasing the brand new Mark 80. 
Other heroes you might see include Black Widow, Ant-Man and The Wasp, Captain Marvel, Captain America, Doctor Strange, the Guardians of the Galaxy, Black Panther, and Thor. You also never know when Loki might pop up to cause mischief. 
If you're looking to actually train with these heroes, Okoye, the leader of the Dora Milaje, will teach recruits what it's like to be a member of Wakanda's elite royal guard. 
With all these heroes out and about, villains don't stand a chance. However, that's not going to stop Taskmaster from infiltrating Avengers Campus. Introducing the villain that will be seen in Black Widow, Taskmaster was a great fit "to drop into this place and fit into the story," Dave Bushore, Vice President, Franchise Creative & Marketing, Marvel Studios, explained. 
"And we're always looking at, how can we take the story that's happening right now and get it into the land as soon as possible so when people walk in, it's the thing that they just heard about, or they just watched. [Taskmaster] fits right into the story we wanted to tell."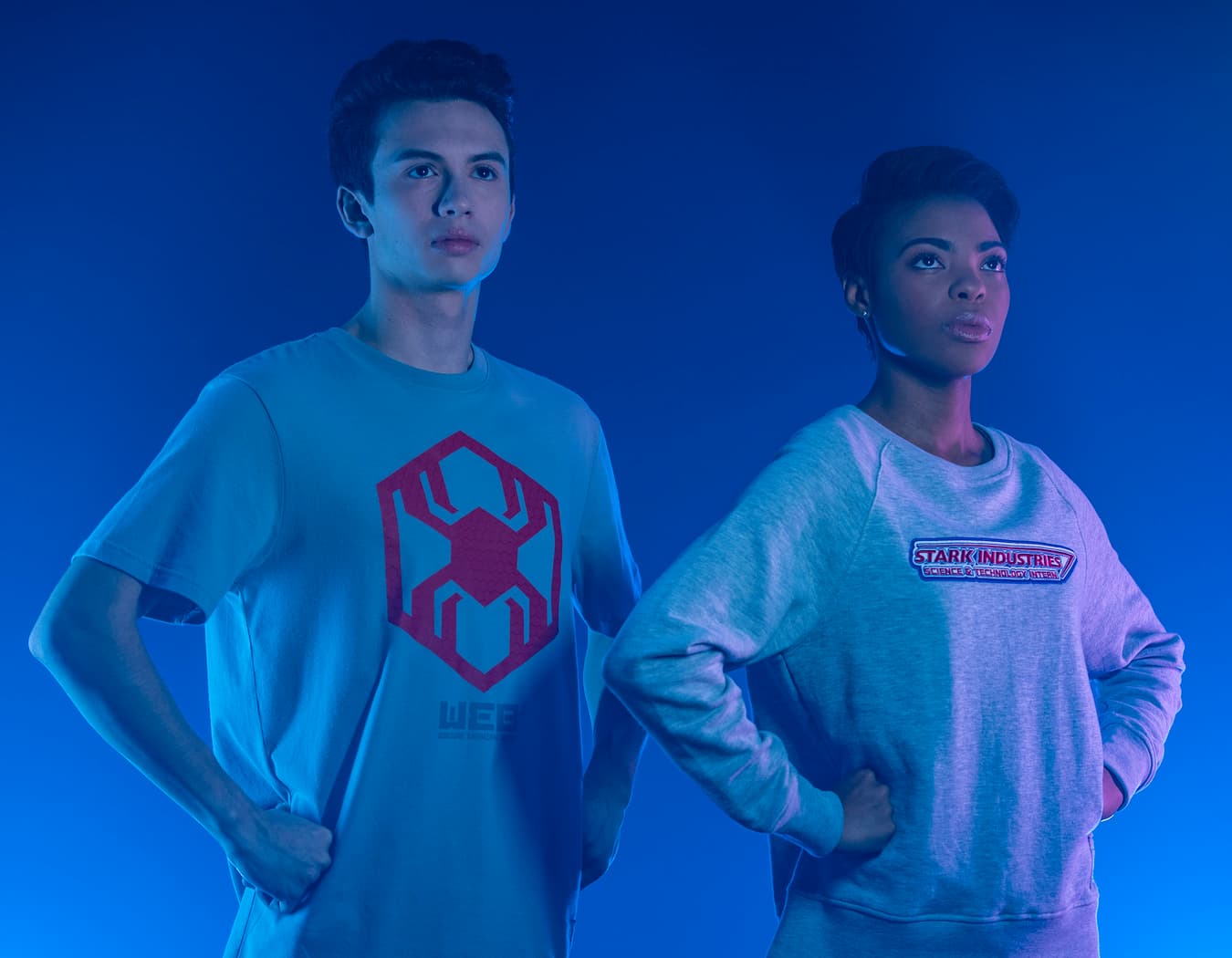 If you want to gear up like a Super Hero, head over to WEB Suppliers to pick up all your WEB-centric needs, from branded apparel, household and novelty items, hats, trading pins, patches, and the must-have Spider-Bots. Nearby at The Campus Supply Pod, you'll find everything branded with official Avengers Campus logo gear including tees, hats, performance fleece, and so much more. 
Want to learn more about Avengers Campus? Check out everything we learned about the land, merchandise, food and beverage offerings, and the Spider-Man Attraction! 
The Hype Box
Can't-miss news and updates from across the Marvel Universe!