Culture & Lifestyle
Published June 29, 2023
Disneyland Paris Introduces 'Hero Up! Reveal Your Inner Hero'
Introducing An Exclusive Photo Exhibit Featuring Thirteen Portraits of "Heroes" In Celebration of Marvel Avengers Campus First Anniversary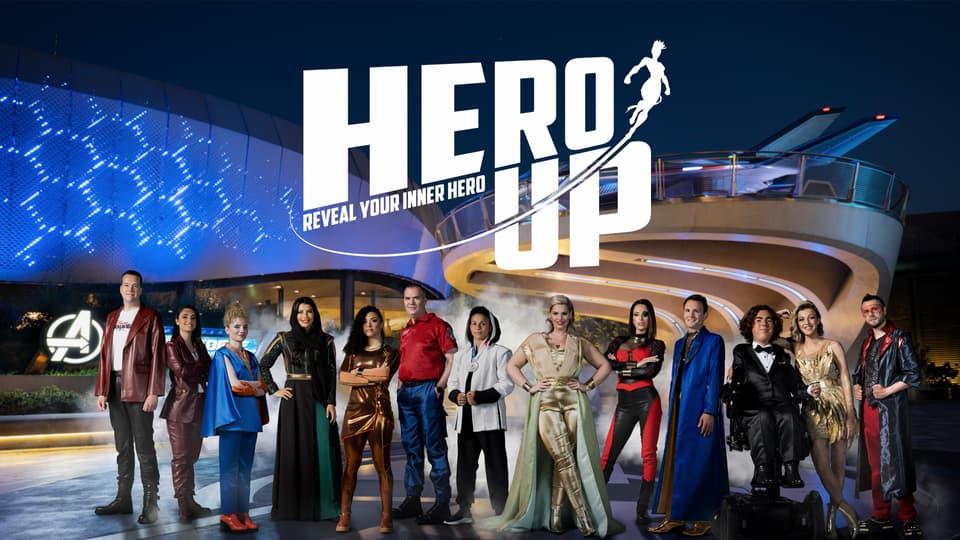 One year ago, Marvel Avengers Campus was preparing to open its gates at Disneyland® Paris and welcome guests to become recruits, diving into the heart of the action and embarking on epic adventures alongside their favorite Marvel Super Heroes. Since its grand opening, the Campus has become a can't-miss experience where guests of all ages can unleash their inner hero!
To celebrate its first anniversary, Disneyland Paris is putting the spotlight on 13 heroic figures, inviting them to unleash their inner hero as part of an artistic photoshoot in the heart of Marvel Avengers Campus called Hero Up! Reveal Your Inner Hero. The inspirational recruits teamed up with cast members from the Disneyland Paris Costuming workshop to dream up outfits that would personify heroes.
Guests can now discover these photos as part of an inspiring exhibit available online, and on display at Disney Hotel New York® – the Art of Marvel* for a limited time. Check out behind the scenes of the one-of-a-kind exhibit with this exclusive video:

The awe-inspiring portraits of the 13 participants showcase the heroic values they embody and are known for: strength, courage, generosity, and an ability to inspire people in everyday life.
Douze Février: Just like many Marvel Super Heroes, Julie Bourges is best known by her alias "February 12th," which corresponds to the day on which "she rose from the ashes" after an accident that caused third-degree burns that covered over a third of her body. Since then, she has had her heart set on delivering messages of hope on social media as she shares content about her journey and discusses self-acceptance and her love of life. Her outfit features golden fabric reminiscent of beautiful feathers, which perfectly characterize the phoenix figure close to her heart. In this bird's-eye-view photograph, she looks at the Campus from above while striking a majestic pose.
 
Amandine Buchard: This French judo player is an awe-inspiring champion who filled a nation with pride after winning several international and Olympic medals. In addition to practicing her favorite sports, Amandine is also committed to supporting causes that are important to her, such as her recent participation in the Disneyland Paris Pride conference for cast members. Her outfit represents the uniform she wears when she delivers outstanding performances on the tatami mats, as it features a judogi along with an Olympic medal she has won. Determined to stay on top of her game, Amandine participated in a special training session during her evening getaway at Marvel Avengers Campus!
 
Lya Bavoil: Lya Bavoil certainly does not let any obstacle get in her way. At age 22, when she was diagnosed with Asperger syndrome – a hidden disability – she decided to start a powerlifting career. Her strength, courage and determination have earned her many international titles and she has broken records to rank among the world's powerlifting champions, being granted the title of "strongest woman in the world." Lya is now delighted to share her incredible story and convey messages of hope through conferences, which enable her to reach a wider audience and educate people on the challenges she faces (and overcomes!) every day. Taken at Stark Factory this photograph shows Lya proudly standing in front of the impressive Hulkbuster armor, which perfectly exemplifies strength. 
 
Aseel Al Hamad: Aseel Al Hamad has turned her passion into a mission. Ever since joining the Saudi Automobile and Motorcycle Federation in 2017, she has played a key role in significant advancements made for women's rights. She also made history in June 2018 by becoming the first Saudi woman to drive a Formula One Car. Today, she is a well-known and recognized entrepreneur and a source of inspiration for women. The Hero Up! Reveal Your Inner Hero project was an opportunity for Aseel to discover another type of vehicle – the Avengers Deployment Vehicle.
 
Arthur Baucheron: Every day, hundreds of thousands of online viewers can follow Arthur's adventures thanks to the short videos he enjoys posting on social media. Through his inspiring, educational and fun-filled content, Arthur shows his community that anyone can live life to the fullest while having a disability. In this photograph taken in Peggy Carter's office at Stark Factory, Arthur strikes a heroic pose in a stylish costume he has always dreamed of wearing.
 
Angelina Kirsch: Angelina is a TV host and plus-size model who has significantly contributed to changing the face of the fashion industry in Germany. In addition to participating in fashion shows, she uses her recognition and television appearances to promote the acceptance of all body types. Creative teams had a lot of fun selecting special fabrics that would add shimmering effects to her amazing outfit. She is all suited up to go on a mission aboard the majestic Quinjet!
 
Lilia Benchabane: Among her superpowers, Lilia has the incredible ability to make the universe laugh. She certainly knows how to spread her cheerfulness to audiences on social media and in theaters. Lilia also works on changing public perceptions of people with disabilities. To successfully accomplish this mission, she regularly gets on Paris stages to "share the vision of a girl who cannot see." As part of her photoshoot, which took place in front of the Super Diner, she decided to add a cloak to her stage costume as a nod to the iconic accessory worn by Super Heroes.
 
Gessica Notaro: In Italy, Gessica became a symbol of the fight to end violence against women following a personal event that occurred a few years ago. Following her experience, the TV host showed remarkable resilience, resuming work and focusing on achieving her goals. Most recently, she participated in the Italian version of Dancing with the Stars, where she finished in third place. Dressed in a tailor-made red and black outfit, Gessica is waiting to be assigned her next mission in front of the Campus entrance.
 
Stéphane (Cast Member, Rescue Operations SP2S Division): Stéphane joined the resort's rescue operations team 28 years ago and has since risen to become an experienced Team Leader. After suffering a personal accident, he resumed his professional journey in 2021 by taking on a role that was adapted to his abilities. He now continues to ensure the safety of Disneyland Paris guests every day. Through his participation in this project, he represents and shines a light on the importance of cast members from the Safety, Prevention, Rescue & Health teams. He chose to wear a red and blue costume along with a helmet as a nod to his firefighter equipment.
 
Vincent (Disney Heroes Award): Vincent has been a cast member at Disneyland Paris for fourteen years. He now helps create epic moments for guests in Adventureland attractions. A few months ago, Vincent showed impressive skill and courage when he saved a life by administering first aid. His act of bravery earned him a Disney Heroes Award, an exceptional honor that recognizes cast members from across The Walt Disney Company who have taken action to help others.
 
Emilie and Michel (Disney VoluntEARS of 2022): In addition to making dreams come true in their roles as cast members – Emilie, as a General Service department project assistant, and Michel, as a concierge at Disney Newport Bay Club Hotel, also participate in the Disney VoluntEARS program, voluntarily donating their time and talents to make a positive impact on their community. Emilie and Michel had the honor of being granted the title of "Disney VoluntEARS of 2022" at Disneyland Paris, celebrating their unwavering commitment to volunteerism, especially during special events such as World Wish Day and the Pièces Jaunes fundraising campaign. Together, Emilie and Michel have dedicated more than 330 hours of their personal time to the Disney VoluntEARS program. They also joined forces to become a real duo of heroes in front of the camera.
 
John Color: John Color, known to his friends as Jean, may be regarded as a true everyday hero through his work as a doctor in a palliative care department. While he spends a lot of his free time at Disneyland Paris – he particularly loves training with Super Heroes at Avengers Campus – he also contributes to creating magical moments for hospitalized children and their families through his participation in solidarity campaigns alongside Disney VoluntEARS, such as during the Pièces Jaunes campaign. Combining a hero cloak with a coat reminiscent of a lab coat, the costume he wears is a nod to his real-life adventures.
An artistic approach was considered throughout every step of the project – from the creative process and defining photo features, to costume design and the photoshoot location selection – for captivating results which can be seen in the gallery below.
Disneyland® Paris collaborated with photographer Julien Benhamou, a specialist in motion photography, to create dynamic images that accurately capture the unique atmosphere of Marvel Avengers Campus with its spectacular action moments that take place both on the ground and in the air.
Discover the exhibition Hero Up! Reveal Your Inner Hero, as revealed online, and this summer at Disney Hotel New York – The Art of Marvel*. More will be revealed shortly about the surprises awaiting guests to celebrate the first anniversary of Marvel Avengers Campus in the best way possible.

* starting beginning of July, 2023
The Hype Box
Can't-miss news and updates from across the Marvel Universe!