Culture & Lifestyle
Published May 29, 2018
Eat the Universe: Rocket's Trash Omelette
Rocket and Groot visit from Marvel Universe LIVE!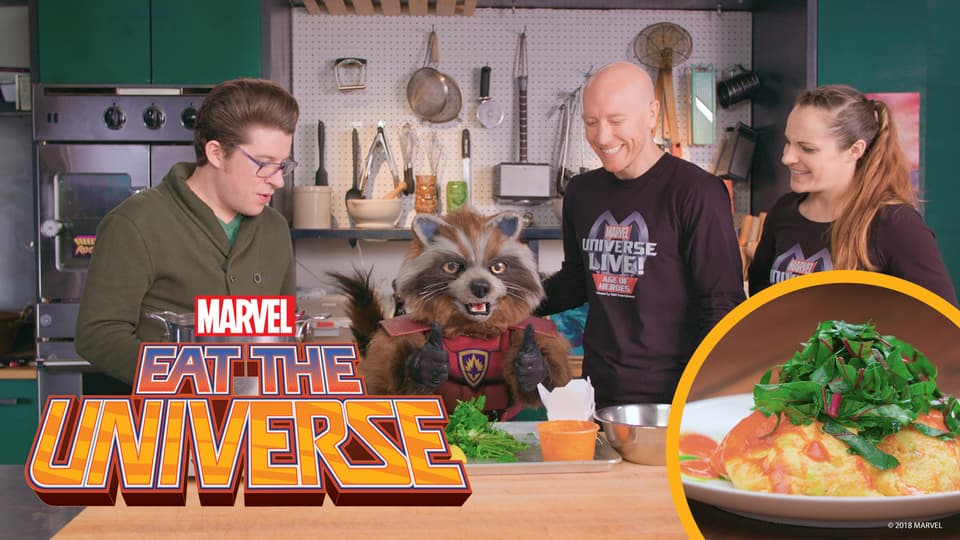 Welcome to a brand-new episode of Marvel's Eat the Universe!
We are ravaging across the universe with the cast of Marvel Universe LIVE, including some very special guests, Rocket and Groot! In this installment, Rocket decides on what to eat, and he chose…trash?
Watch the show above to find out how your host, chef Justin Warner, works his magic to create a leftover-filled omelette, then dive into the recipe below to try it yourself!
—
Raccoons, also known by the scientific community as "trash pandas" are some of the most resourceful critters around. The original crust kids, city-dwelling raccoons live off of whatever they can find, and you can too!
This recipe illustrates that omelettes and stock are two of the greatest ways to turn food that might go to waste in to something delicious. Anything with a bone will make for good stock, and that goes for veggies as well. The omelette is great for using up pre-cooked ingredients, like doggy-bag food from restaurants or leftover takeout.
Ingredients:
-Chicken carcass
-Beet stems and leaves
-Onion skins
-Cilantro
-1/4 cup + 2 Tb vegetable oil
-Olive oil
-Kosher Salt
-Black pepper
-Half a juiced lemon
-Ketchup packets
-Leftovers (we used Indian food, leftover rice, and Chicken Tikka Masala)
-4 eggs
-2 Tb butter
-I am Groot
Special gear:
-coffee filters
Instructions:
Cover the chicken carcass with cold water, add the beet stems and onion skins, and bring to a boil. Cook for about an hour or until the stock has developed a nice aroma.
Meanwhile, in a blender, pulverize the cilantro and 1/4 cup vegetable oil until it is liquefied. Pour this mixture through two coffee filters set in a colander or sieve over a glass bowl. This might take some time, but the good news is that the oil will keep, refrigerated, for weeks (unlike your cilantro).
Roll up the beet leaves and slice in to strips. Season them with olive oil, salt and pepper to taste. Use a rasp grater to zest your lemon half in to the dressed greens, and toss to incorporate.
To make the Indian fried rice, heat the 2 Tb vegetable oil over medium high heat. Add the rice and cook until toasty, stirring frequently. Add the rest of the Indian food and stir until warmed and cooked through.
Beat 4 eggs with 2 ounces of your brand new stock. Season the eggs with salt and pepper.
In a nonstick pan set over medium-low heat, melt the butter and cook until foamy.
Add the eggs and allow to cook for about 30 seconds. Stir the eggs twice using a rubber spatula, then cover and cook for about two more minutes. Inspect the eggs and spread any uncooked egg to the edge of the omelette. Cover and cook another minute.
Slice the omelette in to a bowl and fill with the fried rice mixture. Place a plate over the bowl and invert to make a rice-filled omelette dome of goodness.
Loosen up the ketchup to a pourable consistency using your brand new stock and drizzle on to the omelet. Top with the greens and cilantro oil and devour!
The Hype Box
Can't-miss news and updates from across the Marvel Universe!