Culture & Lifestyle
Published October 25, 2018
How to Thrift Your Own 'Marvel's Runaways' Halloween Costume
The series' costume designer on how you can channel each Runaway with secondhand finds and more!
Did you know, on average, Americans buy $3.4 billion worth of costumes each year? All that money literally trashed by November 1 is especially frightening for Brentwood teens cut off from their evil parents' cash flow.
In Season 2 of "Marvel's Runaways," premiering all 13 episodes on December 21 exclusively on Hulu, Alex, Nico, Karolina, Chase, Gert, and Molly have their homes (and evil parents) behind and now have to learn how to live on their own. As they scavenge for food, search for shelter, and take care of one another, our kids begin to realize, for better or worse, they're stuck with each other. Just because they're on their own with no roof and no generous allowance doesn't mean they skimp out on all the traditions and social activities. They now have to be resourceful, eco-conscious, and stretch their dollar.
While on the set of "Marvel's Runaways," Marvel.com got the opportunity to talk to Samantha Rattner, the series' costume designer, on how you can pull together an individual or group Halloween costume look in a super easy and low waste fashion—all using items you most likely already have in your closet or can easily shop secondhand at thrift stores like our Runaways!
Marvel.com: How much of the comic books did you pull from while you were thinking about season two?
Samantha Rattner: I try to pull from the comics as much as I can and particularly with Nico this season. She's got a lot of epic moments, so we made some of her costumes from scratch to really reference the comics. But also, we do it with Alex's t-shirts. [We] try to pull some of the graphics that you might see in the comics and put them on Alex's t-shirts. Then inspire from the other characters little pieces here and there. The finale in particular, you'll see are very comic book-inspired looks.
Marvel.com: When we look at the kids, they're leaving the Westside. Their wallets, debit cards and everything in their closets… Season Two picks up really fast. How do they evolve throughout the season?
Samantha Rattner: Last season during Season One, we saw them and the parents both living in this kind of affluent world of Brentwood and Atlas Academy. Now, there's this stark contrast between that world with The PRIDE and our kids who are trying to live on the street and figure out how they're going to survive.
Lucky for me, they come across the hostel, which is such a cool set. We talked, Josh [Schwartz] and Stephanie [Savage] and I, in the beginning about it being this magical closet like a Narnia of sorts where they could find any item. From turn of the century, all the way to the 90s. From punk kids who were squatting in the hostel or the wealthy family who once lived in this mansion. So that kind of gave me free reign in terms of vintage-inspired and actually some vintage pieces to use on the kids. We can't use a lot of real vintage because there's so much stunts in the show that we need at least four or five of a lot of the costumes. We need to look for things that are out there in the world that anybody can buy. But, they're actually vintage looking, so…
So how does a young adult tight on green navigate this upcoming holiday? Here's what Samantha Rattner details her vision this season and what she suggests in pulling looks for each of our Runaways: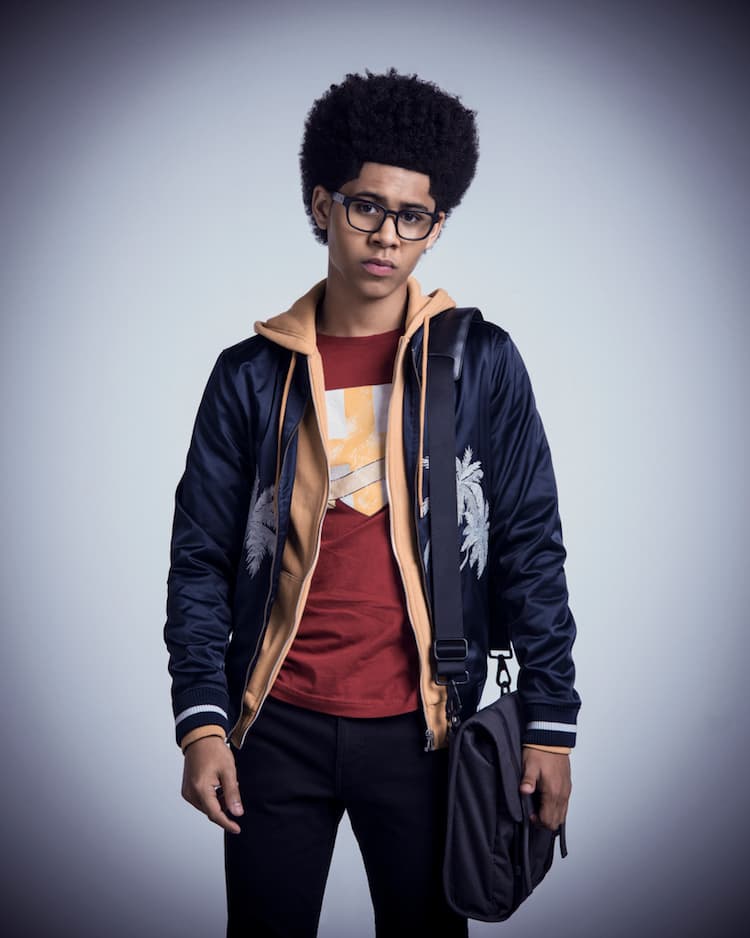 Alex is our cool nerd. This season, he's really inspired by the 70s in particular, both in color palette and also the shapes that he's wearing. He's got a little splash of the 80s in there too, but he's heavily influence by the 70s this year. Rhenzy [Feliz] can really pull it off.
To emulate Alex's look this season, Samantha recommends the following key pieces: 
Cool graphic t-shirt
Some great checkered Vans or a colorful sneaker
Always some sort of layer -- whether that be a button down shirt with a fun print on it, or...
Cool bomber jacket
Finish the look with the glasses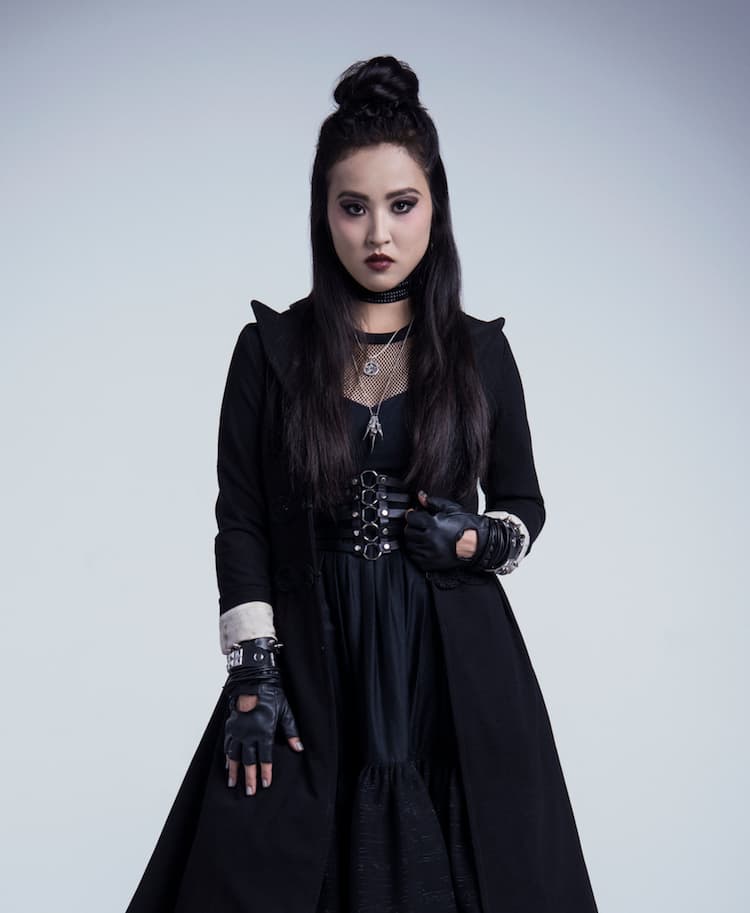 Then, we have Nico who is our goth witch. In the comics, she has some menswear-inspired looks. She also has some things that look really Victorian. I pulled from the 20s but also kind of like 80s punk and a little bit of mod. She has so many great eras that you can reference for her.
If you're looking for Nico: 
Black, black, black, and burgundy
An oversized men's shirt with a tie
A little leather jacket or a Victorian-looking jacket with a big puffy sleeve
Old long skirt and some fishnets
Tip: rip up the skirt and put holes in the fishnet!
Add some lace details
Chokers are a must
Big chunky combat boots
All the spooky accessories you can find
Tip: if it's got a claw or a skull, it's Nico.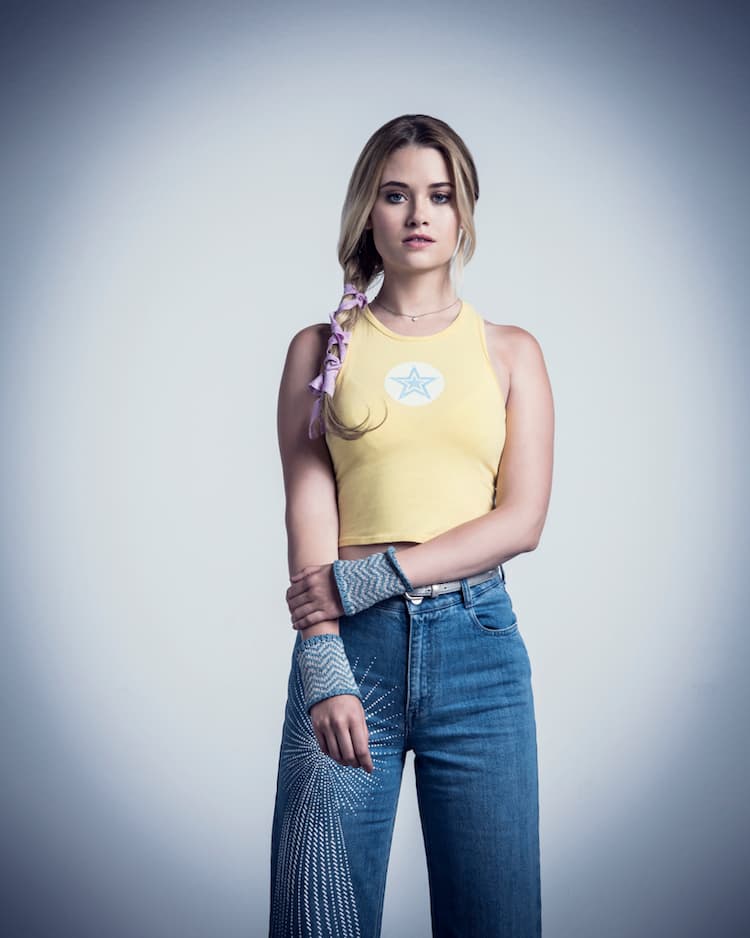 Karolina is very 60s/70s boho. Think a lot of high-waisted, wide-legged jeans, some crocheted pieces, embroidery, cool tulle belts, some great boots.
For Karolina, when you go into a thrift store, look for:
Cool, flowy kimono
Little peasant top
Great high-waisted jeans
Tip: you really want to have movement and stick to those pale colors. Maybe a little sparkle is always fun for her too to get that glow going.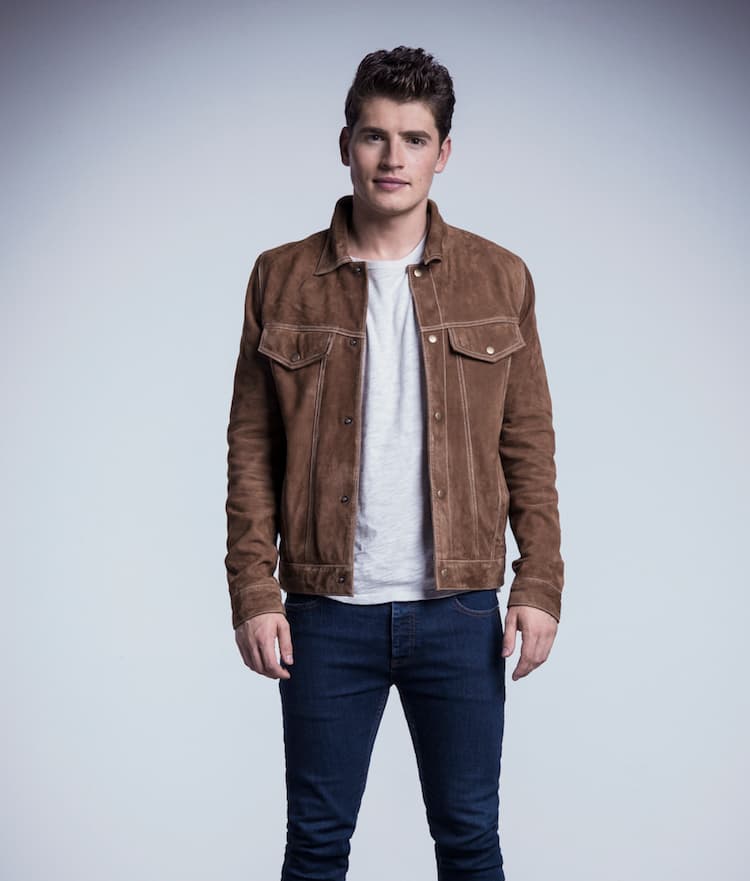 Chase goes from being our preppy jock to being kind of rugged and a little bit military-inspired this season. A lot of cargo pants. He has this really amazing set of coveralls, mechanic's coveralls that he wears when he's working on the car. His stuff is definitely a lot more distressed and rugged. It's really fun to see that contrast from old Chase, who was so clean-cut and preppy.
Samantha recommends hitting up your Army or Navy store: 
Get some cool cargo pants 
Pair with a waffle henley shirt
An army jacket or a denim jacket
Rugged brown boots
Tip: you can beat them up. Use some sandpaper, some shoe polish. Get them looking real dirty like you're on the run.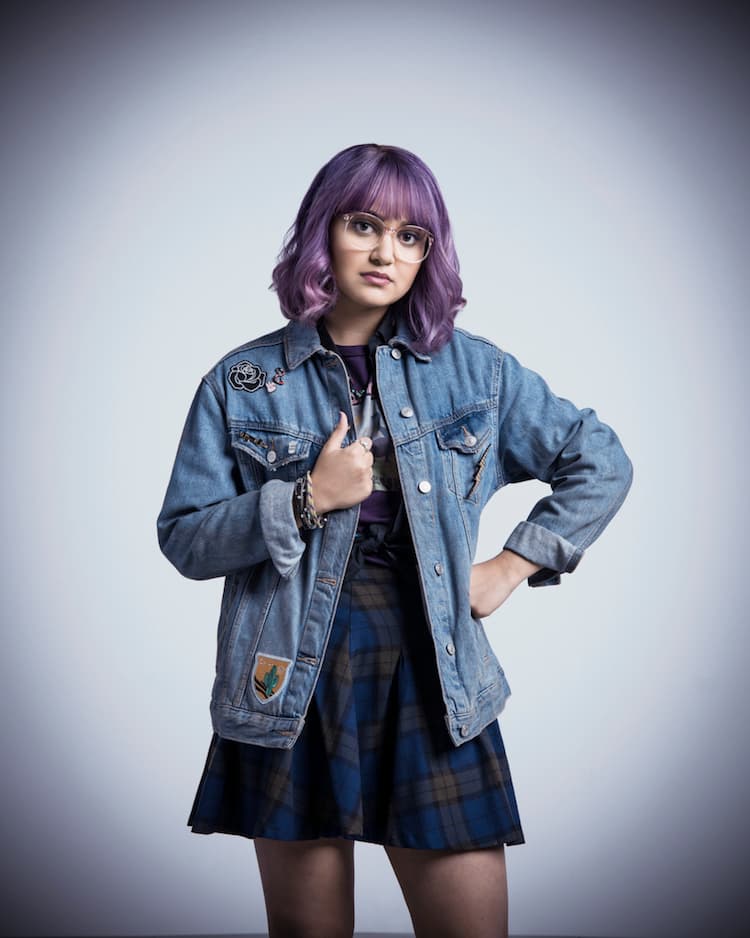 And then we have Gert. Love me some Gert. She mixes a lot of color and texture. She's got a little bit of a 50s feel, but then also heavily influence by the 80s and 90s as well. She's got this great punk rock jacket that she finds in the house this season that we bought a vintage/old men's motorcycle jacket. I painted it myself and made some buttons for it, kind of made it unique for her.  The back of the jacket reads "bite the hand that feeds."
For Gert, be sure to snag some:
Classic pair of jeans or a fun high-waisted pair of striped or checkered pants
Mix match a little striped tank top with a polka dot top or look for blouses from the 50s
Leather jacket that she rocks this season
Tip: grab some white spray paint. Make your own stencils out of some cardboard and go at it. White marker, white paint, whatever you want to do. Get some buttons, throw them on there. Gert loves some flair.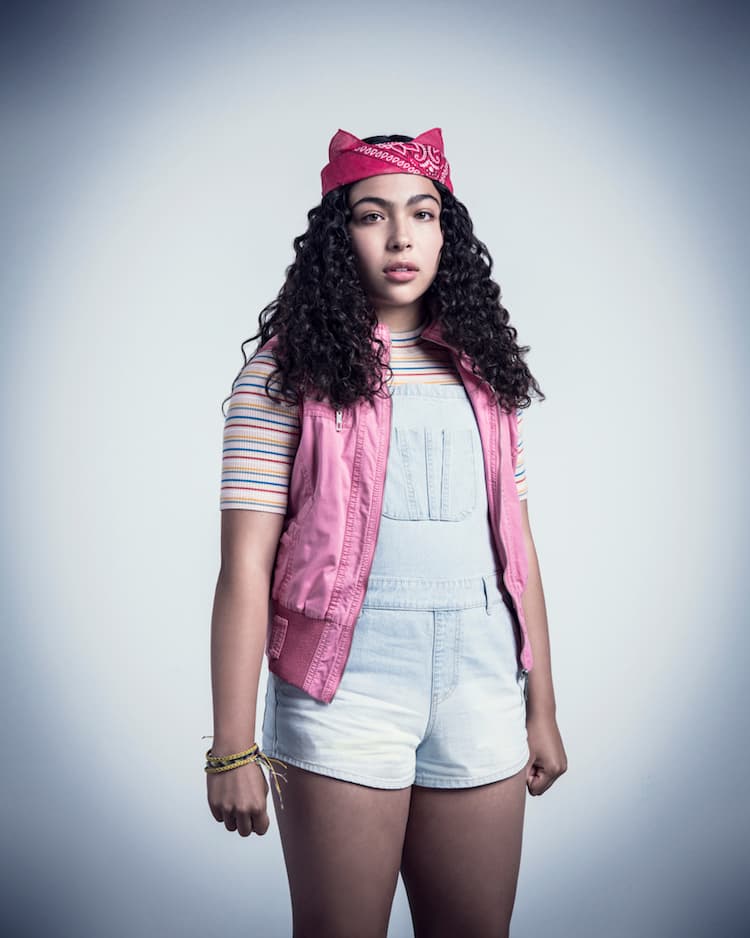 Molly—she's kind of a little bit of a tomboy, a little sporty. We made her this really sweet 80s-inspired tracksuit this season that she wears when she's doing some vigilante justice. She also has a really amazing cat hat that we made this year that looks like she took a beanie and cut some eyeholes out of it. A super hero mask of sorts. She's also a little more 80s/90s in her vibe. A lot of old school Reeboks and fun stuff like that. Love Molly in some overalls. 
For Molly, you can't go wrong with:
 Some colorful stripes 
A good pair of overalls or
A tracksuit
Converse sneakers - you can scribble on them yourself and make little doodles to personalize them as your own.
Tip: don't forget to rub some old on them and you'll look like a Runaway!
And of course, you need the cat hat! You can't be Molly without a cat hat.
Tip: you can DIY knit your own cat hat and definitely cut your own eyeholes in it!
Tweet us your "Marvel's Runaways" looks using the hashtag #MarvelsRunaways!
Catch up on the first season of "Marvel's Runaways" streaming on Hulu now! Be sure to follow @MarvelsRunaways on Twitter and like the official "Marvel's Runaways" Facebook page!
The Hype Box
Can't-miss news and updates from across the Marvel Universe!