Culture & Lifestyle
Published October 4, 2022
Get Lost in the Marvel Universe with 'Marvel Mazes'
Creator Sean C. Jackson talks about the new book featuring 30 incredible Marvel mazes, plus gives an inside look at how a Marvel maze is made.
"All of these mazes have specific finds for readers of the comics," promises Marvel Mazes creator Sean C. Jackson. "Researching for this project was a blast."
Marvel Mazes, on sale now from Chronicle Books in partnership with Marvel, features 30 gorgeously-detailed mazes that take wanderers on a super-powered journey of the Marvel Universe. You can now get lost in Doctor Strange's Sanctum Sanctorum, wander Wakanda, Asgard, or Doctor Doom's Castle. Or, if you need a break from Earth, even follow the Guardians of the Galaxy to the far reaches of Knowhere, or help the Avengers fight the Skrulls aboard their flagship. Each interactive maze comes with a unique mission too—from locating key objects in each landscape, to spotting Easter eggs on each page.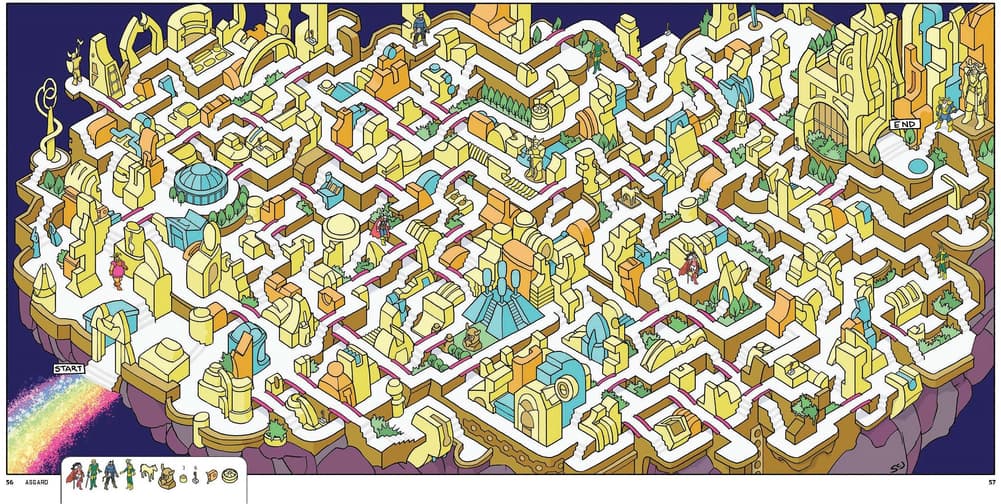 Sean C. Jackson took us inside some of Marvel Mazes' locations and scenes, and even offered a peek at his maze-making process.
How does someone get into the (very) cool job of creating mazes?
SEAN C. JACKSON: I had been drawing mazes—3D mazes with steps and buildings—since I was a kid. A few years ago, I pitched my mazes to Chronicle Books. They published my first book, From Here to There: A Book of Mazes to Wander and Explore in 2017. My editor at Chronicle also pitched my second book, Star Wars Mazes, and the new book, Marvel Mazes. Now I do specialized mazes for games, jigsaws and magazines. While working on the books, I have also been playing with different mediums and themes to expand creatively.
This book takes readers all over the Marvel Universe, with even a maze or two in the Multiverse. Are you also a longtime fan of Marvel Comics?
SEAN C. JACKSON: In the mid-1980s, my two best friends freshman year were huge comics fans. They turned me on to the X-Men, the New Mutants, and Daredevil, as well as DC titles like TEEN TITANS and SWAMP THING. I mostly followed the artists, so, John Byrne, Bill Sienkiewicz, Frank Miller, Barry Windsor-Smith, Arthur Adams. This was a great time to be into comics and a lot of great books dropped around then. With a subscription to Marvel Unlimited, I was able to catch up on some truly fantastic storylines I had missed too. Most notable were PLANET HULK, HAWKEYE (2012), DOCTOR STRANGE (2015), and MS. MARVEL (2014).
When making Marvel Mazes, I kept to characters from the Marvel Cinematic Universe, plus X-Men and the Fantastic Four. But I knew there would be plenty inside for serious fans of the comics.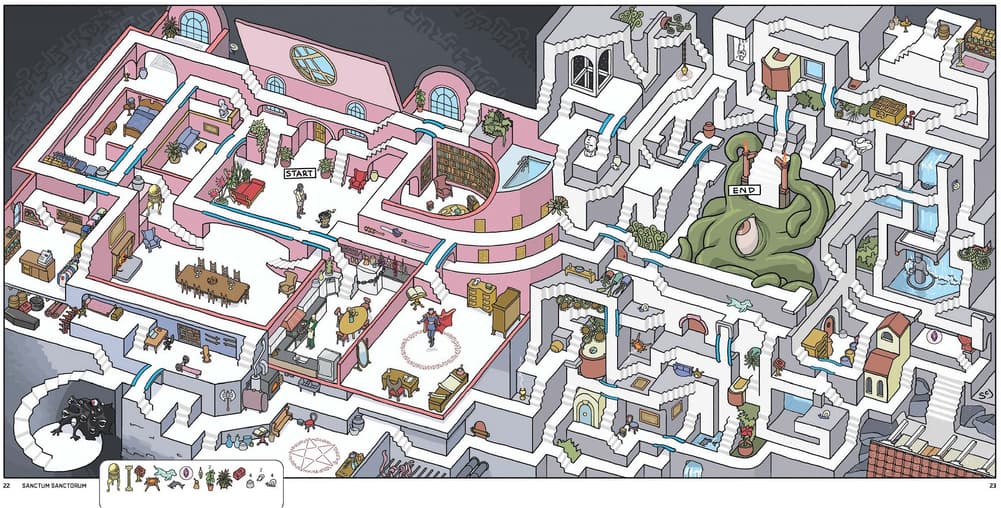 Were there any particular mazes that were uniquely challenging (or fun) to build?
I become quite invested in all the mazes as I'm working on them. For mazes like "Planet Hulk" or Ms. Marvel's "Jersey City," I enjoyed including as many of the locations from the comic runs as possible. Mazes like "Ego Planet" and "Knowhere" are fun because they are such crazy ideas that have been interpreted by so many Marvel artists before. The interior mazes of walls and floors were a new challenge for me. Doctor Strange's "Sanctum Sanctorum," with the interior of the house on the left flowing into the Escher style staircases on the right was particularly fun. Working on the Sanctum, I discovered solutions for the interiors I later used for "Xavier's School of Gifted Youngsters," "The Baxter Building," and "Castle Doom."

"Galactus" was fun and challenging. The idea of paths wrapping and climbing cylindrical machine parts started with some early doodles, but pulling it together with coherent perspectives was tricky.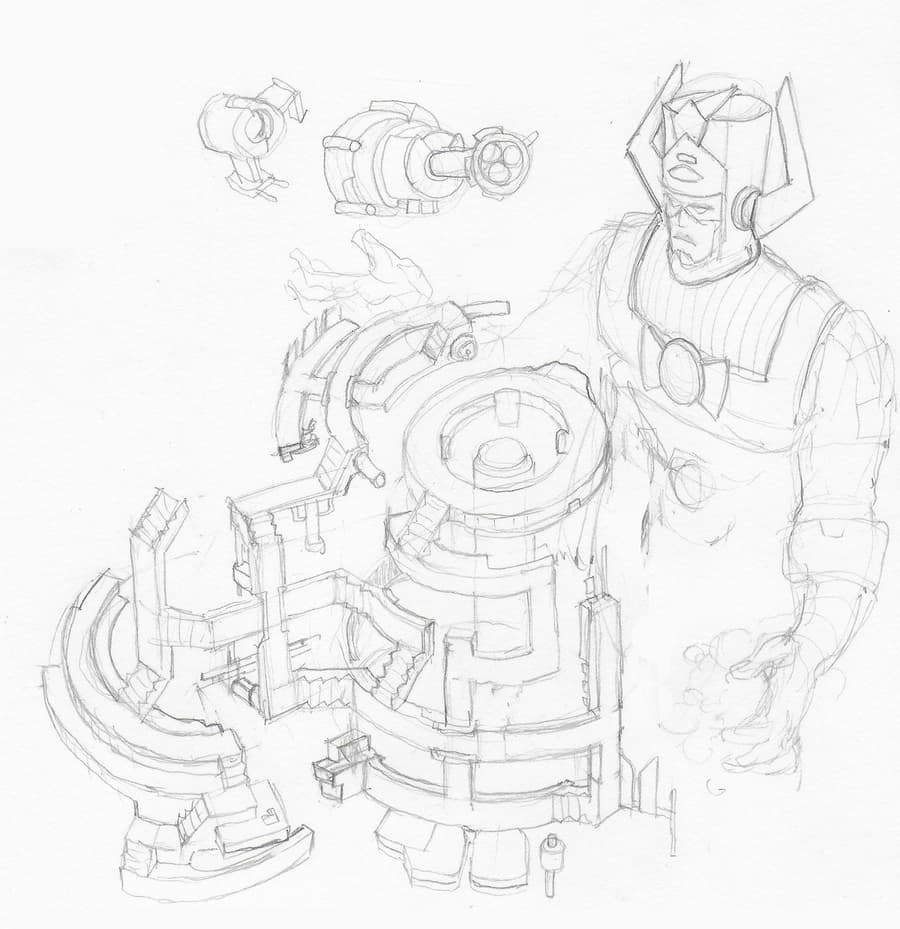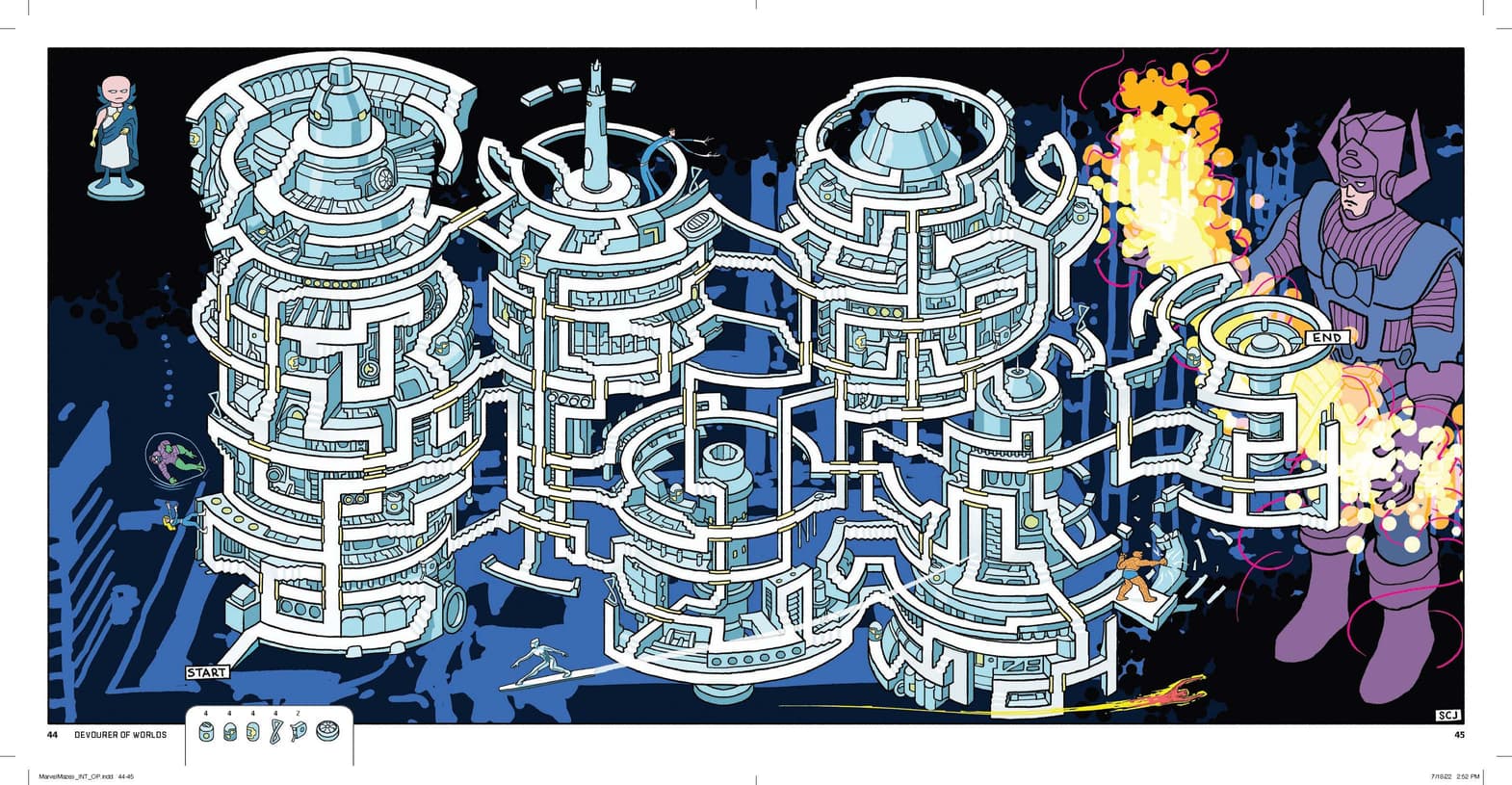 Any secrets you'd care to share about the mazes?
The Hawkeye maze includes the "Tracksuit Mafia Guys," the Dodge Challenger, Kate Bishop and her purple VW Beetle, Pizza Dog and lots of pizza to find. Ms. Marvel has her house, school, mosque, Circle Q, alligator-infested sewers, Lockjaw, and dozens of the Inventor's robots.
And all the mazes have an identical hidden item as well!
Who are some of the classic creators and storylines you're drawing from?
About 75% of the mazes are drawn from specific runs, several from older classics. Two mazes come from the "Avengers: Kree/Skrull War" storyline. The X-Men maze in downtrodden New York City with Sentinels is from "Days of Future Past." My Galactus maze was based on his first appearance in FANTASTIC FOUR (1961), while the Baxter Building maze is solidly inspired by a John Byrne cutaway from FANTASTIC FOUR #249. "Xavier's School" is from the Chris Claremont era, 1983, with a separate side story with Magik and Kitty Pryde exploring the mansion. Other mazes in the book, like "Shuri's Lab" and "The Spider-Verse," are from more recent storylines.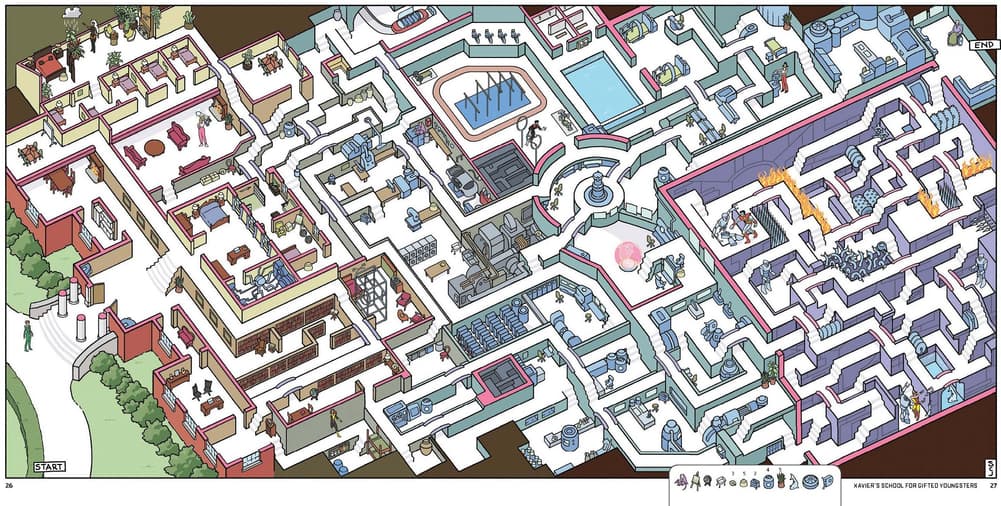 The Hype Box
Can't-miss news and updates from across the Marvel Universe!