Culture & Lifestyle
Published July 1, 2020
Marvel Mission Recap: Baby Groot
I am groot.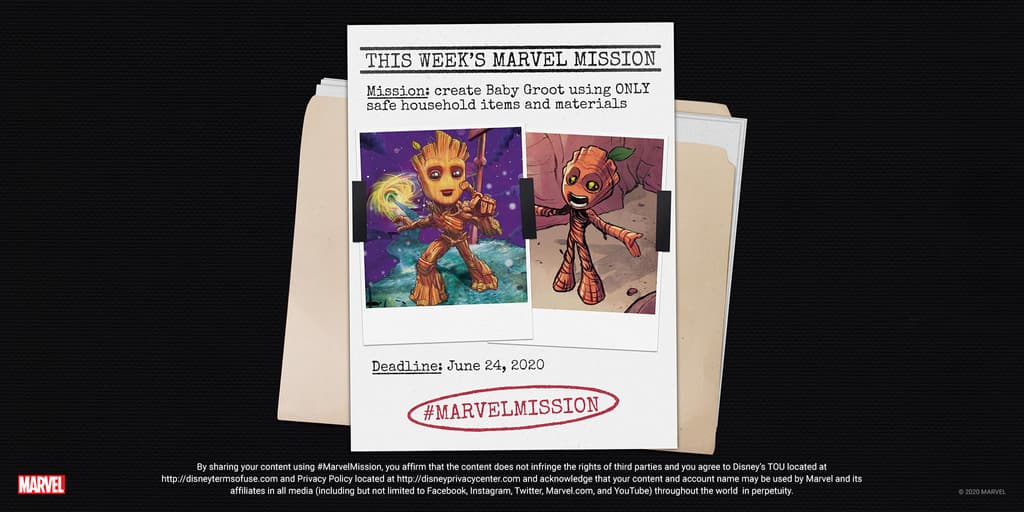 Congrats agents — it appears that many of you successfully completed the latest Marvel Mission!
Tasked to bring Baby Groot to life using only safe household products and materials, the results we saw were outstanding and would make Rocket Racoon himself jealous of what was accomplished. There were so many different materials used for this mission, including foam, felt, clay, embroidery, paper bags, and so much more! 
While it was tough to narrow down all the submissions we received, we've rounded up some of our favorites that we saw across social media. Take a look at the post below, and start brainstorming what you could use for the next Weekly Marvel Mission!
Though this week's Marvel Mission might be over, there's still time for you to make your own Baby Groot! Here's an easy Groot how-to if you're looking to make one yourself:
Since you probably don't have these lying around the house, it's time to go find some sticks! Any size sticks will do, just be sure you know how big you want to make your Baby Groot. 
Layout the stick-skeleton for Groot, using sticks for his legs, arm, and even one for the body. 
Using clay (or foam, or whatever else moldable you might have) create the shape of Groot's body and head, attaching them to the sticks. 
Using a toothpick, create texture on Groot's body in the clay. 
Attach any other sticks or woodsy items you might have. Or even put Baby Groot in a pot! 
Venturing outside again, if you grab some small leaves, attach those to Groot's body (especially on his head!). 
Add any final finishing touches to Groot, and in the words of Groot, "I am Groot." 
The possibilities are endless as to what you can create, so go ahead and assemble whatever craft supplies you might need — and be sure to share them on social with the hashtag, #MarvelMission.
Stay tuned for the next Marvel Mission! 
Want to stay on top of everything in the Marvel Universe? Follow Marvel on social media—Twitter, Facebook, and Instagram—and keep watching Marvel.com for more news!
The Hype Box
Can't-miss news and updates from across the Marvel Universe!