Culture & Lifestyle
Published May 12, 2023
The New Marvel Books Hitting Stores in May
The timelines of Spider-Man 2099 and Araña collide in prose novel 'Dark Tomorrow,' plus your illustrated guide to the Spider-Verse.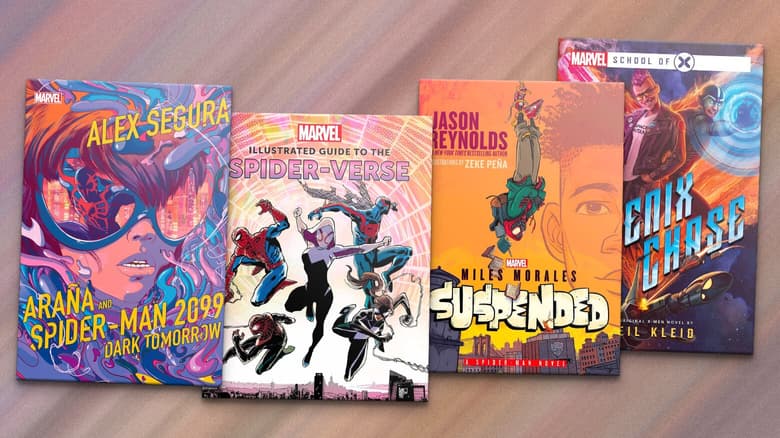 See what new and upcoming novels and guidebooks from the Marvel Universe are coming to bookstores near you!
This May, it's the Spider-Verse (and its many heroes) in the spotlight! Follow Gwen Stacy AKA Ghost-Spider as she guides you on an illustrated tour of the Spider-Verse. Then, the year 2099 meets Araña, and Araña meets the future Spider-Man—get to know Miguel O'Hara in prose novel Araña and Spider-Man 2099: Dark Tomorrow.
Read about each new May release here, then order or pick up in stores near you!
Available now! Discover the dramatic diversity of the Spider-Verse in this deluxe, fully illustrated volume from Insight Editions!
Take a tour through the colorful worlds of Marvel's Spider-Verse in this comprehensive guidebook detailing the lives of its many web-slingers. Follow Gwen Stacy—better known as Ghost-Spider—as she jumps between dimensions visiting the countless friendly (and some not-so-friendly) neighborhood Spider-folk whom she has met in her adventures across the Marvel Multiverse. From Peter Parker to Miles Morales, from Spider-Ham to Spider-Man 2099, more than 60 of Gwen's iconic wall-crawling colleagues are profiled here, each illustrated with amazing original art. Thrilling and vibrant, this arachnophile's treasury is a must-have collectible for every Spider-fan!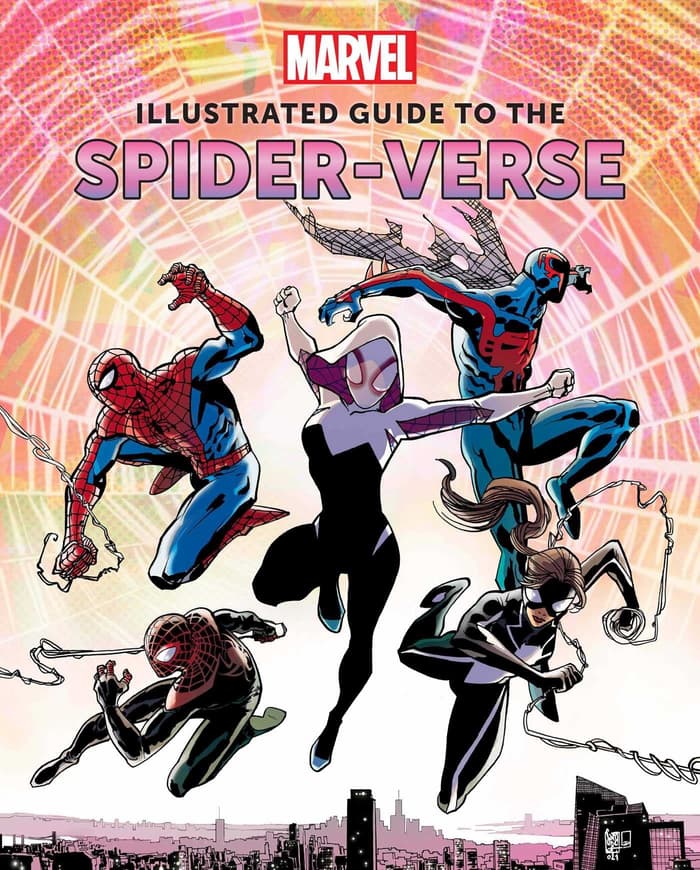 [RELATED: Read an Excerpt from 'Miles Morales Suspended: A Spider-Man Novel']
From #1 New York Times bestselling author Jason Reynolds and acclaimed illustrator Zeke Peña comes the high-flying sequel to groundbreaking young adult novel Miles Morales: Spider-Man! In Miles Morales Suspended: A Spider-Man Novel, follow the adventures of Miles Morales, the unassuming, everyday kid who just so happens to be Spider-Man.
Miles Morales is still just your average teenager. He has unexpectedly become totally obsessed with poetry and can never seem to do much more than babble around his crush. Nothing too weird. Oh! Except, just yesterday, he used his Spidey super-powers to save the world (no biggie) from an evil mastermind called The Warden. And the grand prize Miles gets for that is…
Suspension.
But what begins as a long boring day of in-school suspension is interrupted by a little bzzz in his mind. His Spidey-Sense is telling him there's something not quite right here, and soon he finds himself in a fierce battle with an insidious…termite?! His unexpected foe is hiding a secret, one that could lead to the destruction of the world's history—especially Black and Brown history—and only Miles can stop him. Yeah, just a typical day in the life of your friendly neighborhood Spider-Man.
Read an exclusive excerpt from Miles Morales Suspended: A Spider-Man Novel, then order or pick it up in bookstores now.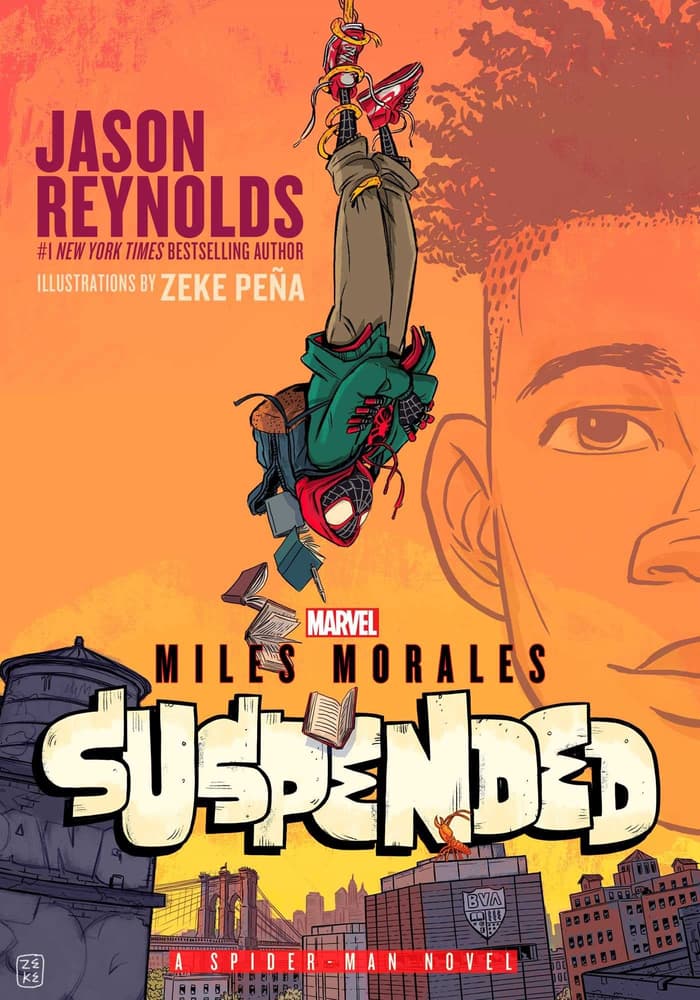 Araña is a Spider-Girl lost in time. Miguel O'Hara is a Spider-Man who's lost his way. Together, they're our only hope.
[RELATED: Araña and Spider-Man 2099 Go on a Cross-Time Team-Up]
Alex Segura, the award-winning author of Secret Identity and Star Wars Poe Dameron: Free Fall, brings two fan-favorite Spider-Verse heroes together in prose for the first time. And it all kicks off in Araña and Spider-Man 2099: Dark Tomorrow.
Araña. It means spider—and it also means Anya Corazon. She was a normal Brooklyn teenager with normal Brooklyn problems—until a few months ago, when she was gifted with amazing spiderlike abilities, from super-strength and heightened agility to web-slinging. A powerful mentor guided her on how best to use these new powers for good—until Anya lost him, just as she lost her mother, just as she's about to lose everything she knows.
Nueva York. It is the future of New York City, the home of the Spider-Man of 2099, and where Anya finds herself stranded, tossed across the century. And Nueva York's Spider-Man, billionaire CEO Miguel O'Hara, is Araña's only hope of getting home. But Araña and Spider-Man are about to discover that the enemies they face have dark and powerful connections to both heroes—and that this unlikely team across time will need to save much more than each other…
Read an exclusive excerpt from Araña and Spider-Man 2099: Dark Tomorrow, out in bookstores now.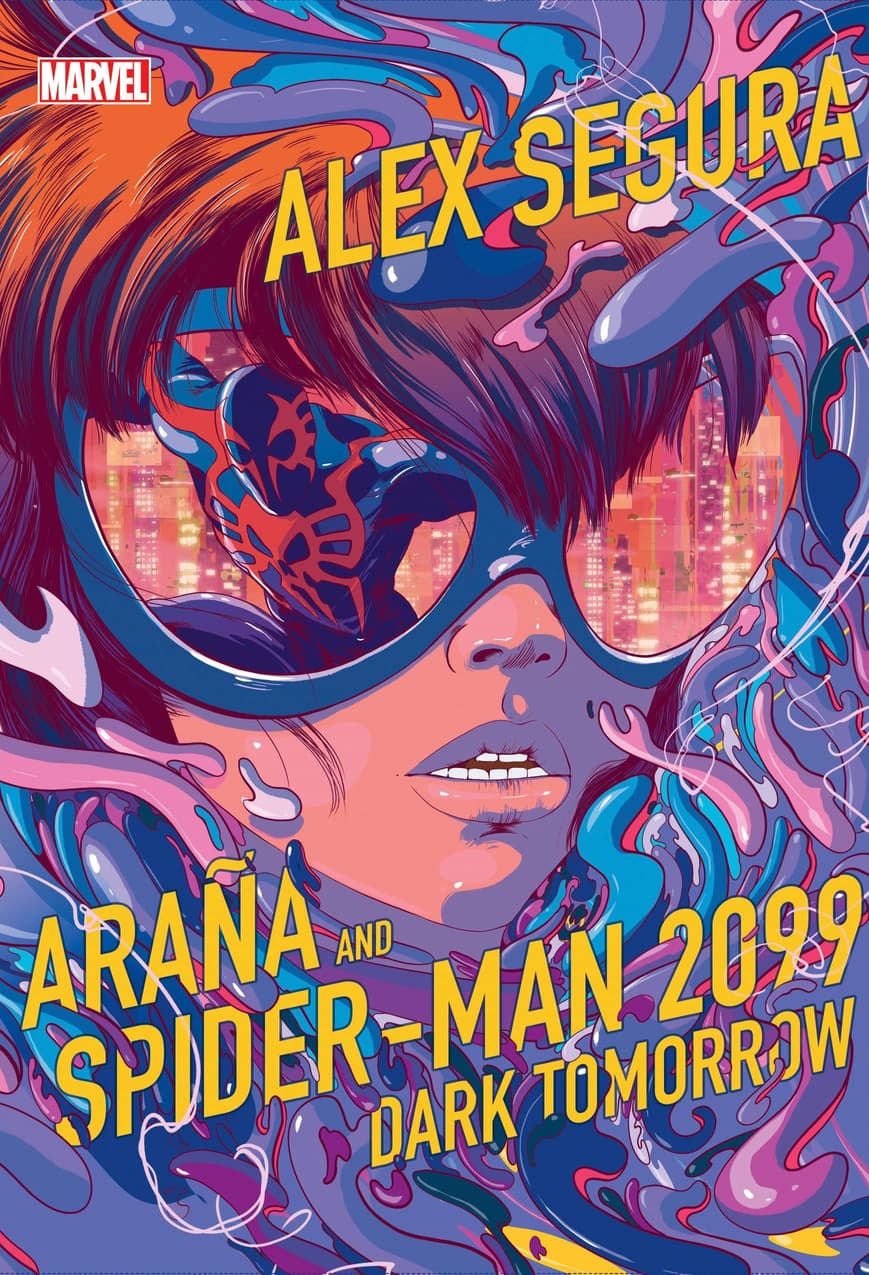 From Aconyte Books: The X-Men confront space pirates and intergalactic war in this stunning space adventure featuring Kid Omega and a quest for the legendary powers of the Phoenix Force.
Kid Omega's latest scheme to set up his own mutant school goes horribly awry when mysterious aliens called the Remaining kidnap his "students," demanding a rare Phoenix Egg—source of the awesome Phoenix Force—in exchange for their lives. Wildly out of his depth, Kid Omega turns to Cyclops for help. He gets a ride with space pirates the Starjammers, and someone more responsible: Cyclops' brother Alex "Havok" Summers. Their mission: rescue the students, recover the Egg, save the day. But it won't be easy. Galaxy-hopping sleuthing, heists, and action lead the X-Men to clues that reveal a monstrous plot using the Phoenix Egg to ultimately conquer the universe.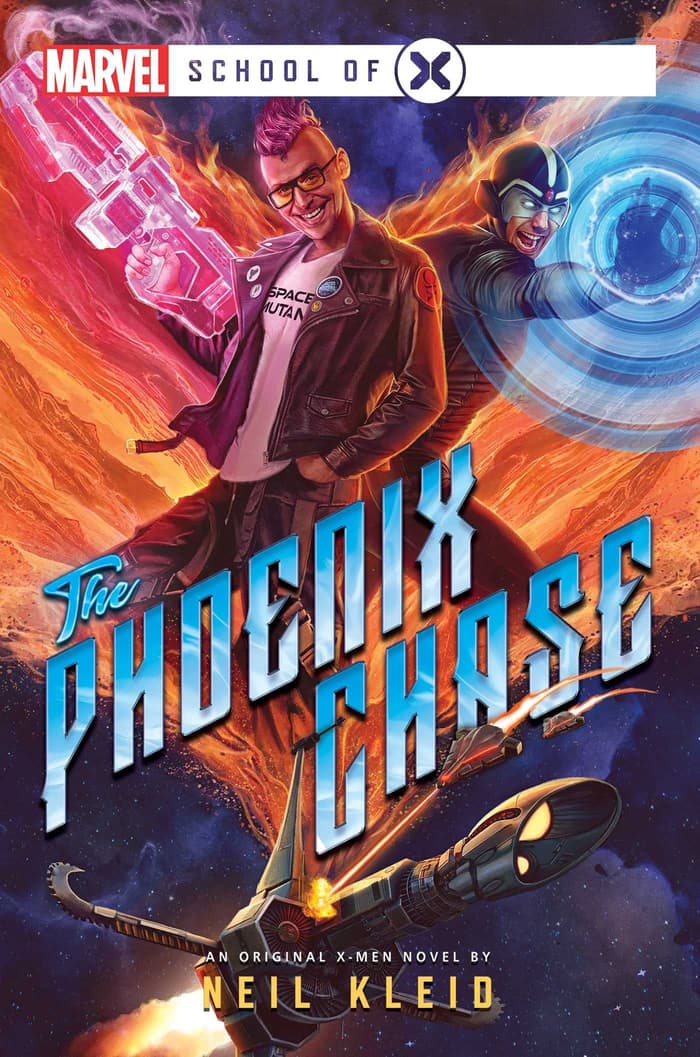 Head to your nearest bookstore this month to pick up any of these new releases!
The Hype Box
Can't-miss news and updates from across the Marvel Universe!