Culture & Lifestyle
Published June 9, 2023
The Spider-Verse Stories to Read Right Now
Swing into the Spider-Verse with all-new stories, graphic novels, early readers, and guidebooks available in stores now!
New and upcoming novels and guidebooks from Marvel's mighty Spider-Verse are hitting bookstores near you!
This June, the Spider-Verse (and its many heroes) swing into the spotlight! Follow Gwen Stacy AKA Ghost-Spider as she guides you on an illustrated tour of the Spider-Verse. Then, the year 2099 meets Araña, and Araña meets the future Spider-Man—get to know Miguel O'Hara in prose novel Araña and Spider-Man 2099: Dark Tomorrow. Plus, more spider-stories for young readers, a new addition to the Miles Morales: Spider-Man saga, and much, much more.
Read about our new Spider-Verse stories below, then order or pick up each one in bookstores near you!
Available now! Discover the dramatic diversity of the Spider-Verse in this deluxe, fully illustrated volume from Insight Editions!
Take a tour through the colorful worlds of Marvel's Spider-Verse in this comprehensive guidebook detailing the lives of its many web-slingers. Follow Gwen Stacy—better known as Ghost-Spider—as she jumps between dimensions visiting the countless friendly (and some not-so-friendly) neighborhood Spider-folk whom she has met in her adventures across the Marvel Multiverse. From Peter Parker to Miles Morales, from Spider-Ham to Spider-Man 2099, more than 60 of Gwen's iconic wall-crawling colleagues are profiled here, each illustrated with amazing original art. Thrilling and vibrant, this arachnophile's treasury is a must-have collectible for every Spider-fan!
From DK Books! Celebrate Spidey's 60th Anniversary with this new edition Character Encyclopedia!
Spider-Man is one of the world's best-loved and most recognized Super Heroes, the spectacular star of the comic books. Released to coincide with Spidey's 60th anniversary in 2022, the Spider-Man Character Encyclopedia New Edition profiles more than 200 timeless Spidey characters in alphabetical order. Packed with original Marvel artwork and fascinating info, it's the perfect introduction to the web-slinger's amazing world.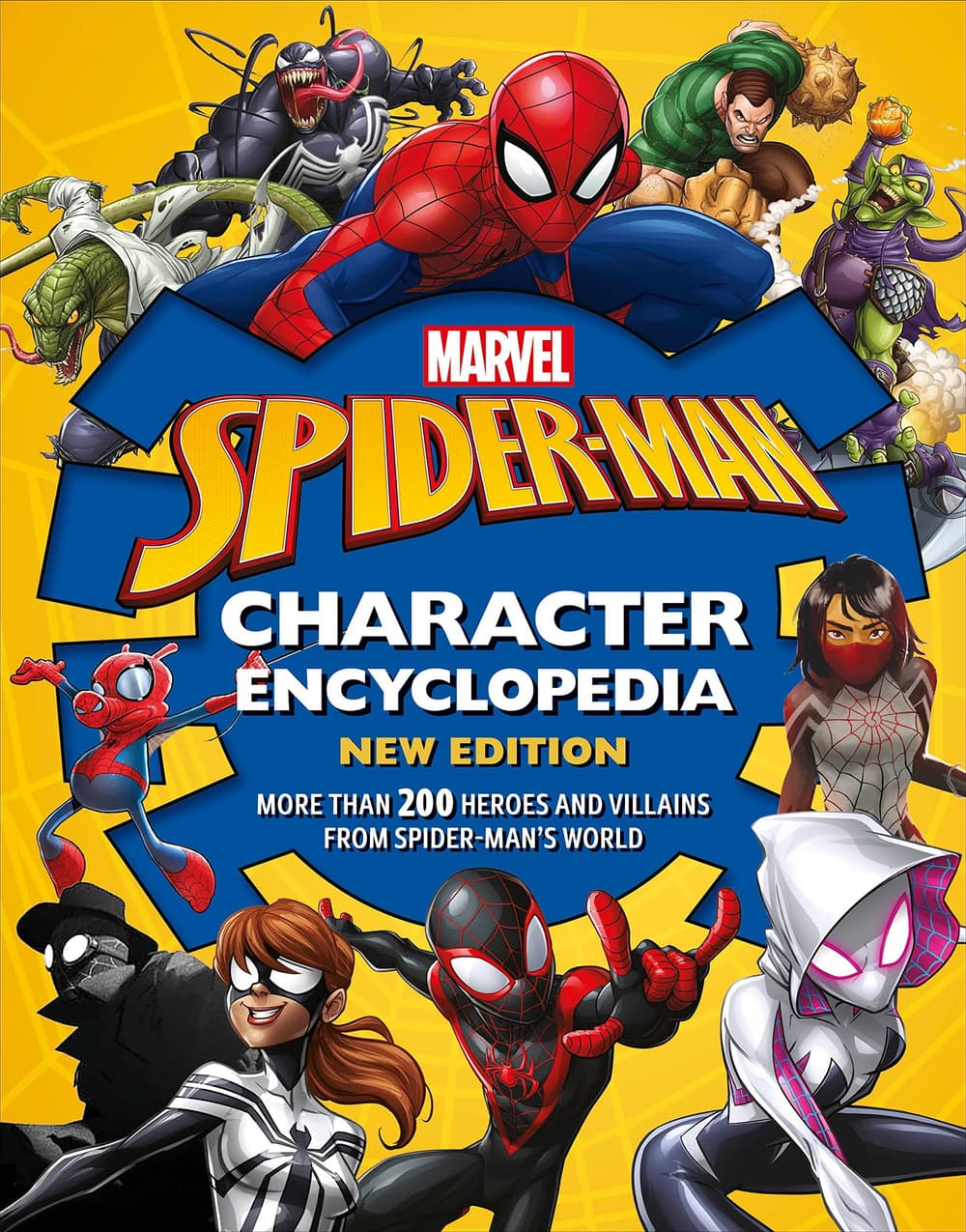 [RELATED: Read an Excerpt from 'Miles Morales Suspended: A Spider-Man Novel']
From #1 New York Times bestselling author Jason Reynolds and acclaimed illustrator Zeke Peña comes the high-flying sequel to groundbreaking young adult novel Miles Morales: Spider-Man! In Miles Morales Suspended: A Spider-Man Novel, follow the adventures of Miles Morales, the unassuming, everyday kid who just so happens to be Spider-Man.
Miles Morales is still just your average teenager. He has unexpectedly become totally obsessed with poetry and can never seem to do much more than babble around his crush. Nothing too weird. Oh! Except, just yesterday, he used his Spidey super-powers to save the world (no biggie) from an evil mastermind called The Warden. And the grand prize Miles gets for that is…
Suspension.
But what begins as a long boring day of in-school suspension is interrupted by a little bzzz in his mind. His Spidey-Sense is telling him there's something not quite right here, and soon he finds himself in a fierce battle with an insidious…termite?! His unexpected foe is hiding a secret, one that could lead to the destruction of the world's history—especially Black and Brown history—and only Miles can stop him. Yeah, just a typical day in the life of your friendly neighborhood Spider-Man.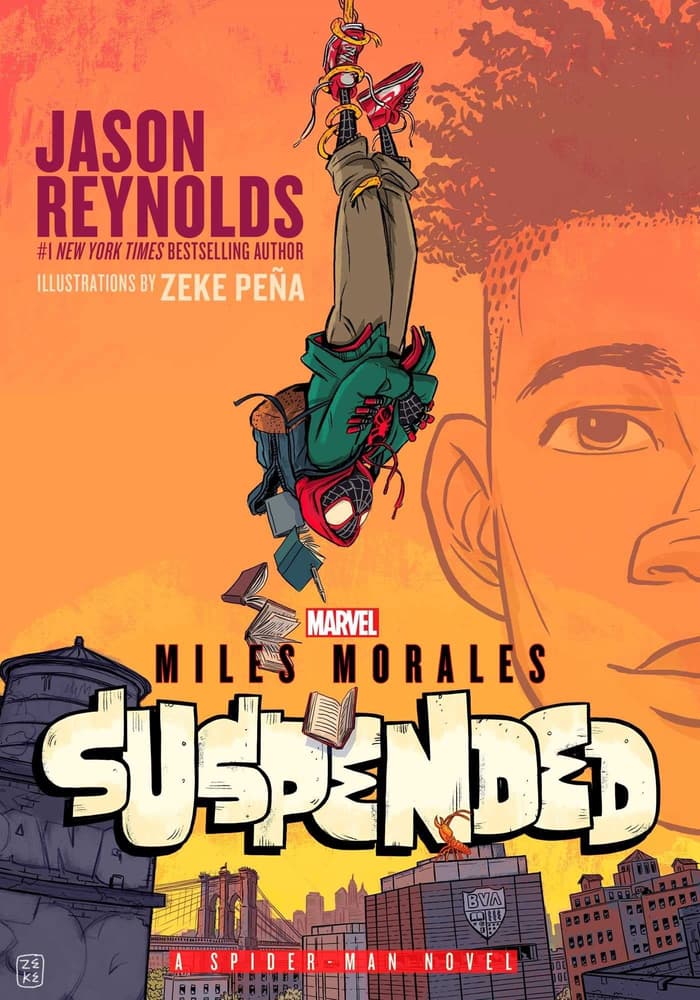 Araña is a Spider-Girl lost in time. Miguel O'Hara is a Spider-Man who's lost his way. Together, they're our only hope.
[RELATED: Araña and Spider-Man 2099 Go on a Cross-Time Team-Up]
Alex Segura, the award-winning author of Secret Identity and Star Wars Poe Dameron: Free Fall, brings two fan-favorite Spider-Verse heroes together in prose for the first time. And it all kicks off in Araña and Spider-Man 2099: Dark Tomorrow.
Araña. It means spider—and it also means Anya Corazon. She was a normal Brooklyn teenager with normal Brooklyn problems—until a few months ago, when she was gifted with amazing spiderlike abilities, from super-strength and heightened agility to web-slinging. A powerful mentor guided her on how best to use these new powers for good—until Anya lost him, just as she lost her mother, just as she's about to lose everything she knows.
Nueva York. It is the future of New York City, the home of the Spider-Man of 2099, and where Anya finds herself stranded, tossed across the century. And Nueva York's Spider-Man, billionaire CEO Miguel O'Hara, is Araña's only hope of getting home. But Araña and Spider-Man are about to discover that the enemies they face have dark and powerful connections to both heroes—and that this unlikely team across time will need to save much more than each other…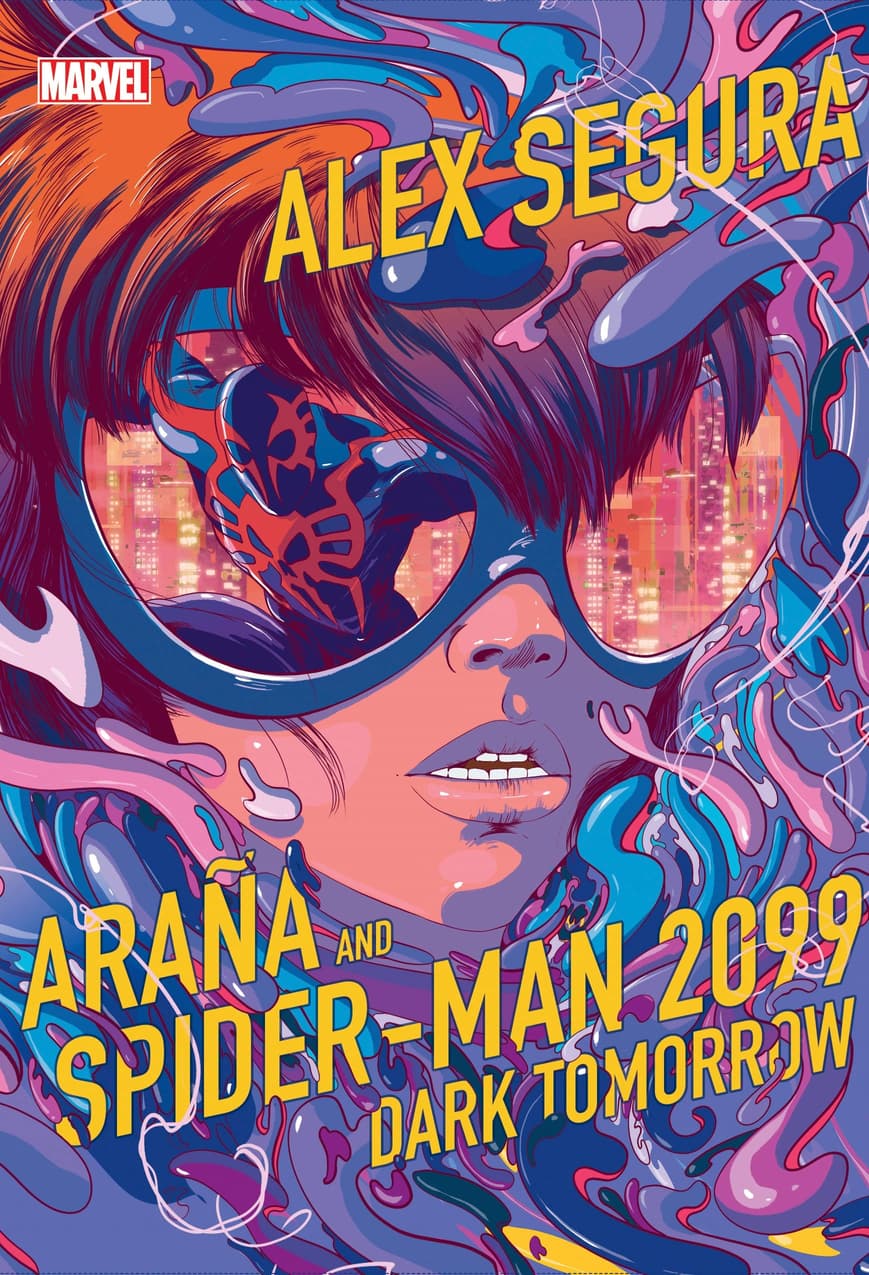 An original middle-grade graphic novel from Graphix starring Brooklyn's Spider-Man, Miles Morales!
Miles Morales is a normal kid who happens to juggle school at Brooklyn Visions Academy while swinging through the streets of Brooklyn as Spider-Man. After a disastrous earthquake strikes his mother's birthplace of Puerto Rico, Miles springs into action to help set up a fundraiser for the devastated island. But when a new student's father goes missing, Miles begins to make connections between the disappearance and a giant corporation sponsoring Miles' fundraiser. Who is behind the disappearance, and how does that relate to Spider-Man? A true middle grade graphic novel starring one of Marvel's most popular characters, bestselling author Justin A. Reynolds (Opposite of Always) and Eisner award-nominated artist Pablo Leon (Refugees) create a riveting story that will connect with new and well-versed comics readers alike.
Also written by Justin A. Reynolds and illustrated by Pablo Leon! Miles Morales has just about gotten used to this being Spider-Man thing. Keeping Brooklyn safe, taking down bad guys, and finishing his homework―he's got this! But when Spider-Man is invited to a launch for a brand-new video game, things go sideways fast. Anyone who plays the game is frozen, and it's all because of a villain named the Stranger. He's judged humanity and found it lacking, and his idea of justice is extreme.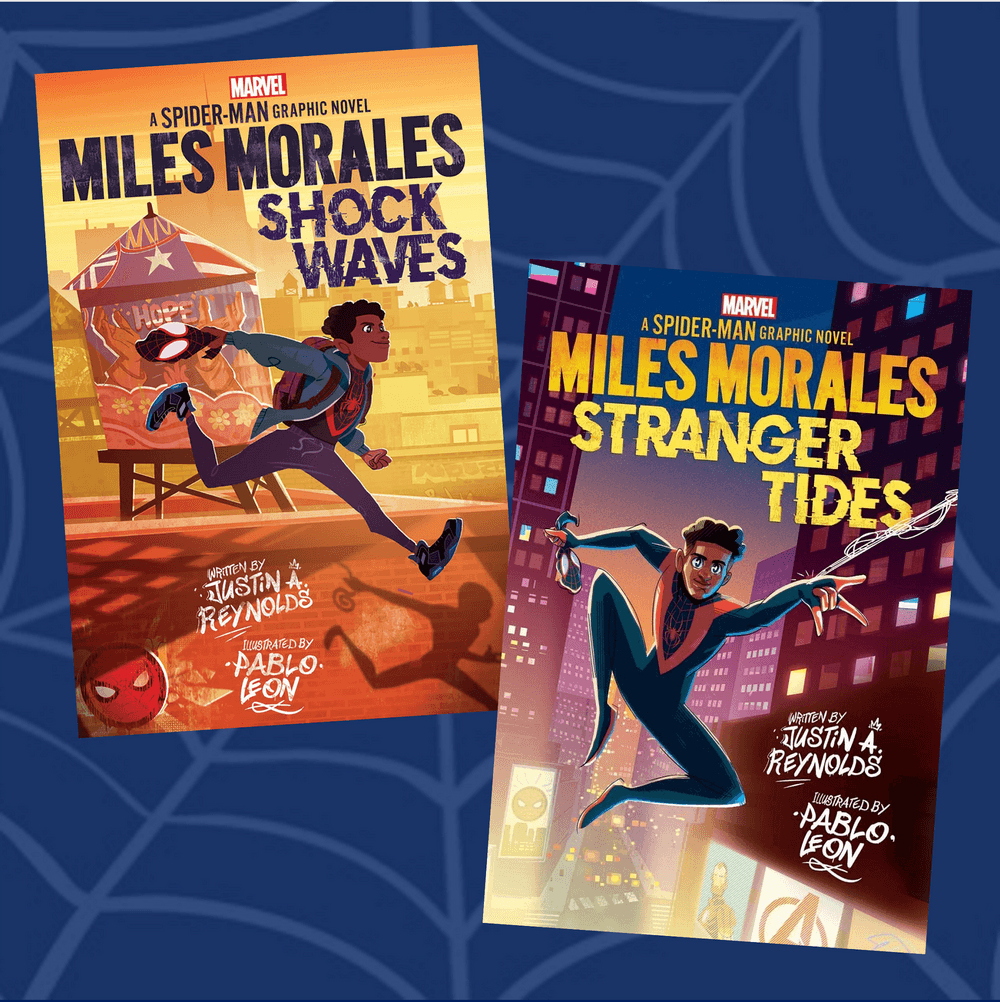 Peter Porker, the Spectacular Spider-Ham (and breakout character from Into the Spider-Verse), arrives in this original graphic novel for younger readers written by Steve Foxe and illustrated by Shadia Amin!
Peter Porker, the Spectacular Spider-Ham hits the PIG time... in Hollywood! Legendary director Alfred Peacock has acquired the rights to bring Spider-Ham's spectacular story to the silver screen. There's only one, itsy-bitsy problem: Spider-Ham didn't sell those rights, and Peacock is getting the origin all wrong―making our hero out to be a monstrous menace! Once he catches wind of the perilous production, Peter Porker uses his Daily Beagle connections to secure on-set credentials, where he not so subtly tries to improve the film's depiction of his alter ego and fix all the "continuity errors" in the movie.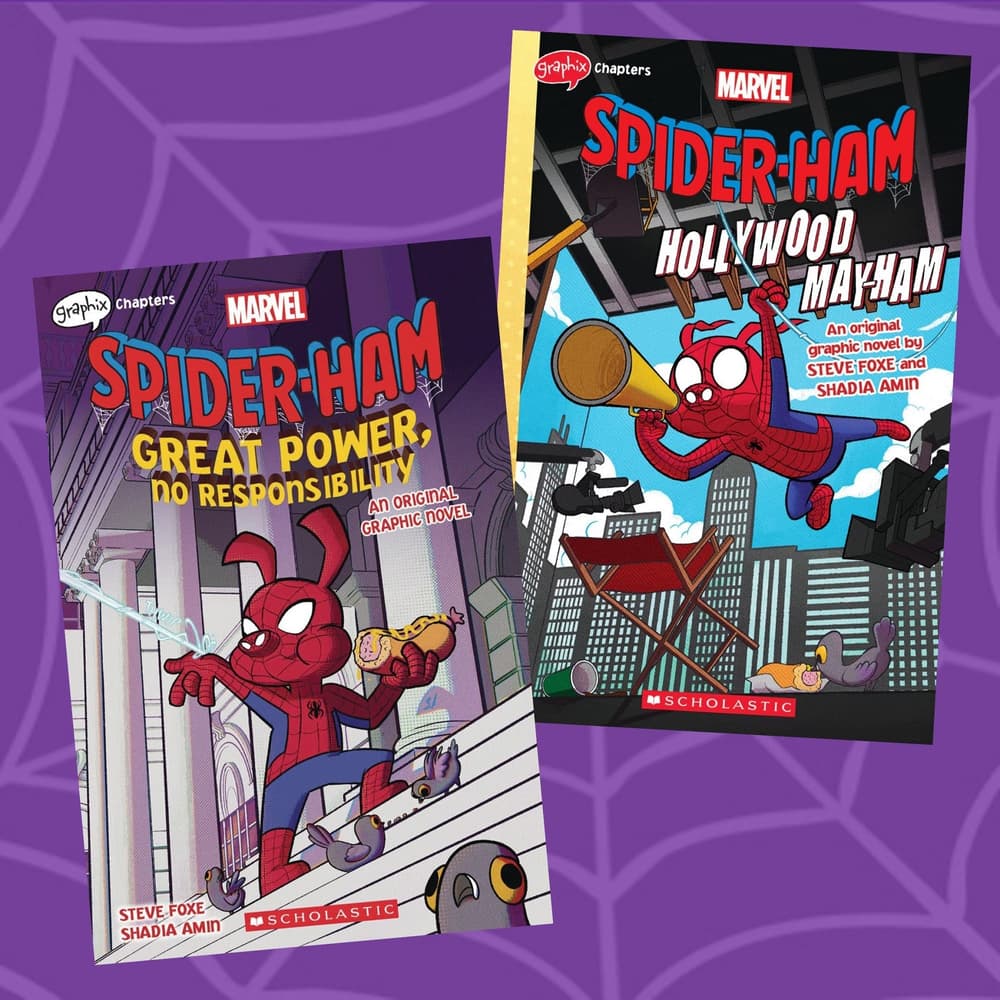 Go on a new epic adventure with Miles Morales and Gwen Stacy in this exciting sticker book featuring more than 100 stickers! Perfect for young fans and Spider-Verse fans of all ages.
Get ready for Spider-Man: Across the Spider-Verse and watch the Spider-Verse unfold with the turn of a page in this one-of-a-kind gift book, featuring Miles Morales and all your favorite characters from Marvel and Sony Pictures Animation's blockbuster film, including Peter Parker, Gwen Stacy, and more!​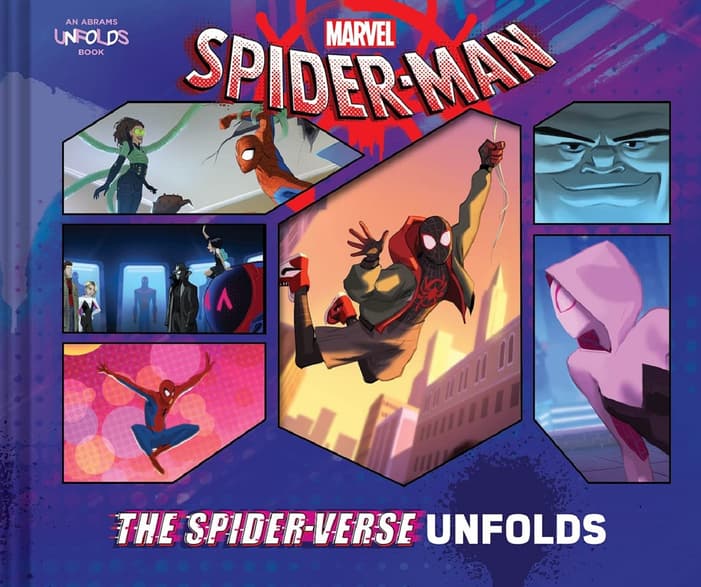 This one will hit shelves on July 3, so preorder your copy today!
Spider-Man: Across the Spider-Verse: The Art of the Movie takes readers behind the scenes to showcase the art and artistry of Sony Pictures Animation's highly anticipated sequel to 2018's Academy Award-winning animated feature, Spider-Man: Into the Spider-Verse. The ultimate deep dive into the on-screen return of the Spider-Man Multiverse, the book features exclusive concept art, sketches, character designs, and storyboards from the visually innovative film, as well as interviews with key creators such as writers/producers Phil Lord and Christopher Miller, who offer insights into their creative process.
Head to your nearest bookstore this month to pick up any of these Spider-Verse stories!
The Hype Box
Can't-miss news and updates from across the Marvel Universe!