Culture & Lifestyle
Published March 11, 2019
This Week in Marvel History: March 8-14
See what happened at Marvel on these dates in its 80-year history!

With Marvel celebrating its 80th anniversary this year – and to scratch my own history and research itches – every week I'm digging through a whole host of important dates and details for a special segment of This Week in Marvel called… (wait for it) … This Week in Marvel History! Important comics, storylines, character appearances and moments, real world releases and special Marvel milestones—it's all part of TWIMH! Here are just a few Marvel History notes for the week of March 8-14!
March 10
1964: Our good pal Mysterio appears for the first time in AMAZING SPIDER-MAN #13. We'll soon see him on the big screen in "Spider-Man: Far From Home"!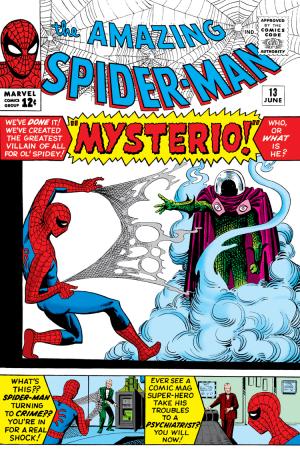 1966: In AMAZING SPIDER-MAN #37, Norman Osborn's name is revealed for the first time, plus it's the introduction of Osborn Industries and the first appearance of Mendel Stromm. In AVENGERS #28, the Collector makes his debut, plus Hank Pym becomes Goliath, PLUS Goliath and Wasp rejoin the team. Maybe most importantly, FANTASTIC FOUR #51 comes out, which is the amazing and seminal "This Man, This Monster" issue! Not just a dynamo of an issue, it's also the first appearance of the Negative Zone! (It's also this week's TWIMURC!)
2004: The start of SHE-HULK by writer Dan Slott! REALLY FUN!
March 11
1965: Remember last week when I talked about X-MEN #11 and said it'd be important for this week? WELL -- in AVENGERS #16, just a week after leaving the Brotherhood in the pages of X-Men, Scarlet Witch and Quicksilver join the Avengers! Along with Hawkeye, another reformed villain, they link up with Captain America as the second iteration of the Avengers. Everyone else done left the team! This team of four Avengers would be affectionately dubbed "Cap's Kooky Quartet."
1975: The Invaders make their first official appearance in the pages of GIANT-SIZE INVADERS #1. Go back to TWIM episode #378 if you want a deep dive into the Invaders, a World War II-era super team created in the 1970s!
1998: We released 2099: MANIFEST DESTINY. It's the end of the 2099 stories and universe, at least for a good, long while. Warren Ellis wrote a bunch of DOOM 2099 and it's GREAT.
2015: HOWARD THE DUCK #1 by Chip Zdarsky and Joe Quinones! It's so much fun! Humor and heart by Chip and crew!
March 12
1963: The Mad Thinker, the Awesome Android, and the Yancy Street Gang all debut in FANTASTIC FOUR #15. And in STRANGE TALES #109 has a story by Jack Kirby in which Sersi first appears. Well, she's called Circe, but from what I can gather it's the same Sersi who'd later be a part of the Eternals.
1985: Fenris aka the Strucker twins debut in UNCANNY X-MEN #194. The Strucker family, of course, appears in the TV show "The Gifted" on FX!
2003: MARVEL UNIVERSE: THE END #1 comes out. Written and drawn by Jim Starlin, it has Thanos kinda saving the universe?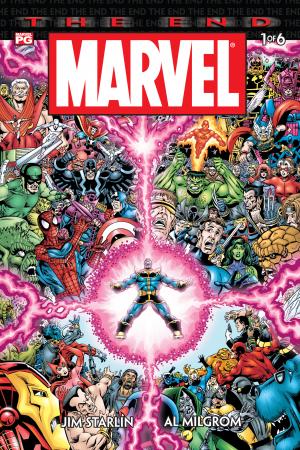 Marvel Universe: The End (2003) #1
published

added to marvel unlimited

penciller

penciller (cover)

writer

letterer

inker

editor

colorist
What is Marvel Unlimited?
2014: CAPTAIN MARVEL #1 by Kelly Sue DeConnick and David Lopez comes out. HUGELY influential to Carol's place in the Marvel Cinematic Universe. Kelly Sue has a cameo in Marvel Studios' "Captain Marvel" and was a consultant on the film -- she and David got a nice special thanks in the credits!
2018: "Marvel's Wolverine: The Long Night" premiered on Stitcher Premium! It's now free and available wherever you get your podcasts!
March 13
1973: One of the biggest events in Marvel history: the death of Gwen Stacy in the pages of AMAZING SPIDER-MAN #121. A powerful, devastating story.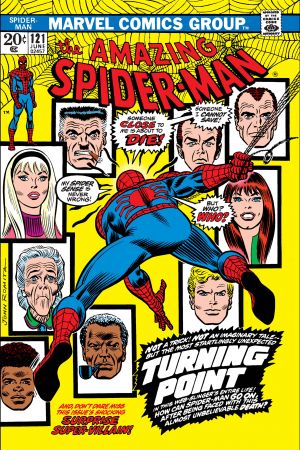 The Amazing Spider-Man (1963) #121
published

added to marvel unlimited

penciler

writer

letterer

colorist

inker
What is Marvel Unlimited?
1990: Ghost Rider Danny Ketch first appears in GHOST RIDER #1. That issue also brings his new look, weapons, bike, Danny's sister Barbara Ketch, and the villain Deathwatch.
March 14
1956: We released a book called MELVIN THE MONSTER, who's definitely NOT Dennis the Menace. But Stan Lee wrote it! It only ran seven issues, and the final one was called "Dexter the Demon."
1978: Mystique makes her first appearance in MS. MARVEL #18, though at that point, she's not quite the cool blue badass we know and love today.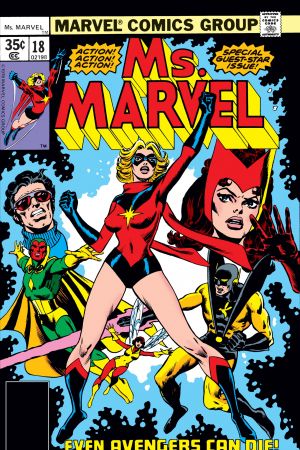 Ms. Marvel (1977) #18
published

added to marvel unlimited

writer

penciller (cover)

penciller

editor

colorist

letterer

inker
What is Marvel Unlimited?
1979: The final episode of Toei's Spider-Man live-action series aka Japanese Spider-Man aka "Supaidaman" airs in Japan.
2001: Final issues of X-MAN and GENERATION X. Gen X disbands, the Massachusetts school closes. GOOD TIMES.
Since it looks like a quiet couple of days on March 8 and 9, here's a bonus look at Next Week in Marvel History:
March 15
1983: WHAT IF #39 came out, which is a DOPE alternate story in which Thor battled Conan! Pretty cool!
2006: ANNIHILATION: PROLOGUE comes out, which is really the kickoff to rebuilding our cosmic side of comics. Annihilus and the Annihilation wave destroy Xandar and go on a tear around the cosmos. This eventually gets Peter Quill back in the mix, as well as the Guardians of the Galaxy. Without ANNIHILATION, I don't think we'd have the Guardians of the Galaxy in the MCU.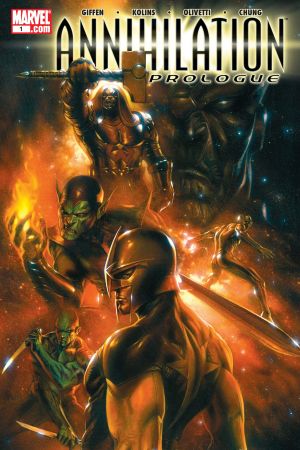 You can listen to the latest episode of This Week in Marvel below:
For more about these events and more Marvel news and history, tune in to This Week in Marvel every Friday wherever you get podcasts!
For more about Marvel's 80th Anniversary, visit marvel.com/marvel80!
The Hype Box
Can't-miss news and updates from across the Marvel Universe!