Culture & Lifestyle
Published November 4, 2019
This Week in Marvel History: November 1-7
See what happened at Marvel on these dates in its 80-year history!

With Marvel celebrating its 80th anniversary this year – and to scratch my own history and research itches – every week I'm digging through a whole host of important dates and details for a special segment of This Week in Marvel called… (wait for it) … This Week in Marvel History! Important comics, storylines, character appearances and moments, real world releases and special Marvel milestones—it's all part of TWIMH! Here are just a few Marvel History notes for the week of November 1-7!
November 1
1962: Impossible Man and Willie Lumpkin – he can wiggle his ears! – debuted in FANTASTIC FOUR #11 by Stan Lee and Jack Kirby, which also featured a pin-up page starring the very pin-uppable Prince Namor. Willie is the Fantastic Four's mailman, and one of the little ways the Marvel bullpen of the 1960s made the fantastic feel oh-so-real. The Impossible Man is an alien goofball from the planet Poppup, a shape-shifter and rabble-rouser who causes a fair bit of trouble for the FF.
1983: Sin, daughter of the Red Skull, debuted in CAPTAIN AMERICA #290 by J.M. DeMatteis, Ron Frenz, and Steve Leialoha, though she was introduced here as Mother Superior.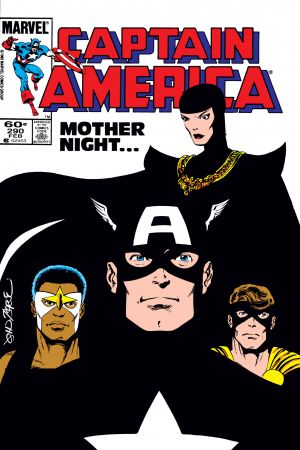 November 2
1961: Tim Boo Ba debuts in the lead story of AMAZING ADULT FANTASY #9 by Stan Lee and Steve Ditko. Ba recently popped up in MONSTERS UNLEASHED, but this original story is TERRIFIC. Actually, Stan and Steve deliver every story in the issue, and it's full of incredible art, great Twilight Zone-style twists and turns—highly recommended! There's also a quick blurb for FF at the bottom of one of the pages: "You've never read a comic like 'THE FANTASTIC FOUR'! Get your spine-tingling copy today!"
1967: Stan Lee and Jack Kirby cooked up a whopper in THOR #148. They introduced the Wrecker and his mighty crowbar – and showed how he got his epic powers – in the main story. Then, in a backup story about the Inhumans, we see baby Black Bolt and learn about his origins, including the genetic work his parents Agon and Rynda did on the li'l guy.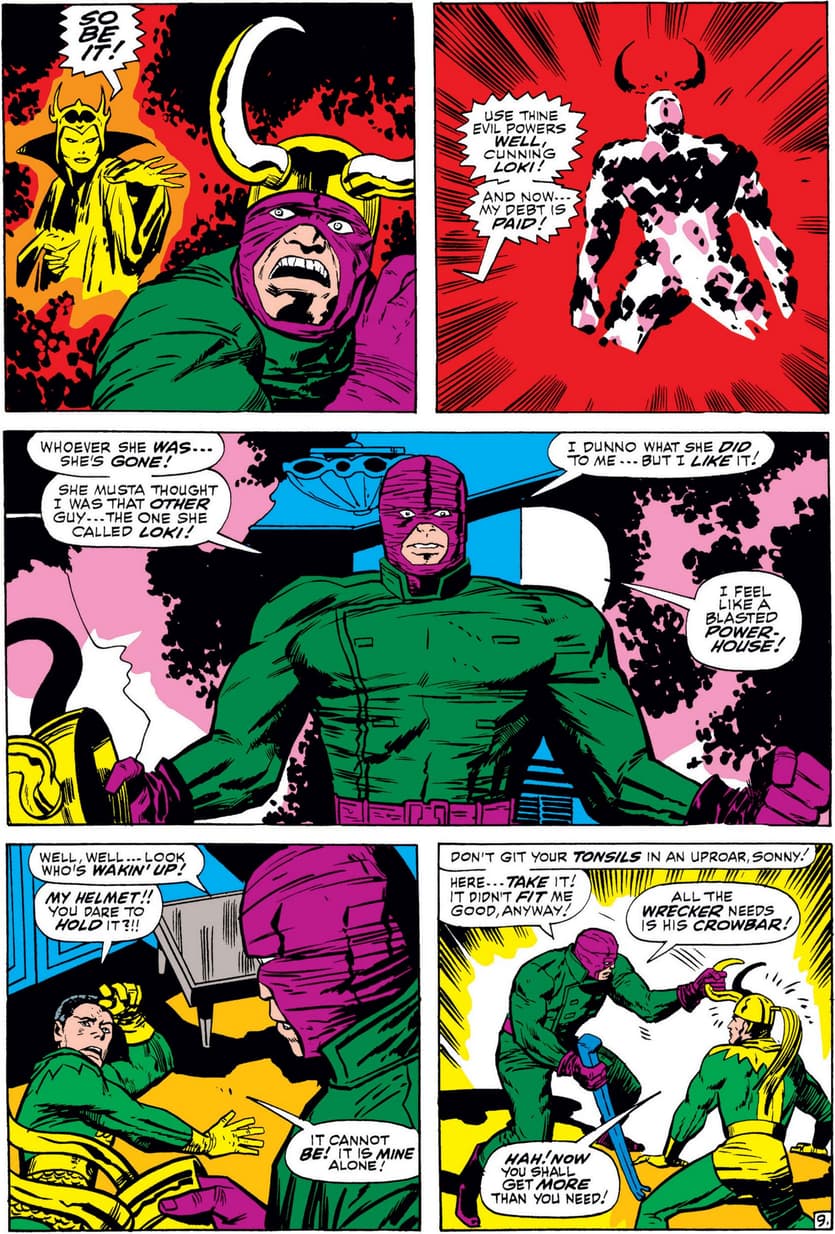 November 3
1964: JOURNEY INTO MYSTERY #112 by Stan Lee and Jack Kirby was released, and it's awesome!! Kirby's pencils with Chic Stone's inks makes for some of Jack's tightest, raddest work of the time. And we get to see a Hulk vs Thor fight, one in which Hulk even lifts Mjolnir! Well, Odin removed the hammer's enchantments for five minutes, but Hulky didn't know that. Also, Odin watching the fight from afar while drinking in his throne is A MOOD. And in the "Tales of Asgard" story, Stan and Jack introduced Laufey in a tale recounting how Odin came upon baby Loki. 
UNCANNY X-MEN #9 by Stan and Jack—with Chic Stone's fabulous inks again—featured the first meeting between the X-Men and the Avengers. In mighty Marvel fashion, they started out at odds, tussled a bit, then departed as comrades. This issue also featured the first appearance of the villain Lucifer, whom we find out is responsible for Charles Xavier losing the use of his legs.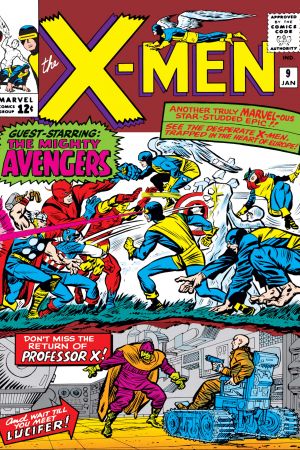 1966: Banshee, possibly Marvel's most well-known Irish character, debuted in UNCANNY X-MEN #28 by Roy Thomas and Werner Roth. 
1970: After co-starring in the series for a while, Sam Wilson finally got his name in the title when CAPTAIN AMERICA became CAPTAIN AMERICA AND THE FALCON with issue #134 by Stan Lee and Gene Colan.
1987: The gangster Tombstone AKA Lonnie Lincoln debuted in WEB OF SPIDER-MAN #36 by Gerry Conway and Alex Saviuk. Born with the condition of albinism—no pigmentation in his skin—he has teeth filed to points and is a big, intimidating dude. He was later exposed to a chemical that gave him major strength and durability. Also, his daughter is the costumed villain, the Beetle.
2017: Marvel Studios' Thor: Ragnarok smashes and soars into theaters. A true celebration of friends from work!
November 4
1975: The White Tiger AKA Hector Ayala AKA Marvel's first Latinx Super Hero debuted in DEADLY HANDS OF KUNG FU #19, in a story by Bill Mantlo, George Perez, and Jack Abel. Marvel.com did a cool piece on White Tiger for Hispanic Heritage Month and spoke with George Perez. The whole black and white magazine is jam-packed with rad 1970s kung fu stuff. 
2015: Gwenpool makes her full debut—not just on a variant cover--in HOWARD THE DUCK #1. The second #1 from 2015, that is. She made her debut in a backup feature with Howard and the Black Cat by Chris Hastings and Danilo Beyruth.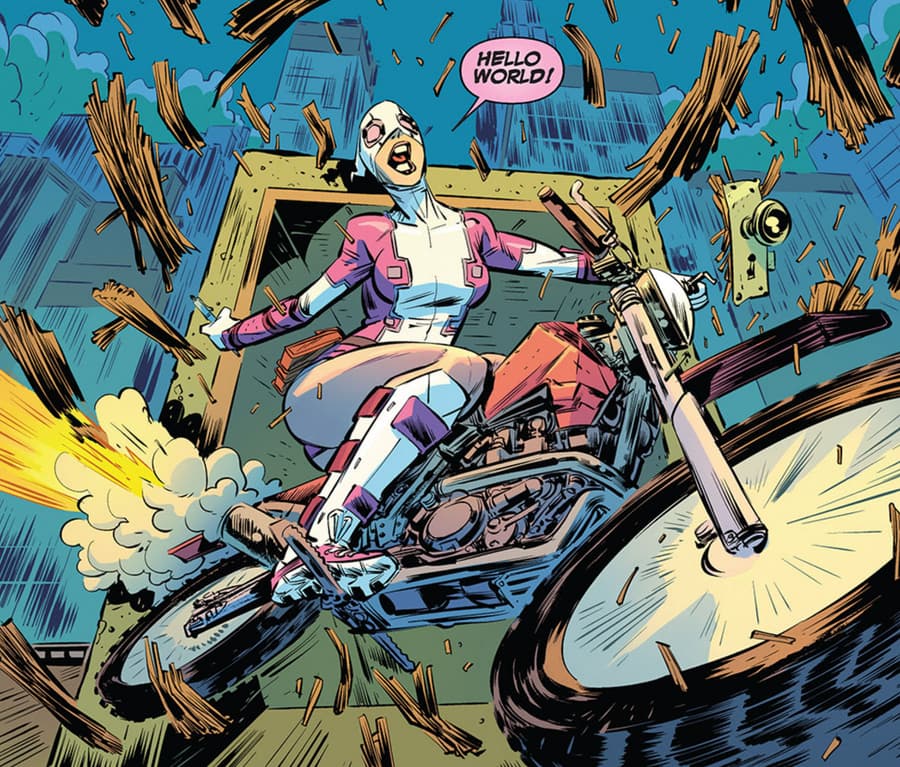 2016: By the hoary hosts of Hoggoth! Marvel Studios' Doctor Strange magically appeared in theaters on this date.
November 5
1963: Baron Strucker debuted in SGT. FURY #5, set during World War II. Nick Fury got a challenge for a sword duel from the blustery Baron and couldn't help but accept. Unfortunately, the Nazi can't help but cheat, poisoning Fury and filming the whole deal for propaganda. Fortunately, Fury and the Howling Commandos got the last laugh, though Strucker would remain a thorn in their side well after the war. The credits remind you of the service Stan and Jack gave to their country: "Written by Ex-Sgt. Stan Lee, U.S. Army, Illustrated by Ex-Infantryman Jack Kirby, U.S. Army."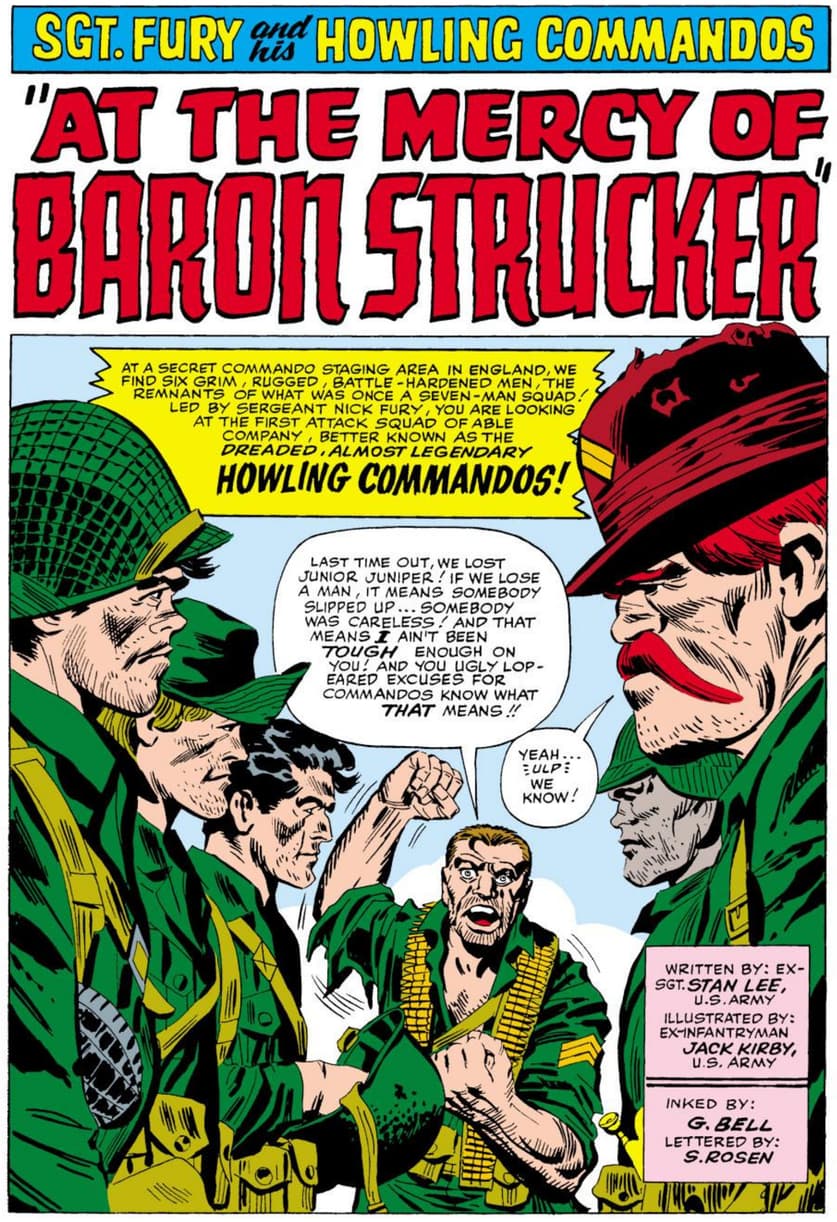 Beware of the Blob, who debuted in UNCANNY X-MEN #3 by Stan Lee and Jack Kirby. The X-Men battled Fred Dukes AKA the Blob, whose mutant powers give him super strength, toughness, and the ability to be immovable—along with his carny cohorts.
Ant-Man and the Wasp battled the villainous Black Knight (Nathan Garrett) in TALES TO ASTONISH #52 by Stan Lee and Dick Ayers. Garrett's nephew Dane Whitman would go on to be a heroic and better-known knight, but not before this jerk Garrett decided to conduct "countless genetic experiments" on a horse (horses???), injecting eagle's blood cells into a stallion to creating a flying horse. Dude.
In AVENGERS #3 by Stan Lee and Jack Kirby, the Avengers searched far and wide for the Hulk—providing for a number of fun cameos—which unfortunately led to them fighting the Jade Giant. Namor got involved, tussling with Hulk then teaming up to sock it to Earth's Mightiest. Namor, being the big bad boy he is, went toe-to-toe with the whole team until he took off at the end… an ending that would segue into finding Captain America in the next issue!
1968: ALL HAIL STERANKO! From the cover of CAPTAIN AMERICA #110 to the HUGE double-page spread that kicked off the big fight between Cap and Bucky and Hydra to the final somber panel, it's a masterful issue. But it's also important because it introduced Madame Hydra, and Rick Jones donned Bucky's costume for the first time—even arguing with Cap about wearing it. 
Doctor Strange got a new look with a masked costume in DOCTOR STRANGE #177 by Roy Thomas and Gene Colan. Come for the cool masked look, stay for the dope Colan mystic and monster art!
The aquatic race known as the Lemurians debuted in SUB-MARINER #10 by Roy Thomas and Gene Colan. The issue explored their history, particularly around the Serpent Crown. Later stories would also factor in the Celestials to the fate of Lemuria.
1985: Rita DeMara debuted as the second Yellowjacket in AVENGERS #264 by Roger Stern, John Buscema, and Tom Palmer. Rita stole Hank Pym's Yellowjacket costume and tech straight outta Avengers Mansion, which royally pissed off the Wasp!
1991: DAREDEVIL #300 by D.G Chichester and Lee Weeks is the final part of "Last Rites," a sort of sequel to "Born Again," but one in which Daredevil sees the Kingpin's world crumble.
1997: Scott Lobdell and Alan Davis brought the Fantastic Four back to the Marvel Universe after Heroes Reborn as part of Heroes Return.
2008: Blue Marvel debuted in ADAM: LEGEND OF THE BLUE MARVEL #1 by Kevin Grevioux and Mat Broome. The series told of an incredibly powerful hero from decades past who was forced to step down and retire because of the color of his skin, and his reintroduction into the modern world.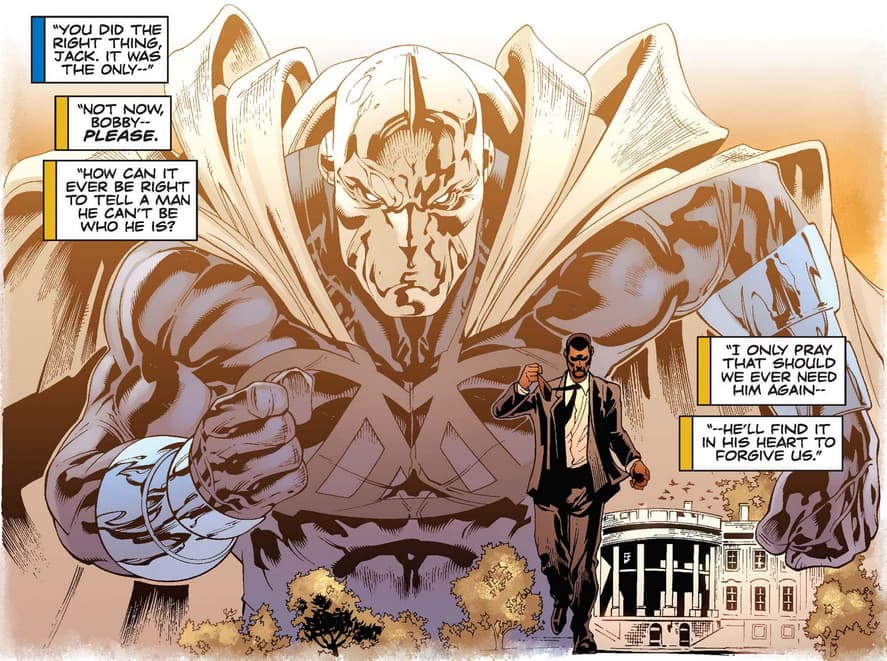 November 7
2014: Based off characters created for Marvel Comics, Big Hero 6 opened in theaters.
For more about these events and more Marvel news and history, tune in to This Week in Marvel every Friday wherever you get podcasts!
For more about Marvel's 80th Anniversary, visit marvel.com/marvel80!
The Hype Box
Can't-miss news and updates from across the Marvel Universe!