Culture & Lifestyle
Published October 21, 2020
Tough Mudder Challenges: Marvel Edition Rounds Out Week 3 With A Strength and Snack Challenge
Join Tough Mudder Challenges: Marvel Edition today!
Marvel has teamed up with Tough Mudder to bring participants a digital fitness adventure built to push boundaries physically and mentally — and find your power — and now we need to know, have YOU completed all the challenges yet?
Tough Mudder Challenges: Marvel Edition is currently ongoing, and will be until the end of October with October 27 as the last day to register for the event! For the last few weeks, participants have been completing a set of four activities inspired by the adventures of the Avengers, X-Men, Fantastic Four, and more, in addition to finishing supplementary tasks, too. Whether you do it in workout clothes or dressed as your favorite Super Hero, all that matters is your determination to reach the end! 
Wondering what it takes to crush the challenges? Speed, strength, agility, stamina, overcoming fears, finding mental toughness, and uncovering one's leadership skills — but no actual powers required! But… a super suit does help. 
Already completed everything for Week 1 and Week 2? Week 3 is here, and it's going to take extra super strength to complete the final challenges!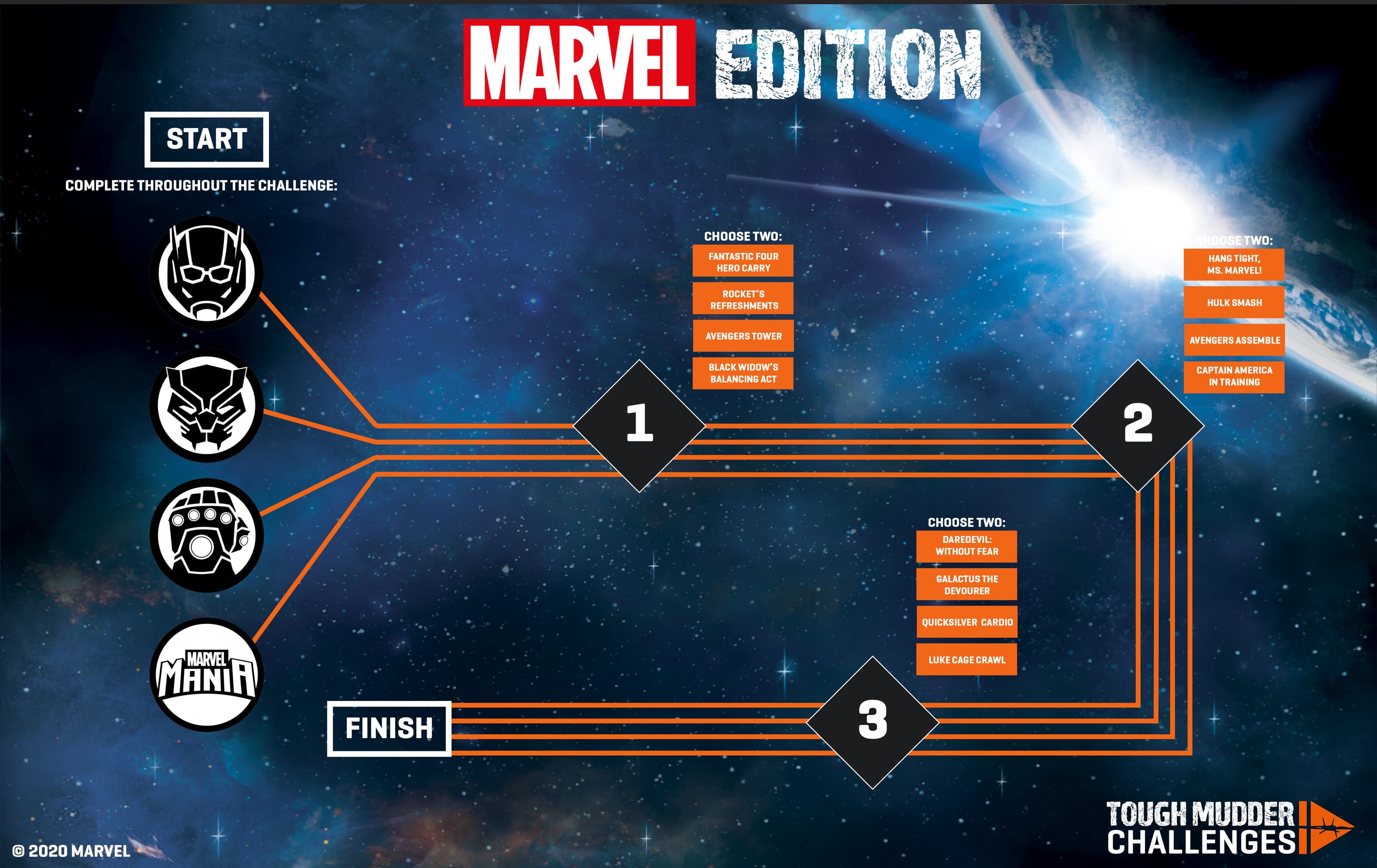 Ant-Man's Block Party: a distance challenge
Black Panther's Mount Bashenga: an elevation challenge
Marvel Mania: a rep challenge
Searching for the Infinity Stones: a fun "bobbing for" activity 
Additional tasks for Week 1 include: 
Fantastic Four Hero Carry: a carry challenge 
Rocket's Refreshments: a dare challenge
Avengers Tower: a stairs challenge 
Black Widow's Balancing Act: a balance challenge
Additional tasks for Week 2: 
Hang Tight, Ms. Marvel!: a hanging challenge
Hulk Smash: a balloon popping challenge
Avengers Assemble: a pose challenge 
Captain America in Training: a HIIT challenge 
Daredevil: Without Fear: a senses challenge
Galactus the Devourer: a giant snack challenge
Quicksilver Cardio: a speed and agility challenge
Luke Cage Crawl: a bear crawl challenge 
New participants have until October 27 to sign up for the event but Tough Mudder Challenges: Marvel Edition doesn't end there! If you're looking for more encouragement to get started with your challenges (or even complete them!) check out helpful traits and tips for building mental toughness and finding the Super Hero within.
Wondering how other participants managed the Marvel Edition? Find out how some handled Rocket's Refreshments and Avengers Tower over at Tough Mudder.
For more information, head over to ToughMudder.com to sign up, find more challenges, and begin training! The last day to register is October 27, 2020.
Want to stay on top of everything in the Marvel Universe? Follow Marvel on social media—Twitter, Facebook, and Instagram—and keep watching Marvel.com for more news!
The Hype Box
Can't-miss news and updates from across the Marvel Universe!