Culture & Lifestyle
Published March 2, 2021
'WandaVision': Make Billy & Tommy's Throwback After-School Snack
Cookies and frosting make a perfect pair.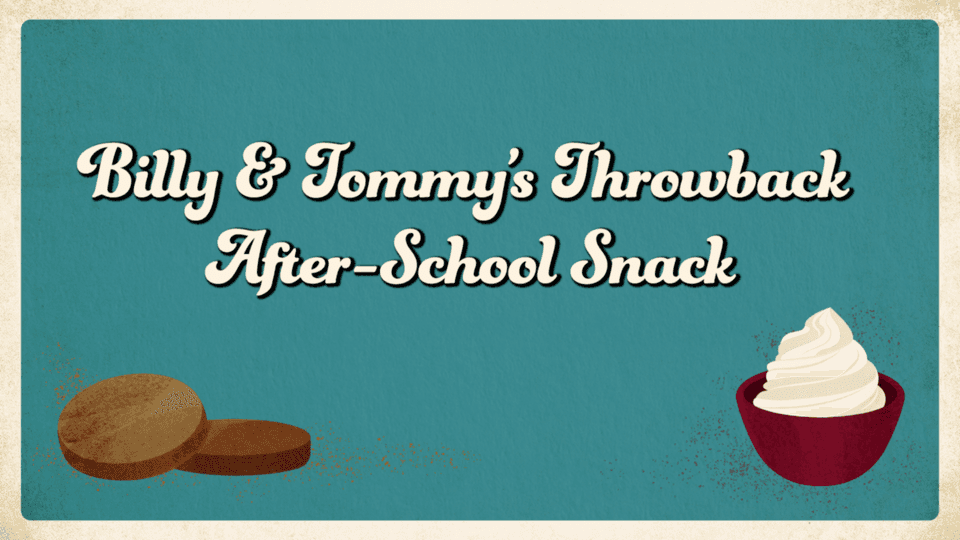 Grab the TV tray — we're making snacks for Marvel Studios' WandaVision! Whether you're looking for a full meal or something to munch on, we've got just the recipe you can whip up in a snap...because doesn't everyone have the fixins for a four-course meal just lying around? We've partnered with chef Justin Warner to bring you a themed food paired with each episode of WandaVision, so dive into what we're cooking today in the recipe below! WandaVision is now streaming on Disney+.
A very special episode of Marvel Studios' WandaVision calls for some very special snacks. When you've got two twin boys who are growing up ridiculously fast, sometimes grabbing the first sweet snack is key to keep everyone happy and entertained after school. Not anyone can just conjure up something to munch on out of thin air!
Episode 5 of Marvel Studios' WandaVision, "On a Very Special Episode..." throws it back a few decades for a retro feel, and that requires a retro snack. Combining two of the best foods together (cookies + frosting), this makes the perfect afternoon treat for kids, adults, synthezoid, and everyone in between.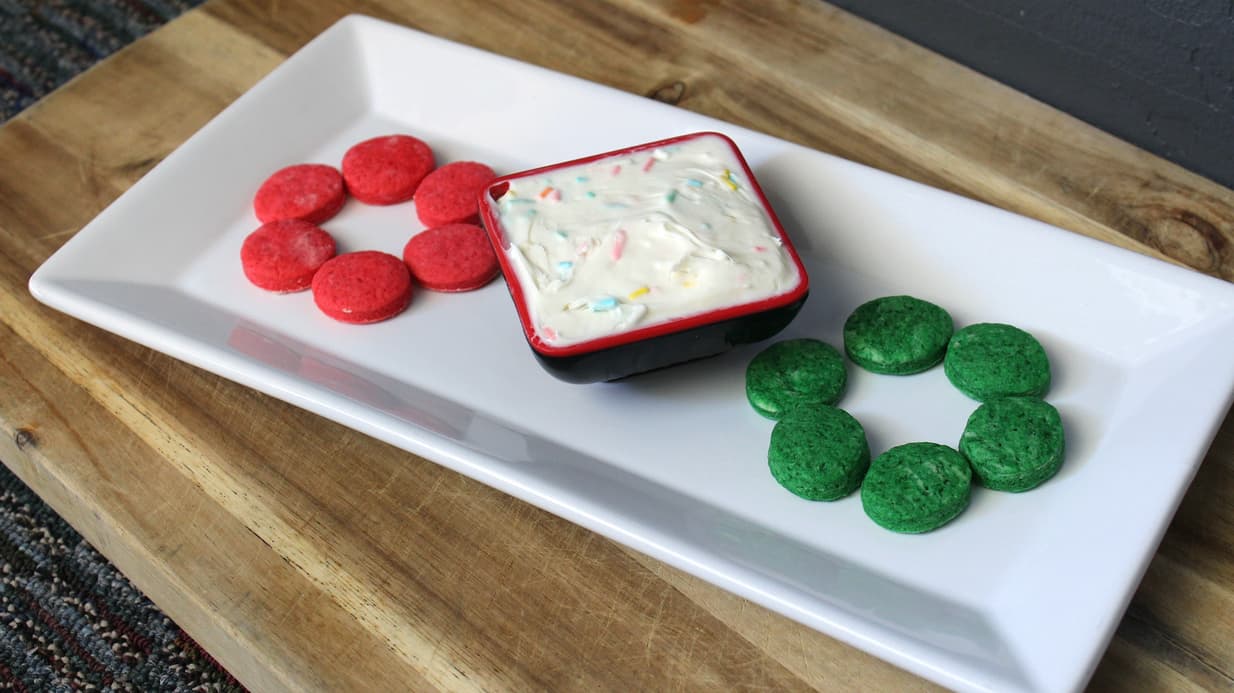 INGREDIENTS
For the cookies--
1 1/2 cup all purpose flour
1 teaspoon baking powder
1 teaspoon baking soda
1/2 teaspoon salt
1/4 cup plus 1 tablespoon butter
1/4 cup white sugar
1/2 teaspoon vanilla extract
1 egg
1/2 teaspoon green food coloring
1/2 teaspoon red food coloring
For the dip:
Vanilla frosting
Sprinkles of your choosing
(I cheat and buy the combo pack)
DIRECTIONS
STEP ONE: In a mixing bowl combine the flour, baking powder, baking soda, and salt.
STEP TWO: In the bowl of a stand mixer fitted with a paddle attachment, cream together the sugar and butter at high speed until fluffy, about 4 minutes.
STEP THREE: Add the vanilla extract and egg and beat until combined.
STEP FOUR: Slowly add in the dry ingredients and beat until a dough is formed.  Split the dough in half, leaving one half in the bowl of the stand mixer.
STEP FIVE: Add the red food coloring to the stand mixer bowl and beat at low speed until fully absorbed.
STEP SIX: Wrap the red dough in plastic wrap and refrigerate at least one hour.
STEP SEVEN: Wash out and thoroughly dry the bowl and paddle of the stand mixer.
STEP EIGHT: Replace the bowl and paddle of the stand mixer, add the other dough ball and the green food coloring and beat at low speed until fully absorbed.
STEP NINE: Wrap the green dough in plastic wrap and refrigerate at least one hour.
STEP TEN: Once the dough is chilled, preheat an oven to 350 degrees.
STEP ELEVEN: Line a baking sheet with parchment paper and flour an adjacent work surface.
STEP TWELVE: Roll out one of the doughs until about 1/4 of an inch thick and use a small ring cutter (or whatever cutters you have) to cut out as many small cookies as you can.  Place them on the parchment lined baking sheet and repeat the process with the other dough.
STEP THIRTEEN: Bake at 350 degrees for 6-8 minutes or until beginning to brown around the edges.  Transfer the parchment to a cooling rack and allow the cookies to cool thoroughly before plating.
STEP FOURTEEN: For the dip, combine the sprinkles and frosting and place in a lickable ramekin.
Starring Elizabeth Olsen and Paul Bettany, WandaVision marks the first series from Marvel Studios streaming exclusively on Disney+. The series is a blend of classic television and the Marvel Cinematic Universe, and joining Olsen and Bettany are Kat Dennings, who reprises her role as Darcy Lewis from Marvel Studios' Thor and Thor: The Dark World; Randall Park, who reprises his role as Agent Jimmy Woo from Ant-Man and The Wasp; and newcomers Kathryn Hahn, who plays their plucky neighbor, and Teyonah Parris, who plays the adult Monica Rambeau, who was first introduced in Captain Marvel. 
Looking for more WandaVision? Follow @WandaVision on Twitter WandaVisionOfficial on Facebook!
Want more exciting information about Phase 4? Find the latest Marvel Cinematic Universe news right here — and stay tuned for more!
This is just the beginning of the Phase 4 news. Stay tuned to Marvel.com for more details! And be sure to follow Marvel on Facebook, Twitter, and Instagram.
The Hype Box
Can't-miss news and updates from across the Marvel Universe!