Digital Series
Published July 28, 2020
'Marvel's Agents of S.H.I.E.L.D.' Star Natalia Cordova-Buckley Is Joe Quesada's Guest on a New 'Marvel's Storyboards'
Find out the many ways Joe connected with Cordova-Buckley when he visits her at her home in LA!
Last week, Marvel debuted the new series Marvel's Storyboards, where Joe Quesada, EVP, Creative Director of Marvel Entertainment welcomes a stellar lineup of celebrity guests who have made careers out of different ways to tell a story. On this week's episode, Natalia Cordova-Buckley, star of Marvel's Agents of S.H.I.E.L.D., welcomes Joe to her home in Los Angeles, where the pair swap stories about their Hispanic heritage and reminisce about their time working together. Natalia opens up about growing up in Mexico and teaches Joe a workout fit for a Super Hero. You can watch the full episode above!
Marvel.com had the chance to talk to Joe about what he took away from his conversation with Cordova-Buckley:
I loved how Natalia Cordova-Buckley talked about being a ballerina, and how she was able to express herself and tell stories without using her voice. She said her voice made her self-conscious, so she turned to a different outlet for telling stories, which I thought was so beautiful. What did you think about that when you first heard it?
Well, it's something I went in knowing, but I don't think a lot of people knew this about Natalia, that she started out as a dancer. Acting wasn't her first means of communicating story. So what was key to me in that episode was to find out how she took that physical storytelling ability that she had, that grace, and how she applied that to being on-screen reciting lines, getting used to the sound of her own voice, and being able to really captures this incredibly strong, strong Marvel character.
That's the journey that I was really interested in and that I thought was fascinating. Before I was a working artist, I was a musician. But I look at those years as a musician, as a songwriter, as probably the most important years of my life for my development as a storyteller, even more than art school. It taught me a lot. I wanted to know what Natalia's journey was, because she toured the world as a prima ballerina. Then to come see the world of Hollywood and acting… We had a lot of fun. It was a great conversation.
You both also got to connect on your family backgrounds, too.
We're both from Latinx families, and there's a lot in common there although we're from different countries. When I really met her and really got to know her while shooting Marvel's Agents of S.H.I.E.L.D.: Slingshot, we had even deeper conversation than the ones we had in [our episode of] Storyboards. We just really connect. Her husband is a singer-songwriter-musician as well. We all just hit it off because there was so much in common.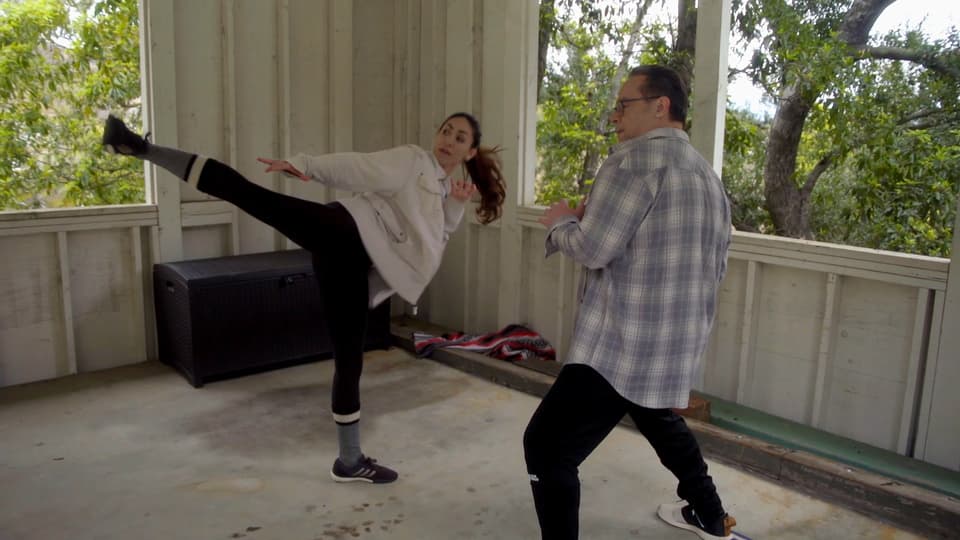 When you both talked about your time directing her on Slingshot, you said that you over-planned by drawing storyboards. Was this really just "Comics Joe" going back to what you know best?
I'd been wanting to direct for a while, and this was my first opportunity. And even though it was four minutes, hey, I'm working with the professional actors, I'm working with the professional crew, there's no messing around here. We were on the set, and we had a limited amount time to get these things done. I wanted to make sure that at least I got it right. So, I storyboarded the heck out of those four minutes in intimate detail.
The episode before us ran late, so they had to cut into my time in the morning. But again, I still got my episode in an hour under the time that we had allotted. And I do believe a lot of that has to do with storyboards. The crew said it made things helpful because it was a clear idea of "Camera here, camera here, camera here." And then, once you have those ideas locked in, if you want to play and someone has ideas, it becomes a lot easier to know the story you want to develop. And I couldn't do that without the comic book background that I have.
Stay tuned to Marvel.com for new episodes of Marvel's Storyboards every week!
The Hype Box
Can't-miss news and updates from across the Marvel Universe!