Games
Published June 7, 2017
Big Bonus in 'LEGO Marvel Super Heroes 2' Deluxe Edition
Pre-order now to grab your own Giant-Man minifig!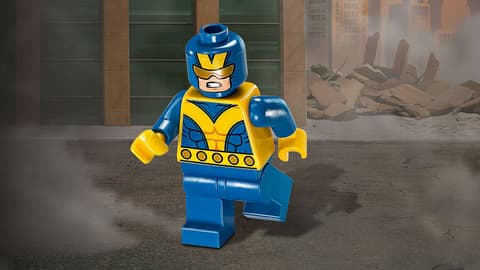 Giant-Man has a monumental part to play in the story of "LEGO Marvel Super Heroes 2." In the multiverse adventure that pits our heroes against the villainous Kang the Conqueror, this version of Hank Pym becomes a primary member of your team. He'll help heroes from various dimensions within the Marvel Universe dispatch the time-travelling baddie and…well, really we should let the man in charge explain.
We sat down with Arthur Parsons, Head of Design at TT Games, to see just how large Giant-Man's appearance in the game will be.
Marvel.com: Giant-Man is making a big appearance in "LEGO Marvel Super Heroes 2." How did his role in the game's story come to be?
Arthur Parsons: Giant-Man is making a massive appearance in "LEGO Marvel Super Heroes 2," and the reason he's involved all revolves around how we wanted to tie the game together. We have a truly epic story spanning multiple Marvel realities and teams of heroes battling the time travelling Kang the Conqueror across Chronopolis, and as such we wanted to ensure that the gigantic scale of the story makes sense to the player. So, we have Giant-Man's love interest Janet Van Dyne—[aka The] Wasp—directing operations from Avengers Mansion. Given that "LEGO Marvel Super Heroes 2" features characters from different time periods and realities, we wanted to bring a different version of Hank Pym to the forefront, hence why we picked this version of Giant-Man—aka Goliath. Having the interplay between him and Wasp, as well as a scientific head-to-head with Tony Stark really makes for some great fun.
Marvel.com: Have you always been a fan of the character?
Arthur Parsons: Absolutely, I've always been an enormous fan of Hank Pym, so it's great to bring a completely different version of him to our game.
Marvel.com: What can you tell us about this expanded role in the sequel's story?
Arthur Parsons: His role in the game is tremendously important, and he is definitely a character that brings light relief to some very dramatic and serious scenes throughout the game. He is also a vital part as the game builds to a crescendo, where he works with Tony Stark to open a portal rift to…actually I'm at risk of giving spoilers away here so let's just stick to the fact that he has a colossal role in the "LEGO Marvel Super Heroes 2" story! You'll have to wait to see just how substantial that role is.
Marvel.com: Does the Giant-Man character in the game have any special abilities?
Arthur Parsons: Giant-Man has some great abilities in the game; he can grow to a huge size, while also able to shrink down to the size of an ant. While tiny, he can infiltrate mechanisms to solve puzzles and has a couple of other secret cool abilities that everyone can experience when they get the game on November 14.
Marvel.com: Given the size of his part in the story, the Giant-Man minifig seems to be a very natural pairing with the physical Deluxe Edition—available for pre-order now—wouldn't you say?
Arthur Parsons: Giant-Man is definitely the perfect partner for the Deluxe Edition, as they are both huge in size! The Deluxe Edition of the game comes with early access to an awesome classic Guardians of the Galaxy Character Pack, as well as the entire Season Pass for "LEGO Marvel Super Heroes 2," which is the most amazing and incredible Season Pass we've ever put together.

Marvel.com: Why should fans be excited about Giant-Man in "LEGO Marvel Super Heroes 2"?
Arthur Parsons: Fans should be not only be excited about Giant-Man, but everything that he represents: a character from a different time, from a different reality, which is what "LEGO Marvel Super Heroes 2" is all about—a completely original story that brings Super Heroes and Super Villains together in an authentic, engaging, dramatic and really funny way.
Pre-order the Deluxe Edition of "LEGO Marvel Super Heroes 2" today to get Giant-Man and much more!
The Hype Box
Can't-miss news and updates from across the Marvel Universe!